Gayles New Zealand Adventure

Thanks to TRAVEL2 who invited me along on another visit to New Zealand, I got to see and explore New Zealand in July (which is their winter) on an escorted trip throughout New Zealand. Totally a different way to experience NZ than my last trip I took a few years ago. Of course we went when it was warm in the month of February and just did a quick visit off of a cruise. So a cruise was just a taste and I was excited to go back for a REAL VISIT!
Follow my adventure from the North to the South Island.
You may think that an escorted trip is not for you but believe me when I tell you how nice it is to have someone else do the driving while they drop you off at all the little towns so you can explore on your own. APT Tours has a great driver and an experienced escort who can fill you in on all the little details you would not know about if you were doing the driving. A little history about the area and a few tips are worth your time to listen in. You definately have enough time to do this even though it is escorted. That just means someone else does the work while YOU get to play, explore and enjoy yourself!
Auckland:
We started in Auckland, (the City of Sails) and took a wonderful Harbor Cruise on the Pride of Auckland. This was my very first sail boat excursion and it was amazing. I can't wait to get my family on one of these on another trip.
I stayed at the Crowne Plaza Hotel right in Auckland and it was in the best location. Right in the heart of the city so we could walk right into town to enjoy our own time.
Leaving the 'City of Sails' we traveled south through the land of the Waikato Province to Waitomothen. This is where we visited the Waitomo Caves and the "glow worms". These mystical grotto caves the worms lit up were really exciting.
We made so many stops in small little towns along the way and each had a charm of their own. The people in New Zealand are so friendly. Everyone thinks so. It is easy to travel there since there is no communication gap since everyone speaks English. Of course there might be a slight accent but I really enjoy it!
Rotorua:
Rotorua is an exciting area and not to be missed. Stopping off at Puia Thermal Reserve was a highlight for some of our group. It could be the raw and powerful journey into a thermal wonderland over 40,000 years old that excites people. Mud pools, hissing steam and geysers is something Mother Nature shows us at the reserve.
I love those totem poles depicting the Maori culture. Every face has a story. So experiencing the Maori Hangi & Revue was another unique experience. The Maori people shared a Hangi feast and Maori cultural performance with us. It was exciting to learn how the New Zealand people, South Pacific islanders and Tahiti are all connected.
We had a great time in the hot springs and Polynesian spa. Visited the Agrodome and the sheep show. I can't tell you how funny this show was. You have to see it for yourself.
Christchurch:
Even though you have heard about all the damage and devistation that Christchurch has had from the earthquakes I want to let you know that it is still strong and standing. Some of the buildings are indeed gone but there are many fully intact. I wish we could all go there to show our support and assistance of this great city.
We headed for Darfield where we joined one of New Zealand's most scenic train journeys – the Tranz Scenic. Beautiful scenery included farmlands of the Canterbury Plains, travelling through gorges, river valleys and across the magnificent Southern Alps within Arthurs Pass National Park.
Franz Josef:
Imagine my surprise when we found our 5 star resort right in the middle of the glaciers! The Te Waonui Rainforest Retreat in Franz Josef Glacier was amazing. The food and accomodations were over the top and unexpected. The views in this area are not to be missed.
Think of the helicopter ride as not just a ride but a viewing too. You not only get to land on a glacier but imagine the sightseeing of mountains and glaciers from above all the clouds. The snow capped mountains are beautiful. It looks like someone sifted powder sugar all over the top with snow. I was lucky enough to sit up front so I could take some amazing pictures to remember this adventure forever!
Leaving Franz Josef and traveling along New Zealand's West Coast was a highlight for ME!!! the incredible scenery through Haast Pass and the Haast Valley, over the dramatic Southern Alps.
One of my favorite stops was the Mirror Lake area. It was gorgeous here for a hike, short walk or imagine waking up to views like this. I like to say mirror lake because all my pictures are like postcards here!!!!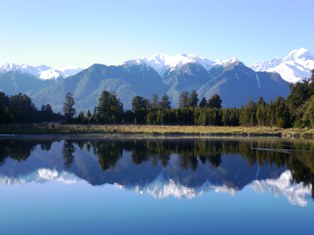 Wanaka:
Land of striking mountains, deep alpine lakes and air as clear as crystal. Voted in the top 10 of the world's most romantic destinations says it all. The Edgewater Resort Hotel on Lake Wanaka nestled within the spectacular Southern Alps - in the South Island of New Zealand is a totally fun place to stay. The food is great and the bar stays open till you leave. What more can you ask for.....besides the amazing views of course.
Arrowtown:
I wish we had more time to stay in this little mining town littered with boutiques and shops. I plan on returning!
Milford Sound:
I am so glad we got to experience the Milford Mariner Overnight Cruise on Milford Sound. We cruised the length of this spectacular fiord to the Tasman Sea before anchoring for the night in sheltered Harrison Cove. Our friendly and good looking nature guide offered plenty of information so we could go exploring in the tenders and kayaks. This cruise is really layed back and relaxed, allowing us plenty of time to view the fiord's spectacular waterfalls, rainforest, mountains and wildlife. They also offer day trips here on the Mariner too.
Queenstown:
A great town to be stranded in. Just kidding, but I did take a small plane from the Milford Sound area to Queenstown and saved a good 5 hour bus ride so we could explore the area before meeting up with the rest of the group. Totally worth it. Fun town to play and kick back in. Wonderful night life, shopping, great variety of hotels to choose from too.
Some of the group tried the bungy jumping. I totally loved our jet boat trip they call "Shotover Jet" in Queenstown. Jet boats that show you what 360 high adventure is!
Other hot tips:
Why not travel in our summer and New Zealands winter if you prefer a colder climate, are a skier or wish to save some money and travel in the off season.
Did you know?
I wasn't aware that New Zealand is considered the Dairy Country! So it was surprising to see some similiarities but definately not home with the glaciers, trains, helicopter over glaciers, bunge jumping, shotover jets, sheep littered all over rolling green meadows, city of sails and.....
A truly memorable trip for me and I can't wait to tell you all about it, if you want to go. I would be happy to help you plan an exciting adventure for yourself in New Zealand. Mary from our office has also been there too so we are available to assist you.
PS-Did I mention that I saw and did site inspections on some great hotels on the way? Ask away.

"Travel is not a luxury anymore..it is a necessity! I would love to recommend a vacation for you that will exceed your expectations!"
Gayle Zielke, M.C.C., president
Honeymoon and Destination Wedding Specialist
Tahiti Tiare / Fiji Matai / Cook Islands & Hawaii Akamai Specialist
262-542-5955 / 800-896-4360
www.FirstChoiceTravelandCruise.com