DESTINATION WEDDINGS BY FIRST CHOICE TRAVEL AND CRUISE
Destination Weddings by First Choice Travel


Wedding pictures are compliments of our wonderful brides, grooms, family and friends!
These are just a few and there are many, many more on different pages of our website and facebook too!
Special Anniversary and Vow Renewal Celebrations are also included!

IS A DESTINATION WEDDING RIGHT FOR YOU?
--TAKE THE PLUNGE LIKE THE REST OF THESE COUPLES!
Imagine yourselves in a tropical paradise surrounded by friends and family toasting the two of you. All the wedding details have been arranged to reflect your taste. Talk about STRESS FREE!!! Best of all... after the wedding ceremony, you won't have to leave. When family and friends are spread all over, a destination wedding is the perfect way to bring everyone together for the big event! Seeing is believing!
We think our First Choice Travel and Cruise DESTINATION WEDDING SPECIALISTS are the best! Our Brides, Grooms and Guests are the ones who make the WEDDINGS special and fun!!! Destination Weddings should be romantic, stress-free, interesting, relaxing and exciting for all of our BRIDES AND GROOMS AND THEIR GUESTS too!
Judge for yourself how unique and extra ordinary our weddings are. Please note: These are OUR REAL live couples and real weddings. Don't want you to think otherwise just because they all look like MODELS and MOVIE STARS!!! SHINE on ....it is YOUR DAY!!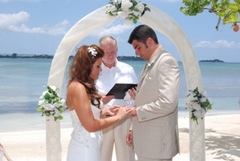 "The day of the wedding was great. Definitely the best day of my life. The place in the resort were we held the wedding was perfect it was a little spot right on the beach and it was gorgeous."
I bet you think one of the brides above said this, wrong... but YOU would be close. It was the groom but the bride totally agreed with him!
Find out what our brides, grooms and even their guests have to say about being part of a DESTINATION WEDDING BY FIRST CHOICE TRAVEL AND CRUISE!!!
To see more pictures and find out what our clients are saying about their own experiences: CUSTOMER COMMENTS.
WEDDINGS IN TAHITI BY FIRST CHOICE TRAVEL AND CRUISE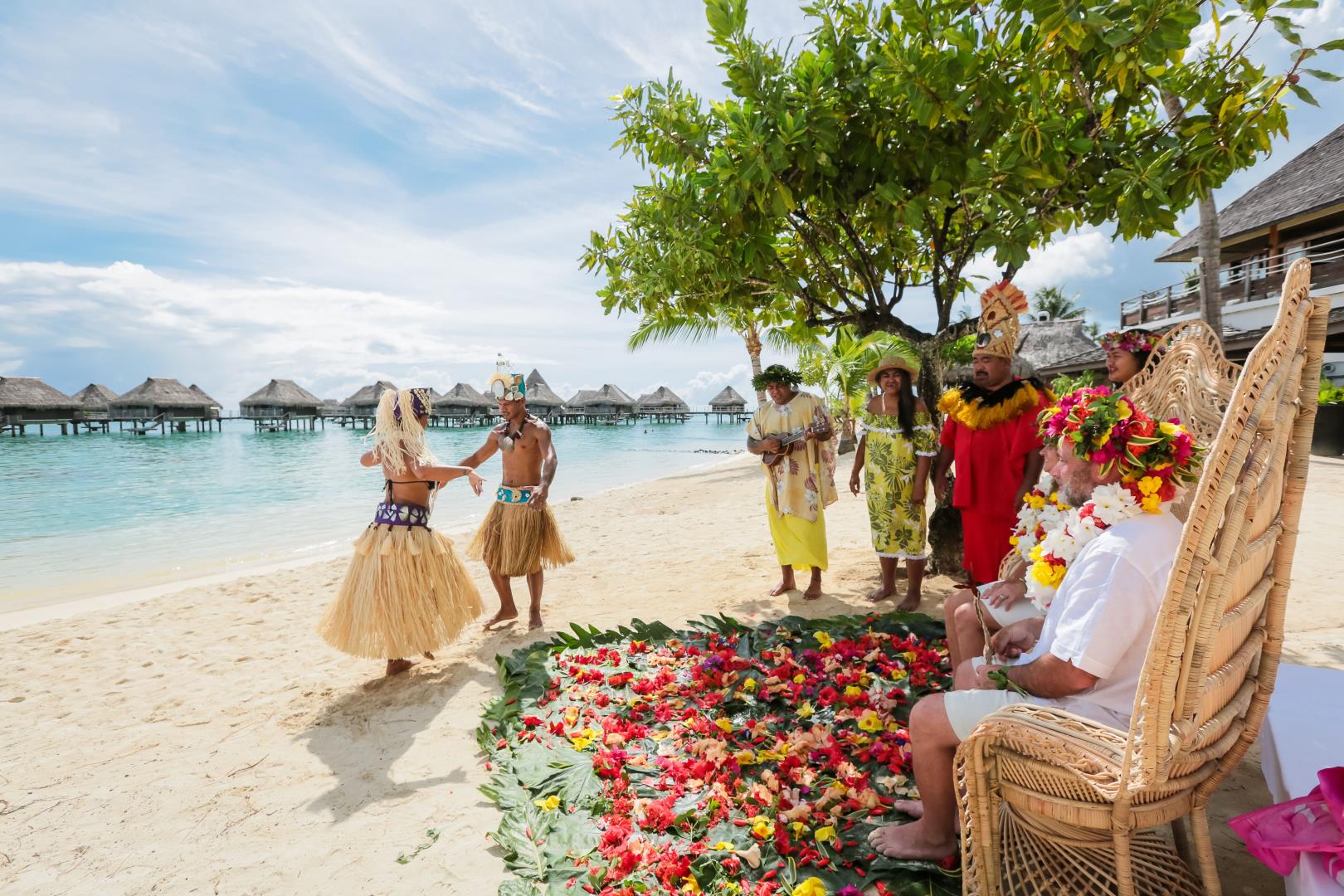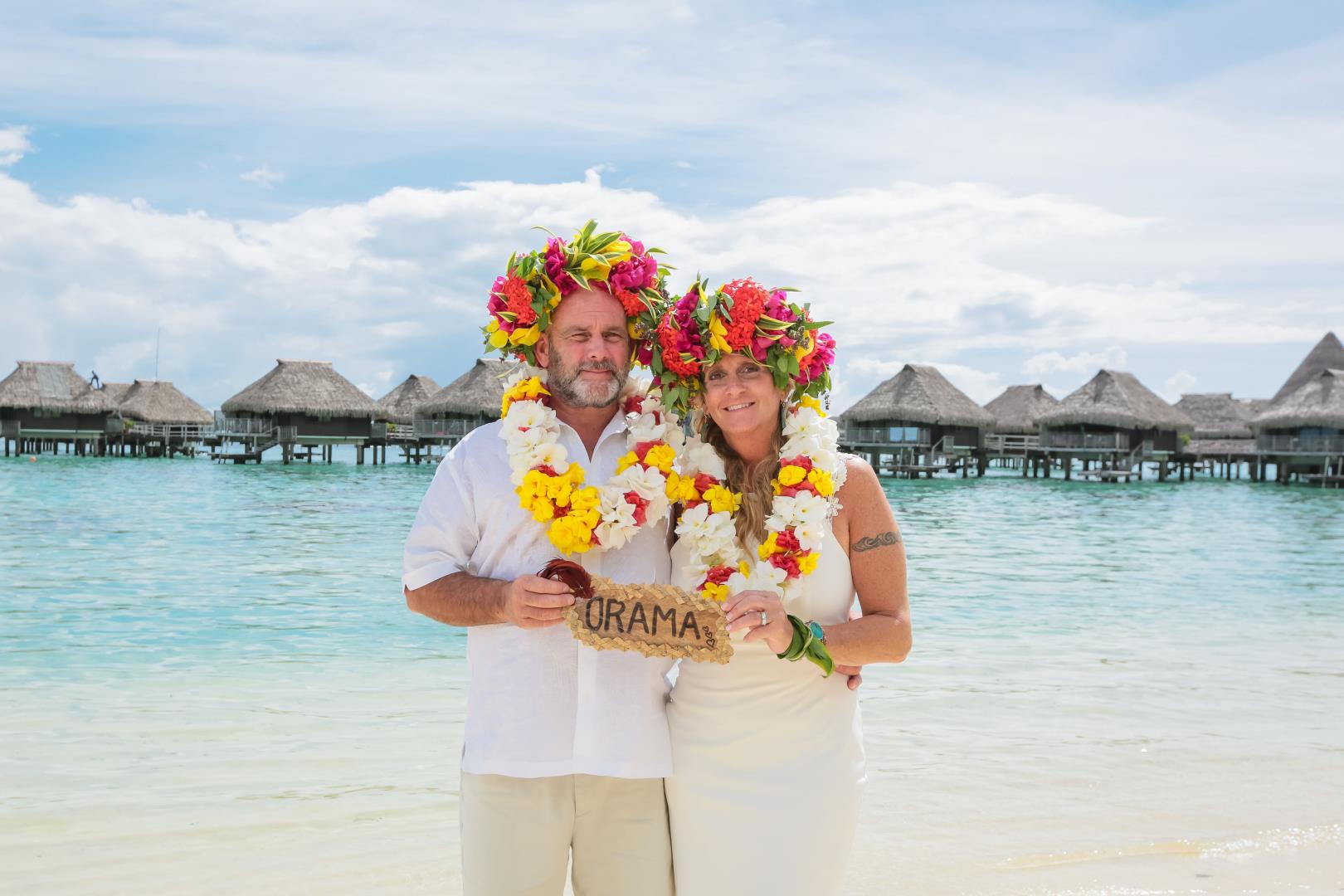 Well Gayle...no doubt the best trip we've ever taken!!
Beyond what we expected!
And I must say the tour people were amazing.
Thank you so much for everything!!!
Lisa Neil
If you want to see more of their Beautiful wedding in Moorea.


CABO -​Got married at Grand Fiesta Americana Cabo San Lucas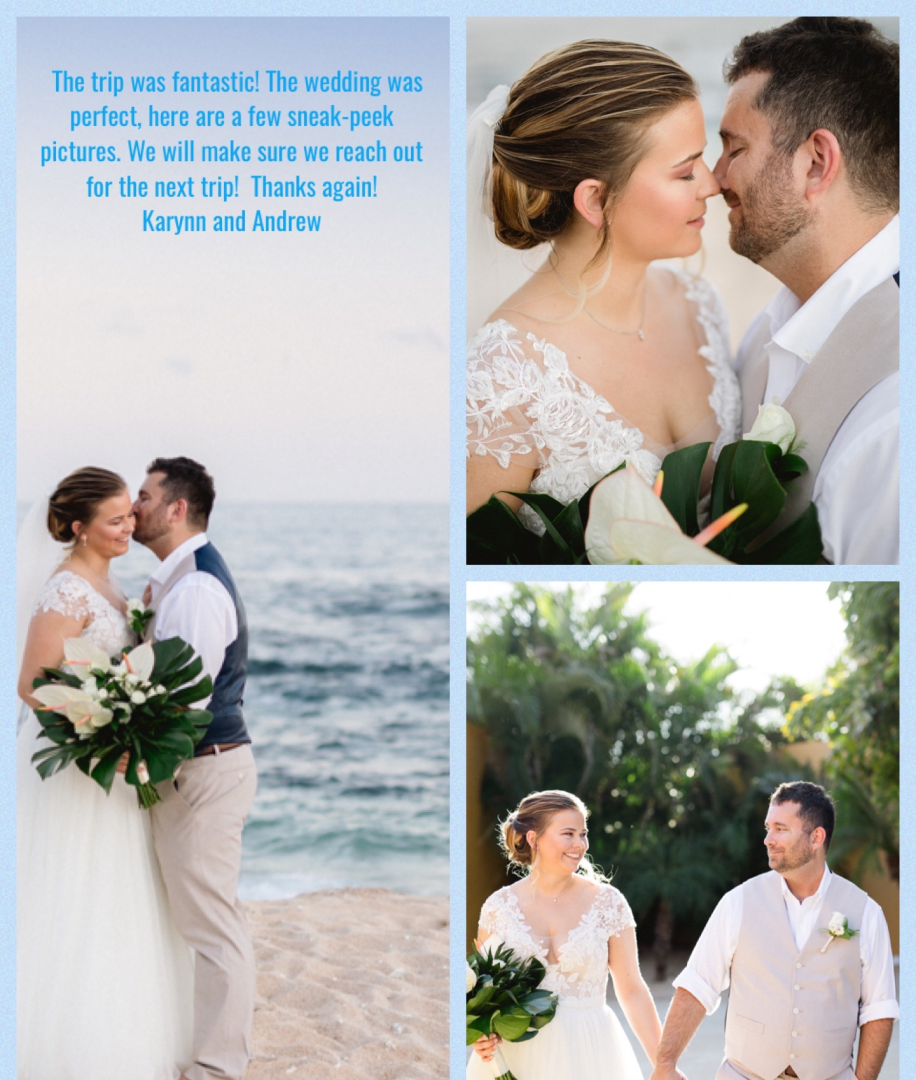 PUNTA CANA WEDDINGS BY FIRST CHOICE TRAVEL AND CRUISE
Royalton Punta Cana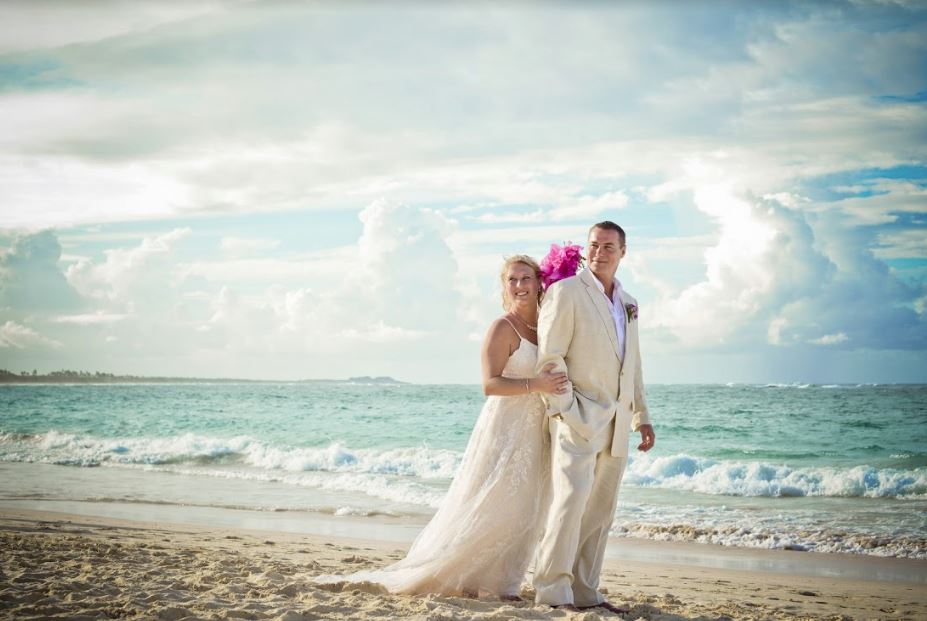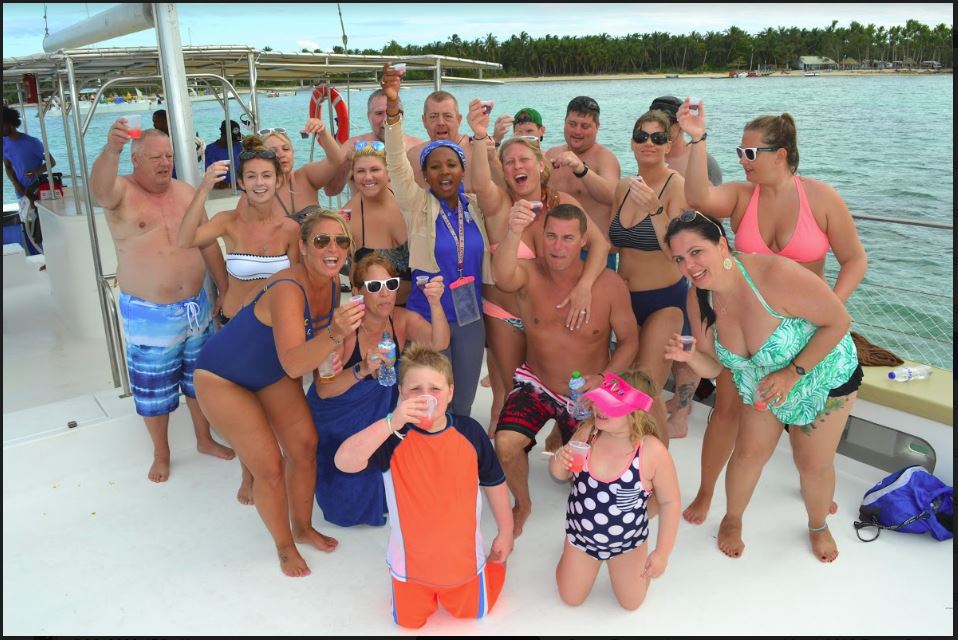 Gesica!
Everyone LOVED the resort, the staff were absolutely amazing, entertaining and they would remember us from day to day, what we liked to drink, where we would hang out, etc. The day of the wedding started with a little sprinkle in the morning (which of course you know I would freaking out about!), but it cleared in about a minute and a half and we got a double rainbow the morning of the wedding!!! Oddly enough, my dad pointed out that my sister had a double rainbow on her wedding day as well!! The wedding coordinator was 3 steps ahead of me on everything, for example, morning of the wedding, ran down to Duane at the pool and was like "AHHH! I forgot to do the playlist!! Please help!!" Went to talk to the WC and she goes, "Oh, I already downloaded them for you and they're hooked up to the soundsystem, you didn't have to do any of that!" We did a private catamaran the next day to Cabeza del Toro with about 21 of us and was super super fun!
Thank you for all your help!! Hope you enjoy the pics from our wonderful day!!

Lauren & Olaf were married at Dreams Punta Cana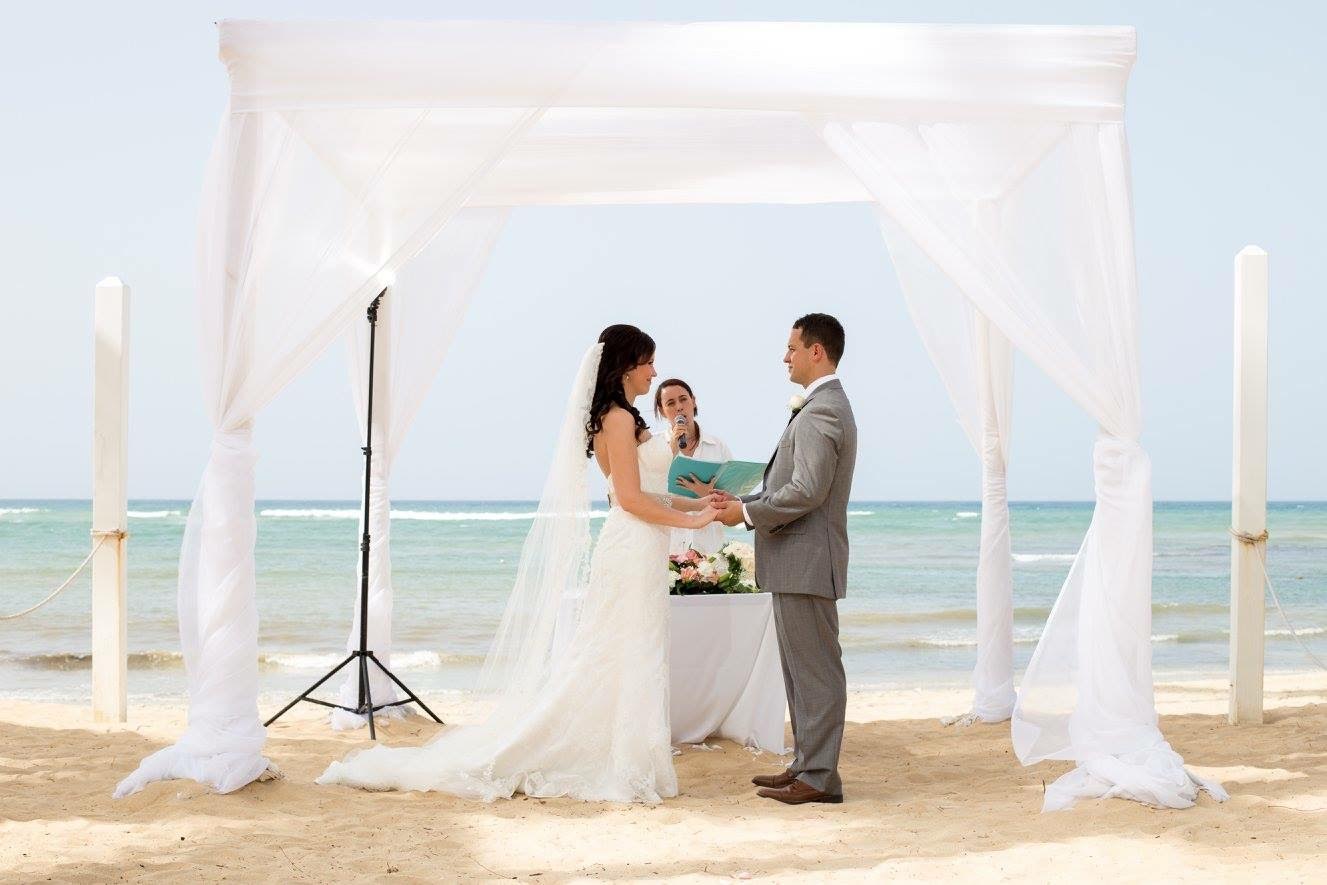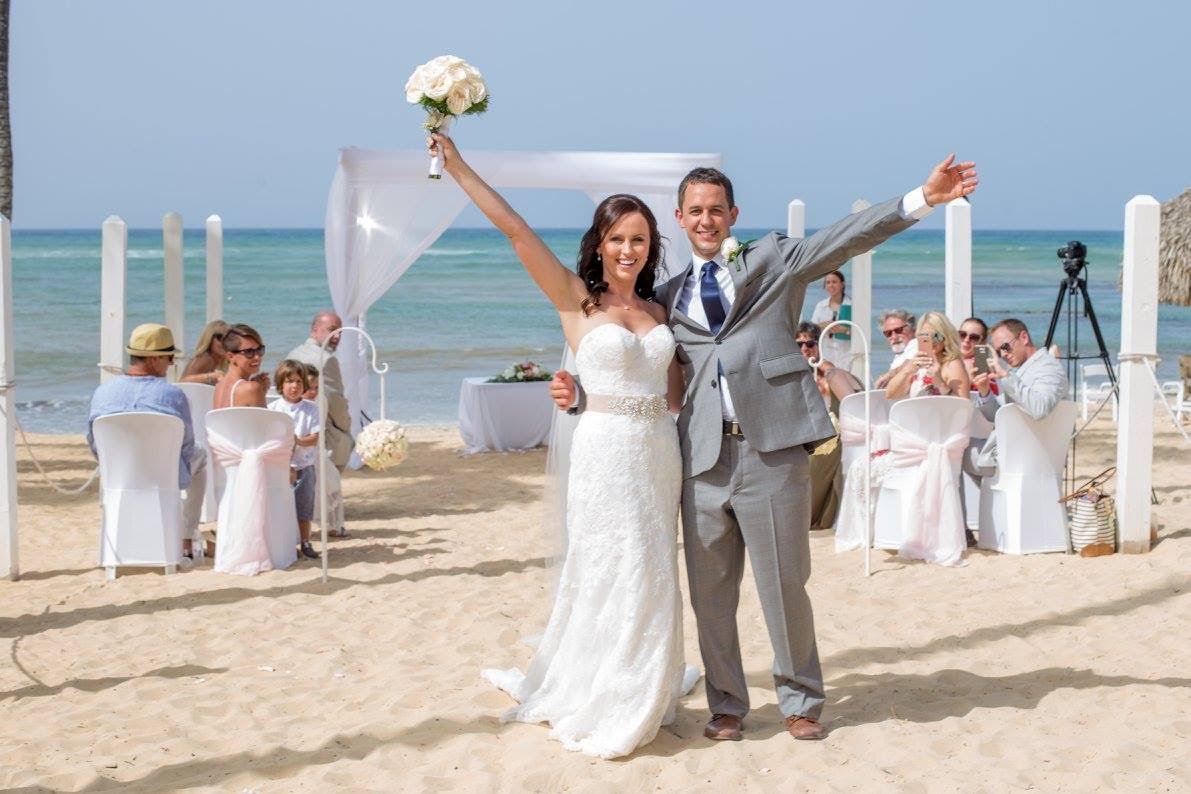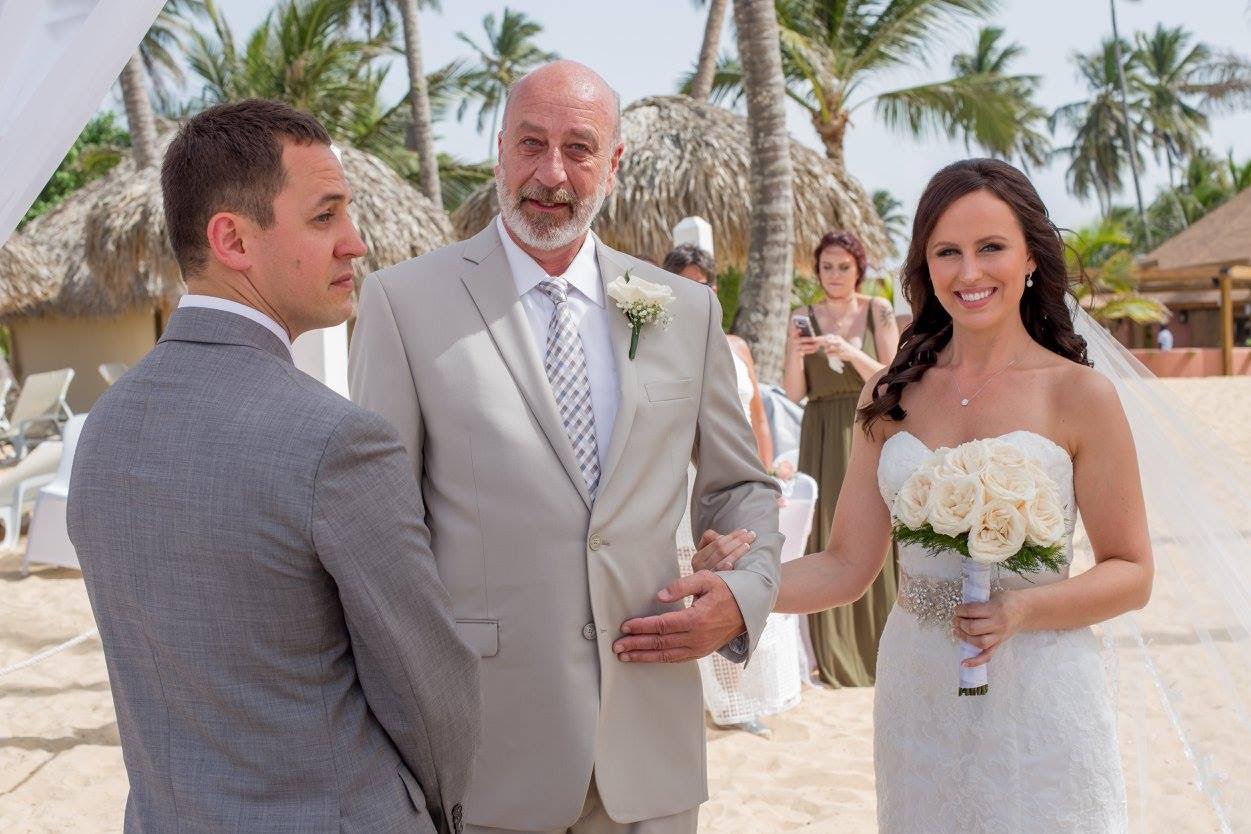 The wedding was absolutely amazing and was exactly as we dreamed. The weather was great and the staff was so friendly and accommodating! Everyone had a blast and said it was the best wedding they had ever been to. Thank you again for all of your hard work and making our special day the best it could be. I'm so glad we had you to guide us through this process and will definitely refer any friends or family to you. Attached are some pictures of the beautiful day.
Thank you again!
Lauren & Olaf
Patti Polzin and Paul Rajchel were married in Punta Cana at Dreams Punta Cana!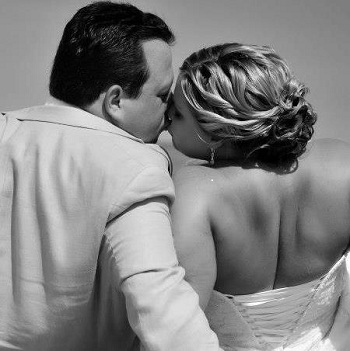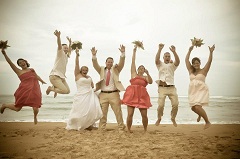 The Gallo and Matter Wedding party at the beautiful Ocean Blue in Punta Cana!!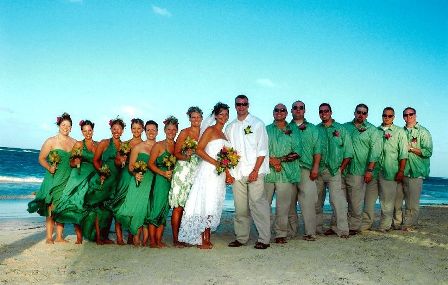 Ocean Blue and Sand wedding for Ryan and Becky Jaskowiak!
Enjoy some great pictures of MANDI AND JOE'S WEDDING at the Riu in Punta Cana!

Kelly Miller and Dan Sturgil get married at Excellence Punta Cana!
Another Excellent wedding at the Excellence in Punta Cana for Julie Mewes and Tim Dietz.
Julie Mewes and Tim Dietz married at Excellence in Punta Cana Julie Mewes and Tim Dietz got married at the Excellence Resort in Punta Cana!
Hey Gayle! Its really taking me a couple days to get back in the swing of things...I will fill you in and send you pictures soon:) But for now know it could not have been anymore perfect!!!! Very happy bride here!! Will talk to you soon!
~Julie Dietz (hehe)
Hi Gayle, Honestly the whole trip was a dream! I couldn't have asked for a more perfect day!!!! Thank you so much for recommending the Excellence, they really have putting together a wedding down! I wrote a review on Trip advisor. It's the "attention all Brides" one. I will call you sometime this week after work to give you more details;) Julie
Jenna Bower and Charles Hecht were married at Dreams Punta Cana!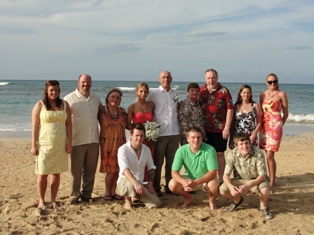 An Excellent Wedding in Punta Cana!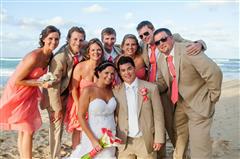 Tana did an amazing job planning our Destination Wedding to Punta Cana in November. She was easy to work with, got back to me quickly, & offers competitive pricing. She was able to easily book our group with no problems.
The resort she recommended, Excellence Punta Cana was amazing! Everyone we went with liked it. The staff at the Excellence Resort in Punta Cana was amazing and they did everything & anything.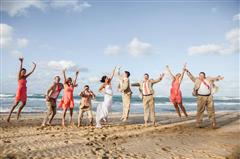 We had a dream wedding planned perfectly from afar with the help of Tana. We plan on making a anniversary trip next year and booking through Tana again. I highly recommend her and the staff of First Choice Travel and Cruise.
Jenna and Ryan Lilly
---
HAWAII WEDDING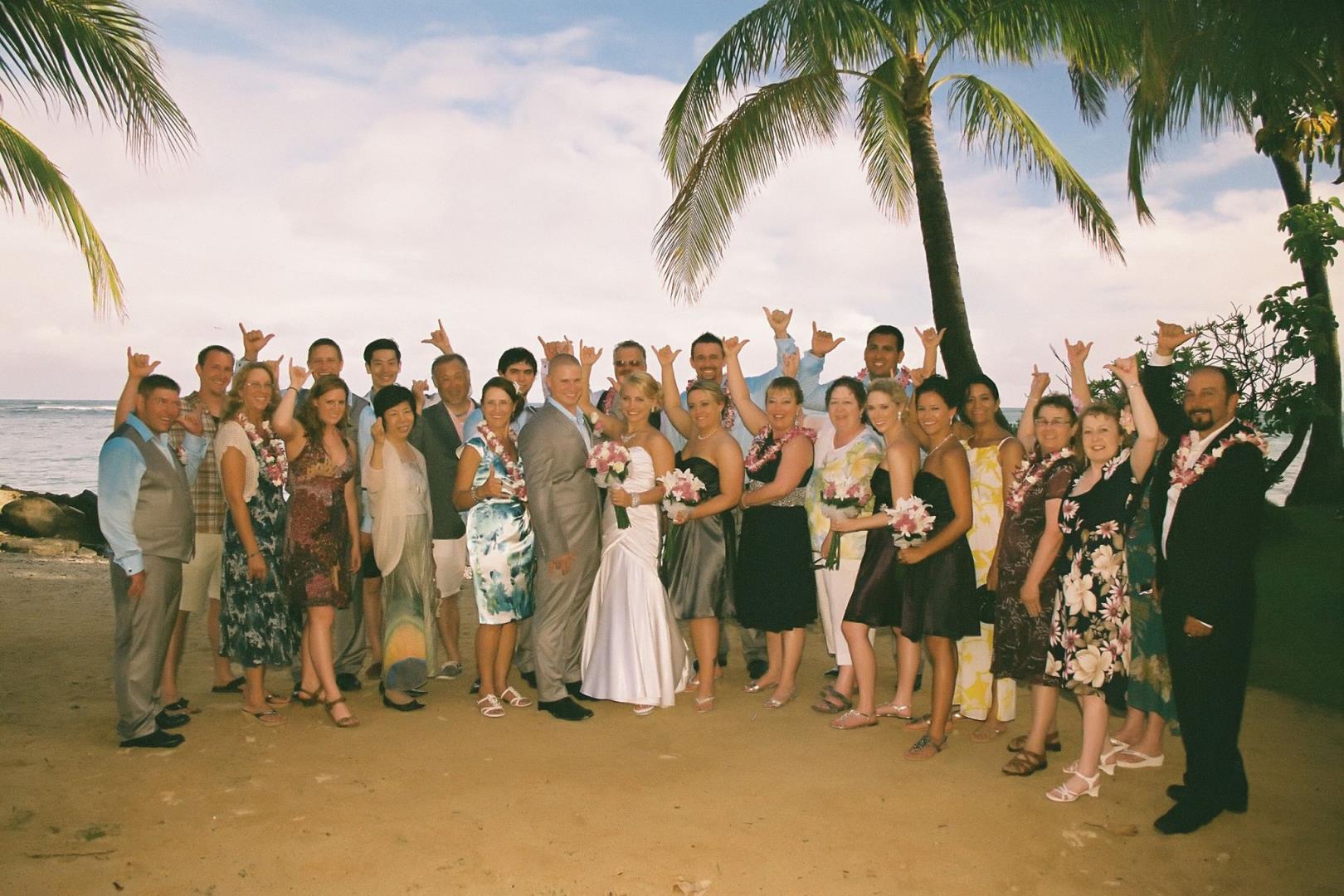 "Tana made it easy for our large group to make travel plans in Las Vegas and Hawaii. We were blown away by every hotel and thrilled at how much we got for our money. Can't wait to go back!
Thanks again for everything!"
Katie and Logan
Hi Tana - Just wanted to drop you a line since we're back now. (unfortunately) The wedding was just awesome. Katie was absolutely gorgeous. The place they were married was beautiful. And yes they got blessed at the end of the ceremony with rain. Actually I thought this time was more rain than I've ever experienced in Hawaii.

Our place in Oahu Outrigger Luana was very nice - big huge king bed, lanai, nice kitchen and living room. Our lanai overlooked the back and we could see the military hotel Hale Koa where Logan stayed and his parents and where the dinner was. We had the rehearsal picnic there although there was no rehearsal.

Everyone was jealous because Bill & I received from our wonderful travel agent Tana a gift at our Honolulu condo of chocolate covered macademia nuts when we checked in. Then onto Kauai ...Tana the condo - Outrigger Waipouli in Kapaa a was extrodinary. The nicest place Bill & I ever stayed in. Awesome. Loved this place - recommend highly.
Good restaurant next door called the Bull Shed - good steaks and seafood that we walked to. Then our great travel agent Tana again had a gift for us when we checked in. 2 small boxes of Kauai cookies. Tana, the luau we go to in Lahaina is so great. Each party no matter what size, gets their own individual table. It's in Lahaina and is called Feast at LeLe. You have to recommend that one to your customers too.
Bill and I did alot - rented a Harley for the day, did different things and most of all "relaxed"!!!!!!! We really did not want to come home this time. What an amazing vacation especially to have all our family and friends there. Once our pics are all organized and in a book we want to come in. . We'll plan it ahead of time. Thank you so much for your work on our great trip. See you soon.
Nancy & Bill Fell
A Perfect Aloha Wedding in Hawaii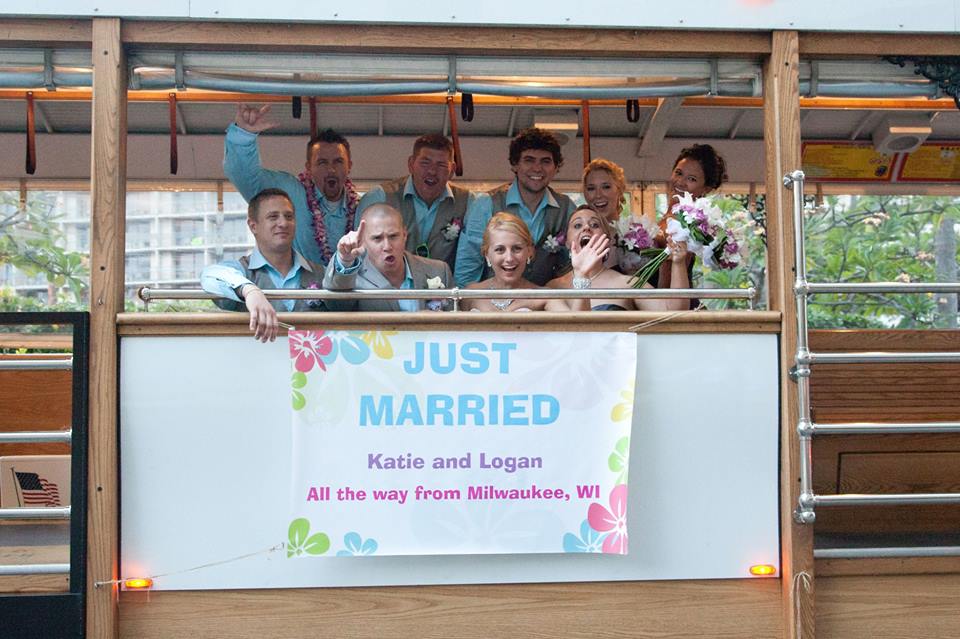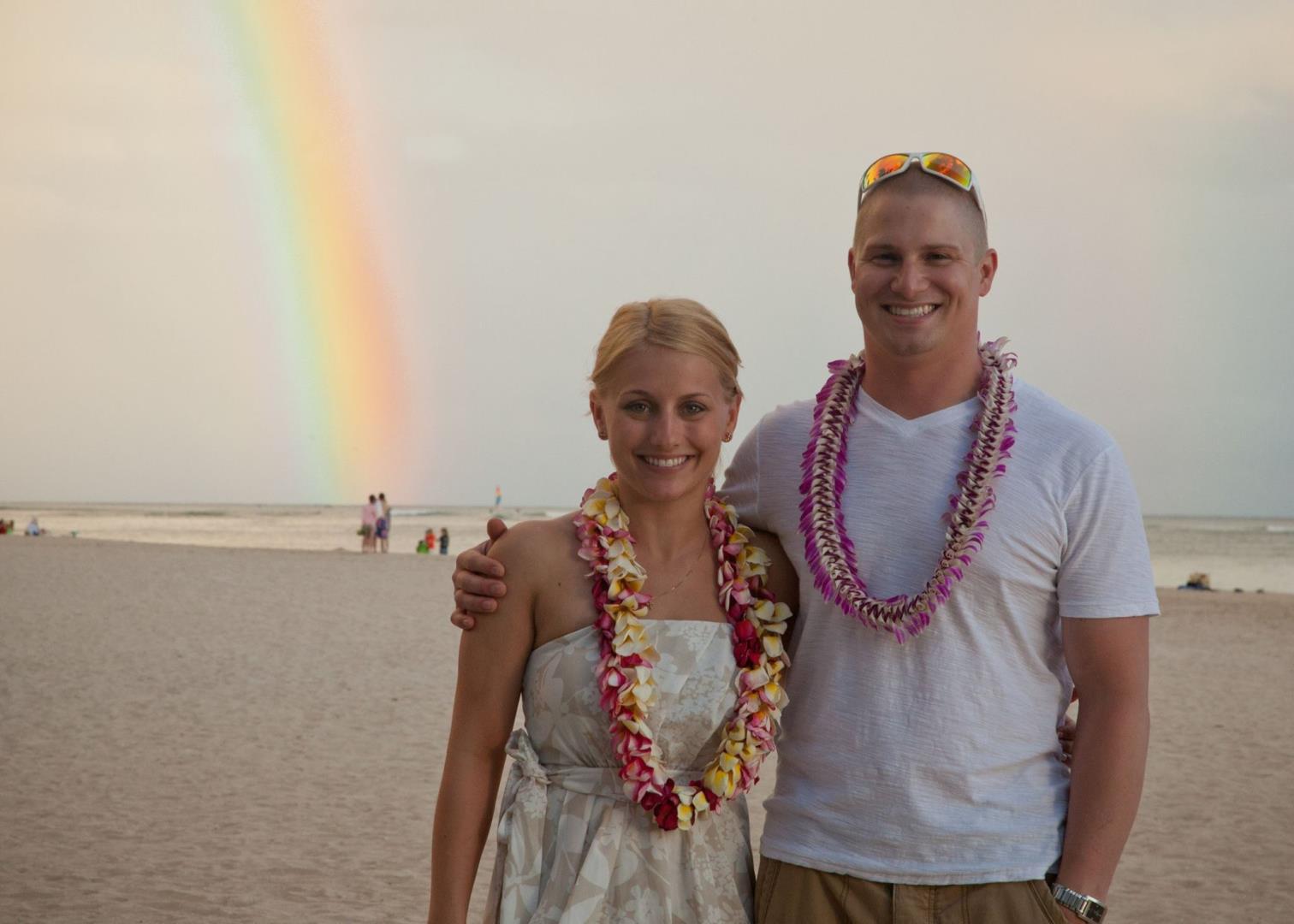 Congratulations Katie and Logan Nickel ... it was fun working with you, your family and friends. - Tana Kubricky
ANTIGUA WEDDING!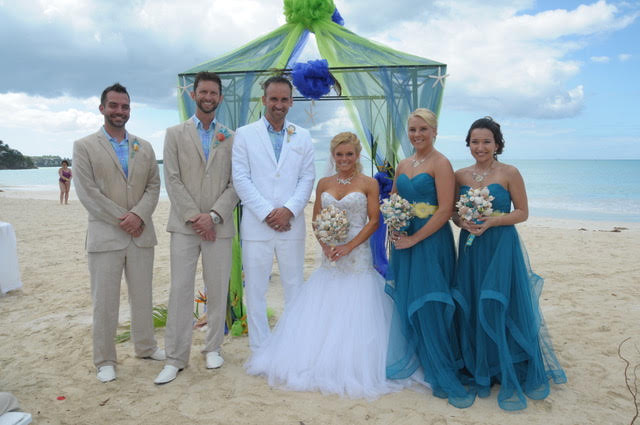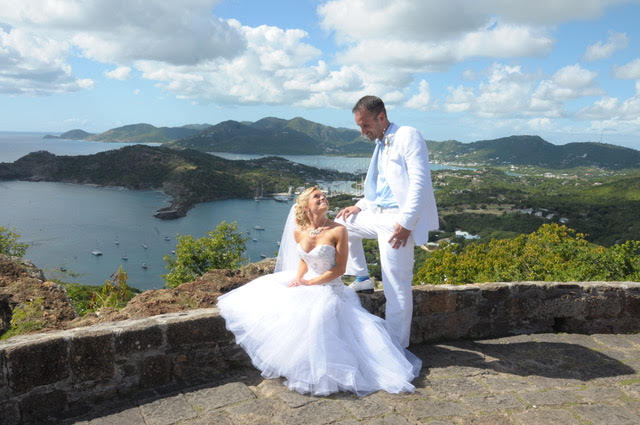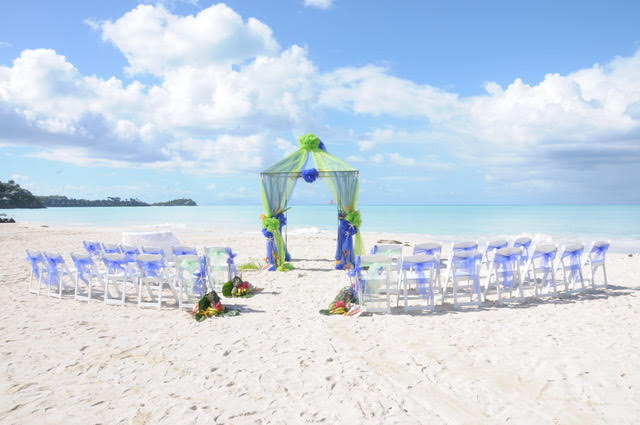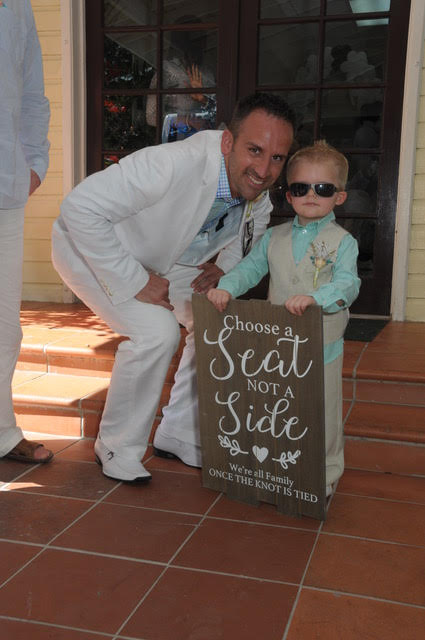 Thank you so much for reaching out to us!! Our vacation was fantastic and the arrangements turned out beautiful. Mike and I would HIGHLY recommend Beverley King for any future weddings in Antigua as well as Lawrence of Antigua Tours. Both of them exceeded our expectations with their accommodations, were responsive, prompt and truly made our day exceptionally special.
Other than a few hiccups with Royal Caribbean while on board, the photographer, reception, decorations, cake, everything was perfect. Our venue was breathtaking with all of the windows and the sun setting in front of us. Many of the crew members really went above and beyond when they realized Mike and I were getting married which made our experience even more exciting. Our photographer was sensational, providing us as many pictures as possible, even working longer than he was contracted for, just to accommodate every possible venue onboard. We hope our guests were able to get everything squared away and their accounts credited accurately. I was able to complete a survey last week for Royal Caribbean pertaining to our experience, suggestions and stand out crew members so hopefully they are able to review what was recommended and acknowledge those who made our time incredible.
By the end of the cruise Mike and I felt like celebrities because everywhere we went on the ship people remembered us from the wedding night as well as leading up to our night. We have met a handful of people during our cruise that we plan to remain in contact with as well. We would like to thank you for working with us so diligently for the last year plus. Your persistence, accommodations and assistance in overcoming an abundance of obstacles was greatly appreciated and hopefully it won't be as challenging for the next Bride and Groom opting to have a Cruise Wedding. :-)
I have attached a few pictures from our special day,
Thank you again your help was a blessing that we definitely needed,
---
JAMAICA WEDDING BY TEXT AND EMAIL....IN 2 DAYS!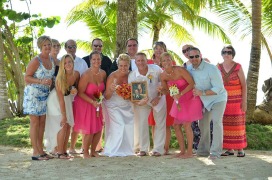 ---
The RIU NEGRIL
"Gayle has been a HUGE help to get this wedding all set up for us, in two days through e-mail!!! We love you Gayle and first choice travel and cruise for the kindness and professionalism!!" I cannot wait to go to Jamaica and enjoy everything that you set up for our special day and I cannot wait you work with you again!!!!!" -Jamie
An Amazing Jamaica wedding with their friends and relatives at the RIU NEGRIL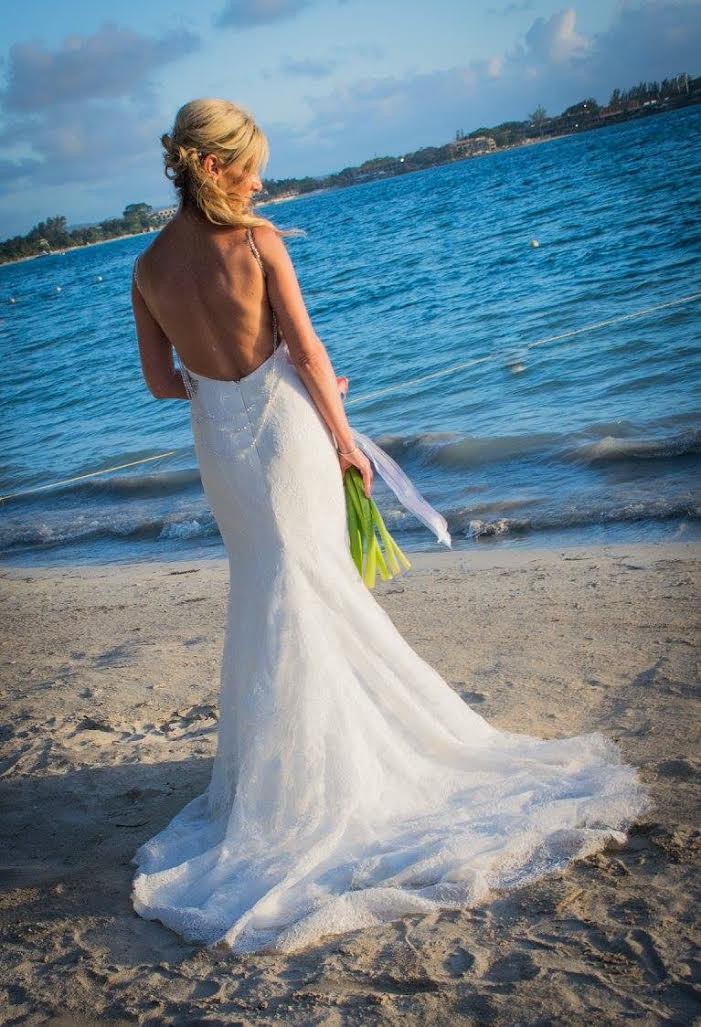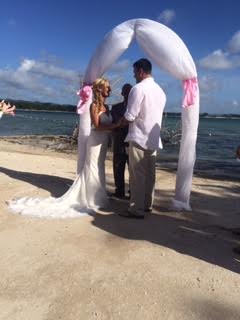 Hi Gayle,
I can tell you that we took over the resort the first few days we were there. It was quite the party! Overall, everything worked out great. We were both a bit nervous about having someone else plan all the details for the wedding. However, Dionne and the folks at the Riu did a wonderful job. The day couldn't have gone any better.
Everyone enjoyed themselves and the folks who hadn't been to Jamaica before really enjoyed it. The group hung out together for the majority of the week. We did do a booze cruise on Monday and had the majority of the group go (Snorkeling, Rick's and Margaritaville). Amy and I both jumped at Rick's and it was quite the party on the way back. I don't think the boat crew knows what hit them. We drank them out of beer and rum. We proceeded to drink the pool bar out of Vodka and Gin as well.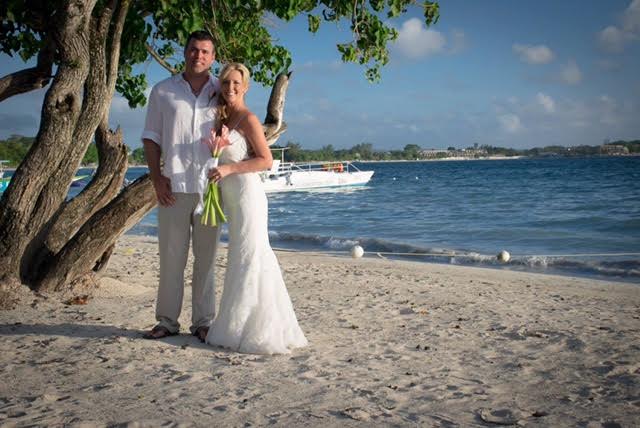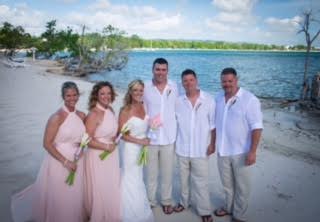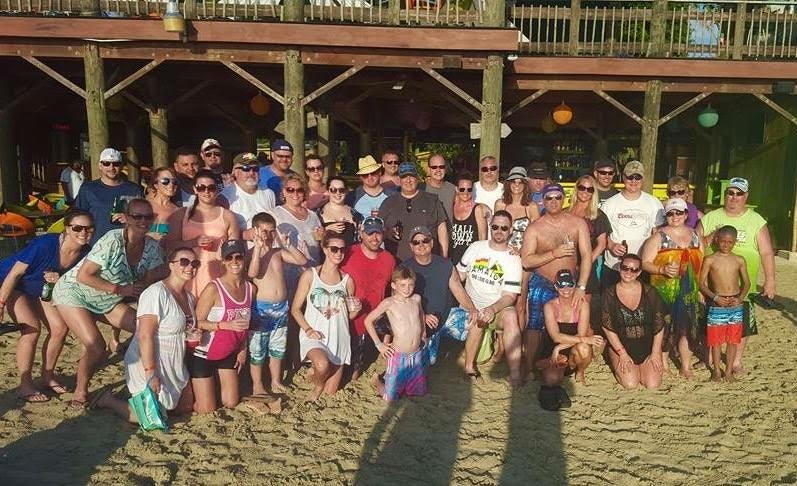 Appreciate all the help setting up the wedding and organizing our crazy group. Everyone had a great time and I'm sure the stories will continue for months / years to come.

Jeremy
Sandal Royal Caribbean Wedding for a Beautiful Couple from KY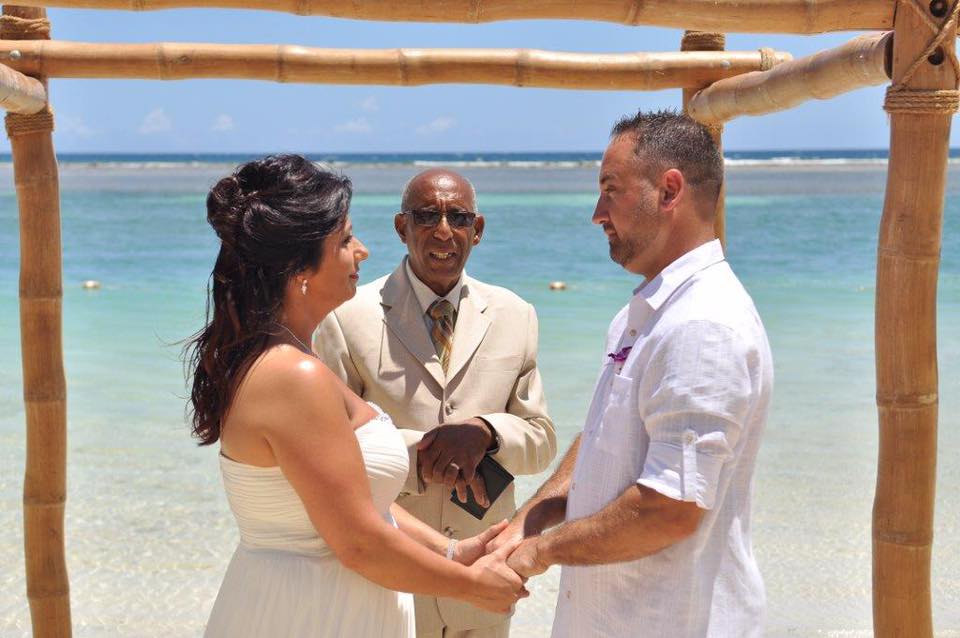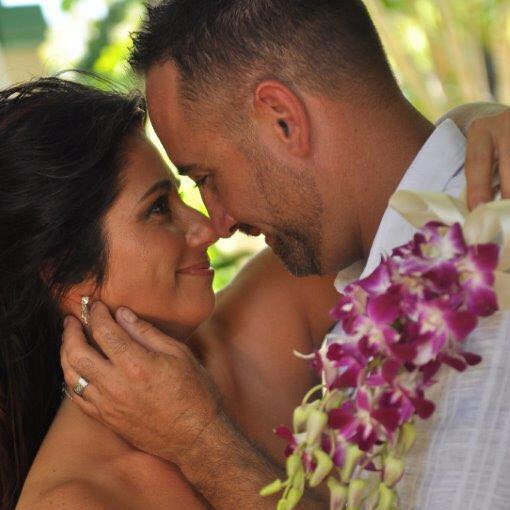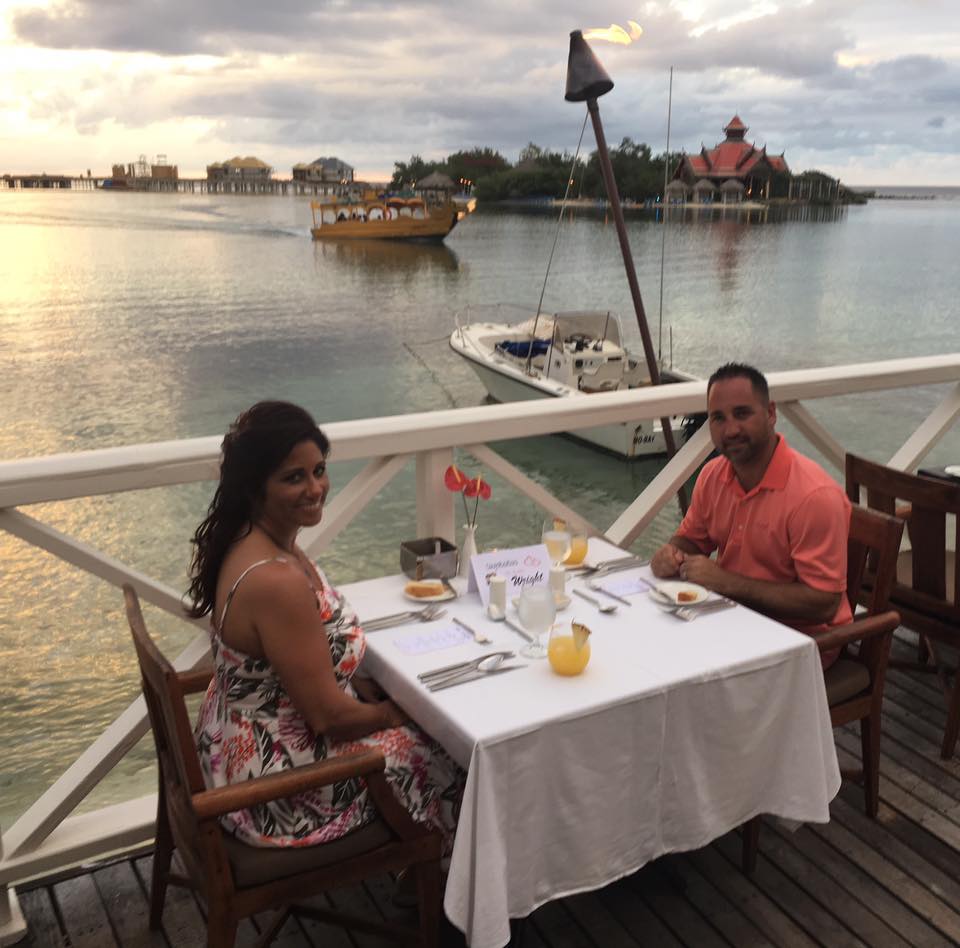 Gayle, We did have an amazing time. The resort was beautiful, and we loved everyone there. The bartenders and wait staff were phenomenal. We give them a 10+. Overall it was a great experience and we will definitely book more all inclusive vacations with you!!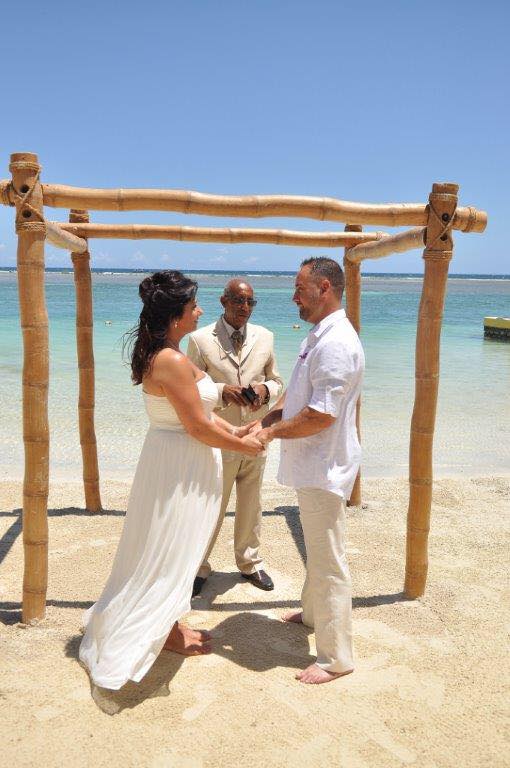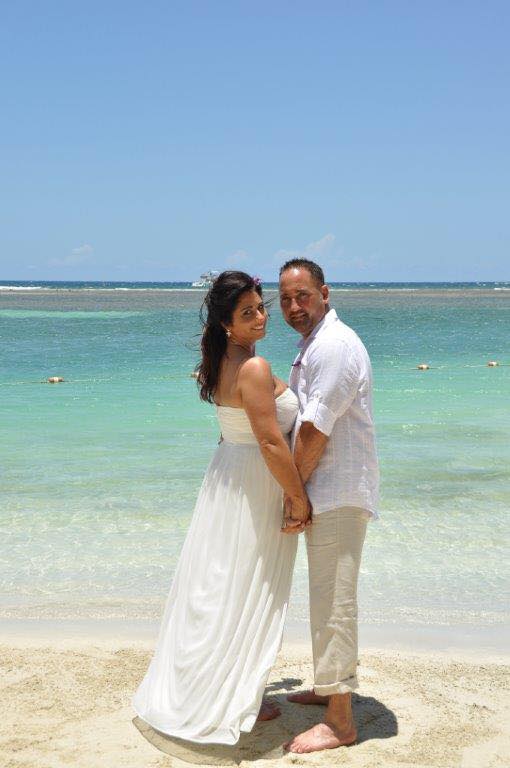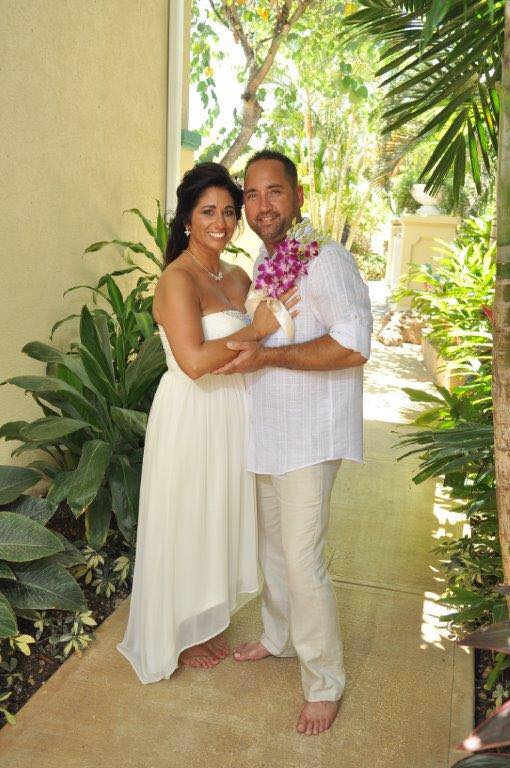 Thanks again for all of your help and insight with the planning of our trip. You were a huge help!!!
Theresa Wright (trying to get used to it..haha)
More: JAMAICA WEDDINGS BY FIRST CHOICE TRAVEL AND CRUISE
The Riu Negril was the location that Mike and Jennie Kozich change to last minute for the wedding! It was wonderful and they all loved it!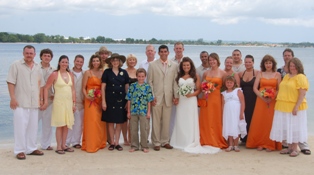 More pictures and quotes from the KOZICH / SIGL wedding!
RAEANNE AND KRIS FROM INDY GET MARRIED AT BREEZES RUNAWAY BAY
Hi Gayle,


Our entire group had a blast. We can not wait to go back!! The wedding turned out fantastic and all of the staff was very accommodating. The weather was great even though it rained a couple of times but we were not bothered by it one bit! We didn't end up going on any excursions.....mostly hung out at the beach and swim up bar area! I could not have asked for a better trip!! My friend is working on a disk with all of the wedding pictures (he was our personal photographer). We have a great group picture so as soon as I get those I will forward you a few pictures.

Thanks again for everything!!! Have a wonderful holiday!!

Raeanne
Click here for more beautiful pictures of Raeanne Eller and Kris Jordan's Wedding!
Another wonderful couple gets married at the Breezes Runaway Bay!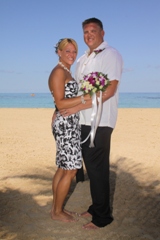 Jill said her wedding coordinator at the Runaway Bay was amazing and so was the wedding!
Grand Palladium in Jamaica. Kim Brown and Christopher Smith wedding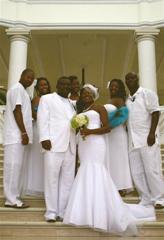 Thanks Pat Weber for helping book all 39 guests for our wonderful wedding on 07/07/12 at Grand Palladium Jamaica Resort & Spa!

Love, Chris & Kim Smith
---
BeachesSandy Bay Wedding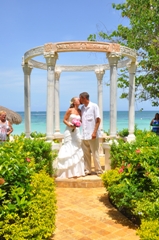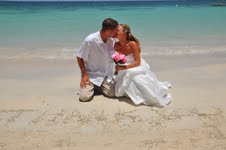 Hi Tana-
Thanks! Everything was awesome!!! The first picture I am attaching is our thank you to you for helping us. We mad thank you cards out of them, I was going to send you one, but since you just emailed me I will forward. I will also attach a few others. I have to say, Jamaica was the perfect spot for us to get married. It was laid back, relaxing and stress free. We had a great time, can't wait to go back some day. Everything below is a 2 J
Thanks!! Sophie
SCOTISH HIGHLAND WEDDING!
Ever dream of a wedding in Scotland? Kerri Lapointe and Michael Webber actually did it!
And with style I might add. Check out that great kilt. See what the mother of the bride says about a Destination Scotland Wedding!!!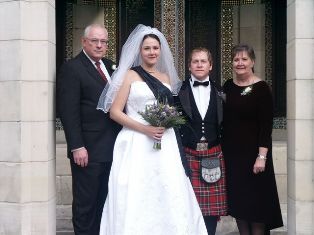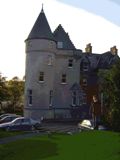 I don't know if I can explain how wonderful it was to have a destination wedding. No one was driving, everyone was right there in time for the ceremony and the party. The most stressful part was hoping our clothes still fit on the wedding day, after enjoying great food and drink for 4 days before.
Scotland was most hospitable. The rules to marry were very clear, and before leaving the USA we had all confirmed papers, and it was just the ceremony and the wedding certificate left when we got there. WE spent some time in Edinburgh before going on to the Castle in Peebles. We stayed in a hotel that was in the middle of the shopping area and a very short walk up to the Royal Mile. Our hotel rooms looked out onto Edinburgh Castle. We had an easy 30 minute drive south to Peebles and up the driveway to the Castle. There were 3 B&B's along the driveway, so the overflow of people stayed there and could walk up the hill for dinner at the castle. The castle rooms are priced to include breakfast, and an allowance for the evening
meal. It was a terrific bargin. The food was exceptional! Each room in the castle is named for a Scotch, and we all tried the one that corresponded to our rooms. WE had drinks before dinner in the Library each night, and usually a nightcap after.
It was a most romantic and gracious place for a wedding and for a stay. Destination weddings are held in many wonderful places, not just warm climates. WE felt it was a wedding for a Princess and we were all treated like Royalty.
Judi Lapointe
Brookfield
Mother of the bride
---
This couple did something different and unique! Their wedding was full of Adventure in Costa Rica!
COSTA RICA WEDDING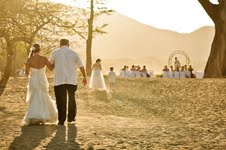 Brett May and Jessica Hill
RIU GUANACASTE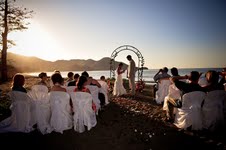 I hope this message finds you doing well!
We had an amazing trip and a perfect wedding day. Could not have asked for a better place to be for our special day with so many of our friends and family. Thank you for helping us make it all happen. We did a number of the excursions including jungle-top ziplining, a catamaran cruise where we saw whales and dolphins, and a great beachfront horseback ride. Also saw baby, sea turtles being born on the beach; priceless. The weather was gorgeous and the pools were great.
Thanks again,
Brett May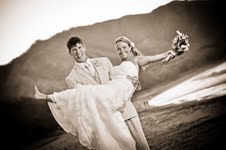 We had an amazing time, the resort/people far exceeded our expectations and were really great to us! The food was great, we had a ton of fun at the pools and beach everyday. We did ziplining and a boat trip where we saw dolphins and whales.
Everything you setup in advance went smoothly, which was a huge stress relief. The wedding itself was beautiful at sunset and the pictures tell it all!
Thanks again for everything, it really was a trip of a lifetime!!
Jess and Brett
---
LAS VEGAS
LAURA AND JEFF'S WEDDING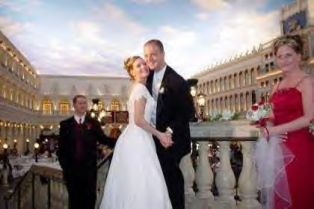 Hi, Mary, here is a picture of Laura and Jeff just after finishing their vows on the Ponti el di Piazza in St. Mark's Square at the Venetian. It was absolutely beautiful. The people at the Venetian took very good care of us and tended to our every need. I would recommend it to anyone. We found hiring a limo to meet us at the airport to be not only a lavish way to get to the hotel, but also quite affordable. It cost $38 per hour so we hired for 2 hours and picked up the tuxes, went downtown and got the license and dropped the bride a groom off at the Venetian and us at Imperial Palace for under $100 including tip. The fellow was really nice and offered to return us to the airport when we left for $18!!!!! Can't beat that. Packed our bags, went downstairs and the limo was waiting! So thanks for all your help and here's a picture of the happy bride and groom who are all gung ho for another cruise soon!!
Talk to you soon. Louise Schultz
---

BAHAMA WEDDINGS!!
Gregory Knott and Steffanie Hanson's wedding at the Sandals Royal Bahamian!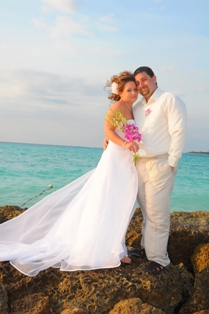 Pat, It was great! It couldn't have gone better!
Greg and Steffanie Knott
Breezes Bahamas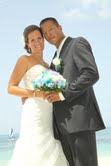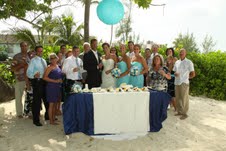 Thanks, we had a great time and the wedding was more than we both expected. We had great weather and the company was great. I will send you some pictures when we get them uploaded. Thanks again for all the help and we will keep you in mind for further travel plans.
Thanks
Karen and Joel Maass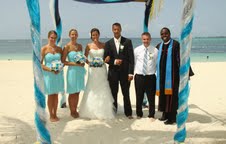 ---
WEDDINGS IN MEXICO
THE RIVIERA MAYA IS ONE OF THE MOST POPULAR WEDDING SITES OUR COUPLES CHOOSE TO HAVE THEIR WEDDINGS! Click on the link below for tons more pictures and quotes from our couples!

RIVIERA MAYA WEDDINGS BY FIRST CHOICE TRAVEL AND CRUISE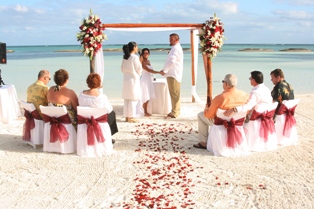 El Dorado Maroma really knows how to spoil you!!! It took some getting used to tell you the truth. It was absolutely phenomenal though. Thank you again for everything
Tasha and Daniel Greene
The Moon Palace is where Cali Olson and David Mowad were married!
Click here for more fun pictures of ANDY AND MEGAN YOUNG WEDDING at Sandos Caracol.
Click here for more beautiful pictures of Andrea and Billie's Destination Wedding.
Enjoy the family wedding pictures of... Sonia Villarreal and Mark Greenwood's Wedding, compliments of the mother of the bride. They are absolutely wonderful...Thanks for sharing Anna!
Click here to check out Jim and Megan Larson's pictures for their lovely wedding at Sandos Playacar!
Iberostar Paraiso was the location that Keri Wolter and Erick DeBruin chose for their wedding!
Bri and Dylan invited friends and familyBri and Dylan for their wedding at the Azul Beach!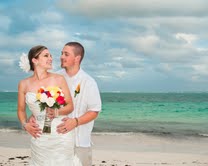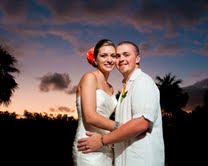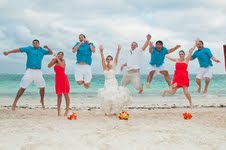 Thanks for all your help Sara, it was the time of our lives. And we will forever remember our big day so clearly with the stunning wedding pictures!
Bri and Dylan
El Dorado Royale and Casitas Wedding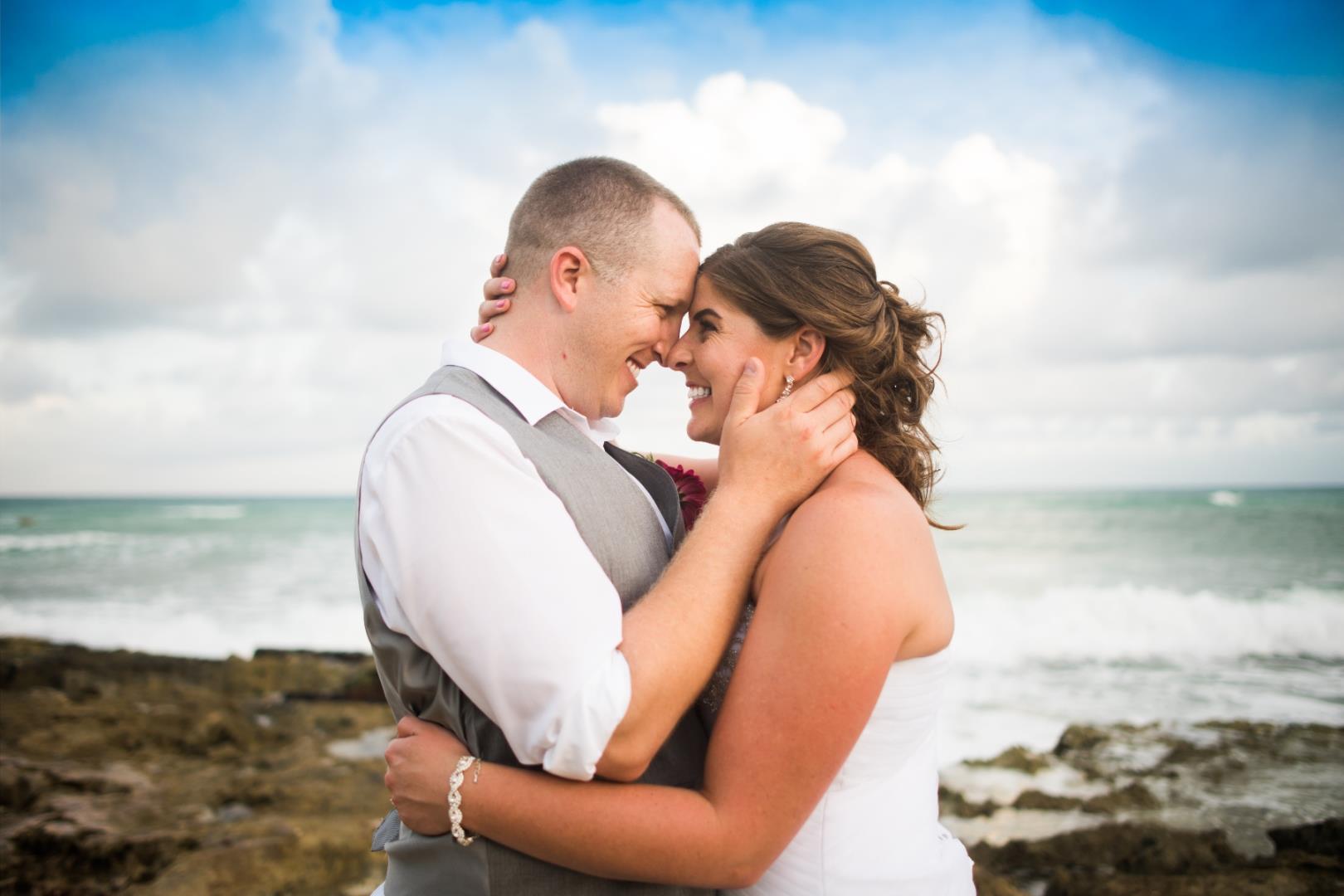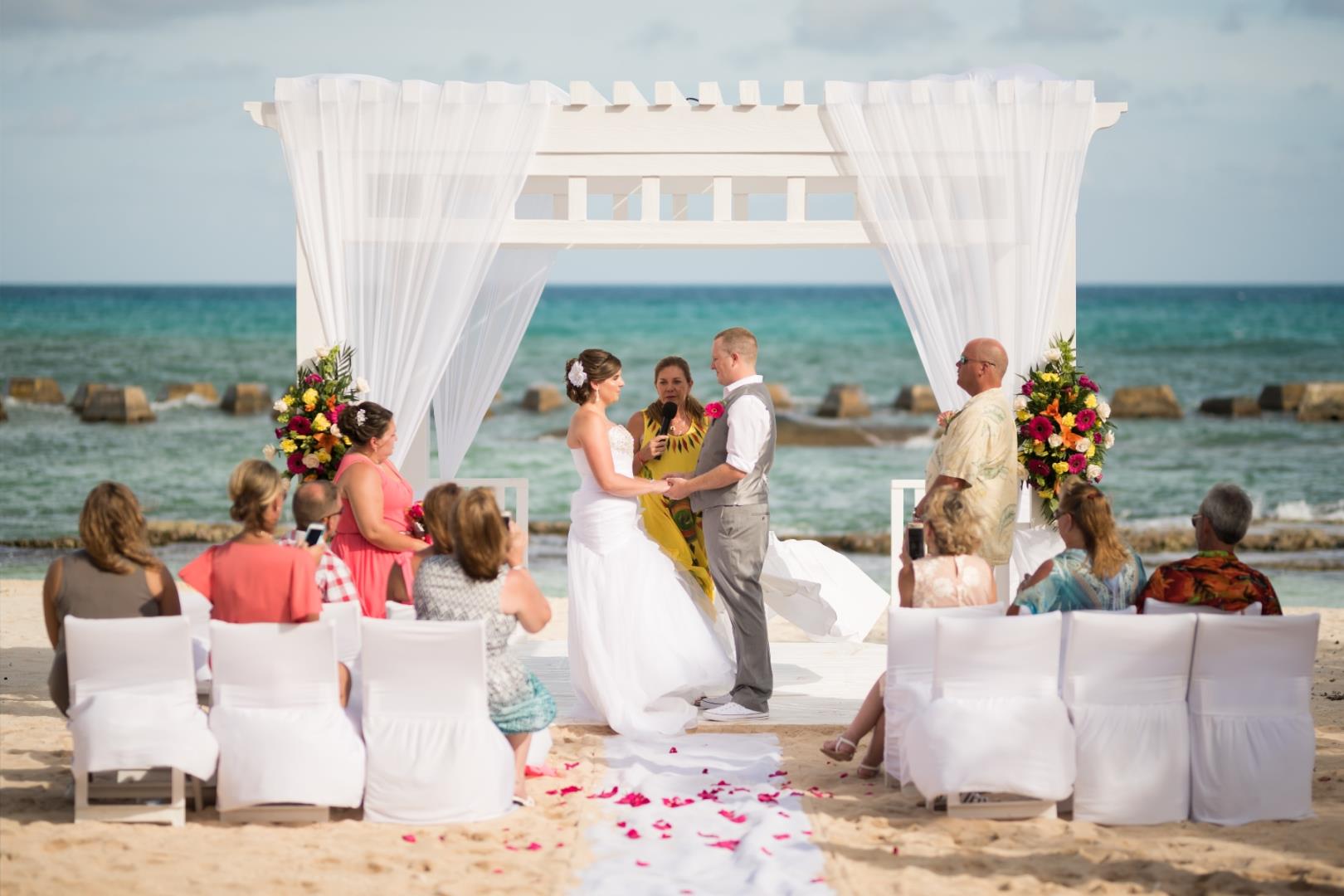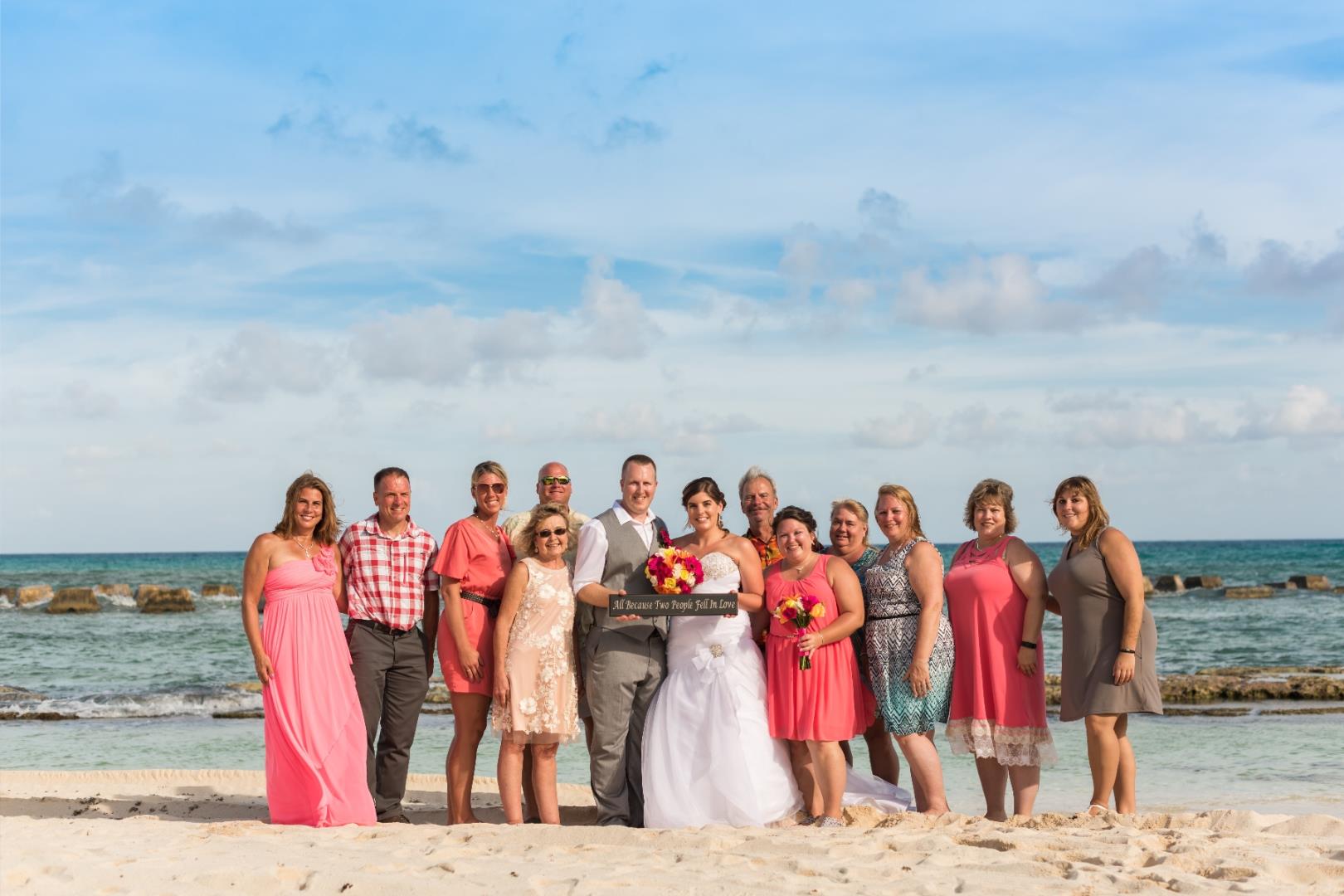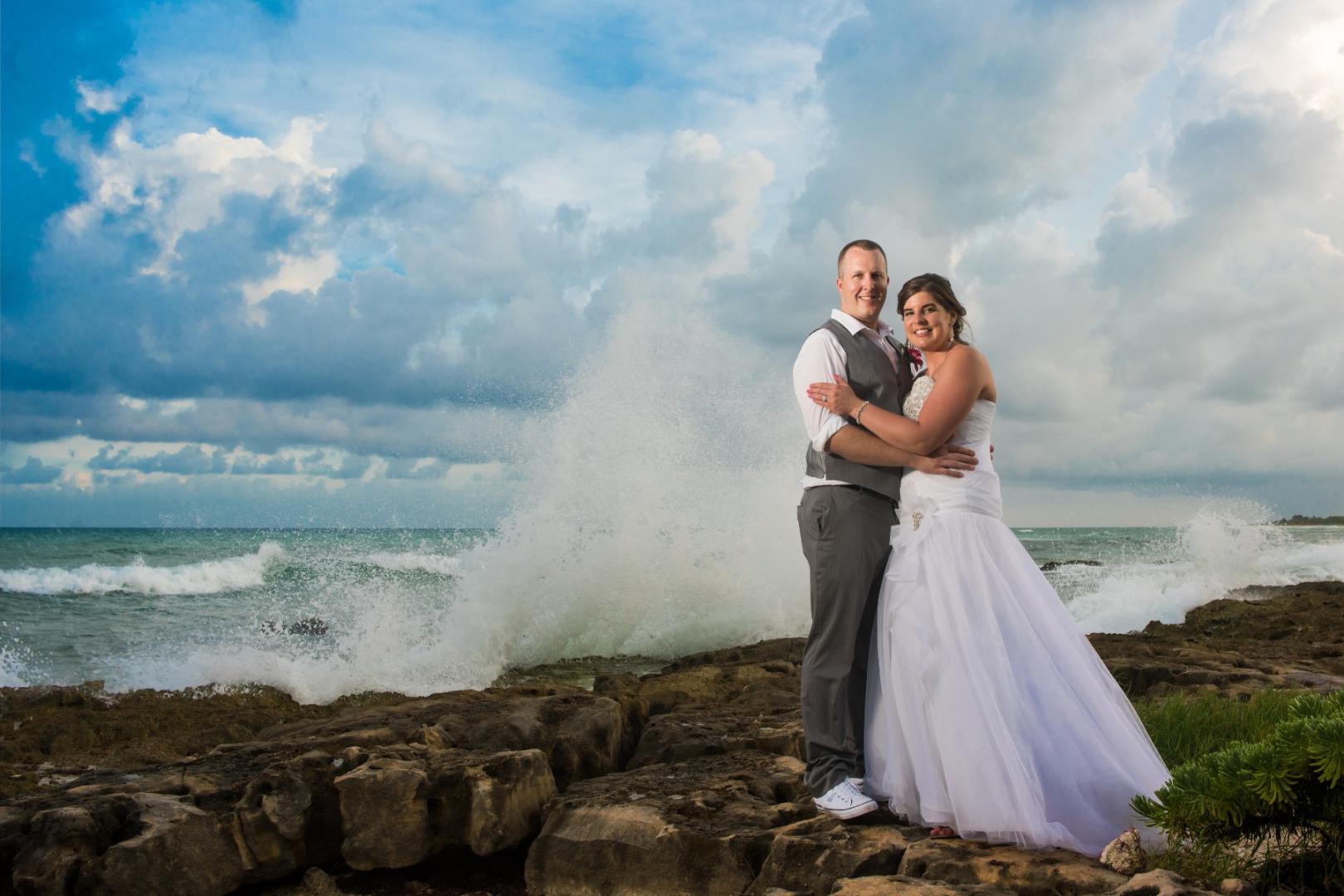 Gesica,
It was absolutely FANTASTIC!!!! The resort was amazing, and the food was so fancy! Dan now wants me to attempt at making the lobster bisque that we had ( he's a funny man).
The wedding coordinators on site were fantastic! The weather was finally nice
on Tuesday
to allow for a beach wedding. It started pouring shortly after the ceremony, but then cleared up again for pictures- the photographer was phenomenal! I cannot wait to get pictures back.
The entire trip and group was amazing! I cannot thank you enough for putting everything together!!!!
Michelle
MOON PALACE WEDDING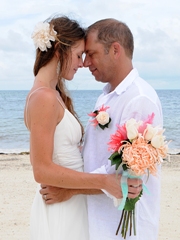 Hi Gayle,

Mexico was absolutely perfect. I can't wait to go back. The Moon Palace staff was very friendly, and the resort was beautiful. It was great for the whole family, so many pools to choose from. The only downside for us was the beach. There was a ton of seaweed everywhere, and the water was green like a lake. Just not the tropical turquoise we were expecting, besides that it was wonderful!

Thank you so much for all of your help with our wedding. The Moon Palace was the best choice for our wedding, and we are so happy with the trip. Hopefully we can make out there again sometime.

Dave & Cali
Cali Olson and David Mowad's Wedding
DREAMS RIVIERA MAYA

LEAH AND BART WILLIAMSON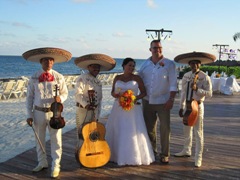 Hola Gayle,
Wow the resort was amazing!!! Everyone was very impressed with it, the food was spectacular and so was the service. Bart did the snorkeling with some people, others went in to playa del Carmen and some went to tulm. The resort was offering a special shopping tour to go in to playa from 4-8 for only $20 round trip, so that was a great deal.
Our room was gorgeous about every 3 days they would bring us big flower arrangements, unbelievable!!! Our view was all ocean couldn't of asked for a better view.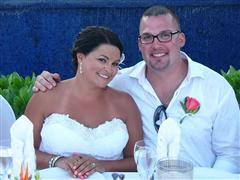 The restaurants were fantastic everyone was ranting and raving all day and night on how great the food was. Only thing to know for future is that one restaurant closes a night so make sure to read the newsletter the night before. My favorite was the Italian and the French. I can go on and on all day about this resort!!! Lol Also the resort is very gluten friendly , Jen checker had the allergy and actually they had a gluten free menu for her very accommodating.
Claudia solis was amazing, she had everything under control, no problems, no issues, our wedding turned out perfectly. I couldn't have thanked her enough. They definitely know how to plan a wedding, Claudia stayed with us up until dinner and then George stayed with us all night long, just amazing!!!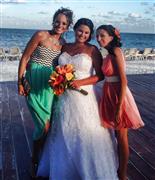 Only bad thing I had to experience was with united airlines. They made me cram my big wedding dress in a ball and shove it on top above the seats, they were so rude and mean to me bc of my dress and then tried telling me I should have shipped my dress, I almost lost it. I was under the impression that they would hang it up for me, boy was I wrong.
We all had such a great time , I just can't believe it s over. No one had any issues with dreams, apple or airlines.. We couldn't have asked for anything else, a bunch of us our talking about planning our next vacation!!!
Thanks so much Gayle!!!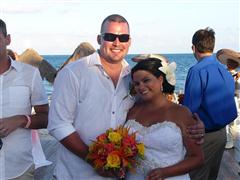 PUERTO VALLARTA WEDDINGS
RIU JALISCO PUERTO VALLARTA
Kristen and Kevin Linzmeier of Brookfield traveled with their family and friends and got married in Puerto Vallarta at the RIU JALISCO.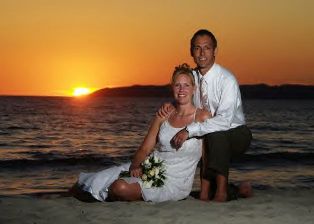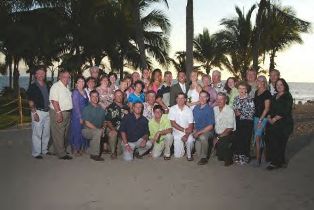 WEDDING AT THE MARIVAL RESORT
Kurt and Missy's Wedding was held at the Marival Resort .....but the group stayed at another resort! See anything is possible!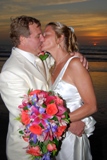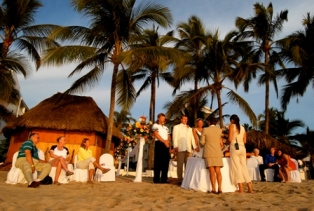 Kurt Wegner and Missy Ramsdel were married before the NEW YEAR in Puerto Vallarta! This couple wanted an intimate wedding at sunset with just immediate family to witness their big day!
It only took them about 11 years to finally tie the KNOT! But when they took the plunge they did it in style. A really large reception was held in summer at Missy's sisters and brother in laws house in the yard. The party was a blast and so was the FIREWORK DISPLAY!!!
A Sunset Wedding dream come true!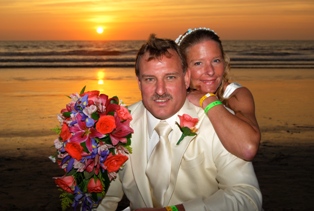 HUATULCO
Dreams Huatulco Wedding
Gayle,
Everything went very well, the resort was wonderful. Gabby, our wedding co-coordinator was great. We would highly recommend having a wedding there.
Sally and Ben
---
ST THOMAS
FONTANA / BECKER DESTINATION WEDDING GROUP
Jarrod and Danielle Becker said their vows in St Thomas the Wyndham Sugar Bay Resort.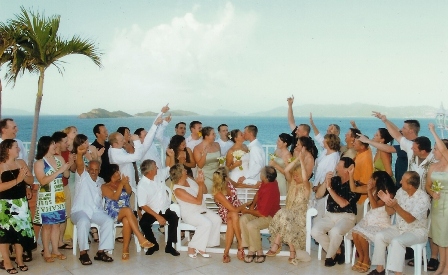 2nd Picture is the happy BRIDE AND GROOM...JARROD and DANIELLE BECKER of Menomonee Falls
Tana.... thanks so much for all of your help. My wedding day was perfect and it is a day I will never forget.
JARROD and DANIELLE BECKER of Menomonee Falls
---
HAWAII
Just Mauied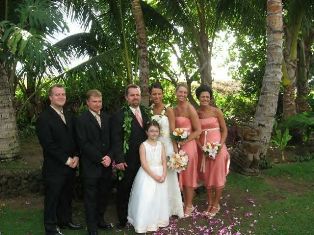 Everything was great! I want to move there! The wedding was perfect. We had the ceremony at the Old Lahaina Luau. If I could do it all over again, I wouldn't change a thing.
Jennifer McHenry
Sales Assistant
Times Printing Co. Inc.
MARRIED IN MAUI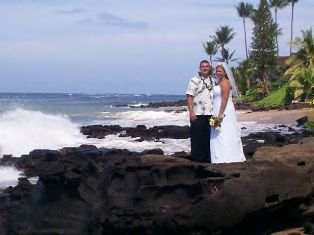 This picture above is Jon and Kelly Ours. They had a destination wedding on Maui but they also took some time to visit the Big Island and Oahu.
Hi Mary,
I just got the newsletter and saw the clip about Jon and I in there. I am sure you guys probably like to see the wedding pictures of success Destination Weddings and ours was a HUGE SUCCESS. Thanks again for putting up with all of my indecisions and inability to decide on anything. You really made our wedding great and it was all so easy for us and all of our guests. Thanks again!!!
Kelly
GET MARRIED ON THE GARDEN ISLAND OF KAUAI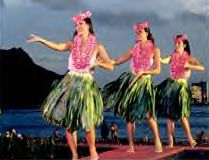 Gayle, the wedding was beautiful and just what the kids wanted. We have lots of pics but I don't have them on my work computer.
The wedding coordinator you suggested, I think, was just wonderful. She had everything perfect and arranged for the nicest Judge, photographer and musician. The kids commented they wished the day would have lasted longer because it was so perfect. I would not hesitate recommending her to anyone.
I liked Kauai so much more than Oahu. Oahu is too commercial, especially Waikiki. We did tour Pearl Harbor, very emotional, and did the circle island tour but I don't think I'd go back. Kauai is how I picture the islands. I wish we would have spent more time there and less time on Oahu.
Thanks again for all your help.
Sue (MOTHER OF THE BRIDE)
Kauai Wedding!
Patrick Cressey and Sarah Butters from West Bend tie the knot in beautiful Kauai!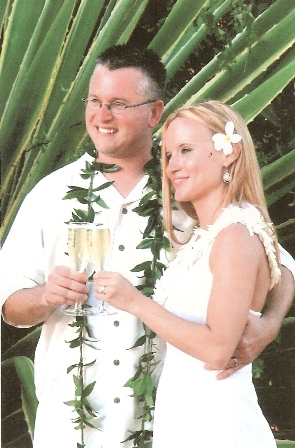 Patrick said the wedding was fantastic! They were thrilled and said the job the wedding coordinator (that Gayle found) from Kauai was great to work with. They were so happy with everything including the wedding and it all went perfect. There was a lot of anxiety, questions and certainly anticipation that the wedding would be perfect and it was! The Marriott Kauai that they stayed at was awesome. The rooms were huge and private, just what they were looking for. The Marriott has the largest beautiful pool with all the fountains and jacuzzi's, great beach and everything you need is right there within walking distance. They are already planning their next anniversary trip back to Kauai!
How about a CRUISE WEDDING?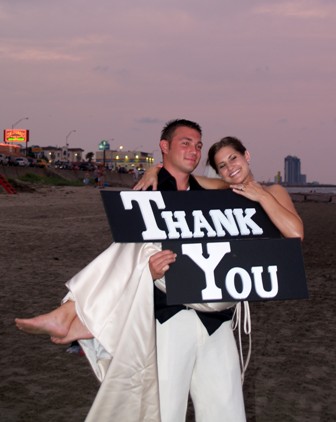 Good Morning Tana,
Ok - here are some pics from the wedding cruise!
I want to tell you how much we appreciate all your hard work Tana -
no matter what we ask you to do - you were only a phone call away! Even too
the last minute when when Jay decided to add a person - I know we had lots of
changes with that many people - but you never complained - always
took care of it! A job well done! You monce ake First Choice Travel our
number one choice!
We appreciate you!
Lana Barch and Krista Jones (Barch)
McKinney, Texas
PS: We loved this picture from Lana and Krista and it's meaning. They are from Texas and found us online. Their travel agent did not get back to them and apparently as you can see by their email.... they loved working with Tana on their Destination Cruise Wedding!!!

I want to thank you for taking care of our destination wedding planning and guest list. You have been very accommodating, patient, and understanding and we truly appreciate your help with getting our guests booked.
Thank you so much for handling everything so smoothly. We leave Monday and can not wait!!! We will be in touch with you after, to send you photos of the big day and of course, will be in touch with you next year to plan our next Winter Vacation, which we are already discussing on destination. :) Can never plan to early!!

Have a wonderful holiday season and many many thanks!!
Regards,
Sheri Gille
Rick Lambert
Mother of Brides and Grooms speak out: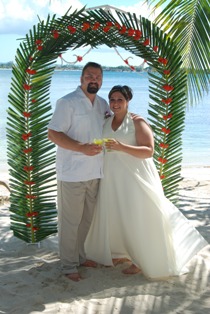 Mother of Bride ...Jeannie Cruz says this about the picture.
Jeannie told Gayle that her daughter Tianna Lopez and Mark Kliewer's wedding was beyond beautiful. A DREAM COME TRUE! The wedding was gorgeous and everyone had a good time. The wedding was at the Riu Negril in Jamaica.
Mother of the Bride says: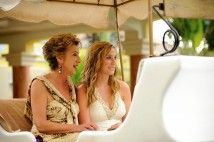 Kelly and mom Heidi Miller enjoy a moment before the wedding!Oh Gayle … I can't thank you enough for taking the time that Sunday to find Kelly's dream wedding location … it was everything she wanted!!! You were so very sweet that day and I'll never forget the look on your face when you were checking the price on Excellence Punta Cana and said you couldn't believe how low it was and told Kelly about the horse drawn carriage. Her photographer was AMAZING … we haven't even seen the trash the dress photos, and by the way the photographer was dropping to the ground to catc h the angle of the waves coming up behind Kelly & Dan, I'm sure they will blow our socks off!!! Thanks again so very much for being so sweet and dealing with me panicking on a Friday night when you should have been out. Take care and I look forward to working on another vacation sometime in the future. Heidi
---
SPECIAL 50th WEDDING ANNIVERSARY AT DREAMS TULUM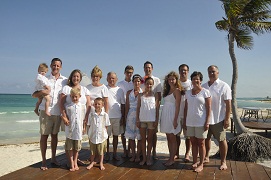 The CALTEUX FAMILY just got back from DREAMS TULUM and they had a great time celebrating a 50th wedding anniversary and 2 birthday's!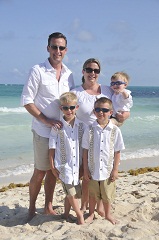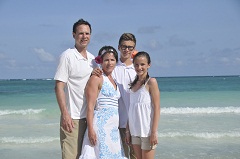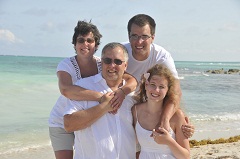 They are already planning on going back because everything was so fabulous!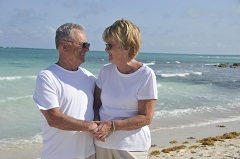 Thanks Tana for putting together a wonderful family vacation!
---
We love it when our clients are HAPPY, SATISFIED and want to make First Choice Travel & Cruise their #1st choice!!!! The best compliment we can achieve is your happiness and your referals!!!

WANT MORE? PUNTA CANA, JAMAICA AND RIVIERA MAYA WEDDINGS?
CHECK OUT MORE PICTURES, QUOTES AND SETTINGS FOR WEDDINGS!!! GET SOME IDEAS.... FOR YOUR OWN WEDDING!!!

Everyone has a different idea of what paradise is and we can help you find yours!! Let's make an appointment so we can share our ideas with you. We work with couples just like you from all over the United States. Ask for a Destination Wedding or Honeymoon Specialist at
(262)542-5955.

TO CONTACT THE WEDDING OR HONEYMOON DEPARTMENT CLICK HERE:

Ask us for more information on our
for your favorite Bride and Groom!
Find out if a Destination Wedding is right for YOU!