Hawaii Wedding Requirements

Tropical Hawaii Weddings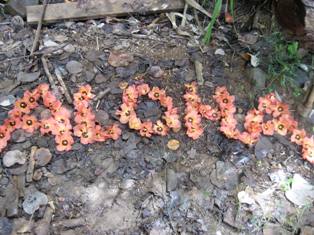 ALOHA! Your Dream Wedding Awaits!

When you thought of a Destination Wedding, did you imagaine a Romantic Beautiful Wedding in HAWAII?
You may think that a wedding in Hawaii is just a dream but we can make it a reality for you!!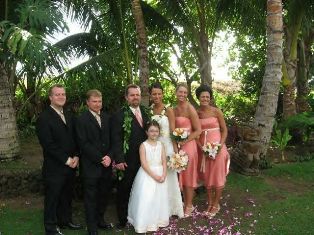 Hawaii is one of the most popular locations for destination weddings....and honeymoons. The number one reason Hawaii is requested so often for weddings is because it is still located in the United States. Just being in the US makes it so easy to get married here legally. There is no language barrier and since no translations are needed for legal paperwork you can get married easily and legally on all the islands of Hawaii!!
It's easy to get a Hawaiian Marriage License! The hardest part of the wedding process is choosing an island ...in Hawaii for your Wedding! That is where we can help you choose the perfect location. Contact a First Choice Travel and Cruise Destination Wedding Specialist for your Hawaii Wedding or Honeymoon!

Besides being one of the most diverse destinations to choose from, Hawaii really offers something for everyone. The majestic mountains, beautiful aqua blue ocean water, volcanos, along with acres of lush tropical gardens full of floral and fauna you will never see anywhere else. Every island in Hawii offers so many romantic drop dead gorgeous views and each island has their own special activities they are famous for on land and water.
Hawaii actually offers so much variety that it is a perfect vacation spot for everyone in the whole family and for your Destination Wedding.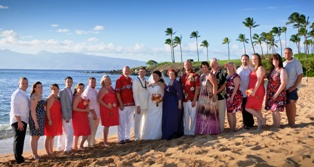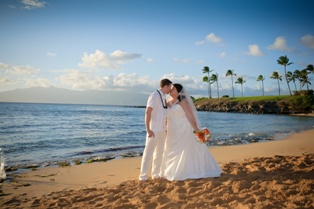 Breathtaking views are not the only thing that brings so many visitors to Hawaii. These islands offer unique Hawaiian getaways with a wide selection of unique shops, award-winning restaurants, plush lounges, fun Hawaiian bars and many celebrated spas on each island. From the sprawling pools to the selection of Hawaiian cultural activities, even year-round children's programs, all your guests are treated to unforgettable stays at this idyllic Hawaiian retreats.
With luxury accommodations, inviting restaurants and a huge selection of fine shops, Honolulu, Maui, Kauai and the Big Island are the most popular for romance and fun.
The girls in our office and also our wedding couples are sometimes torn between choosing which island will be the best for their Hawaiian Wedding. Each Hawaiian island has their own personality just like each of us is an individual.
I would certainly say there has been a huge winning tie between Maui and Kauai for the most popular islands our couples choose for their weddings.
This doesn't mean that our couples and their families don't take the time to go and visit Honolulu and the Big Island and some even venture over to the island of Lanai. So for some of our brides it may be hard to choose which Hawaiian island to have their beautiful dream wedding on but to others they know right off which island is the perfect setting for their once in a lifetime wedding!
"Maui nô ka 'oi!" or "Maui is the Best!" is a common Hawaiian refrain. We hear this often when our clients come back from Maui. It is a favorite for almost everyone. Lots of repeat guests will go back time and time again to the amazing beaches and laid back atmosphere.
Kauai has all the waterfalls, jungle filled gardens and crashing waves you were looking for. Kauai is a bit quieter than her sister islands of Oahu and Maui but offers enough to keep you busy for your entire stay. All the gardens here make Kauai a hit for romance!
Seasoned travelers say that there's nowhere else on earth quite like The Big Island of Hawaii. The adventure starts on the Big Island with volcano park and swimming with the manatees. Dominated by the twin peaks of Maunakea and Maunaloa, the Big Island offers incredible sites and the settings for extraordinary experiences, honeymoons and destination weddings.
Relax on Lanai at one of the beautiful resorts there that include a refreshing pool, beautiful beach area, archery and gun club and my favorite is the swimming with the dolphins for FREE! Then enjoy a pampering spa treatment at the upscale health facility when you are all set to relax. Go for a week or stay a few days. Just a short ferry ride away from Maui.
Small Weddings are Great too!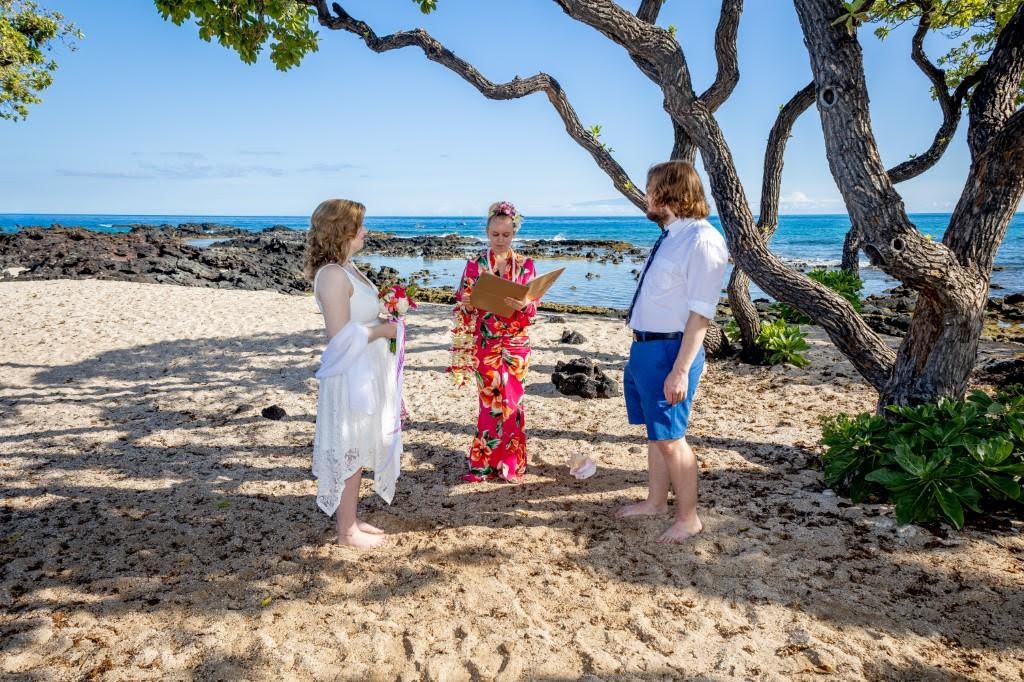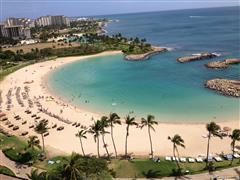 REQUIREMENTS: State of Hawaii
Application Process
Waiting Period: None.

License Validity: 30 Days.

Blood Test: Not Required.

Residency: Not Required.

Witnesses: Not required.

Applicants must prepare an official application and file the application in person and together with the marriage license agent.

Provide the necessary documents and this should be obtained prior to applying for a marriage license.

Upon approval, a marriage license is issued at the time the application is made. We do have contacts in Hawaii to help you with all your paperwork and applications.

The marriage license is good only in the State of Hawaii.

We have so many choices of SETTINGS for your WEDDING!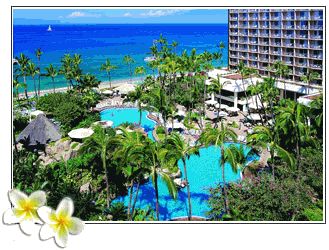 There are so many beaches, gazebos, churches that can be used for the ceremony. Or we can work directly with some amazing hotels, condos and resorts from all over in Hawaii. Just choose an island first or better yet we can put a package together for you with as many islands as you want to visit on this trip. This way you won't miss any of the Hawaiian islands you must see!
Ask one of our Destination Wedding Specialists how easy it is to get married by a waterfall in Hawaii, on the beach with the waves crashing in the background or even ....near a volcano!
Mahalo!

Check out some Beautiful MAUI WEDDINGS!
For more information and options email an experienced Hawaii Wedding Specialist today: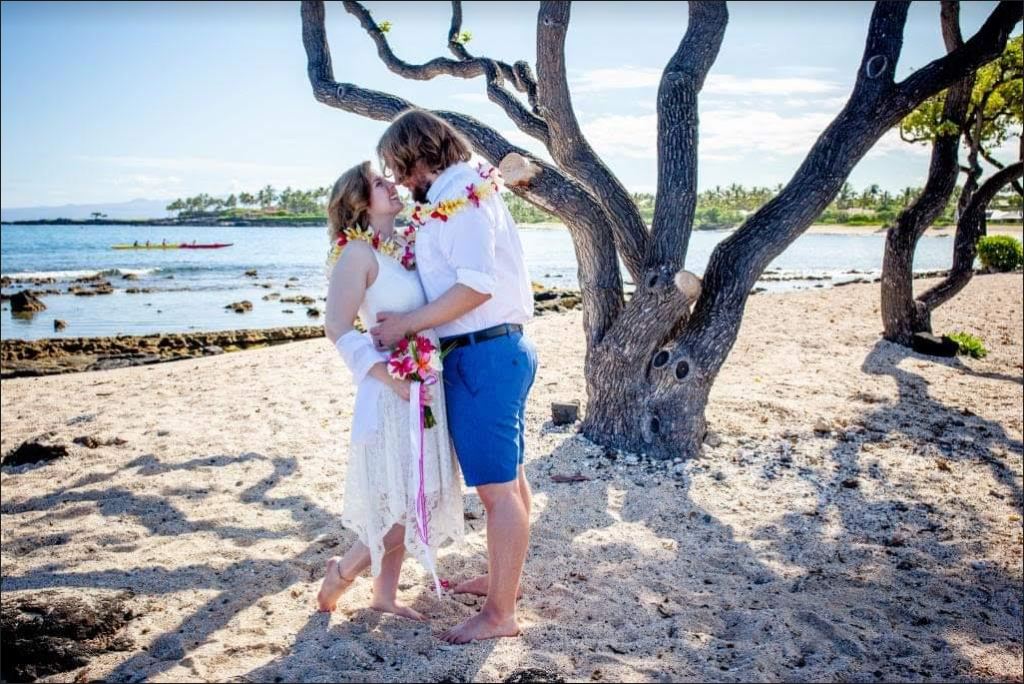 Enjoy some great pictures, reviews and experiences of our guests' Hawaiian Vacations!