RIVER CRUISES
Want to know more about the River Cruise phenomenon?
Talk to anyone who has taken a river cruise and I bet you will find out they are officially hooked! If fairy-tale castles, charming countryside with quaint unexplored hidden city gems, history and culture interests you; then River Cruising will be just right for you!

We are ready to experience all the new itineraries being offered and you will be too. It is not only a great way to explore the smaller cities near the river and major waterways but so relaxing and fun too! The smaller more intimate ships like this will definitely get you interested in visiting more destinations around the world in true comfort and style. With so many different River Cruise options out there, lets discuss which one is best for YOUR river cruise experience?
Sure River Cruising is not inexpensive but the value of the all inclusivity that you receive on your river cruise will make you wish they offered this years ago! Each cruise line has a different personality, just like YOU. Every river cruise line has their own special amenities included or optional. Lets decide together the perfect choice for your next river journey!
NEW SHIPS! NEW ITINERARIES! NEW ALL INCLUSIVE OPTIONS! SO MANY CHOICES, BOOK YOUR NEXT RIVER CRUISE WITH A FIRST CHOICE TRAVEL AND CRUISE RIVER CRUISE SPECIALIST!
Why Choose Uniworld for your Luxury River Cruising?
Embark on a truly all-inclusive European river cruise with Uniworld Boutique River Cruise Collection.
Packages include all gratuities onboard and onshore, all scheduled airport transfers and unlimited premium beverages (which most river cruise companies do not include). Then of course all your meals onboard, shore excursions which are hosted by English-speaking local experts, internet and Wi-Fi access onboard, entertainment and cultural enrichment programs, and much more!

Since not every river cruise is the same, we can help explain what is included and what is not!
Contact our office today for a River Cruise Specialist to learn more.
Uniworld River Cruises is the award winning boutique river cruise line and we all love their FULL All inclusive pricing!! Who doesn't want an all inclusive cruise? Enjoy so many complimentary experiences, excursions, UNLIMITED beverages and more.

A river cruise is a unique experience and unlike any cruise in the world. Uniworld is known as the Boutique Cruise line. Here are the awards you may be interested in hearing about:
AWARD-WINNING RIVER CRUISE LINE
•Condé Nast Traveler Readers Poll | "Best River Cruise Line"
•Travel + Leisure | "World's Best River Cruise Line"
•ZAGAT® Cruise Lines Survey* | "Top Dining and Top Cabins"
*Uniworld is the only river cruise line recognized in ZAGAT® Cruise Lines Survey with the best of the best in the cruise industry.



BEST SERVICE IN THE RIVER CRUISE INDUSTRY
•Awarded #1 World's Best Service (River Cruises) by readers of Travel + Leisure
•Highest rated cruise line based on average member reviews on CruiseCritic.com
•A ratio of one staff member to every three guests


•Professionally trained, all English-speaking staff


•The best onboard and onshore staff in the river cruise industry


•
Our very own dedicated European Operations Team, controlling all aspects of product delivery—onboard nautical and hospitality, and all onshore programs
•Fastidious internal quality assurance programs along with extensive training for all staff members, along with ship inspections and third-party mystery shoppers, to ensure our guests always receive the highest-quality service


•Meet and greet transfers on arrival and departure days
Uniworld Boutique River Cruise Collection offers a true all-inclusive luxury experience.
Fares include all gratuities onboard and onshore, all scheduled airport transfers, unlimited beverages and all meal onboard, shore excursions hosted by English-speaking local experts, internet and Wi-Fi access onboard, entertainment and cultural enrichment programs, and much more! Contact our office today to learn more.
FEATURED ESCORTED RIVER CRUISE: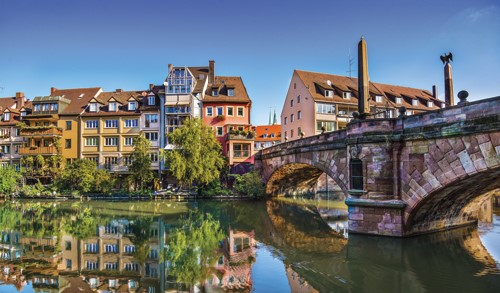 WHY CHOOSE VIKING CRUISE LINE?
Viking Cruise's Value is included in their All inclusive pricing.
The Quality that they offer is because Viking owns and/or operates its fleet of ships, translating into consistent quality and an average passenger satisfaction level of 99.6%. Now with so many different ships and itineraries that is very important to have repeat guests return again and again.
Viking's Culinary Experience features "Taste Of" events, cooking demonstrations, wine tastings, cheese pairings and other extras. Always something exciting waiting for you each day.
I love the Viking's Service Guarantee which if you give them 24 hours to correct a service issue and if if it is not corrected our clients will receive a 100% refund of the cruise price. Can you imagine an ocean cruise line offering this refund?
Something different is the onboard Viking Concierge Service can arrange special activities, restaurant reservations or museum and even those hard to find event tickets.
With the largest global fleet of any river cruise supplier, Viking does offer the most itineraries, the most inventory, the most opportunity for repeat business and the newest ships.
We are here to service your reservation before, during and after your river cruise!
Why choose Avalon River Cruise?
Avalon is a sister company to Globus and Cosmos the escorted and independent tour company which you may have traveled on before. Avalon is a great option and most people book the river cruises for the major cities (Prague, Budapest, Paris, Amsterdam) but it is the hidden gems that make river cruising on Avalon so special, the small towns that you have never heard of before and would have never been on your radar had you not chosen an Avalon cruise.

*New: Panorama Suite Ships




*Your choice of enriching shore excursions led by Certified Local Guides - included. WiFi access - Included.
*Sparkling wines with breakfast, regional wines and beers at every onboard dinner, and unlimited lattes and premium coffees - included.

*Beer and Wine at meals is a very attractive amenity!


*Avalon Choice, an exciting concept in river cruising that gives you the freedom to personalize so many elements of your cruise. Personalizing your choice of tours, choose your bed configuration, select soft or firm pillows, pre-arrange and pre-purchase additional optional excursions even before you step onboard online. See the sights the way you prefer with the choice of pace for included sightseeing and decide what and where you eat from the many dining options onboard.

**Bigger Staterooms. Bigger Windows. Bigger Savings. That's how Avalon Waterways is revolutionizing river cruising in Europe. Their Panorama Suites and Open-Air Balconies provide you with a more comfortable, more relaxing, more enjoyable vacation. Contact us to book your next Europe river cruise and receive some great savings!

We all love choices! Ask a First Choice Travel and River Cruise Specialist to help you choose the right one for your River Cruise journey!

FIRST TIME RIVER CRUISE TIPS!

Gayle Zielke, president of First Choice Travel and Cruise shares her experience on her first River Cruise......and it certainly wasn't her last one!!! Many, many more river cruises are on the horizon to experience!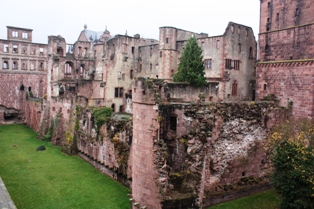 For many years I have been thinking about experiencing the European river cruises I have been sending my clients to enjoy. I know that they have LOVED the experience but I didn't know if this was the kind of cruise for me. Worried about entertainment, food, smaller ships, what would the river be like??? I had a lot of questions and concerns!
River Cruising is one of the most requested ways to see Europe, but this is not a cruise for everyone. If you want the big ship atmosphere, constant entertainment and long lines... this is not the cruise for you!
I saw some Honeymooners looking for a quiet escape and well seasoned travelers looking for an amazing out of the ordinary European experience. Part of our job is to match our clients with the right vacation experience and this is one of those vacations that has a specific following. Once we find a good fit, River Cruise clients will come back for more!


Gary and I sailed from Basel to Amsterdam with Avalon Waterways (The Creativitiy) and it was more than we could have ever expected! Avalon has the newest European river boat fleet in the industry and each ship only has about 100 people so crowds are never an issue. You get to know almost everyone on board and by the end Gary knew everyone at happy hour!!!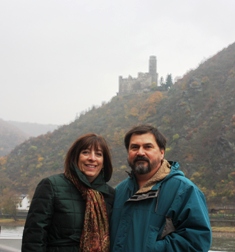 This is really a great way to see Europe, the small ships get into the nooks and crannies that the mega ship clients never see. Many of Europe's most magnificent cities line the banks of the Rhine, Main, Moselle, Rhone and Danube Rivers so don't think you will miss the sights! You will get the up close and personal views of these cities while you move down the river and dock in the heart of the action! Fairytale Castles, charming countryside, and fortresses rich culture and history are the focus on these cruises.
In port Avalon helps you see your destination like a local. Working with Local Guides they make sure you experience the area's most famous sights as well as the inside secrets and native stories. Unlike other guided tours Avalon clients will never miss out because headsets are standard features on all guided shore excursions in Europe and Egypt. This means that everyone hears what the tour guide is saying not just the people at the head of the tour. The best part is that almost every day there was a FREE guided tour. If that wasn't enough there were plenty of other tours for purchase and don't worry there is also plenty of time to explore on your own.
Gary liked the casual atmosphere that allowed him to wear jeans all day long and even to dinner if he wanted. Some people changed for dinner but I didn't see a single sequined dress or tuxedo. I liked the laid back atmosphere on the ship, and I never felt rushed or like I was going to miss something. The small group and complimentary wine at dinner was a pleasant surprise and made it easy to make friends!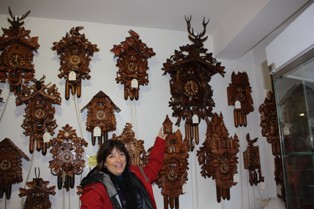 Contact us if you this is something you might be interested in, I would love to share my experiences and help you book this dream vacation.
Our next Avalon River Cruise Adventures on the: DANUBE RIVER CRUISE!
So many great memories and pictures to share:
https://www.facebook.com/media/set/?set=a.356180524461127.84580.133660020046513&type=1&l=4e55b93ed4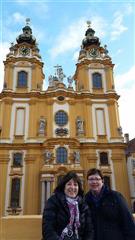 Follow Gayle and Mary on an amazing VIKING RIVER CRUISE to Budapest!

Uniworld Spain and Portugal River Cruise!

Check out what some of our guests think of their own River Cruises!
We can still service your reservation. We will be here to assist you before you cruise, during and after.
River Cruise options and pricing. Get a quote or book it below:
When it is time to start planning your VACATION, contact the EXPERTS, not the Amateurs!
Ask for a First Choice Travel and Cruise Certified River Cruise Specialist!