Testimonials from our Jamaica guests
JAMAICA HOTEL REVIEWS AND PICS...and the inside scoop on....Jamaica
STAY IRIE! COOL and RELAXED!!

First Choice Travel Travel Planners were recently in Jamaica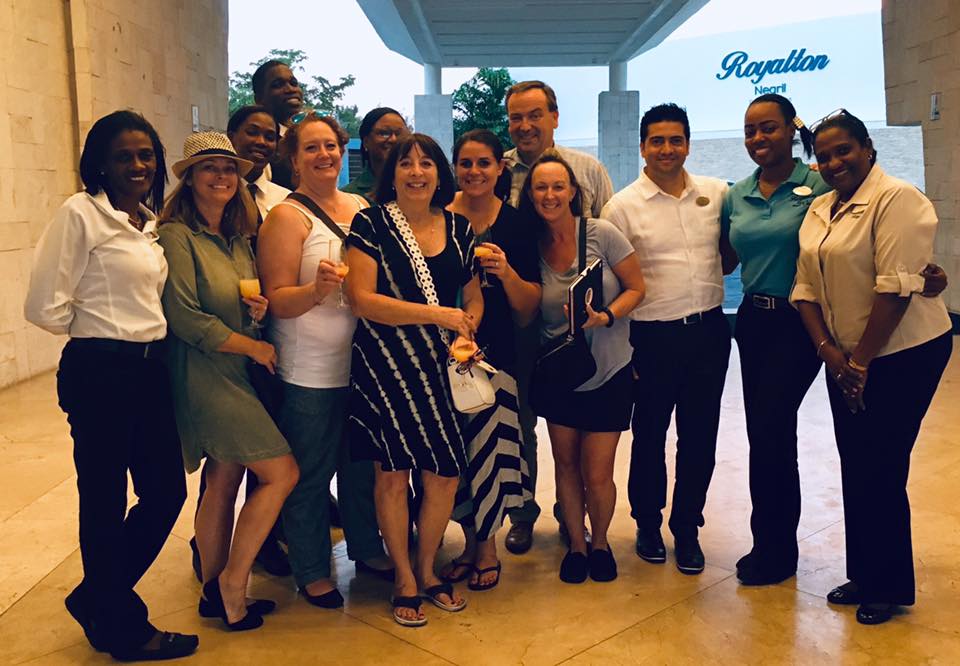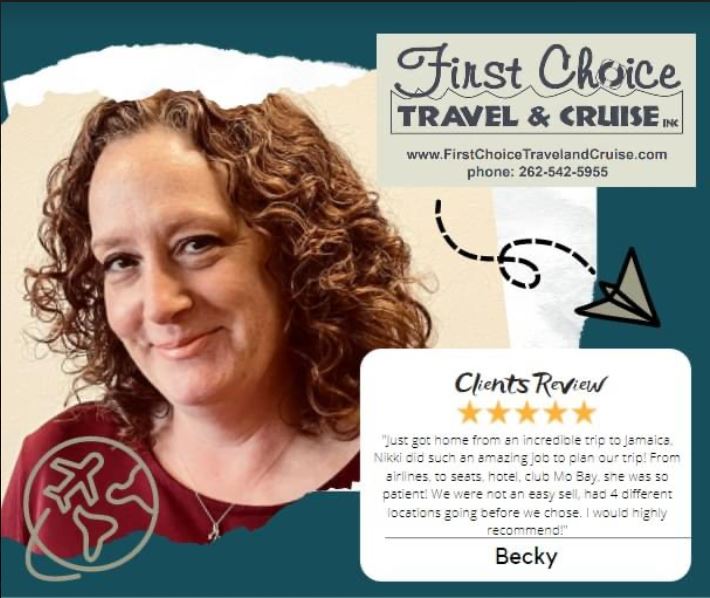 THE NEW EXCELLENCE OYSTER BAY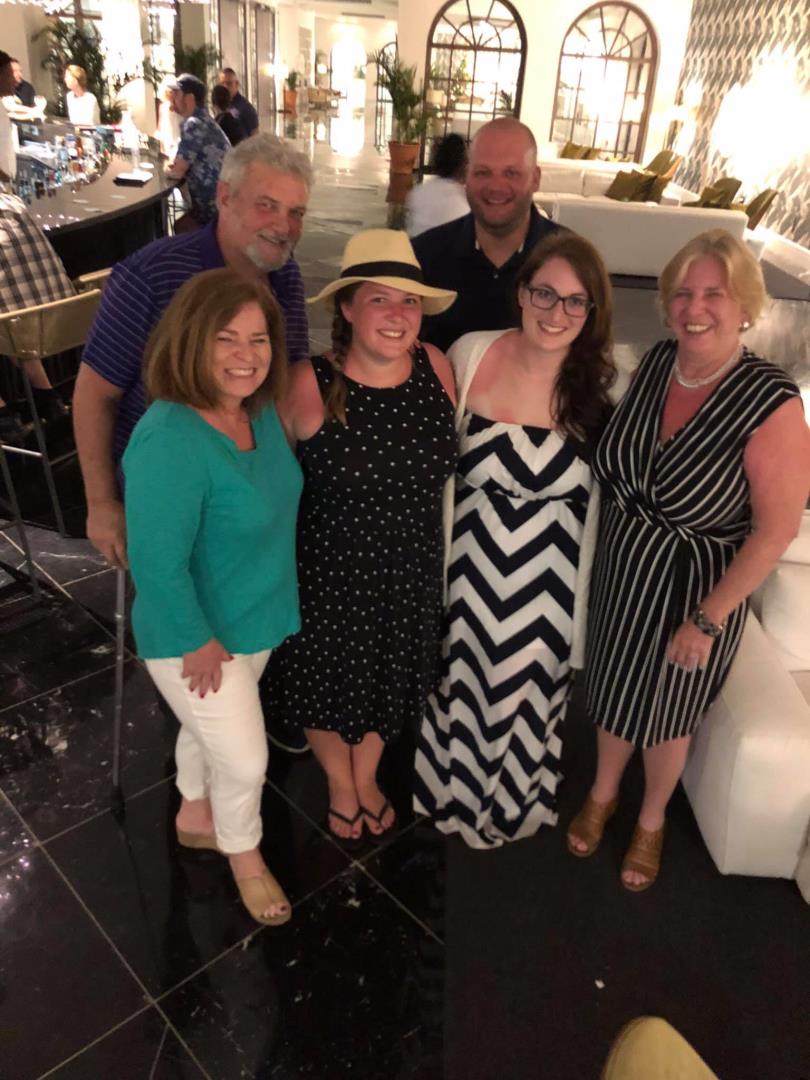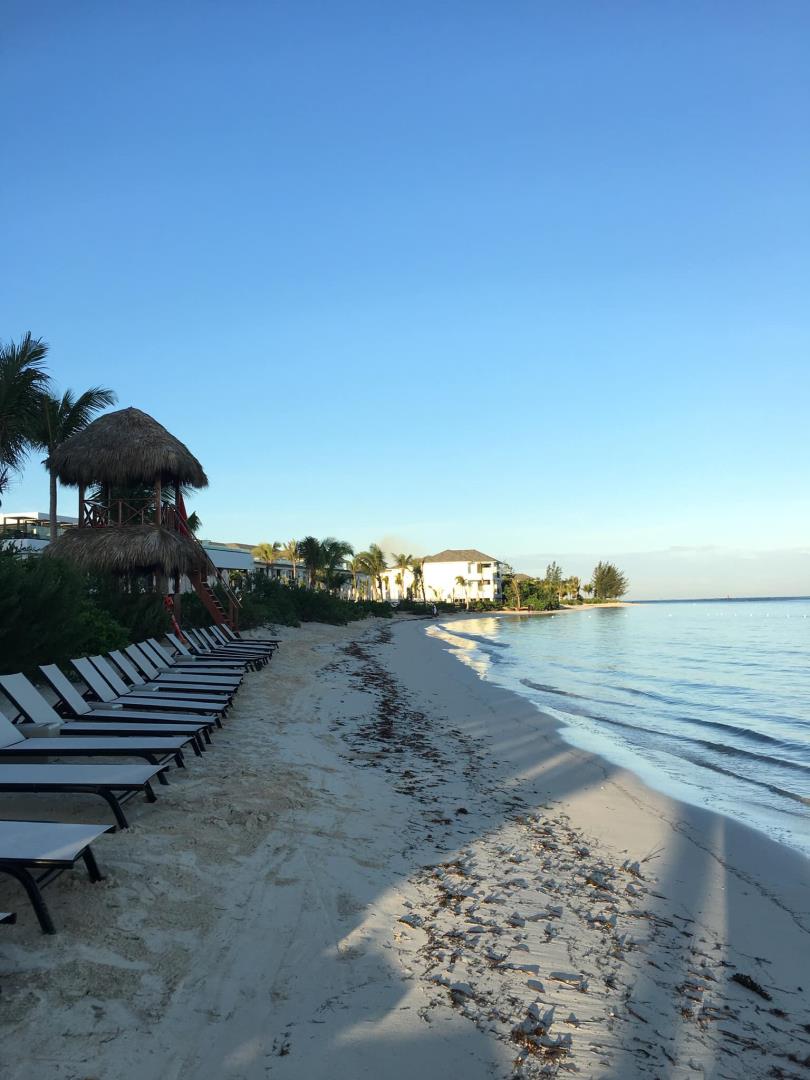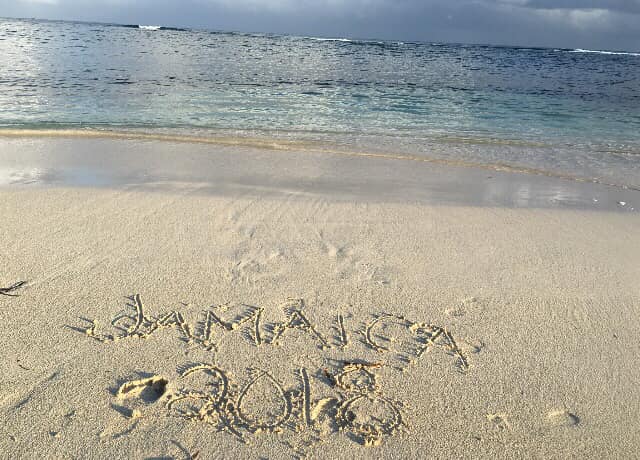 Hi Gayle,
Honeymoon at Sandals Jamaica Grande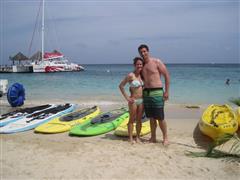 Thanks so much for helping us out with our honeymoon. We had a wonderful time and we were so RELAXED! It was great! Attached are some pictures we took on our trip if you would like to share in your newsletter.
We really liked the Sandals Grande Riviera property! Everyone was unbelievably nice. Our luggage got lost on the way there, and the staff was so accomodating and helpful. The resort was very clean and bigger than we expected. There was always something to do, although we found ourselves not really knowing what time it was so we spent most of our time lounging on the beach or by the pools and swim-up bars, which was great :) The beach was on the small side, as we knew it would be, but it wasn't ever crowded (we guessed it was maybe the time of year?) so we loved hanging out there. It rained almost every day but only for an hour or less in the afternoons so it never got in the way of any plans. The food was awesome! We definitely never went hungry and we really liked the variety of cuisine at all the restaurants.
We did two excursions: the catamaran cruise to Dunn's River Falls and a deep sea fishing trip. The Falls trip was so much fun! I would definitely recommend that to other couples. The deep sea fishing trip would definitely have been fun on better fishing day- we didn't catch anything :) Still was nice though!
Overall, we would definitely recommend it to other honeymooners.
Thanks for the well wishes and again for your help! Glad you liked the wedding pics. It was a wonderful day!
Couples Tower in Ocho Rios for our Anniversary!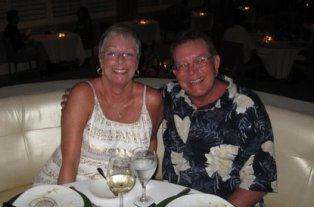 Gayle,
It was very nice. All the public spaces were great. We were a little disappointed with the rooms. We had moldy lamp shades and chair cushions. Also, the piano bar was so musty, we and many others could not stand to stay in there. We had cocktails in the lobby. The martini bar was fun. We also enjoyed the veggie bar and the spa. We didn't think the food was as good as Sans Souci but still delicious.
Friday night was lobster night in all the restaurants.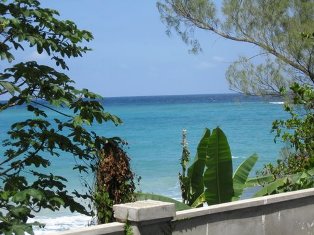 The view from our room!
Staying for 10 days was the best; our first few days were rather cool, cloudy and windy. We were glad for the extra days. I guess the two weeks before us had very little sunshine. We did the catamaran ride. That was very interesting. We had done that before. We really had a wonderful, relaxing time. Tropical vacations are the best!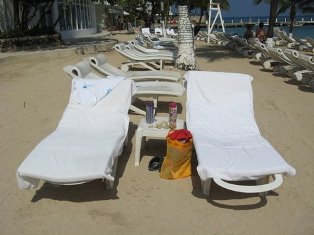 Our daily spot on the beach! Your idea about insulated cups is the best. They hold two rum and cokes perfectly!
Susan
Couples Swept Away in Negril
Gayle,
Our honeymoon was absolutely amazing and we loved Swept Away, we will definitely be going back!
The resort has so much to offer that we only look their shopping shuttle off the resort, no other excusions this time. We also did not visit the sister hotel, I am sure it is wonderful to.
Thanks again for everything!
Dana
COUPLES NEGRIL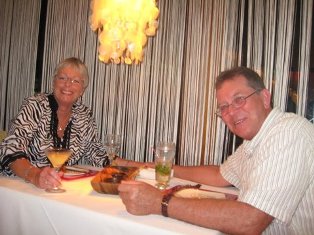 This was Couples Resort number three for us.
We definitely will be going to number 4, Swept Away next!

Susan and Tom Peterson (Our own ....COUPLES VIP EXPERT REPEATERS!!)
Secrets St. James/Wild Orchid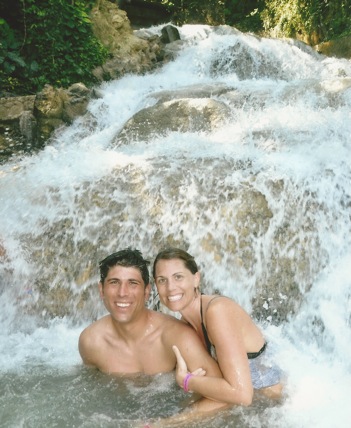 Hey Tana!
Yes, home sweet home - I guess :) The trip was so………wonderful. I loved everything about it. The hotel was excellent, the beach was nice, and the scenery was beautiful! The people were very welcoming and sweet. We went snorkeling right off the beach @ the resort and it was very scenic with a beautiful reef and colorful fish. We went to Dunn's River Falls which was cool and zip lining which was also awesome. The weather was nice and sunny with very little rain.
Love, love, loved the trip! I wish I was going back next week :) I would definitely recommend the Secrets St. James/Wild Orchid hotel to anyone.
Anyway, thank you so much for booking the trip for us you did an amazing job!
Thank you!
Sariah & Aaron
SECRETS MONTEGO BAY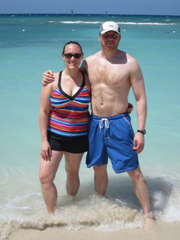 Lisa,

Thank you for making our wonderful vacation happen. I don't think we could be happier with our selection. We have already recommended Secrets to others and will continue to do so. The water was gorgeous - it was crystal clear, warm; and, being in the bay, it was relatively calm. The Secrets property was very spacious with more than enough things to do - several, very nice pools; snorkeling, kayaking, sailing, a top-notch work-out facility, tennis and basketball court, shopping, nightly live entertainment, and much more. The staff does an incredible job making sure all your needs are met and you're getting the most out of your stay. The dining experience far exceeding our expectations! Anyone will be able to find the food of their choice from the 7 different restaurants. The grilled, jerk chicken that was cooked daily right on the beach was almost the highlight of our entire trip!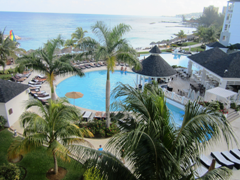 Thanks again!!!

Josh (and Erin) King
SANDALS NEGRIL IS A GREAT LOCATION FOR WEDDINGS!
Gayle,
Thanks again for all your help in planning our wedding. We truly
enjoyed Sandals in Negril and would highly recommend this resort. If
you ever have clients that have questions about getting married at
Sandals Negril, Jamaica, they'd be welcome to contact me with
questions.
Our guests loved Sandals. We all liked our rooms. The staff their was very
accommodating. We're all hoping to return there soon.

Thanks, Lori



FAMILY VACATION AT THE ROYALTON NEGRIL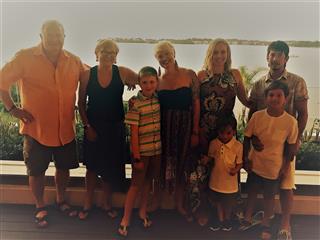 Gayle,
We loved our stay at the Royalton Negril. It was great! Kids and their parents loved it here! Really thought the Diamond Club was a plus!
I would recommend this hotel for anyone!
Dave and family!

SANDALS OCHO RIOS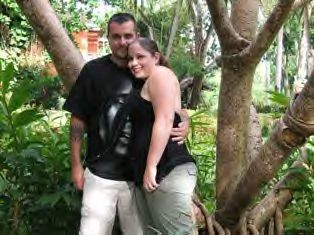 Hey Tana,

The trip was amazing. We couldn't have asked for better weather. Sandals Ocho Rios was great! Thank you for getting us such a great deal and being so helpfull! When we go again, we will give you a call!

Brian & Megan Walulik of Delavan
Sandals Grande Ocho Rios Vacation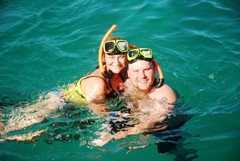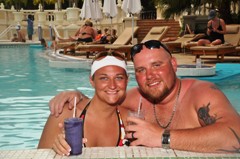 Tana,
We had a amazing time, everything was great. Excellent food, entertainment and great people. The resort was very relaxing and beautiful. We will be definitely go back to a Sandals resort. Thank you for all your help.
Tina & Darwin from Texas
Anniversary Celebration trip in Jamaica at the Lady Hamilton Palladium.

Gayle, Thanks so much for helping up plan a fabulous vacation! Fantastic! We can't wait to go again.
Anniversary at Couples San Souci in Ocho Rios
A romantic Dinner for two for Tom and Sue Peterson at Couples Sans Souci in Jamaica!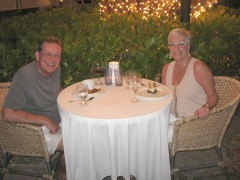 HONEYMOONERS AT COUPLES NEGRIL
The new MR and MRS KUNESH
HONEYMOON AT COUPLES SWEPT AWAY
Gayle,
Our honeymoon was absolutely amazing and we loved Swept Away, we will definitely be going back!
The resort has so much to offer that we only look their shopping shuttle off the resort, no other excusions this time. We also did not visit the sister hotel, I am sure it is wonderful to.
Thanks again for everything!
Dana
SPECIAL 5TH ANNIVERSARY AT THE IBEROSTAR GRAND

OUR 5th Aniversary Vacation to Iberostar Grand Rose Hall in Jamaica!
Hi Mary,
Just wanted to drop you a quick note to say our trip to Jamaica and the Iberostar Grand Rose Hall was absolutely Wonderful. It is an absolutely Beautiful property , the staff is so friendly and accomadating.
The the food was Great with the exception of the Buffets. The Alcohol is All Top Shelf. Only short 15 minute ride from Mo Bay Airport. The Rooms are truly unbeliveable. I would definately recommend to others.
Our 5Th year Aniversary Vacation was truly one to Remember for many years to come !!! Thanks Again !!! I have attached some pictures for you !!!
Rick & Cheryl Crivello
IBEROSTAR GRAND HOTEL ROSE HALL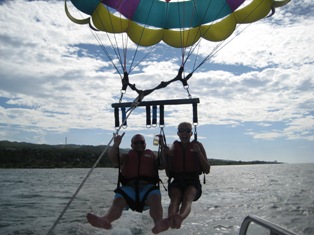 Kevin and Stephanie living it large in Jamaica at the Iberostar Grand!
SECRETS WILD ORCHID
Igor and Ericka said they had a good time at the new Secrets Wild Orchid. The snorkeling was great. Smaller beach with a lot of coral. They had name brand liquors at this resort. Liked the no reservations needed policy. Most restuarants and acitivity was at this resort in Jamaica.
Igor has traveled quite a bit and said he liked the El Dorado Seaside Suites in the Riviera Maya better but the price was right here right now.
COUPLES NEGRIL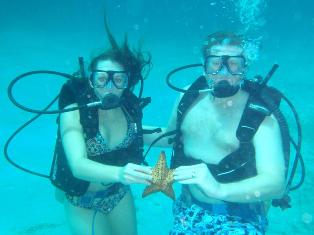 Tana,
"Couples Negril is a great place to vacation, especially to learn to scuba dive - warm water, beautiful beaches and great dive instructors. Thanks Tana for an awesome vacation! We are looking forward to the next one!"
Thanks!
Paul and Teresa Joachimczyk
WE LOVE THIS PICTURE!!!
Grand Palladium
I've had several families return from the above hotel this winter. All had very good comments about the exceptional food and cleanliness.
It opened last summer-there are 2 sides, located on a great point in Lucea, Jamaica. Going towards Negril-about 45 minutes from the airport.
I had booked all of my rooms on the Lady Hamilton side, and they all had great rooms, they said.
Some of the rooms on the other side-the Jamaican side were fairly close to the highway.
One couple said the food was better than on a Celebrity cruise!!! They were astonished that the quality was so good!!!
A suggestion would be to get to the evening restaurants when they open-if you don't want to wait. Since they don't take reservations. And, if they tell you to come back-it's very busy. Maybe, that will change sometime.
Just wanted to let you know. And, the price has been very reasonable- great for families.
FLYING HIGH TRAVEL
W/1ST CHOICE TRAVEL & CRUISE
PH: 262.938.9913
GRAND PALLADIUM LADY HAMILTON
Hi Gayle,
The trip was great and we all had a wonderful time. I'm going to first say we have no regrets and would do it again, but……
Some of the comments we read on line were fairly accurate. For example, the air conditioning did not work the greatest. We kept it on full blast the whole week and I don't think the room ever got below 80. The last 2 nights in particular were really hot. Also, the comment on the cracked tiles was right on. I would never post a comment on the web regarding something like that but there were quite a number of cracked tiles. I probably wouldn't have even noticed if not for the blog. Lastly, the food in the ala carte restaurants was incredibly good. I would consider the buffets average. Once we realized that, we ate all of our evening meals at the ala carte restaurants and each one was better than the other.
The one comment we read on line that I definitely wouldn't agree with is the service. I thought all of the staff were extremely hard working and willing to please. I commented to Cindi that we in the U.S. could learn a lot from the attitudes of their people. They don't seem to have much but they enjoy life to the fullest and it comes across in their work.
The resort was not crowded at all. It seemed like there were lots of people but the resort is so large you never felt cramped. We easily got prime seating locations by the pool and the beach every day.
Regarding excursions, we went on the catamaran snorkeling trip and the Dunn's River Falls trip. Both were great. We had a great tour guide on the Dunn's River Falls trip who was able to tell us everything we ever wanted to know about Jamaica. We discussed the history, culture, current events, Rastafarians, and everything else. The snorkeling trip was beautiful. My one complaint on that was it was more partying than snorkeling but the boat trip was beautiful and I really didn't mind the drinks. J Cindi and I also broke out of our box and got our first massage and skin exfoliation treatment at the spa. I have nothing to compare with but I found it to be one of the most relaxing things I ever have done. I exercise every day and occasionally have sore muscles, but after the massage I felt 20 years younger.
Finally, we are already looking ahead to our next trip. We're thinking June of next year and we would like to stay at the Riu in Negril. Our informative tour guide said that was her favorite resort on the island. I know it's really early but please keep us in mind for that trip and keep your eyes open for good deals.
I apologize for the lengthy email but I wanted to give complete answers to all of your questions. You have been a tremendous help to us. Thanks again for all of your help and despite my negative comments, we thoroughly enjoyed the trip and are looking forward to the next one.
Tim
Hi again Gayle,
One final comment...The vip status was terrific. We were able to make reservations for the ala carte restaurants instead of having to wait in line. Since we enjoyed the restaurants so much, it was a godsend. Thanks again for getting that for us. Tim
RIU OCHO RIOS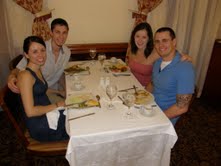 We had a great time in Jamaica! It was so relaxing being on the
Beach. It was about a 1hour 15 minute drive to our resort since we
had to make a few stops at others on the way but that was ok. We got
to see more scenery that way. The resort was beautiful, but the beds
were just a little hard. The food was also very good and all of the
works were very outgoing and welcoming. We would definitely like to
go back someday!
Thanks again for setting everything up for us. It was a great trip.
Adrian
Gayle,
Certainly, we will take them up on the free night. As we said, we
hope to go back again next year; if we can swing it. Can we use the free night at one of the other
resorts?
Thanks for your help. Here is one reason we like to use a travel agent.
Susan
RIU
Hi Mary!
Our trip was amazing and I really wish we were still there! :) We both really enjoyed it.
The weather stayed nice the whole time we were there (only rained for about 5 minutes on our way to Dunns River) and was around upper 80s the whole time. The RIU Hotel was also really nice and big and had great food options! It never felt really crowded and we really never needed to wait in line or fight for a beach chair. I would definitively recommend this hotel to others who are looking to travel to Jamaica. The only thing I recommend is booking the "Deluxe package" if travelers want WiFi in their room or access to both of the pools (we were only allowed to be by one pool as the other pool was fro deluxe package members only). We only went off of the resort one day to go on a Catamaran/Snorkeling/Dunn's River Tour and had a blast...even though Nick feel down part of the waterfall! (dont worry he is ok).
Thank you again for all of your help booking this trip! It really made everything easy!