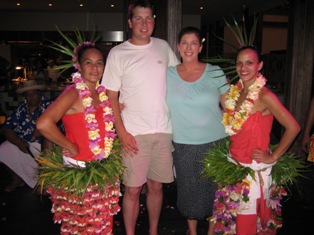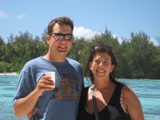 HONEYMOON IN BORA BORA & MOOREA
Kristina and Dan thought their Honeymoon in Tahiti was AMAZING! Just beautiful. Couldn't get over the water color all over the island. We went jet skiing for about 4 hours! We had a couple of massages at our resort in Bora Bora. We loved our overwater bungalow at the Bora Bora Lagoon. The resort was just beautiful!! We were upgraded to one of the bungalows with our own private plunge pool!! Went to Bloody Marys, Kayana Hut and La Bounty restaurants. LOVED them. We are real foodies so this was what we were looking for.
In Moorea we stayed at the Pearl Beach Resort in an overwater bungalow in a premium overwater bungalow. Great snorkeling right here at our hotel. We would definately recommend to anyone with an overwater to upgrade to the premium ov bungalows. They are are much more private and unobstuctive too. We had the canoe breakfast delivered to our overwater bungalow which was super cool! Took the jeep safari trip here which was great. Had the B & D plan at the resort and they were really nice about changing it to lunches if we were not using the credits. Worked out really nice!
Thanks again,
Kristina and Dan
ANOTHER MAGICAL HONEYMOON IN MOOREA AND BORA BORA!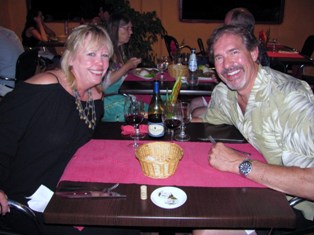 Mauruuru!
Our trip was outstanding and the destination was magical! After booking with you, we will never attempt to put something like this together ourselves. The transfers went smoothly, everything was taken care of for us which meant we truly started relaxing the minute we got there. We will send a disc of some photos.
Couple of notes that come to mind:
Moorea
· The Sofitel in Moorea was wonderful. If I were to go again, I would stay at the same place. Smaller resort than what we found in Bora Bora so we really got to know the staff. The whole resort was extremely friendly and accommodating and the rooms were well appointed. Our housekeeper was fantastic!
· We were upgraded to end of pontoon and it was perfect! Great view and, as you said, snorkeling right off of our deck.
· If someone is staying in Moorea and wants to go offsite to a restaurant, we found a GEM! They will pick up and drop off. It's called Rudy's. Rudy is the cook and his dad "Sid" runs the front of the restaurant – we're going to write up a yelp or trip advisor article on them – it's that good! Oh… and out of the 4 nights we ended up there twice as did many other people!
Bora Bora
· In Bora Bora, the Thalasso was very nice. The room was beautiful and the food was fantastic! REALLY glad we had the meal plan as it would have been very expensive otherwise and again, the food was top notch.
· Laurie at the concierge desk was very helpful and recognized our names from your note – thanks for that!
· Another plus with this place is that the shuttle to the island was free since it went to the other Intercontinental resort. I remember looking at the island shuttle when considering the St. Regis and it was very expensive (although they did have a killer boat at the St Regis). We rented a dune buggy type vehicle and cruised around on the island one day which was a fun way to get around.
· Stingray feeding at the resort was awesome!!! So cool to just walk from the beach into the water for the feedings!
· The end of pontoon upgrade was great but between you and me, not the best views that you could get. It's like they laid out the site plan for the bungalows and didn't take into consideration the mountain view that everyone wants. I wanted to just "twist" the building so we could wake up to a true focal point. Best view rooms are actually in the crook of the Y as they get face on view to the mountain from the bedroom and deck.
· The staff was very friendly. Only problem was that that they were understaffed. We waited 10-15 minutes for the concierge one morning and no one showed up. Phone was ringing and no one there to answer. In the evening, we were wondering why it was taking 15 minutes+ to get our drinks only to discover that one person was trying to handle the entire bar and adjacent area. One guy pointed out that only 3 people were working the 100 seat restaurant. Not sure if that was because of the season or what. We heard similar comments from a couple that were staying at the Sofitel in Bora Bora.
· We did get to go diving in spite of my head cold. Yes, Kent got better the week before we left and I came down with a nasty cold 2 days before the trip – argh! We did a refresh dive (highly recommend for someone who's been out of the water for a bit) and then a 2 tank dive with the sharks – all in Bora Bora. The Dive Masters at Bathy's Dive Shop were very competent and VERY understanding and patient with me, giving me one on one support during the excruciating descent (head cold and diving is tough on the ears).
Mauruuru roa for everything you did to make this an outstanding trip! We will treasure the memories forever!
Ia Orana!!!
Kent & Janis

Please enjoy these great pics from Kent and Janis Yunker!
IMAGINE A SURPRISE HONEYMOON.....TO TAHITI,THE EXCLUSIVE... TAHAA AND MOOREA!!??
I am not sure how Chris was able to pull off a surprise like this. But I bet he made points for the rest of his life. He can pull out a get out trouble card with this surprise!!!
Gayle,
Just wanted to send a big thank you. The honeymoon was more than we could have ever imagined. The resorts all were top notch, staff, food, service and above all the views!! Stacey was completely surprised at each of our hotels, especially because they just kept getting better and better! Let me tell you it's hard to keep your bride guessing where you're going when you have to board a plane (LOL). But she enjoyed every minute. We also got a special treat, there was a six-man outrigger race that went right by our over-water bungalow!! It was a three day race that was 77 miles long and Tahaa was their stopping point on their second day. Anyways back to reality and no longer on island time but thanks for the help on the perfect honeymoon.
Sincerely, Chris & Stacey
HONEYMOON IN MOOREA!
Gayle,
We loved it!! It was so amazing!!

We loved the tours! We decided not to take the safari though since it was the same as the ATV. We rented a car that day instead & drove around the island (twice) and did some sight seeing and shopping. There were LOTS of rays & sharks on the feeding tour and we even saw a pack of dolphins right outside our bungalow the day before we left!
Moorea is so breathtakingly amazing, we can't wait to go back!
By the way, we upgraded to the overwater bungalow for the whole trip!!!
Anyway, it was an unbelievable trip and we couldn't have asked for more! We'll definitely be going back!
Thanks,
Gennell and Ben

HONEYMOONERS LOVED TAHITI AND MOOREA!!....and their upgrade too!
Tameka and Jerald were treated like VIP honeymooners at the InterContinental
Tahiti Resort and InterContinental Moorea Resort and Spa.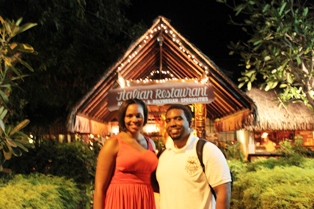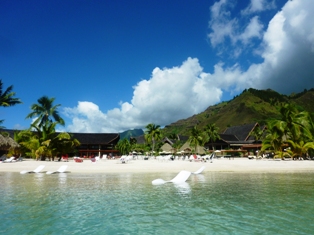 Hey Gayle,
Tahiti was fabulous!!!!!!!
Thanks So much Gayle!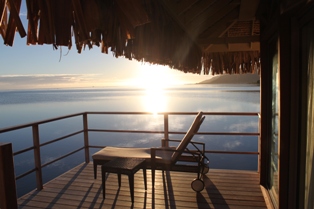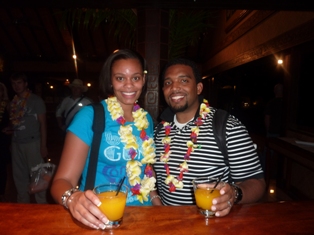 Thanks Gayle for all the updates! We truly appreciated them, especially since we rarely have time to think about our honeymoon or the resort. The wedding is in two days, so we are getting things done to make that day very special!!
I loved the little pouch to keep things straight, Nice touch!
This is absolutely beaUtiful! Thanks for letting us know! We are super anxious and excited!
Sorry for all the questions, just curious!
Tameka
FROM GAYLE....No problem about the questions. I love talking about Tahiti and sharing information with my clients anytime I can!!!
HONEYMOON FUN IN MOOREA AND BORA BORA
Our Honeymooners stayed at the Hilton Moorea and Hilton Bora Bora Nui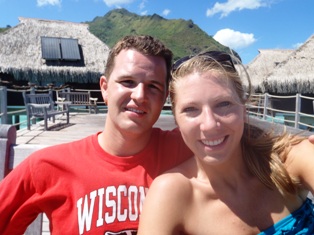 Gayle,
Everything was great. They upgraded us at Moorea. The tours were also wonderful, although I'd probably do the jet ski in Bora Bora rather than Moorea if I had the choice again. Patrick's tour was a highlight.
No, they gave us the deluxe garden bungalow instead of the regular, which has the shared wall. This was free of charge. We were happy with the single garden bungalow, especially because of how beautiful the more-lush grounds of Moorea are.
Also, Lindsey wasn't so comfortable with the shallower nature of snorkeling in Moorea compared to BB. So I really think we made the right choice to stay in the garden area. Either way the entire resort was ridiculously private, it didn't seem like anyone was even staying around us.
Thanks again for all your help. The trip was awesome.
Tyler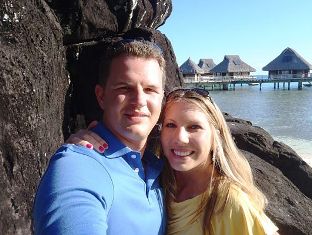 Check these pics out:
Wonderful pictures and great memories from Tyler and Lindsey Stapel's Honeymoon in Paradise.
Hi Gayle,
Thank you for your emails! I am glad that you were interested in hearing how things went for us in Tahiti. It was an amazing vacation. I would love to share details and information for other travelers.
We also found a cute one of us with the bungalos in the background. It was harder to get pictures of the two of us because there were so few people around!
Thanks for all of your help planning the vacation of a lifetime!
Lindsey Stapel
A relaxing Honeymoon in Moorea and Bora Bora!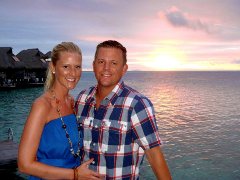 Hi Gayle

The trip was fantastic - such a beautiful place. Nice and relaxing :)

All the hotels were good. We liked both Moorea and Bora Bora!!! But we did Bora Bora a little more -- we thought it was so beautiful and we have no problem just relaxing in the sun. Moorea seemed to offer more things to do, so someone who doesn't like to sit still would probably prefer it there more. We met some people that stayed at all the same places and they preferred Moorea because of the 4 wheeling etc etc. We were only there a full day on Thursday and it must be like their Sunday because there was only 2 excursions available and they were all booked up already. We ended up going waterskiing though.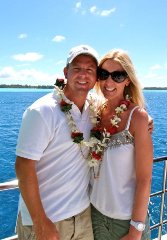 In Bora Bora we obviously went snorkeling (Jay has HD video of sting rays he chased around haha) we went jet skiing, shopping, couples massage, polynesian dance show... We did a lot of relaxing and watching movies haha - we watched EVERY single movie we brought since my French wasn't up to date anymore!! I would suggest to people to always pack lots of movies!! that was a life saver. We went to both restaurants a bunch of times with our new friends from Santa Barbara and Chicago :) Went to Bloody Mary's. It was a blast

The Kardashians were there in May I believe but what an exciting thing to come home to!!! they played the first episode the weekend we came home so we have watched them all. It's so weird watching EVERYTHING we just DID ourselves!!!! hahaha
Big Huts where the Kardasians stayed!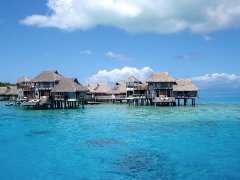 Pictured on top is Jay & Carrie at sunset - you can see the big hut in the background - that's how close they were... maybe 5 huts??

So hard to pick just a couple pictures when there are so many good ones.

Also, here is a link to our video preview from the wedding:
www.weddingfilms.com/carrieandjay
MORE PICTURES FROM JAY AND CARRIE'S AMAZING HONEYMOON IN TAHITI!

Thanks again for all your help Gayle!!
Carrie and Jay Ewald
A BORA BORA NUI HONEYMOON
Hi Gayle,
Thanks for the welcome home - we did have a really wonderful time, and we certainly already are making plans to go back someday! =)
All seats and flights were great... no complaints there. The hotel was hotel was awesome!!! OH - and the shark and ray snorkel was AMAZING!!!!
As for pics - we are still going through them (we haven't had time to breathe since returning...lol). I'll try to make sure to send you any really good ones... it seems from looking at them so far that pictures will never be able to do that place justice..... =)
Take care,
Eric
TAHITI VACATIONS ARE THE BEST CELEBRATION TRIPS!
Mother and Daughter visit New Zealand and Tahiti by land and sea!
Hey Gayle

YES! We did love it! Completely. It was quite an excursion - New Zealand was so beautiful (chilly - but still magnificent)
The cruise was also fantastic - the hospitality was really great. And - this vessel was far more suited to our speed than a large, floating city type (which doesn't appeal to either mom or me). The only negative on the trip was the Sofitel in Pa'peete.. the hotel was fine - but we found the staff somewhat inhospitable. BUT - in the grand scheme of things - this was such a small problem that it did not impact our experience. I only mention it if you are booking others in Tahiti.

Thanks - Gayle - for making this trip so great. Not only was the location really terrific - the trip was well suited for mom and I to travel together.

Have a great day!
~Tobi
A SURPRISE SPECIAL BIRTHDAY TRIP ON THE PAUL GAUGUIN IN TAHITI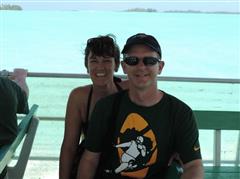 Imagine giving ....or receiving a surprise of a lifetime like this????!!!
Todd gave Lynn this wonderful gift for a special milestone birthday gift. She did not know where she was going until she got to the airport!! I love helping with surprises like this!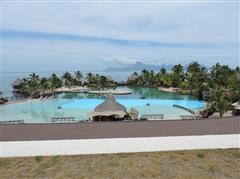 Hi Gayle,
I finally got around to sending you some pictures. We got a new camera for the trip and I'm not much of a photographer. I enjoyed the pics we took.
This was a trip of a lifetime and we will be back! It was the best trip ever. So special. The Paul Gauguin was awesome. It has spoiled us for all cruises now!! We did so much on the islands, Outrigger canoe and 4x4 tour in Raitea, Tahaa vanilla and cultural tour. The private island was really neat. We did the snuba on Bora Bora and on Moorea we did the snorkel with the shark and stingrays and motu picnic..
Our overwater bungalow at the Intercontinental Tahiti was wonderful!
Thanks again for all your help,
Todd and Lynn Sprecher
Jerry and Rita Martin (Lynn's parents) joined in on the surprise! Not until the airport did Lynn know anyone was joining them on this Tahitian adventure!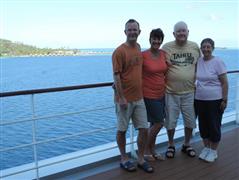 Jerry said he rated the PAUL GAUGUIN Cruise as #1 of all the many, many cruises they have been on. The cruise and food on board was just outstanding!! Everyone went above and beyond on this cruise.
We celebrated our special 50th anniversary and were the longest married couple on board.
Jerry and Rita Martin
A SPECIAL BIRTHDAY CELEBRATION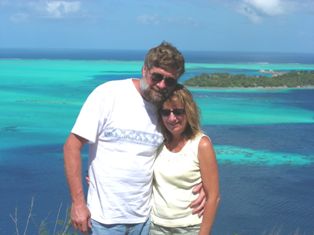 Hi Gayle,

We had a great time and loved it very much!

The grounds and room at the Intercontinental in Tahiti were beautiful and impressive. We had some nice sunsets there and got a few nice pictures of them. We were glad to have spent the extra time there. I loved this hotel and our stay here. We got into Tahiti a few times. The markets were fun. We enjoyed some local food and beers while there. We enjoyed the four wheel drive tour we did there. The weather was beautiful, warm and pretty humid. Some people were complaining about the humidity, but we had no problems with it.
We loved Moorea. The over-the-water bungalow was very nice. I wasn't sure what to expect, but I was in awe when I stepped inside. We had a huge deck to lay out on and have never seen so many tropical fish all in one place. We did a lot of snorkeling. It was great to snorkel right from our room. The water was warm and for the most part calm. We had a little problem with the refrigerator not being very cold and there being no ice in the ice machines. But, we got through it! We enjoyed the 4 wheel drive tour. We got some good pictures on it. The weather was beautiful; warm with a small breeze. The resort was very nice. Though, you could see where some things on the grounds were dated and in need of repair. (Sheraton Moorea is now the Hilton Moorea)
We had some problems with the Tiki show and dinner. We were to be picked up at 6 and were in the reception area at 6 waiting for our ride. After seeing a nice show at the Intercontinental in Tahiti and also in Hawaii when we were there, the Tiki show was very disappointing. We don't mind paying for a quality show, professionally done, but this was not. The Intercontinental in Tahiti had a free show that was so much better than the Tiki show.

We added one tour while we were there. We actually did it on Rick's birthday, which was nice. It was the stingray and shark excursion. I wasn't so sure about it, but it turned out to be a lot of fun! We had seen in Mexico where they put the sharks in a confined area and then you could pet them. We were happy to see that this tour wasn't that way. We were able to touch the stingrays and see the sharks up close and personal. Was a lot of fun.
Bora Bora was also very nice. We really liked the Pearl. Of all the resorts we stayed at, they truly seemed like they wanted us there and were willing to serve us in any way they could. I loved the way they checked us in. We all sat down and filled out our paper work and then each couple was personally taken to their room and given a brief tour of the room. Anyway, I don't know what you did to get us the room you did, but it was awesome! We were at the very end of the row of bungalows! We kept walking, and walking. And then she said I have a very special room for you. I couldn't believe my eyes when we walked in the room. It was gorgeous! Anyway, thanks for all of your efforts.
It was very windy in Bora Bora. Our first night in the room, we thought we'd get blown ashore. You probably know the rooms aren't airtight as they are in Moorea. But, with the strong winds in Bora Bora as compared to Moorea it was quite a change. The weather was warm, but the winds were always pretty strong. It was mostly sunny while we were there, but the last two days, it rained on and off most of the days. It was warm though. When we went on the 4 wheel drive tour the roads were very muddy and quite rutted. The tour guide said it had rained for 3 days the previous week. We were glad we weren't there then! Anyway, the 4-wheel drive tour was great. We also rented a dune buggy for 4 hours and drove around the island ourselves for awhile. That was fun. We enjoyed the Bloody Mary restaurant, and also found some other good restaurants with excellent food. The restaurants provided rides free of charge for us! So, that was very nice.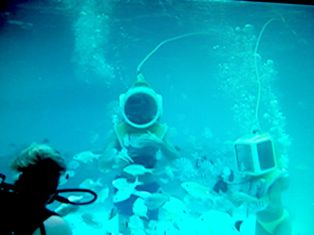 The helmet dive was excellent! I was kind of nervous going into it, but got through it with flying colors! There was only us and one other couple. So, that made it nice. We've never seen so many fish. The food they gave us to feed them, really attracted the fish a lot. As you know, we've done a lot of snorkeling, but to go down to the ocean floor and actually see them was something else. Who knows, maybe we'll learn to dive yet. I'm glad you suggested it.
So, again thanks so much for a fabulous trip!
Thanks again, Gayle

Lori & Rick

TAHITI FUN
Diane Brown and Ivan Ginter from Bristol Wisconsin took a wonderful Princess Cruise to the Tahitian Islands. Diane says everyone should travel first class. They really liked that extra leg room on the plane in business class. Diane and Ivan loved staying in thier owners suite on this cruise while visiting Papeete, Huahine, Rorotonga, Raiatea, Tahaa, Bora Bora and Moorea.
Notice the big smile! Diane is really happy hugging this good looking Tahitian she met at the Tiki Village in Moorea. I think she wanted to take him home but IVAN said no!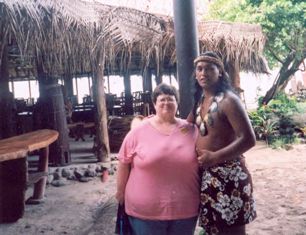 Diane with her and Ivan's tour guide in Raiatea's tropical garden.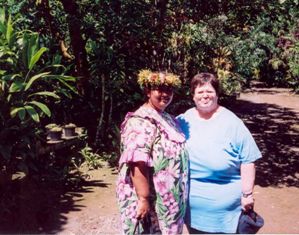 ANNIVERSARY CELEBRATIONS
What a wonderful way to celebrate your anniversary---with a trip to Tahiti!
Their pictures are wonderful! Brian's great tips and suggestions are a hit.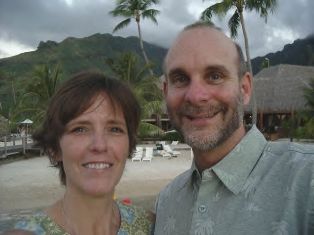 Gayle,
We were pleased were both resorts. A few things of note:
We were looking for a change of scenery for snorkeling and we went to the Sheraton. It was great there and they have a nice beach.
We did a guided hike (3 Coconuts trail). For anyone that likes hiking, this was very good. They hotel didn't suggest this trail because "it's too hard".
Our masks were new and we didn't get a chance to test at home. One we got there, we discovered one had a leak. So we ended up using the hotel's. Checking them out in the morning wasn't that hard and worked well when we just snorkeled at the Pearl.
The meal plan was a good idea. But then there was a day or so I wished we could experiment with some restaurants on the island too.
The shark feeding was definitely worth going to.
We also did "funny cat" [guided 2 man boats around the island] and we liked it (I was kind of surprised).
One negative here - you couldn't really go swimming directly off of our overwater bungalow - the water was too shallow/ the reef was too high. It was still scenic and fun with the coffee table feeding. But if I did it again I would do the over-the-water bungalow at Moorea Pearl.
Brian Deslatte
Texas
Gayle,
Yes, we had a great time. We started to get nervous at first since it rained almost non-stop
our first 2 days; but after that it cleared up and the weather was perfect
(remember our bad luck with weather in Rarotonga? 5 days of non-stop
rain?)

It's hard to compare with Rarotonga. R was much quieter, with virtually
deserted beaches at times. Whereas Tahiti, the hotels were beautiful
and more luxurious, especially in Bora Bora. And there is certainly
more to do in Tahiti. I have to say that while the people in Tahiti are
friendly overall, the people of the Cook Islands were much warmer and
more friendly. You can see some of the French influence on Tahiti in
that regard (i.e. a little attitude at times). But, like I say, overall
the people were wonderful.
Overall I think I liked Rarotonga a little better, but John liked Tahiti
a little better. It's a pretty close call.

As far as the 2 islands in Tahiti, we actually liked Bora Bora better
(surprise!), c/w Moorea, largely because the hotel was so nice. The
Garden Pool Suite was awesome! Both of the hotels were wonderful, so
thank you for helping us make good choices in that regard. The hotel in Bora Bora was particularly nice. That was the primary
reason we liked Bora Bora l little better, than Moorea. The service was good,
and the grounds are incredibly beautiful. The restaurant had very good
food (but expensive, which is not surprising). The only (slight)
drawback is that it's on a motu, so to go to the main island you have to
take a boat - but they have a free boat shuttle that runs about every
hour. You can't really walk around the motu even (outside the hotel),
which disappointed us. Apparently the rest of it is private. Also, the
snorkeling right off the hotel wasn't as nice as Moorea, because there
were fewer coral and thus fewer fish to look at. They are in the
process of building an artificial coral reef, and the does seem to draw
some aquatic wildlife
We really enjoyed the excursions, especially feeding the rays and sharks
in Moorea. That was really fun! The 4WD excursions on both islands
were really fun also.

Our only complaint would be that we had to check out of our room in Bora
Bora by 11am and our plane didn't leave until that evening, so we had to
pack up and move to a "day room." That was a bit of a hassle, so I'd
want to be sure to have late check-out were that to happen again.

So thanks, Gayle for a wonderful vacation. We haven't decided for sure
yet, but we're kind of thinking maybe next stop, Aitutaki!

Steve

Ever want to celebrate a special anniversary in TAHITI? Why not spoil yourself with a trip to Bora Bora and Moorea?
Rick and Cheryl Stein did and have shared some great pictures of the islands!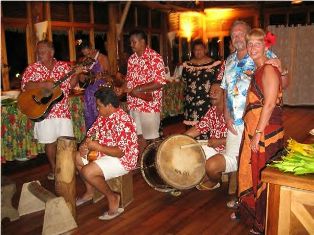 Hi Gayle,
We wanted to thank you for following up on our recent trip. You did a wonderful job and we are delighted with the goodwill of both resorts.
We will remember Tahiti and you with fond memories. Nothing could wreck God's beautiful creation of that part of the world. We did experience many wonderful new things and we thank you for your input of picking out certain excursions. They all proved to be exceptional!
Please keep in mind we did say the rooms at the Bora Bora resort were very nice inside. If anyone else wants to be on the ocean there say Ocean View so the resort gets the point.
We really did have a wonderful time and we do hope to return. We are already saving again to go there!!
Thank you again for everything!
Rick & Cheryl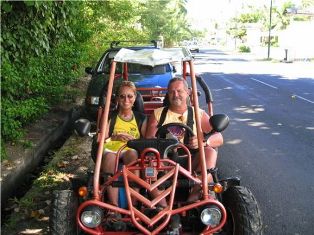 The safari jeep excursions were exceptional on both Moorea and Bora Bora. Our tour guides that we had were excellent.We had Tom on Moorea, and Francesca on Bora Bora. If you have any means to contact their superiors, please do so, and let them know what a great job they did!! They were so knowledgeable and friendly. They told us a lot of the history of the islands which I was fascinated by. The shark feeding excursion was again fantastic.Feeding the stingrays was a great experience, and the picnic lunch on the Motu was superb. The snorkeling afterwards was just awesome. Our tour guide was Ziggy, again a most exceptional person. Every excursion we did was so unique. When we were done, we would just be in awe of the history, the knowledge, the many languages these guides speak. I can not express how impressed we were.
One thing I thought you might like to know. Even though we did the jeep tours, on Moorea we rented a bugster and went around the island by ourselves. This was a fantastic experience also. It gave you a totally different aspect of the island. I don't know if it was because we were out in open and could stop at our leisure, but I am so glad we did that. I think we would have missed some of the beauty of the island had we not done this. I have to say my favorite bungalow was the over the water bungalow. Not that the others were bad, they were very nice. But being a person who loves the ocean it was magnificent to feed the fish in the mornings. So many beautiful fish would come right up to us. We also were lucky enough to have a few stingrays visit us. My biggest thrill was the Octopus that came right up by us and spread out on a rock for me to get a photo. To open the shutters and the doors and let the ocean breeze come through the bungalow and to hear the ocean while we fell asleep was so incredible.
As you can see, we totally enjoyed our vacation and took in every unique moment we were there. Words can not describe the beauty of these islands or our experience there, and we most certainly will remember it forever.
Thank you again for all your help and guidance with our miraculous journey.
Everyone needs to stop at Bloody Mary's while in Bora Bora!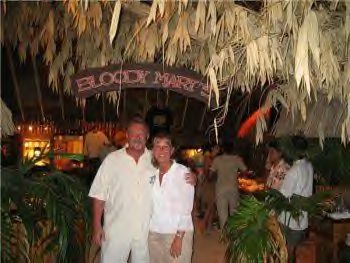 Gotta LOVE your Tatoo Cheryl!!!
That is definately authentic!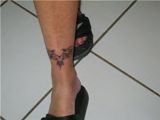 Celebrating a SPECIAL ANNIVERSARY!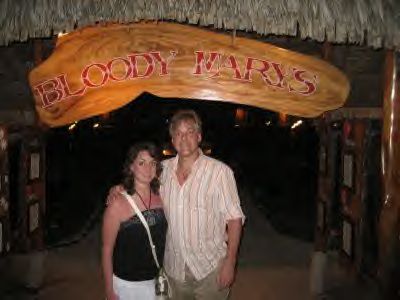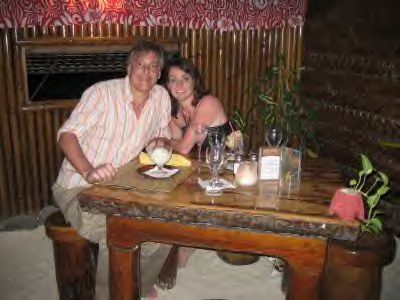 Gayle,
We had such a fabulous time! I still can't describe to people how
beautiful it was. We felt like we were in a computer-generated
background!
Thank you again for your help. If you ever need a testimonial, let me
know! I will try to call you with some of the highlights (and
restaurant, tour info) that you can share with future Tahiti travelers.
Dana and Merle Glaser
Wausau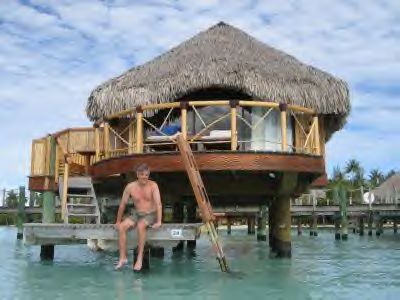 Special 25th Anniversary in BORA BORA!
Dawn and Dean Macier spent their 25th Anniversary in BORA BORA! Imagine talking your husband into a 5 night trip like this and then they wished they could have stayed longer!@!
Dawn said the Sofitel Bora Bora Marara Beach was Beautiful! The overwater bungalow they had was the best and last one. They were upgraded to the most private bungalow on the end of the pier. Room #63! Breakfast was good. Thoroughly enjoyed themselves and the Sofitel. Liked the smaller resort.

The Villa Mahana Restaurant they visited off property was expensive but worth it. Fantastic. Must make reservations.
Loved all the tours they took while in Bora Bora. 4WD Safari Tour, Lagoonarium and the motu picnic were so great they went back to an ECO tour. The Coral Gardens were right there to enjoy. Saturday had lunch at Bloody Mary's.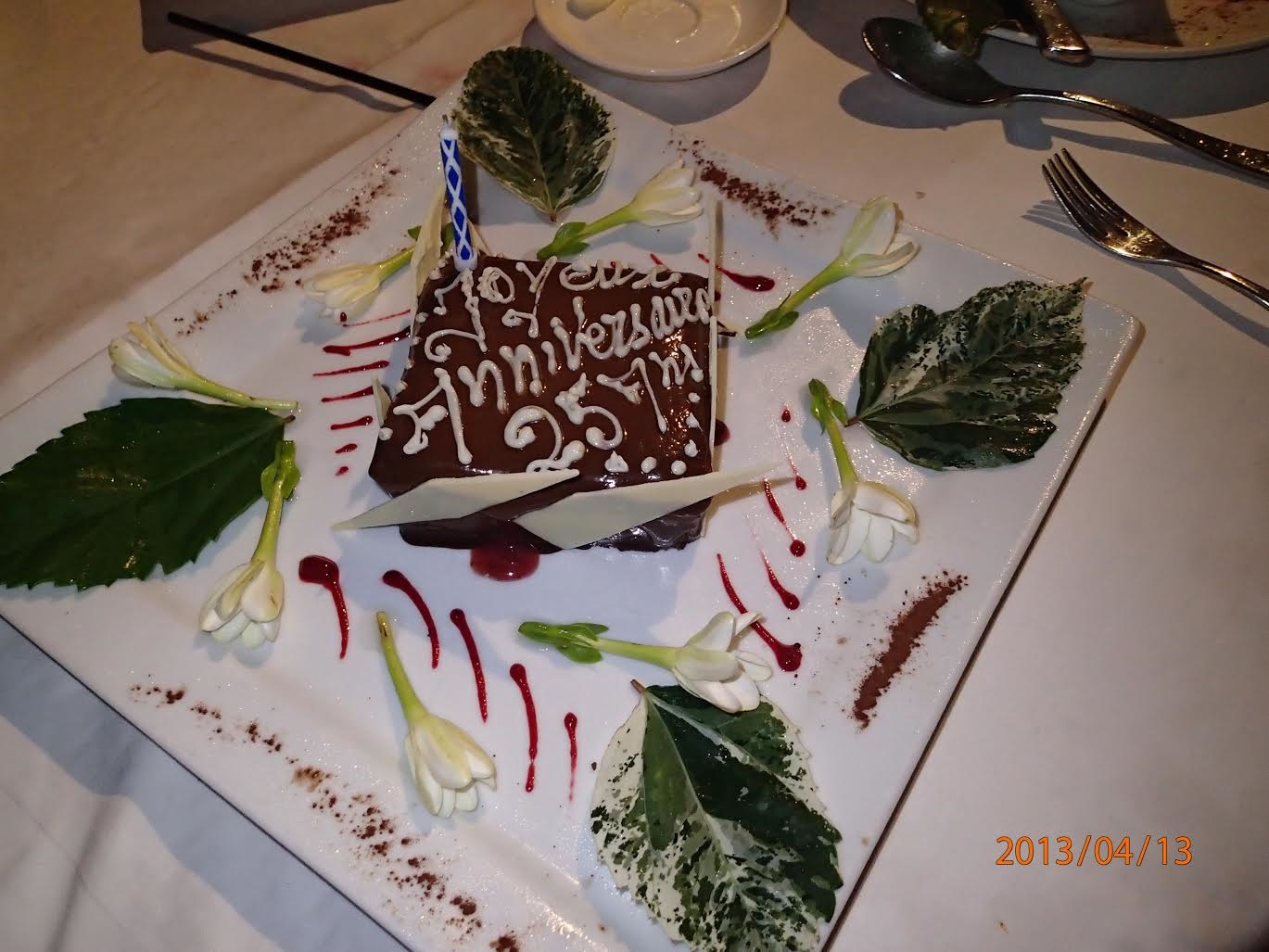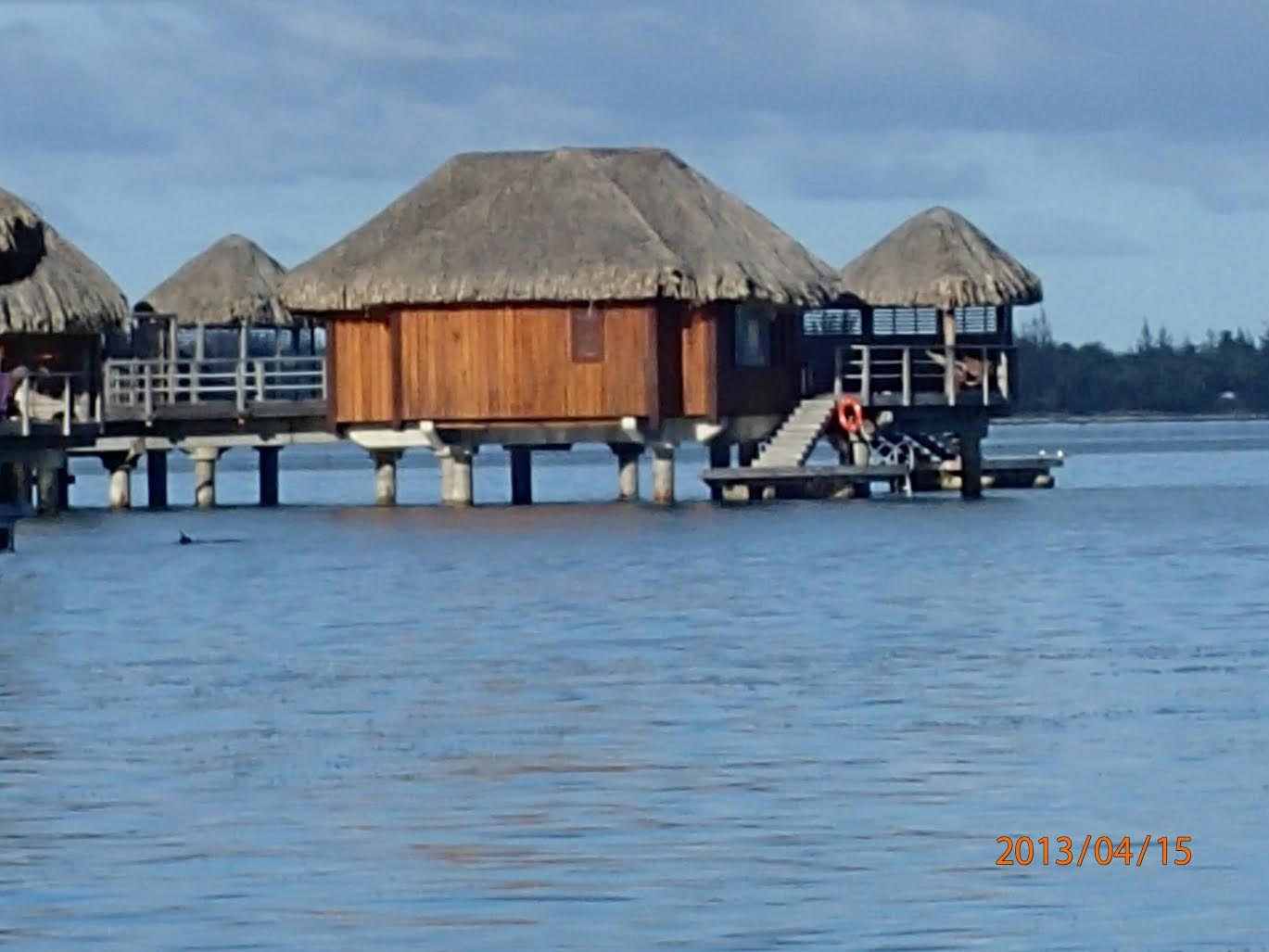 Ia orana Gayle,
I want to thank you for all that you did to help make our vacation/25th Anniversary so much more than we could have imagined. Many words come to mind to describe our Bora Bora experience – incredible, amazing, and beautiful - but I think "Paradise" is the most fitting. We were given the best OWB at the Sofitel (#63) and Anita made sure anything we needed was taken care of along with some wonderful surprises. All of the staff were wonderful. We enjoyed it so much we are planning to go back again for our 30th.
Maruuru!!!!!!
Dawn
Sounds like a successful special 25th Anniversary trip! ....and more to come!

CELEBRATING A SPECIAL ANNIVERSARY IN BORA BORA, MOOREA AND TAHITI!!!

Thanks, Gayle. It was everything you promised -- truly paradise on Earth. We loved all three Intercontinental hotels -- and were very thankful to have the demi-pension with the weak dollar! We loved the excursions on Moorea and enjoyed hanging out in Bora Bora -- probably the prettiest place I have ever been. And I adored the French food and using my ancient French language skills.

Thank you. We took both cameras, the zoom lens and have probably 1000 amazing photos. Karen and Ron Fickel

PS-We have stopped saying that Tahiti was a "trip of a lifetime" because we want to go back!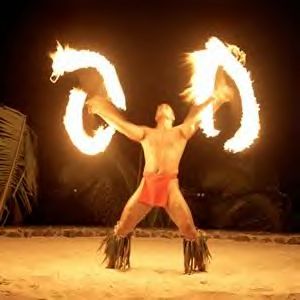 HAPPY ANNIVERSARY IN TAHITI ON THE PAUL GAUGUIN & AN OVERWATER BUNGALOW
40th Anniversary
Carl and Sue Baker celebrated their 40th anniversary in Tahiti, Moorea, Bora Bora and on the exclusive Paul Gauguin Cruise in the South Pacific! Imagine the azul blue waters and overwater bungalows!!! Sue said she was so tan her friends didn't recognize her when she got back. The Sofitel in Moorea was beautiful but they both thought the service was lacking because of short staffing at the time. The Intercontinetal Hotels were great in Tahiti and the overwater bungalow in Bora Bora was fabulous.
Special Anniversary Celebration for in Tahiti, Moorea, Bora Bora, Tahaa'a and Vahine Island!
Gayle,
Our Tahiti anniversary trip was Excellent! Over the top! Perfect. Everything ran smooth.
Moorea: Thanks for suggesting the Hilton Moorea first for snorkeling. Totally enjoyed it. We are new snorkelers now. Went to Rudys which was good, but the Italian restaurant Le was really good!
The Four Seasons Bora Bora was a bit too perfect. Not as Polynesian as the rest. Snorkeled with the sharks and stingrays here. Went to Le Vanilla restaurant. So much food and expensive.
Le Tahaa'a and Vahine Island were our favorites! Picturesque and pristine. Could have just stayed there and would go back for sure. Learned all about the Vanilla plantations and pearl farms and how they are made. Loved the coral garden snorkeling at Tahaa'a. Vahine Island had the best food here. Had our own personal chef! Only 10 people here. Loved it.
Really loved our vacation, enjoyed everything. Don't know how we can top this one!
Roger and Jan
A repeat trip to Tahiti for their Anniversary

Hi Gayle,

The trip as a whole was excellent.

We ended up at an over water bungalow at the end of the far eastern pier, so the privacy was nice. We did have to wait 4 hours to get our room, but that was expected since we got to the hotel at 8:00 am and check in wasn't until 2. Unfortunately, it was raining so we couldn't just kill the time sitting by the pool or lagoon. Tuesday was pretty much a rainy day except for the morning. The rest of the trip had perfect weather. I was just happy that it cleared up for our dinner on the beach Wednesday night.

We did do an ATV tour with Damon, whom we met on the ferry ride from Tahiti to Moorea. He took us to Belvediere, Magic Mountain, and the distillery, with some other local stops along the way. I would definately recommend it to anyone who is going. I would also recommend eating at Rudy's. It was definately the best meal we had on Moorea.

The bad part was definately out of your control and not in the scope of what we booked through you. It took Air Tahiti Nui 45 minutes from when we landed to get us our bags, which made us miss our Delta connection. Delta had no flights for us until Tuesday (this was on a Sunday) so we spent a nice chunk of money to get into O'hare sunday night just so that we could get home.

Thanks for all of the help along the way. We have already started to think about our next trip (probably Bora Bora / Tahaa), but that won't be for a few years.
Thanks,
Justin
When we first went to Bora Bora, my dad asked if it was as good as the pictures and I told him no, it was much better. Unless you see it in person, you will never understand.
"WOW, I LOVE THIS QUOTE FROM JUSTIN!! MY SENTIMENTS EXACTLY," GAYLE ZIELKE, TAHITI TIARE.



An Amazing Anniversary celebrated in Tahiti and Australia!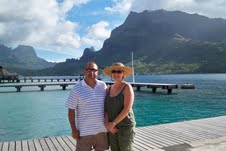 Hi Gayle:
We had a fabulous vacation - it was everything we hoped for. Moorea was beautiful, especially Cook's Bay. The Bali Hai was nice enough, clean and no bugs, but the price and especially the scenery was well worth it. Our cruise was super too. Although we have so many incredible memories, I'd have to say my favorite experience was holding a koala bear. The flights went smoothly (although we hated LAX - what a dump) and all the transfers too. I appreciate you taking care of all that for us. Our location in Darling Harbour was very nice - easy to walk to all the Darling Harbour activities. I'm not sure if we will ever be able to top this trip - it was truly the dream trip of a lifetime!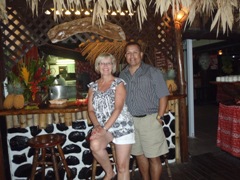 Thanks again,
Diane
20th Anniversary at the Hilton Intercontinental, Hilton Moorea and the Intercontinental Thalasso Resort
Hi Gayle
We're home and I'm already back in Canada where it is 52 degrees today. A long way from Tahiti.
Moorea and Bora Bora were great, I've never seen such beautiful water in my life. Susie and I were very impressed with the way you and your staff had everything perfect. We got upgraded for free at both resorts and the overwater bungalows were much better than I could have imagined. They were absolutely beautiful. We spent one night in a garden bungalow and that was real nice but nothing in comparison to the overwaters. In Moorea we could snorkel right off our deck and in Bora Bora we woke up to one of the best views there could be in the whole world. The bed faced a huge window pointing across brilliant turqoise water right at the biggest mountain on the main island. Fantastic!
We got upgraded to an overwater in moorea after the first night to one overlooking the beach and that one was real nice. I asked and was planning on paying some if it wasn't too much, it took awhile but she said it was all taken care of. Very nice! Then when we got to Bora Bora we were supposed to have a Saphire bungalow but they put us in a Diamond and I swear there couldn't have been a better view in the whole place!.
I highly recommend the excursions we went on. The ones you booked for us were great. The shark and ray feeding was good but we could have skipped the motu after. Too long and boring. The atv ride was excellent. Really exciting, informative and got to see the backcountry. Better than I ever would have thought. The helmet dive in Bora Bora was fun. Glad we did it and the people were very nice. Bloody Mary's would have been nice but we couldn't enjoy it because we were feeling a little sick. I HIGHLY recommend eating only at the hotels and not out at local restaurants. Just our experience but we have a good reason for saying it. We did some other excursions on our own and people should not miss them. We rode jet skis around Bora Bora and that was well worth it and one of our best days. The ULTIMATE excursion though was snorkeling with Christoph in Bora Bora. You should ask for him exclusively since we heard some complaints about some other snorkeling trips. This guy is great, it leaves from the intercontinental and it was the best snorkeling you could have and real reasonably priced. He has a love for what he's doing and it really shows. Air Tahiti was one of the nicest airlines I've ever flown but I will never use Air Tran again. Almost missed our connection at LAX.
The only complaints I have would be some of the food, Air Tran and the drinks at the bar are just completely ridiculous. Highly over priced, not very good and not much of them. At happy hour you can get a $25 martini that would fit in a shot glass. You warned us about that so I knew it was coming but it was still a shock. If you go to the store on any island you can get a carton of Tahiti Drink which costs like $7 and has rum already mixed and it's real good. Lot's of people were buying it. They do have scuba diving for beginners that we didn't find out about until the last day and we were told from people we really missed out. You said there wasn't much night life and you were REALLY right. Also you said it was very casual which I told my wife but she was a little mad when people were dressed up quite a bit more than her at every meal.
Lastly I would like to say the best part of our trip was how easy it was. We've traveled alot but I can't remember using a travel agency where EVERYTHING went right. The itinerary was perfect and we had all the vouchers done right. Everybody was expecting us and we got many perks ( and some big ones) because we used you. We talked to some other couples who definitely did not have the same experience with their travel agent. We will recommend you to everyone and certainly use you in the future. Feel free to use us as a reference anytime.
Thanks for a wonderful trip and making our 20th wedding anniversary so special!
Todd and Susie Tabat
From Gayle, Tahiti Tiare Specialist: "WOW! I absolutely love these wonderful comments from all my clients. I really feel like I am part of these exciting once in a lifetime events and celebrations. I can't wait to hear how my clients love their trips. This never gets old and I get just as excited as they do. I am so grateful to have such amazing clients to work with. Makes all the special contacts I have made and all the traveling to these great destinations especially for my clients...all worthwhile!!"
REPEAT TAHITI GUESTS..this time Moorea and Rangiroa!
Check out these great pictures from Joan and Ronnie! Great underwater and out of the water.... Barbara Warwick's Tahiti album!
| | |
| --- | --- |
| | |
Sofitel was great, as expected. Our last day on Moorea was delightful, our flight departed at 5pm so they extended our check out so we could snorkel and enjoy the ocean. We saw hump back whales that morning! Sitting on our bungalow deck enjoying our coffee watching the surf as it hit the reef on the horizon and there it was .... HUGE hump back at the surface. Was certainly highlight of the day.
Rangiroa was ok ..... hotel was ok. They say they have A/C but it really isn't ..... which was still ok. Ocean breeze cooled our room. The facility was fine .... just lack of services. Maybe difference between tuamotu's and society islands?? Not very friendly, just adequate. Water and surrounding area was breath taking.
Diving was OK ..... I know you are not a diver but in case you book travel for divers ..... the current is fast. So it's an adenaline rush but you cant really enjoy the diving. It's "tourist" trap to me .... sounds exciting but it isn't all that great, poor visibility.You DO HOWEVER have the opportunity to see some very BIG and unusual sea life (we didn't, but the opportunity IS there) BUT here is the big thing on Rangiroa .... very unconcerned w/ safety. I've never dove w/ any dive shop so unconcerned w/ safety. We are advanced divers so we felt comfortable. We know my husband uses more air than I do, we also know how to buddy up, share air and safely come to the surface but we have never gone diving where the dive master readily tells you to push it to unsafe low levels of air ..... would never recommend them to a recreational/occasional diver.
We liked the slow pace of Rangiroa and the remoteness of it ..... very beautiful area of the south pacific. The travel though was hell .... to do over, I'd stay within the society islands OR venture out to atolls.... not both. Too much travel time blown with infrequent flights and etc.
Moorea was great, Sofitel was magnificent as expected. Really relaxed. The snorkeling is the best I've ever done ...... better than the diving this trip. Apparently, hurricane Ollie wiped out a tremendous amount of coral (we could see the vast difference from 2 yrs ago) through out the islands so it has effected the diving greatly. We snorkeled off our bungalow every day, it was world class........ While we were disappointed in the diving .... that's kind of just happens now and then .... Moorea is so beautiful that you just can't complain when you're in paradise. We had a great trip ..... got home safe, fat and happy!
(Just for dive trip information .... dive conditions change when hurricane come through and many dive shops will tell you the dive conditions .... these didn't. Maybe recession? Maybe not wanting to discourage travelers ..... had we known we would have planned on diving a little less and relied on other activities .... it will take many many, many years to return those waters to the previous dive conditions. We feel fortunate to have dove in them two years ago ... its really a remarkable change ...... there were however, many sharks! Just like last time! )
If I think of anything else, ill let ya know...... was great trip.
Repeat Tahiti guests return to BORA BORA!
Sofitel Bora Bora & Private Island
Hi Gayle,
The trip was great, very relaxing. I swear we got the best rooms (island mountain side & island over water) that they have. The only bad thing was the long (6 hours) wait at the Tahiti airport coming home. I wish we could have waited at the resort for at least 3 hours of that time.
Also the Sofitel Tahiti hotel on the way to Bora Bora was not the best (clown curtains on 2 walls and no hot water) it was OK because we were on our way to paradise.
And 1 of our suitcases got hit by a bus, but it was old and needed to be replaced anyhow, we just duct taped it for the rest of the trip.
We met an opera singer, a motivational speaker, a banker, a dentist and an eye doctor. It was a wonderful trip. We spent a lot of time on our porch drinking, talking and playing a game we call "who can pick the best song on the iPod to match the situation".
We do plan on returning to Bora Bora in a few years.
Michelle
PS: The curtains did not have clowns on them, they had bright red, blue, green & yellow vertical strips on them that reminded us of a circus tent, especially because 2 entire walls were covered with them, we had an end room.
Another funny thing that happened there is we locked ourselves out on our balcony. Mike went out for a cigar and told me I should come out and listen to the Tahitian music playing in the distance. I shut the door because the a/c was on not knowing that it automatically locked. About 15 to 20 minutes went by until a nice man below called the front desk for us.
You are right about the interior view and the beach. It was very nice in the morning to walk out there after our coffee and look around. I would stay there again for 12 hours if I had too to get to the Sofitel in Bora Bora!
The Sofitel Bora Bora Private Island…Bar none the best place on the Island and maybe in the Social Island chain. We heard from many folks that where traveling around the area and they all said the same. Oh and I kind of liked the red leather furniture in the lobby. The best advice you can give some heading to this resort is the grocery store 5 minutes down the road. If you head out the main lobby and to the left there is a little local store about 500 yards down. Everything is a fifth the price including water! They had chips and snacks, beer, wine, various liquors (Imports are high in price but less then resort), soda and cheap water. Two tropical drinks at the bar will set you back $40!!! I can't believe anyone pays that! Why? They don't even care if you take beer to the pool and sit there by the bar. I guess if you're sprouting money out the whassoo you can ignore that but I bet some people had a huge shock at the end of their stay.
Mike
Gayle's response: This could happen to anyone but this couple makes the best out of any situation they are in! Great to keep a sense of humor..and adventure.. when you are traveling, you just never know what might come up!
30th Anniversary
Gary and Gayle Zielke... Your Midwest Certified Tahiti Tiare celebrated a special 30th anniversary in Tahiti! What better way to celebrate an anniversary than in an overwater bungalow in Bora Bora or Moorea!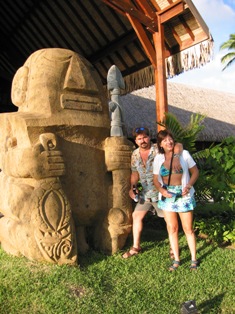 In Tahiti you want to just JUMP in that clear aqua water and experience an up close and personal relationship with a fish or two! Nice looking Merman!
You cannot believe how amazing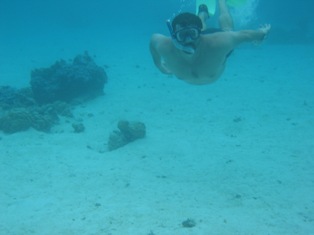 Bora Bora and Moorea are until you get to experience it yourself! All the pictures are just like you see. No doctoring up of pictures necessary in Tahiti!!!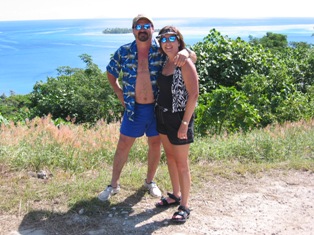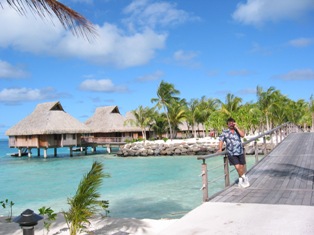 No trip to Bora Bora would be complete without visiting Bloody Mary's Restaurant. I like the open air atmosphere here and the fun people you will meet from all over the world! Choose your own seafood or steak!
More about Gayle Zielke, YOUR Tahiti Tiare Specialist
"I love it when all my clients I send to Tahiti and her islands come back 100% satisfied! They LOVE Tahiti as much as I do!!" says Gayle Zielke, Tahiti Tiare. There is no other place like it!!
Tahiti is a dream that can become a REALITY for YOU!!! You do not have to be a HONEYMOONER to experience Tahiti, but you will feel like one when YOU get there!!!!
Contact Gayle Zielke or Sara Batchelor your Tahiti Tiare Specialists, A Tahiti Elite Club Preferred Agent at 262-542-5955, 1-800-896-4360 or email: or