​ALASKA ADVENTURE
Mary and her husband Harry and daughter Brooke visited Alaska. They did travel with family, friends and a nice group of clients too. After sharing a wonderful trip like this everyone makes new friends for life!! This was the first time for her family to go to Alaska on this once in a lifetime adventure, but Mary has been there many, many times. She says it will probably not be the only time though, since there was so many things they did not get to do or see!! Great things can happen to those who wait.
Mary said, "I thought I was going to have to ship a dog home! Brooke would not give the dogs up. This was at a sled dog camp outside of Skagway on our cruise stop in Alaska."
Just goes to show you there is plenty for kids to enjoy on an Alaska Cruise!
As the Operations Manager of
First Choice Travel and Cruise
I have had to focus my travel bookings to only those destinations I love to sell!
Australia
,
New Zealand
, Asia, Alaska and
Fiji
are the destinations I chose because I like a good challenge.

For the last 27 years I have been an Australia and Alaska Specialist and have been spreading my expertise to more and more of the adventure vacations ever since.

My clients tell me what they want, and once I get a good feel for their plans I make the suggestions that set this trip apart from anything they have done in the past.

I like to make special memories for my clients, not just book them a trip.

I keep current with prices and all the new itineraries on a daily basis so my clients get the service they deserve.
Another great ALASKA TRIP on a Celebrity Cruise LAND TOUR..... with Mary and Sara from the office!
We had a chance to tour the Celebrity Millennium and all I can say is WOW! I was on the ship in 2009 and didn't recognize the rooms and buffet dining room. Sleek, Modern, Upscale and spotless! Real hand washing stations around the ship to stop the spread of disease. The suites on this ship are spectacular! Makes the other ships look ancient, the ship reminded me of the pictures I saw of the Edge. They are upgrading a number of ships to be more modern.
If you are going southbound most Celebrity tours start in Anchorage. While Anchorage is not a favorite of mine if they arrive ahead of time and have a whole day to explore there are tours that will take them out of the city to explore. There is also a Trolly tour, shopping, dining and museums in Anchorage to keep people occupied for a day. I try not to discourage people from Anchorage (Gayle liked it) it is just not my thing.
Celebrity's base land product is escorted by 1 driver and 1 guide the whole way.
Sara: I enjoyed having the same bus driver and guide for the duration of our trip. It seems more personal and they truly make an effort to get to know you.
2. Celebrity's rail cars have better seating (no one sits backwards!)
Sara: Glass dome cars to see views all around and Celebrity has the last two cars so you can hang out on the back and see the rail and wilderness go by while being outside.
3. Celebrity's property in the Talkeetna area is right near Talkeetna, The Princess McKinley lodge is 40 minutes outside of Talkeetna and isolated (but beautiful!).
Sara: I liked being able to go into town and see the local shops and hand with the locals while dining.
4. All land excursions are booked directly with the guide no decisions need to be made ahead of time. Cruise excursions are still booked ahead of time.
Sara: Highly recommend a flight with a Glacier landing. It was the best way to see Denali and step on a glacier. The beauty while in the sky was amazing! Also if you like puppies I would go to Husky Homestead where you can snuggle with puppies and learn what it takes to train and race huskies for the Iditarod.
5. All the hotels used are nice rustic "lodge" type properties. Remember this is Alaska and there are really no luxury choices.
Sara: I loved the rustic feel of all the properties
Sara: In Fairbanks I highly recommend the Alaska Salmon bake for dinner with it's assortment of all you can eat fish, prime rib and crab for an upcharge. They also offer a comedy dinner show that gives you the historical highlights of Fairbanks answering a few commonly asked questions about our town…such as why would anyone want to live here? This was very funny!!
Sara: Can't wait to go back and add in the cruise portion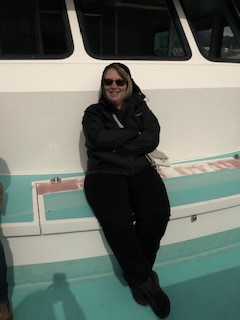 What do people say about Mary's service and expertise?
Hi Mary,
I am not surprised to hear you are the Manager, you do a great job managing. I would be happy to have you post my email comments, I could not agree more with the "why" to use a Travel Agent. We would not do it any other way, as you know I have recommended many people to you for that very reason.
First of all, I would like to thank you for all your hard work in getting us a new flight and making all the arrangements for transportation for Sunday from the airport to the resort. Everything went off without an issue. Without you and your extreme efforts to assure all T's were crossed and all I's were dotted, it was very likely we may have had to cancel our trip for the entire week.
Thank you also for going above and beyond to send us information on how to file the insurance claim and for adding the news feed, you could not have done more to accommodate us. We are extremely thankful for your efforts!!!
Yes, the rest of our vacation was great.
I would like to send an email to your Manager to let he/she know of your efforts to assure our vacation went off without additional issue's.
Thanks again, we will be in touch.
Judy
Call me today to plan your ADVENTURE VACATION memories!

262-542-5955 / email: