OAHU WEDDINGS
KO OLINA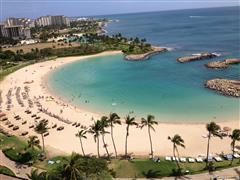 Hi Gayle!
Thank you! And thank you for the welcome gift, that was sweet! J
The trip was AMAZING!!! We had such a good time. We had this gorgeous sunset the night of the wedding.
Ko Olina was great. We didn't like Waikiki…too busy, too much traffic, no parking… But really liked Ko Olina! It was very relaxing and our hotels were awesome.
Maui was fun. After we left the family, we started the adventures. We did the road to Hana, went on a helicopter tour, went zip lining, did the sunrise Haleakala tour (watched the sunrise and then biked down), and then of course we did the luau and the sunset dinner cruise.
Michelle
FATHER OF THE BRIDE
Hi Gayle,
Hawaii was great. The weather was wonderful. The JW Marriott hotel was exceptional. They gave us a free upgrade to an ocean view room which also overlooked the pool. The pool area had a deck that overlooked the ocean which is where we spent most every morning. The room was very large. The bathroom was larger than our master bath at home. The resort on Maui was very nice also. The unit was good sized but was a bit outdated. (Aston)
The wedding was beautiful. Michelle was a very pretty bride. I have attached some pictures from the wedding. The last picture is Sue and me with Michelle.
Thanks again fror your help in setting up the trip.
Glenn
MAUI WEDDING SUCCESS STORIES
Schmit and McHenry Wedding was a beautiful event in Maui. The wedding party stayed at the ROYAL LAHAINA RESORT right in Kanapali. Location and weather was perfect for their big day!!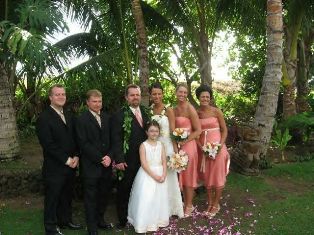 ANOTHER BEAUTIFUL MAUI WEDDING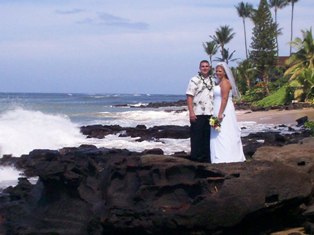 Hi Mary,

I just got the newsletter and saw the clip about Jon and I in there. I am sure you guys probably like to see the wedding pictures of successfull Destination Weddings and ours was a HUGE SUCCESS.
Thanks again for putting up with all of my indecisions and inability to decide on anything. You really made our wedding great and it was all so easy for us and all of our guests. Thanks again!!!

Kelly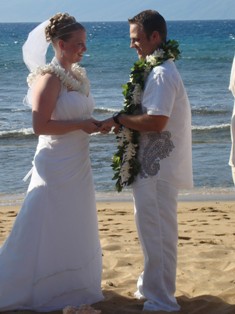 Destination Wedding at the Aston Kaanapali Shores in Maui!
Tana helped Tracy and Jim Kleppe with their Hawaiian Destination Wedding at the Aston in a great location in Maui. The Kaanapali area is one of the most popular spots in Maui, beautiful location for a wedding.

Enjoy some reviews and pics from JOE AND LISA BROOKS and MORE.... MAUI WEDDINGS!!
Experience the perfect Island Getaway with the aloha spirit! When it is time to start planning your VACATION, contact the EXPERTS, not the Amateurs! Ask for a First Choice Travel and Cruise Hawaii Akamai Specialist to insure your trip to Hawaii is unforgettable!