BULA! BULA! Welcome to Fiji!
Bula Bula! Friendly Fiji!


Escape to the South Pacific's friendliest paradise- Fiji!

Looking to escape the winter or want to get away and visit somewhere different that you have never been to before? Why not break out of the mold and try finding some ADVENTURE in FIJI!
Fiji is a great destination for couples looking for adventure and some well deserved romantic time together!
Find Happiness in Fiji
"With so many islands to choose from it will be hard NOT to find the best venue for your escape to paradise," says Gayle Zielke from First Choice Travel and Cruise who has been to many of the Fiji islands. I would love for you to experience one of more of these amazing islands!

Located in the heart of the South Pacific are 333 of the happiest islands in the world, better known as the tropical paradise of Fiji. Whether you are searching for a romantic escape to a private island, a lavish pampering at a world class spa or an unparalleled adventure filled with natural wonders, Fiji helps to reconnect, rejuvenate, and rekindle happy spirits.
From its crystal-clear water, breathtaking diving experiences to miles of pristine beaches, Fiji has something for any traveler searching for the ultimate vacation experience. More than a beautiful destination, Fiji is the home to some of the world's happiest people, eager to welcome visitors with a warm "Bula!" and share their home, culture and traditions. Immerse your clients in all of the wonders of Fiji and begin their journey to happiness today.

Fiji is a scenic wonderland inhabited by people who invented the true meaning of hospitality!! You will experience sandy beaches, savor gourmet cuisine (lots of seafood) while enjoying a wide range of cultural influences.

Warm waters, pristine white beaches and incredibly lush rainforests offer something for everyone from budget minded families to luxury seeking jet-setters.
And with the most welcoming hospitable people in the entire South Pacific, you'll arrive in Fiji as a guest, but leave as family.
Fiji is a great alternative in the South Pacific for couples or families who want to immerse themselves in the local village culture of Fiji and drift off into 'Bula Time' or 'Island Time'. Because Fiji is so affordable and price friendly is one of the main reason why more Americans are now headed to Fiji instead of some other polynesian islands.
FIJI Matai Specialist
First Choice Travel and Cruise vacation specialist Gayle Zielke was lucky enough to visit a few of the Fiji Islands. There were so many great memories and the Namale Resort is one of them none of us will ever forget. From the most fantastic bure's (thatched houses) we were able to stay in, the feeling of welcome started as we were met at the airport. For more information on our educational trip to Fiji see Fiji Adventure and page down.
NAMALE RESORT
"Vanua Levu has been dubbed Fiji's best kept secret. This is where we found NAMALE and I love finding these secret little getaways for my brides and grooms", says Gayle Zielke, Honeymoon and Destination Wedding Specialist at First Choice Travel and Cruise. While accessible from Viti Levu, it retains a feeling of remoteness and offers a window into traditional Fijian life. Volcanic in origin, Vanua Levu has few beaches but its nearby reefs offer some of Fiji's best snorkeling and diving. An extensive variety of activities including waterskiing, horseback riding, snorkeling, tennis, hiking to the waterfall, kayaking, a visit to a nearby village, basket weaving, were offered daily. Did I mention there is a world class spa located in this remote hideaway?
We cannot say enough about our luxurious experience at the all-inclusive NAMALE RESORT! Just take a look at this bure and I think you can see for yourself why Namale was everyone's favorite resort. Great food, outstanding accommodations and unparalleled hospitality of the resort staff made our stay there memorable for the rest of our lives. I could not believe the service we received here was above and beyond anything I have ever experienced!
Imagine throwing a party at your bure and it can be arranged in minutes for NO EXTRA CHARGE! Yes butler service included and no tipping necessary! AND....with the resort staff so happy to accomodate any small or large request their guests have. I can just imagine what kind of destination wedding or get together with another couple of friends would be like in these BURE MANSIONS!!
YASAWAY ISLAND
The Yasawa Island Resort is located on Yasawa Island. This had to be one of the most beautiful islands we have ever seen. They call it the Blue Lagoon! You fly over on the little 8 passenger planes and land in a field which is the resorts private landing strip. This is the island of Fiji that you see in the pictures. The beautiful turquoise water and reefs. We visited a village and met the "chief". This was an amazing and once in a lifte time experience. Snorkeling of course was impressive (and the diving). The color of the ocean reminded me of Tahiti!!! Paradise for sure. The Bure's are beautiful. The local people and their music, just great.
CASTAWAY ISLAND!
With lush tropical vegetation, beautiful white sand beaches and vibrant coral reefs, Castaway Island offers spacious yet secluded bures with traditional Fijian decor combined with the warmth and hospitality of the Castaway staff to provide a unique experience.
If there's adventure in your soul, (and I bet there is if you are even thinking of going to Fiji)
...Fiji is the place to indulge it. The Fiji Islands in the South Pacific are an archipelago of over 330 islands packed with attractions that can be found no where else and offers a unique experiential opportunity for the visitor. There are so many islands and resorts to choose from. Each with their own unique personality..just like YOU! This is a magical place for a memorable once in a lifetime Vacation, Honeymoon or Destination Wedding!
Imagine yourself in a thatch-roofed bure nestled under a fringed coconut palm, beside a coral-filled sea, and the warm welcome of the Fijian people will transport you to a simpler time.
Stroll through a garden of exquisite orchids, explore the shops of Nadi town, take a romantic horseback ride along a sandy stretch of beach, snorkel and dive some of the world's most beautiful coral reefs, savor gourmet cuisine with a wide range of cultural influences, or simply view the spectacular South Seas sunsets. Adults and children of all ages will enjoy this tropical getaway. The friendliest islands in the South Pacific invite you to indulge yourself in paradise and create memories that will last a lifetime!
So whether you are looking for a romantic getaway, family vacation, spa relaxation, diving or fishing experience--or the ultimate getaway--Fiji has something for everyone!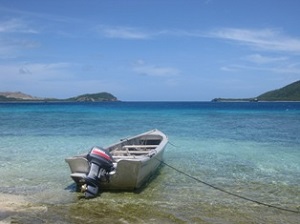 Fiji has never been so affordable!

Discover unspoiled beauty, warm waters and friendly natives all at a price that won't leave you feeling stranded!

Considering Hawaii or the Caribbean? Been there, done that??? Have a look at the unbeatable value for the dollar and the out-of the ordinary experiences available only in the incredible islands of Fiji!
Whether you're looking for a secluded romantic getaway, a chance to dive and fish in exotic waters or a fun-filled family vacation, Fiji has something for all types of travelers. Click on the "Top Resorts" button on the right to learn more about some of our favorite Fiji resorts and start planning your trip to paradise now!
WEDDINGS IN FIJI
Dream of getting married in PARADISE?
With an undeniably romantic backdrop, whether it be a wedding, renewal of vows or special anniversary, Fiji is a dream come true! Weddings in Fiji are affordable...and LEGALLY binding!! You may float towards the shore on a traditional Fijian wedding raft and exchange vows under the swaying palm trees as the Fijians serenade you. In fact no request has been denied at the most sought after upscale resorts for your DREAM WEDDING!
Many resorts have wedding planners to help with all the details and make the wedding less stressful. Why would there be stress in Paradise?
Maybe you are thinking of a FREE WEDDING? Ask our Fiji Matai Specialist where YOU can have the most unforgetable wedding in Fiji!!! Imagine choosing a private beach for just the two of you or maybe your closest friends and relatives guests want to join you! Anything is possible in Fiji for a DREAM WEDDING of your choice! If you want to know more information on how you can have a FREE LEGAL WEDDING in FIJI email or call: or 262-542-5955.
REQUIREMENTS FOR A LEGAL WEDDING IN FIJI!

Want the whole group to attend your wedding on a private island?
SHORT BREAK WEDDING CHARTER PACKAGE

Only have a weekend? Sega na Lega! (No Worries!)
| | |
| --- | --- |
| • | 3 nights accommodation at Lomani Island Resort for 24 people |
| • | All meals including a three course reception dinner by the beach |
| • | A Lomani Deluxe wedding package |
**The price fluctuates with the currency exchange rate.YES THIS MEANS BRING THE WHOLE GROUP FOR THIS PRICE!!!
Wedding Celebration at Outrigger
Fijian Wedding Celebration
Included Features
5 nights Outrigger on the Lagoon Fiji including a Clear Skies Chapel Wedding package
Private car transfers from Nadi
Meeting service on arrival with flower lei
Outrigger on the Lagoon, Fiji
Located on the Coral Coast, the resort offers wedding packages to create the perfect exotic wedding. Your Clear Skies package includes a bouquet and fresh flower tiara for the bride, corsage for the groom, traditional Fijian decorations, bottle of champagne, wedding cake, romantic dinner, breakfast in bed the morning after the wedding and ceremony in the new Bure Ni Loloma Wedding Chapel.
Please note: Prices are per person, double occupancy, land only, and based on lowest price point during the valid period. Seasonal supplements and minimum stays may apply. Other room/bure choices are available; ask for details
If you like adventure or just want to get away from it all. Fiji is the place. The "Kava ceremony" is a must do as well! It would also be a great stopver if you are planning on visiting Australia & New Zealand. Not to be missed!
Bula…this is the Fiji greeting, thank you, your welcome
BULA! VANAKA!
Contact a FIJI MATAI SPECIALIST 262-542-5955, for a PRIVATE ISLAND WEDDING TODAY!!
You can visit one of the many islands of FIJI!!! Imagine yourself on the BLUE LAGOON!
Fiji Island - Useful Information



Looks like a tree house, doesn't it?
This is MATANGI
Size, Location, Population
Fiji comprises about 330 islands with about 130 of the inhabited. With over 200,000 square miles of ocean, 3,000 miles southwest of Hawaii. The main island is Viti Levu. The population, which numbers around 775,000, is 50% Fijian (Melanesian), 46% Indian, and 4% other races.
Passports
Make sure your passport will not expire within 6 months of your travel date. No Visa necessary unless you are in Fiji over 30 days.
Daily FIJI Activities may include:
Village walking tours (Visit a local village and meet the chief and his friends)

Coral Reef walk or maybe a Tropical Garden walk

A Fijian Cultural Experience including a traditional Kava Ceremony (we had to try this)
Night time FIJI Entertainment
Almost every evening of the week, your hotel may offer an entertainment program that is unmatched anywhere else in the world but the ....Fijian Islands. It begins at dusk with the dancing and singing under the sunset lights, gently lulling you with the beat of the lali drum. You may want to join in the dancing and fun!!

A Fijian Torch lighting ceremony usually kicks off the nightly entertainment. This is different at each resort and island. Ask your hotel for a schedule of events.


Night time shows may include:

Traditional Meke performances

Polynesian dancing

Fijian firewalking and Kava ceremony

Fashion shows, and much much more!


Local Fiji Attractions

Sigatoka River Safari
White Water Rafting
Zip Fiji -


Game Fishing, although this will change in the next few months as we will have a boat based at the resort -




Day Sailing

Island Tour -




Waterfall Tour and Cave Tour -




Sigatoka Shopping -