TAHITI...It is the PARADISE you were looking for!
Escape to the ULTIMATE Exotic Destination and v

isit Tahiti,
the perfect way to celebrate your Honeymoon, Anniversary, Birthday, Retirement, Special Milestone & even a Wedding!
Gayle Zielke is one of our dedicated French Polynesia Specialists with over 30 years of experience in the travel industry. She has visited Australia, New Zealand, Fiji, the Cook Islands, Atutaki with a main focus on all of the islands of Tahiti (Been there ...only 7 times ....and hopefully still not done yet.) There are many ways to experience Tahiti from an air and land vacation package staying in an overwater bungalow or cruising Tahiti and all her islands on the Paul Gauguin Cruise line, Windstar, Princess and other cruise options to visit all the Tahitian Islands!
With all her experience and passion for Tahiti, Gayle definitely knows how to help you plan your incredible trip to the South Pacific!!!!
First Choice Travel and Cruise is proud to announce that we have a Certified Tahiti Tiare Travel Specialist. Gayle has joined this prestigious club of Tahiti specialists! We are honored and excited to have a specialist in our office who absolutely is in love with French Polynesia.

Ia Orana from Gayle Zielke YOUR Certified Tahiti Tiare Specialist
Honestly, I am not bragging, just sharing! It was my 7th time to TAHITI and I have to tell you it was just as AMAZING as my first time! Every time was a different experience (depending on who I traveled with) but each time was perfect, unique and out of this world!
I cannot get enough of taking pictures of those overwater bungalows, the beautiful aqua waters, exotic fish and Polynesian dancers! As you can tell I have a passion for TAHITI and I want to share it with YOU! I would love for you to be able to experience the magic and beauty of the Tahitian islands!
In fall I brought my 2 daughters for a 40th birthday celebration! Imagine the faces of these girls experiencing BORA BORA and Tahiti for the first time! It was totally worth every penny to share my passion with French Polynesia with my children! This Mother/Daughter Tahiti trip of a lifetime was a total success!
My 6th time was all work and I didn't mind a bit! I was invited by the Tahiti Tiare Specialist Exchange with the Tahiti Tourism and one of my partners Islands in the Sun so I can keep up on my Tiare Specialist education!!!
Not only did we meet up with all the hotel reps from all the islands, but we met quite a few new sightseeing vendors who were showing us the latest adventures, just what our Honeymooners, Anniversary Couples, Birthdays, other Celebrations and even families are looking for! From Pappette, then a ferry to Moorea, fly back to Tahiti School, then off to Bora Bora and then the last exotic island we visited was Rangiroa! I want to share a bit about that island which is not for anyone looking for a lot of evening entertainment or a big bustling town. Its quiet and quaint and just right for the guest who is looking for a hut on the beach!
My fifth time was another anniversary to celebrate and of course I chose Tahiti, Moorea and Bora Bora...again!!! This time I cruised there on the award winning all inclusive Paul Gauguin cruise and then a couple of nights in an ovewater bungalow (of course) at the Hilton Resort in Moorea. I send so many couples to Tahiti, they know me there by name!
I have to tell you how amazing the PG cruise was. My husband and I escorted a group to Tahiti and it was everyone's first time there except for us. I was a bit worried that someone in the group may not love it like I do. But I didn't have to worry. Everyone absolutely loved it. One of the guests even said they didn't know what to expect but it certainly exceeded his expectations! Wow that is just what I was waiting to hear! I do have to share with you that they all said the overwater bungalow stay at the end of the trip was like having the cherry on top of the sundae! The snorkeling right in front of our bungalow is out of this world!! If you are interested check out or ask me about my trip on the Paul Gauguin! I love to share anything about TAHITI with you!
On a different trip I was lucky enough to visit the island of Taha'a. Flew into Raitea and took the boat transfer to Le Taha'a resort. It was amazing to visit this very exclusive island resort!! I am still on cloud 9 thinking of my time there!! Tahiti and her Islands are just so beautiful, an amazing atmosphere with breathtaking views... that to be honest I have never seen anywhere else compare to these Polynesian Islands.
Tahiti and all her islands are the absolute ultimate Honeymoon or Anniversary destination. Please tell me when you are ready to visit Paradise. I want to share all my secrets of these Polynesian Islands with YOU!
Mauru'uru Roa!

"Tahiti and her islands are TOP on my list for romantic, exotic vacations," says Gayle Zielke, owner of First Choice Travel and Cruise and a Tahiti Tiare Specialist. "Imagine your own private over-water bungalow, turquoise lagoons, colorful markets, delicious French and Polynesian cuisine and all the magic of the South Pacific." Who wouldn't want to spend their Honeymoon or Anniversary in Tahiti, Bora Bora or Moorea?

This tropical destination is blessed with a lot of sun and just enough rain to keep the waterfalls flowing and the flowers blooming. If that's not inviting enough, both the air and water temperatures average about 79 - 82 degrees F year around. "Many people are under the assumption that Tahiti is not affordable," she adds. "We have packages for any budget. Why wait? Work with a Certified Tahiti Tiare Specialist and indulge yourself, do something DIFFERENT this time!!" Maybe you didn't think of island hopping in Tahiti and you would totally be missing the best part of Tahiti, all the different personalities of the islands. You want to experience this for yourself.
"I really enjoy working with Honeymooners and couples interested in traveling to the South Pacific. Most are going there for the first time and I am excited to share it with you. Everyone has a lot of questions about their adventure in Paradise and I am here to help before, during and after your trip."
"I do want to clear up the misconception that Tahiti is way too expensive. This is just not true anymore! I returned from a trip to Las Vegas where a simple sports bar hamburger was $21!! So I want you to know that if Vegas, Aruba, Hawaii and all over the Caribbean can charge that amount for a small meal, then Tahiti is not quite that expensive anymore. In fact a hamburger in Moorea was less than $21 so apparently Tahiti is more reasonable than dining out in Las Vegas or many other destinations. I would love to discuss some great meal plans we can work into your Tahiti package and give you a few hot tips on how to make the most of your vacation in the South Pacific."
FOR MORE INFORMATION ON EACH OF THE ISLANDS CHOOSE ONE OF TAHITI'S MOST POPULAR ISLANDS BELOW:
HIDDEN PARADISE ISLANDS OF TAHITI
Discover Tahiti's Hidden Paradise Islands! Escape to some of the less traveled and untouched beaches and pristine waters of Tahiti's lesser-known islands: Huahine, Raiatea, Taha'a, Rangiroa, and Tikehau. These islands are almost unheard of so if you are looking for the exotic off the path slice of Paradise, they may be just what you are looking for.
Taha'a: I have been to Le Taha'a and highly recommend it for romance and a quieter atmosphere. Relax on your private overwater bungalow in island tranquility and timeless sophistication. I remember the air is always scented with vanilla and the food was amazing! You'll discover fresh island cuisine and world-class service from your own private overwater bungalow. Le Tahaa wins awards on excellent hospitality and customer service! If you think you would be bored here, think again. Activities on Taha'a are endless, visiting vanilla plantation, pearl farms, crossing the untouched environment of the island, jet skiing, kayaking, paddle boarding …or just dreaming or doing nothing!!
**There is so much to be seen underwater life, from stings Rays to eagle rays, black tip sharks, grey sharks, turtles and multitudes of different fishes, butterflies, angles, surgeons, jackfish's … it would take too long to name them all.
Huahine: Stay on the lush island of Huahine, where you can experience Tahitian art and culture.
Tikehau: Suspended between the sky and the waves, experience Polynesian panache in one of the Pacific's best kept secrets, on a tropical island recognized. Appreciated for its beauty Tikehau is where you will enjoy inspired cuisine and unwind in accommodations that offer tasteful Tahitian details.
Rangiroa: Experience the warm welcome of Polynesia and passionate service from your very own private Villa wih pool at this hidden paradise. I just visited this lovely exotic island. Perfect getaway for someone who doesn't want a busy or noisey vacation!
Vahine Island: Want to stay on a hidden gem in the South Pacific? If you are looking for a luxury private resort and island that caters to relaxing, this very small boutique resort might be just what you are looking for.
TAHITI INFORMATION YOU CAN USE
"Is it just me or do you really get excited to see these overwater bungalows and undescribable views, too?" "This is what I imagine Paradise looks like, that is why I keep saying it is PARADISE! I don't know any other destination that actually looks like the pictures other than Tahiti and her Islands!". "No photo touchups necessary!" Gayle Zielke, Certified Tahiti Tiare Specialist.


Entry Requirements
Foreigners wishing to visit French Polynesia must have a valid passport, which, depending on the nationality of the visitor, contains a valid visa. No immunization certificates are required.
Best Time to Travel to Tahiti
I think anytime you are traveling to Paradise it is the best time! Tahiti temperatures average about 79 degrees (F) all year around, both the air temperature and the water temperature. You might find more rain in the month of January but I have clients there all the time all year round and NO one has complained about a little rain! Tahiti is a tropical destination blessed with lots of Sun and enough rain to keep the waterfalls flowing and the flowers blooming!
Some of the world's best snorkeling, scuba diving, and surfing are found in Tahiti. Also popular are outrigger canoeing, bicycle and horseback riding, four-wheel jeep safaris, spear and deep sea fishing, swimming, sailing, jet skiing, wind surfing, tennis, island tours, shark and ray feeding, helicopter rides, museums, ancient maraes (temples), and other cultural experiences. Sunset watching, beach strolling, relaxing in the sand, enjoying exquisite French Polynesia cuisine, walking through beautiful fragrant gardens, and simply getting to know the friendly and hospitable Tahitian people are memorable highlights of any visit to French Polynesia. Gayle says, " ATV tours and renting jet skis seem to be the most popular request lately after the usual jeep trip and shark and ray snorkel trips"! Ask Gayle about her HELMUT DIVE in Bora Bora!
MORE ACTIVITIES AND FAVORITE SIGHTSEEING TOURS in Tahiti, Moorea and Bora Bora.

Shopping
Duty Free shopping is mainly available on Tahiti, that is where the biggest markets and shops are. The Le Marche (the Market) located downtown Papeete is where you want to go to purchase all your souvenirs. You might as well find the most reasonable prices and options at the Market since it is all in one place! There are a few shopping centers or stores around the area too. But you will also find everything you would want on Bora Bora, Moorea and the other islands too. The Black pearls, (you have to own at least one), mother-of-pearl shell carvings, coconut and tiare soaps, monoi oil, vanilla beans, shell leis, wood carvings, colourful pareos, and woven hats and baskets are among the most popular items. (Try the Black Pearl Market for the best prices on pearls)
Tahiti Exchange rates
Don't be afraid of the exchange rates. It is easy and I have a lot of tips for you on what to do. A typical exchange might be 1500 XPF = $13.19 in US funds which is down again. This rate will change daily so just ask what the current exchange is.

Tahiti is a favorite destination for Honeymooners
Tahiti is simply the ultimate in romance and dream honeymoons! Couples can immerse themselves in the incredible beauty of the islands and the casual, relaxed pace. With its mesmerizing sunsets and sweet aroma of flowers, Tahiti radiates romance. Enjoy a leisurely breakfast brought to your overwater bungalow by canoe. Find a secluded motu (islet) for a private picnic. We can arrange a traditional Tahitian wedding ceremony or renewal of vows for you. Spend a romantic evening dinner for two at your hotel, on the beach, on a private island for lunch. Or simply take a leisurely stroll along a secluded white sand beach and enjoy the most spectacular place on earth. Ask us about our HONEYMOON discounts!
"Choosing an island to visit in Tahiti is like going through your jewelry box to choose from a diamond, ruby, emerald or tanzanite! As a Certified Tahiti Tiare Specialist I can help you choose the right JEWEL for YOU!",
Mauru'uru Roa!
Gayle Zielke, Your Tahiti Tiare agent!!
**Special Packages just for Honeymooners and Anniversary couples too!
Many hotels in Tahiti and her islands offer special Honeymoon packages at attractive rates. Even our anniversary clients have even been able to take advantage of these ROMANTIC special packages too. Make sure you tell us this is a HONEYMOON or ANNIVERSARY so you qualify for the HONEYMOON DISCOUNT!!! It is really worth your while $$$. Ask me to recommend the best Honeymoon or Anniversary package for you!

**"Sometimes the longer you can stay the less expensive it can be when there is the pay for 4 nights and get the 5th night FREE!!!
I love this special. I will always look for the best value in a package. I want you to get the most bang for your $$!!" Gayle
Weddings are legal in French Polynesia!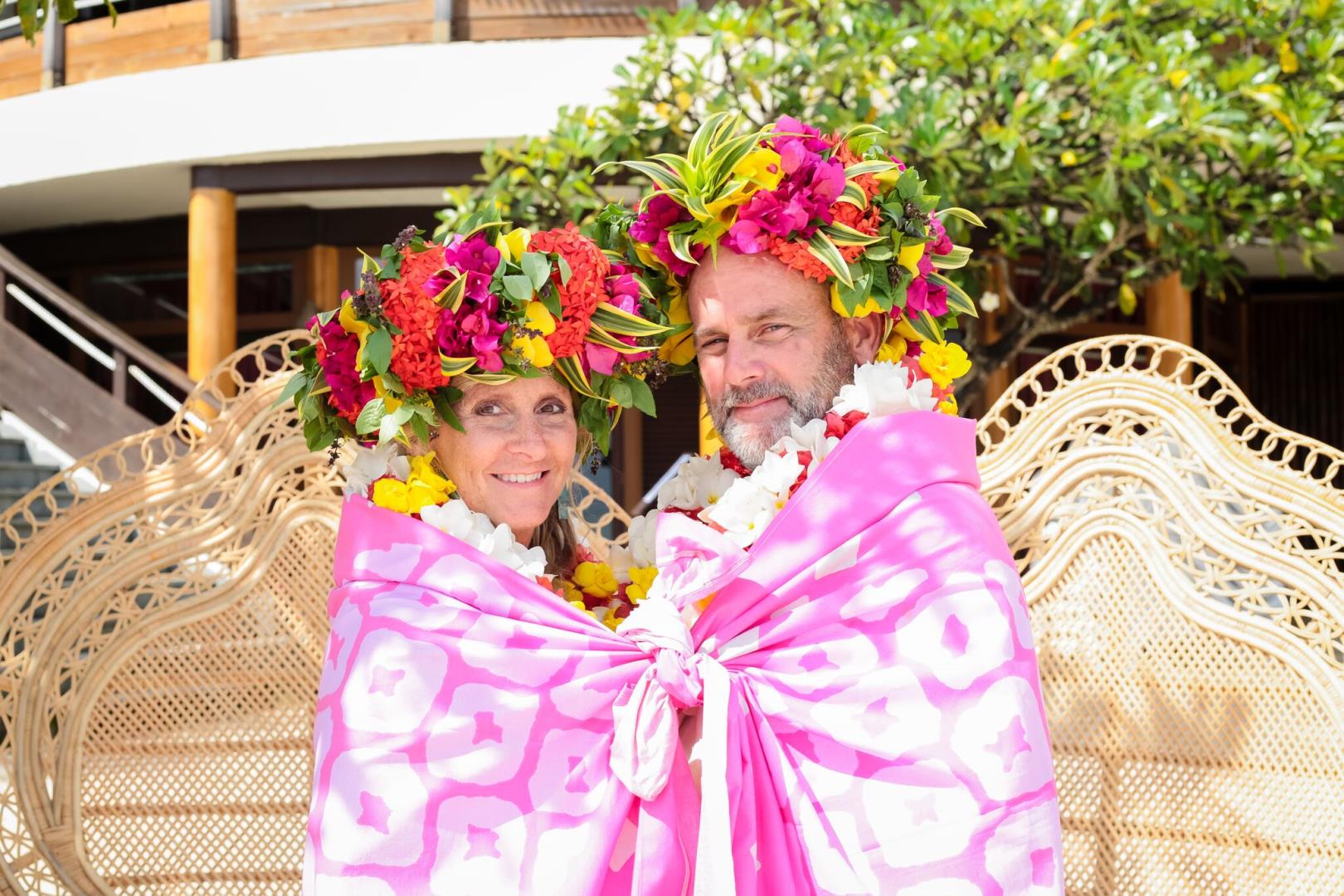 When French Polynesia, the most romantic jewel of the South Pacific, with its gorgeous turquoise waters, incredible seclusion, famous overwater bungalows, and award winning Polynesian Spas announced couples can legally 'tie the knot' in Tahiti, we listened! This is great news!!
Resorts have created fabulous wedding packages offering flowers, photographers, cakes, group rates for guests and more. "I was lucky enough to see a couple of weddings while in Moorea and Papeete on my latest trips there. Imagine yourself beginning the most important adventure of your life...Marriage in Paradise! I would really like to discuss your wedding in Tahiti with you!" "I am excited to see all these great packages I can offer my wedding couples", says Gayle Zielke, Tahiti Tiare!
If you are interested in getting married in Tahiti we can help you customize an itinerary for your once in a lifetime wedding day! Invite your family and friends or have a romantic wedding for two! The new options are endless!

Long recognized as one of the most romantic honeymoon destinations in the world, overseas visitors will also now be able to get married in French Polynesia after the French government gave the green light for foreign marriages to be conducted in Tahiti and her islands.

The minimum 30-day residence criteria has been done away with under the new legislation meaning visitors will be able to get married in a romantic Tahitian ceremony as long as they also go through a civil ceremony which must be conducted at a local city hall. Previously visitors could only undergo a symbolic French Polynesian marriage or a renewal of wedding vows legally exchanged elsewhere.

Tourism operators are now putting in place plans and packages to capitalize on the legislative change. French Polynesia abounds with fantastic honeymoon options and the traditional wedding ceremony, with its music, singing, dancing and stunning location has always proved extremely popular. Now couples can enjoy all these things and be married legally – a fantastic 'one stop shop' for a dream wedding. We have Wedding Packages for you to choose from.
Or maybe you are thinking of ELOPING or RENEWING YOUR VOWS. Live the dream....VISIT PARADISE ...TAHITI, MOOREA, or BORA BORA BABY!!
I can't wait for YOU to be one of our LEGALLY MARRIED COUPLES IN TAHITI!!!!!!!! Not so long ago it wasn''t legal so we are lucky and excited about the opportunity.
WEDDINGS and VOW RENEWALS are very popular in TAHITI!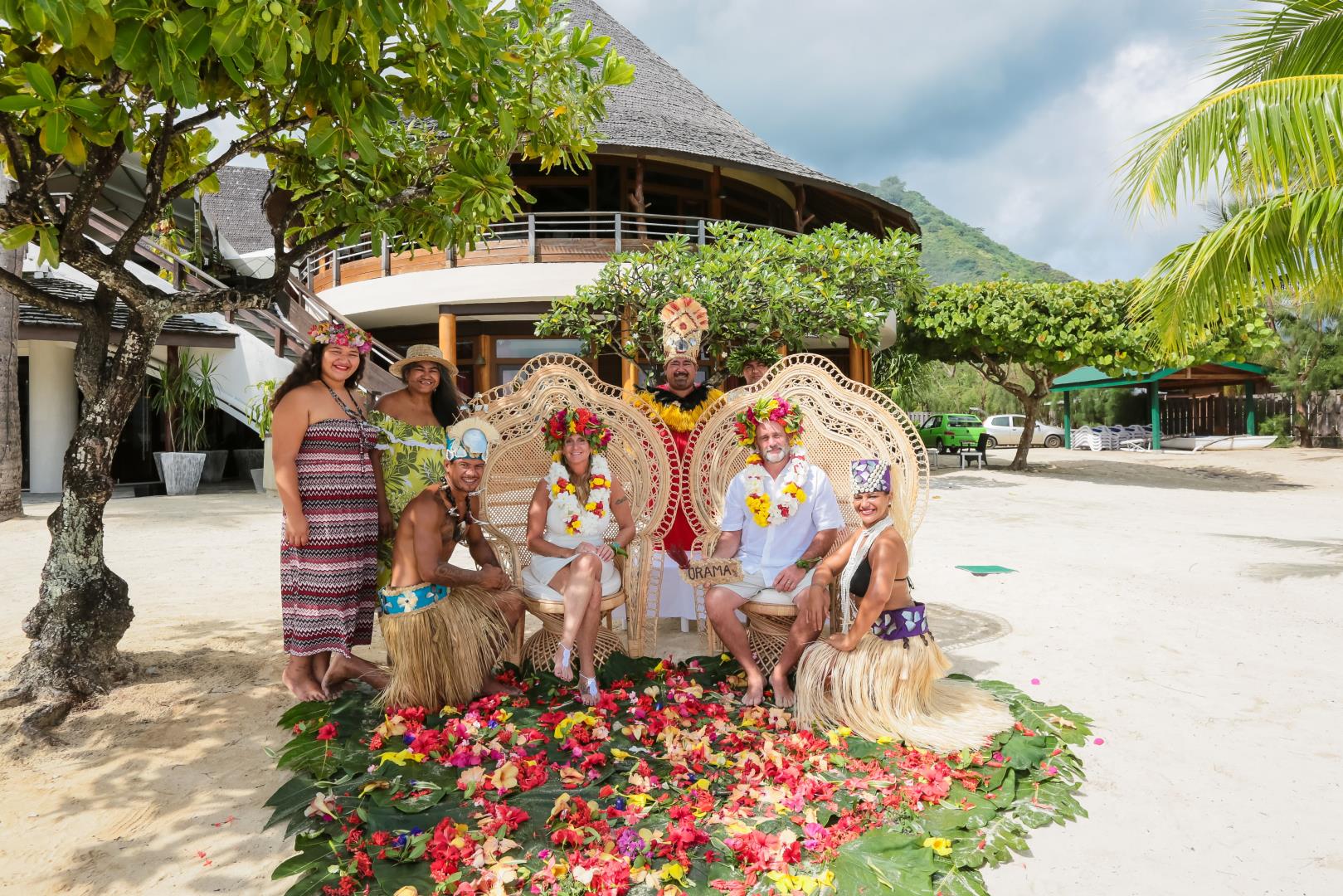 Contact Gayle Zielke, YOUR Certified Tahiti Tiare for rates and information.
262-542-5955

What is a Certified Tahiti Tiare Specialist?

Ia Orana from Gayle Zielke, your Ceritified Tiare Agent!
Tahiti Travel Tips:
Phone calls from Tahiti to North America are very expensive. We recommend you call your friends/relatives only if you have to and then have them call you back as calls from Canada/U.S.A. are not as costly. Using Wifi is the best way to talk to your family and friends! Try Facetime and Whatsap!
There is internet and wifi, but some resorts and islands are slower than others!!! Remember you are on vacation on an exotic island in the South Pacific and have a little patience while you are in Paradise!

​Did you know that all overwater bungalows are not alike? Horizon, Saphire, etc.. this is all complicated. Let me make it clear and exciting for you for this once in a lifetime trip!

It's common to put a tiare (Tahiti's national flower, a fragrant white blossom) behind your ear - left side you're taken, right side you're looking.

We have very informative first hand experience Tahiti Packing Tips for you for each island! Included are hints on how to save money while there and make the most out of your amazing trip to Paradise!
Interested in Golf? Check out MOOREA - For more info!
THE COOK ISLANDS ...AND AITUTAKI


I was lucky enough to visit the Cook Islands and once there you just have to see Aitutaki for yourself. I have heard about it but experiencing it is something different. Truly Paradise!

These islands are not as easy to get to as Tahiti, Bora Bora, Moorea, Huahine and Tahaa....unless you can stay a short visit like 5 nights or a much longer one for 14 nights. You could also add in the Cook Islands to a visit to New Zealand if you are headed that way. This would be a perfect ending to a memorable vacation or Honeymoon visit!

Ask us about some Amazing Cruise Specials To The Islands of Tahiti!

PAUL GAUGUIN CRUISES - THE ULTIMATE IN LUXURY AND AFFORDABILITY

How about a cruise from Tahiti to all the Tahitian Islands you have always wanted to visit

?

See as many islands as you can without packing and unpacking!
This ship is amazing! The All - Inclusive package includes airfare from LA, all your meals, beverages, entertainment and onboard gratuities.
Combine the luxury of visiting Tahiti and an All -Inclusive package on Paul Gauguin = PARADISE!



The Paul Gauguin is just what you are looking for if you want to see almost all of the Tahitian islands in a week or 10 days! Romantic, intimate, fun and yet affordable to visit the French Polynesia!

With their balmy breezes, spectacular sunsets, and beautiful beaches, the gorgeous Society Islands provide the ultimate getaway! Leave the real world behind, explore your options, savor the variety, and sail away on a cruise in the Pacific! Choose from a variety of cruise ships and itineraries, and whatever your destination, plan on seeing beautiful scenery along the way. Make your next vacation a cruise to the Pacific or in Polynesia.

The beginning of the year is the biggest cruise buying season for the year! During this time cruise lines will offer their most popular itineraries and most sought-after staterooms. For the best selection of cruises, staterooms and prices, consider making your cruise choice right away. We're happy to help you find exactly the right cruise for you. Have a look and let us know what you find most interesting. If you like the features described for one of these cruises please call Gayle Zielke, Tahiti Tiare to get complete information or search for different dates and destinations. I book many of the cruises at least a year ahead. Get your first choice of cabins on this amazing cruise!

Emerald rain forests, sapphire lagoons, coral gardens and neon fish - sail with us to the islands of Polynesia and discover paradise is not a fantasy. From Auckland's beautiful harbor, we'll sail across Hauraki Gulf and north to the Bay of Islands, venturing 120 miles through some of the most gorgeous cruising grounds in the world. Then on to the jewel-like archipelagos of the South Pacific.

Interested in cruising the ? All Inclusive is the best way to go I am hooked for sure!!

For more information on special cruise offers for Tahiti and her Islands- contact Gayle
Email: Call Gayle at 262-542-5955
Check out the latest update on Tahiti on our Paul Gauguin and Moorea trip!



TAHITI TRAVEL PARTNER TESTIMONIAL
First Choice Travel & Cruise are a "valued" customer of Islands In The Sun. During the time we have worked together, all divisions of our company have come to trust their ability to deliver the highest standard of product to their customers. With a combination of well over 30 years of experience in dealing with the public, we have found that First Choice Travel & Cruise agents provide a wide spectrum of knowledge and professionalism. Each member of their team provides an exceptional level of expertise and individual strengths that convert to exceptional service to their customers.
In working with Gayle Zielke, President of First Choice Travel & Cruise, I have found her to be an inspiring leader. She embraces challenges and encourages company strengths to better improve her team's performance. It is my pleasure to work with an Owner/Manger of her caliber and insight into various aspects of the travel industry.
Islands In The Sun highly recommends First Choice Travel & Cruise to any travelers who are searching for "unique" travel experiences. They strive to provide the utmost in customer service, their agents have travelled all over the world, and we are proud to be their "partner" in travel to the South Pacific.
Mark Punshon
Vice President - Sales
Travel2 & Islands In The Sun

***Contact A Tahiti Tiare Specialist who knows & loves Tahiti!!
Mauru'uru roa!
Gayle Zielke, MCC
Tahiti Tiare Specialist
Tahiti Elite Club - Preferred Agent
262-542-5955

"Travel is not a luxury anymore...it is a necessity!
We would love to recommend a vacation for you that will exceed your expectations!" I think TAHITI is one of the few places that might actually EXCEED its reputation!
HERE IS WHAT A FEW OF MY TAHITI HONEYMOON & ANNIVERSARY COUPLES SAID AFTER I GAVE THEM SOME IMPORTANT UPDATES AND NICE UPGRADES TOO!
Thanks Gayle for all the updates! We truly appreciate them, especially since we rarely have time to think about our honeymoon or the resort. The wedding is in two days, so we are getting things done to make that day very special!! Jerald from Virginia

Gayle, thanks so much for all you've done! We're incredibly excited! We have over 40 people coming to the house on Saturday for our vow renewal ceremony in honor of our 5 year anniversary so this will truly feel like the honeymoon we've been holding out for. Janis from California Mauruuru!
Our trip was outstanding and the destination was magical! After booking with you, we will never attempt to put something like this together ourselves. The transfers went smoothly, everything was taken care of for us which meant we truly started relaxing the minute we got there. We will send a disc of some photos.
Mauruuru roa for everything you did to make this an outstanding trip! We will treasure the memories forever!
Ia Orana!!! Kent
Check out what some of our TAHITI Guests Say about their Vacations! Everyone loves to share the beauty of Paradise!

From our many, many exciting TAHITI Honeymooners, Special Anniversary couples, families and anyone looking for PARADISE!!! (they found their Paradise...go take a look)
Discover what our guests have to say about working with First Choice Travel and Cruise for their trips to Paradise/TAHITI!!!!