EVERYTHING YOU ALWAYS WANTED TO KNOW ABOUT DISNEY!!
DISCOVER THE INSIDE SCOOP ON DISNEY WORLD, DISNEY CRUISE, DISNEYLAND, ADVENTURES BY DISNEY AND MORE!!!
ASK FIRST CHOICE TRAVEL AND CRUISE YOUR AUTHORIZED DISNEY VACATION PLANNER!
First Choice Travel and Cruise is a locally family owned travel agency and has been an Authorized Disney Vacation Planner for over 30 years. We have gained specialized knowledge on vacations to the Disneyland® Resort, Walt Disney World® Resort, Disney Cruise Line® and Adventures by Disney vacations.

All of our travel counselors at First Choice Travel and Cruise have received extensive training on Disney Destinations theme parks, resorts, cruises, vacation packages and more, and can provide the utmost in professional assistance in planning customized Disney vacations. Congratulations! Our front line leisure travel agents are College of Disney Knowledge graduates!

DISNEY VACATIONS ARE FOR EVERYONE
A Disney Hotel in Hawaii!
Everyone of all ages loves Disney! From 2 to 87 there is always something exciting for you to enjoy on a Disney Vacation.
We grew up with Disney on TV, in the movies and if you were lucky enough you even got to visit one of the Disney parks. I remember my first experience going to DisneyWorld was on my Honeymoon in 1973. Back then DisneyWorld was a pretty new venture in Florida. Many people didn't fly or take their kids on vacations... like they do now. If I would have waited for my parents to take me out of state on a vacation it wouldn't have happened.
So you adults and kids out there that have been to Disney a couple of times or even many times are soooo lucky! Every time I go back with the kids, grandkids and even without them I still get as excited as I did that very first time. There is no place on earth like Disneyworld! Of course all of us have our own favorite amusements we just have to visit when we get there.
I still wonder how did Walt Disney know that long ago what the future held for us in his theme parks like "Future Land". I think he was an extraordinary genius and we are finally catching up to some of his future ideas.
There is always something new brewing at Disney and we are here for you to keep you up on all the excitement.
DISNEY CRUISE LINE
Have you cruised on one of the most amazing Disney ships yet? The Disney Cruise Line has the best entertainment on the high seas. Not to be missed by child or grandchild alike. Visit Disney's own private island for a day of exploring and relaxing along with the exciting ports of call they visit.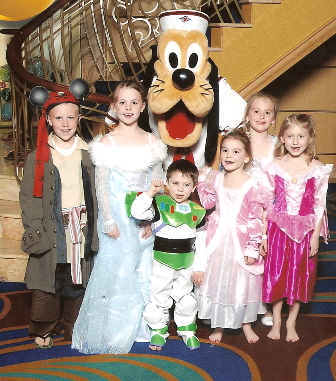 I was lucky enough to cruise a few times on the Disney Cruise Line and honestly I have to say that no one else does it as well as Disney. So much entertainment to choose from all day on these ships and also on land. My family all agreed that the 3 night cruise on Disney we took was just not long enough for us. Everyone loved this cruise the best compared to numerous cruises we have taken over the years. Not sure if it was the excellent shows at night (not to be missed...I don't care how old you are...you're still a kid to Disney).
Dining at a different restaurant every night was fun. The Disney private island is one of the best I have seen. Snorkel or play in the sand on a powdery white sand beach, go swimming with the kids and fish, lounge in a chair and read a book, join in on all the Disney fun on the island and definately enjoy the picnic barbecue lunch!
Disney is constantly updating their parks, shows and amusements. As an Authorized Disney Vacation Planner our agency is one of the first that knows the updates and changes Disney is involved in so we can offer YOU our VIP guests the most up to date information and hot tips.
If you have always wanted to share ALASKA with your family this is the way to do it!! Disney does everything right!
A wonderful quote and pics from some of our valuable repeat clients:
Gayle,
The trip was AWESOME – Disney never disappoints! Casey had a blast – we saw the new Frozen Musical, and we also got to see a premier showing of "A Wrinkle in Time" before the release in the theaters!

I know that I have talked to many other people who complain that Disney is so much more expensive (than other cruises) – but I always remind them that the Disney service is first class, all the way, for everyone on the cruise, and that the shows are top of the line Broadway quality. You get what you pay for!

I think that everyone deserves to experience the Magic of Disney! And the cruise is so much easier than the Theme Parks! With all of the benefits (minus the rides).
Marge
AULANI - A DISNEY RESORT


Aulani, the #1 Disney Resort & Spa in Hawaii will welcome you with open arms.
Aulani is located in Ko Olina, Hawaii. This resort is built on a beautiful stretch of oceanside in West Oahu just about 30 minutes from Honolulu. It is a quieter area that many don't know but everyone has heard of Disney and Hawaii so it is definitely a hit!
I love the Lazy River ride which snakes around the waterscape UNDER the resorts towers! The resort's centerpiece is a 7 acre water play area, complete with pools, gardens and lava formations (including a Disney Imagineered volcano!)
With its fun recreation features and restaurants, comfortable rooms, and its combination of Disney magic with Hawaiian beauty, tradition and relaxation, Aulani offers a new way for families to vacation together on the island of Oahu. If you haven't been to Hawaii yet, now is the time to go.
Can you imagine what this resort is really like? We always say that when Disney does something ...they do it right! I bet many of you are as excited as we are to visit this landmark.
Ask for one of our Authorized Disney Vacation planners who also specialize in Hawaii and we will be excited to assist you in planning a trip of a lifetime with the Aloha and Disney spirit.
Everyone is familiar with DisneyWorld but how many of you have been to DisneyLand ...lately? DisneyLand is where the magic began and it is located not far from the exciting city of LA!




Have you heard of Adventures by Disney? This tour operator has to keep up with the Disney standards and every season they are adding in new and exciting itineraries for families and just adults. There is a whole magical world out there just waiting to be explored. An Adventures by Disney is a guided group vacation and the best way for your family to see it all. Imerse yourself in the destination. Where will your dreams take you? Africa, Asia, The Pacific, Italy and Switzerland, France, Germany, England, Ecuador and the Galapagos Islands, Peru, COSTA RICA, Canada and the US.
Make these dreams a reality by calling us..... your Authorized Disney Vacation Planner! Ask us about the Disney Expedition and Cruises!!!!

No matter which Disney park, movie or amusement you try you can be guaranteed a Disney magical experience!

First Choice Travel and Cruise
Authorized Disney Planners
FIRST CHOICE TRAVEL DISNEY EXPERTS OFFER SOME HOT DISNEY TIPS
DISNEY PARKS: Choose a park a day to make the most of your time there. Take a look at what the parks offer, some may only interest YOU for a half day adventure. Maybe a park like Animal Kingdom will not require the whole day so it could be your best bet for your first or last day adventure. With the park passes that allow you to come and go as you please you can take in a park, go back to the hotel to go swimming, visit another park for the firework show at night!

MEAL PLAN: The meal plan is a lifesaver for everyone that goes to Disney and wants to save a bit of money along with being able to eat where you want. With multiple meal plans available we can help you choose the right plan that fits YOUR needs. Reservations for the meal plan and shows are a snap now. Why wait till the kids are tired and hungry, have the reservations and plan all set. Work your park a day around your dinner or show reservations.

STARTYOURDISNEYEXPERIENCE.COM is one of the most important steps to making YOUR DISNEY EXPERIENCE Magical!!!

MY MAGIC PLUS: Open your account and start picking out your Magic wrist bands. Have the kids get involved and help. Make it a real family affair and with their help it won't be so overwhelming! Make your dining and show reservations here and fast pass too.
FAST PASS: The pass you cannot live without at DisneyWorld. Lets you skip to the next amusement without the huge lines when you return at the time confirmed.
MEMORY MAKER: If you want photos and videas taken the EASY WAY, sign up for this before you go and save $$$$. Every single person who has chosen this option has come back and raved over it. It will take the photos of you on rides, amusements the photos you

TRANSPORTATION: Find out where the transportation is located (drop off and pick up) so you can begin and end your day there. There are trams, buses and boats that pick up so please check the maps for all transportation options so you don't waste your precious vacation time.

PLAN AHEAD: Makes sense to plan ahead! Don't waste vacation time deciding what to do next. It will only take a few minutes to sit down with the family before you leave and map out a plan! Many guests will work the parks around the dining reservations so that is a great START and way to begin the planning process. Once you get there the excitement can overwhelm you so a plan of action will ensure everyone gets to experience whats important to them. You do not want to miss one minute of your DISNEY VACATION!

DISNEYCRUISE: Pre-register online for childrens programs and popular sightseeing options that sell out quickly.

Choose an Authorized Disney Vacation Planner Specialist to make the most of your Disney Vacation! We have some great Disney Packing tips and suggestions to give you to make the MOST of your Disney trip when you book with us.
If you have not been to DisneyWorld lately it is time to find the child in yourself again!!! The only place on earth that lets your dreams become realities. Something new happening here all the time. Ask your Authorized Disney Vacation Planner what to see and do on your Disney Vacation!

If you are looking for a little ADVENTURE and FUN we have some for you with Adventures by DISNEY!!! Do you even know where Disney is traveling to lately? Think: Expedition Vacations and Cruising! Experience unbelievable natural wonders and wildlife up close in some of the world's most remote and pristine destinations during an Adventures by Disney Expedition Cruise.





I don't know anyone who wouldn't want to cruise on a DISNEY SHIP! The shows and activities are the best on the HIGH SEAS!!! Invite the whole family and your friends!!
Why not see what you are missing at Disneyland in California? Add it to a trip when you are in California or plan a weekend away and make sure you visit what is new at Disneyland! (See where it all began!!)
A real life fairy tale! There is a place where storybook dreams become fairy tale realities. Where world-class settings create a perfect backdrop for proposals, destination weddings of all sizes and honeymoons. Let the Desination Wedding and Honeymoon Specialists at First Choice Travel and Cruise make your magical once in a lifetime dream event come true!
WHY use a First Choice Travel Disney Agent?
A common misconception is that booking through Disney travel agents will make your Disney World vacation more expensive. In fact, the opposite is usually the case, so long as you book with a reputable no-fee agency. Since Disney itself is the one who pays travel agencies to plan and book trips to Disney, you get the personalized services of a Disney World expert for free.
Not only do Disney travel agents help you plan and book your vacation (including making your FastPass+ and Advanced Dining Reservations for you), but they also look out for your bottom line. Agents keep abreast of all the latest Walt Disney World discounts and promotions and re-book your trip when a better deal pops up (to take advantage of the lower rates). You can really save more money utilizing their services rather than booking on your own. Plus. the headaches involved with booking a trip will be theirs to deal with, not your own. It's a no-brainer!

Discover what our guests say about their Magical
First Choice Travel and Cruise's Disney Vacations!
First Choice Travel and Cruise Disney Guests