Grand Gathering of the Lester , Raduenz and Weinkauf families at DisneyWorld!

Lenny and Reggie Lester took the kids and grandkids on a wonderful trip to DisneyWorld. This GRAND GATHERING was a great trip for everyone. They said the meal plan was well worth it! The International Illuminations Dinner was the BEST!! They wished they could of stayed longer.

Had a great time!!!
Disney trip

(When we put this last minute Easter trip together for this family at the All-Star Music Resort in DisneyWorld, I didn't think we would find space, but all of us were glad we did and everything turned out wonderful!!)

This single mom is the BEST!!! Everyone told her she couldn't do it on her own, but she showed them! As you can see she really got into it too and had a lot of FUN!
Hey Gayle,
I wanted to send you some of my many pics from my Disney Vacation. I have many more pics posted on a slide show on my myspace page. Everthing went smooth. But I'm a big planner so I planned out our days so that they would flow well. There was always someone around to answer any questions I asked. Thank you so much for your help in creating a wonderful vacation package. See more pictures on our customer comments page too.
Thanks again,
Alicia

A GREAT GRAND GATHERING of FAMILY AND FRIENDS AT DISNEY!

Gayle,
Thanks for the wonderful time and all your hard work putting our trip together. Here's a photo of all of us at Chef Mickey celebrating Jake's 6th Birthday!!! Wonderful Time!!
Tom and Sue Evans, Paul & Joelle, Allison, Katy Novak, Andy and Karen, Kirstin, Jake Evans, Bob & Ann Miller, Selena, Armando and Jerry & Mary Beth Rakoczy
More great Disney Memories!
To: Pat Weber
Here is one of the kids at the Magic Kingdom and one of the family outside of
Hollywood Studios.
Kelly Collien
Pat's clients pictured below are Laura Tyborski, Rebecca Schmidt and Sienna Schmidt enjoying the Magic at DisneyWorld. (Minnie Mouse was happy to pose with the girls!)
They also cruised on the Disney Ship and are ready to do it again next year!
Imagine meeting a PRINCESS for DINNER!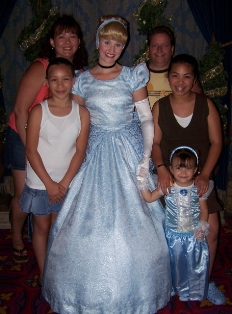 Hi Pat,
We just got back from our trip and wanted to let you know we had a wonderful time. Everything went well. We had a Luau, Dinner at the Castle, and breakfast with Lilo and Stitch at the Polynesian. The girls all loved the trip and can't wait to go back. I think Dinner at the Castle was the highlight of the trip. It was well worth the time. The meal plan worked out very well and we always had more than enough to eat. I believe every family should get the meal plan, well worth the money.
Thank you so much, Peter & Rosanna Balistreri
The Treuer family enjoyed their DISNEY Vacation so much.
Mom and dad had a great time too!
Hi -
The trip was wonderful!! The weather was hot and humid and it rained every day.
Having the arrangements with the hotel to pick us up from the airport and take care of our luggage was great! We went to EPCOT, Hollywood Studios, Magic Kingdom, Blizzard Beach, and Animal Kingdom. We don't know which park was best. The girls loved everything about the trip. One special thing we did with the girls was take them to the Cirque Du Solei show in Downtown Disney. They thought the show was incredible. Nicole risked everything and went on the Tower of Terror ride - hated it! Cassie and Scott loved it. I had my eyes closed the entire time :) Nicole ventured on the Mount Everest Roller Coaster ride in Animal Kingdom. We have a priceless picture of ultimate panic and terror on her face. When she got off the ride, the first thing she said was "Can I do it again??? That was awesome!" We spent the weekend with family and made a mini-day trip to St. Petersburg.
We're glad we didn't do the meal plan. We didn't spend all that much for each meal and we got so much food we learned to share meals.
Thank you for helping us have a trip we'll never forget. Marina

OH MY GOD!!!!! GAYLE, WE LOVED IT! THANKYOU THANKYOU THANK YOU!!! I'm thinking about taking him back to Disney for Christmas but I'm not real sure yet! If we don't, then for sure next year! I'm also thinking to stay somewhere closer to Magic Kingdom, seeing that's where we spent most of our time.
Again, thank you! The memories will definately be with Adrian and I forever!!
Ivett
Look at this cute picture of Madyson! I bet her "Dream" came true.. visiting Cinderella!

Tana, we got back from Disney on Tuesday to the below zero weather...yikes! We had such a good time...what a blast! My grand-daughter was picked by the dream squad while waiting for an autograph. She got a private meet and greet with Cinderella and a photo session which was really cool! Your tips for the express bus were real good and the resort was good. We certainly did not go hungry but the 5 year old out ate us most of the trip. The rental car was real nice..all in all a real awesome trip! Thanks so much for booking our trip and of course the excellent service!
Thanks again,
Gail, Michelle, and Madyson Brunn from Muskego
Hi Gayle,

Our trip was great. My mom loved it and my daughter found out about it right before we left. She was surprised that my aunt from California flew to Tampa to see her compete. We went to Epcot, Animal Kingdom, Magic Kingdom and Hollywood Studios. We were all extremely exhausted by the time we got home but it was wonderful.

Thanks again,
Wendy

Hi Gayle,Disney was great. It didnt get real crazy and St Petes beach was a blast also. Definetly need to make reservations for dinner ahead of time, in fact the restaurant in Canada was booked for six months. Thanks again for all you're help. Eric
Hi Gayle-
We had a great vacation. Everything was perfect!! The weather was awesome - 75-80 each day.
You picked a perfect resort for us. It was so neat to have a white sandy beach right outside our door. One night the four of us went out in the moonlight and drew pictures in the sand and layed in the hammocks and looked up at the stars and the moon. It was so nice to spead time with the kids. You did a great job at all the arrangements. Thanks so much for your help!
Thanks Again.
The Olson's ...Scott, Mary, Justin and Miranda


NELSON FAMILY at DISNEYWORLD

The Nelson Family spent 4 busy days at DISNEY! They are so glad that Tana recommended the meal plan, they said... it was so worth it.

Paul, Becky, Collin and Ellie Nelson of Mukwonago

Jesse Geboy and Jake get a little crazy and carried away with Pluto while dining at the Chef Mickey at the Contemporary hotel. Disney is not just for the little ones, guests of all ages are welcome at Disney. DisneyWorld is a destination on its own to take the whole family, there is something for everyone to see and do there!
Gayle,
Disney was so much fun!!! We are looking to go back in 2 years. It was a real reality check when we got back after having been taken care of so well for a week. Jon and Jack did not want to go home.
Thanks ...Shannon Wachuta from Fort Atkinson
Schulist Family at DisneyWorld
Hi, Tana!
I just wanted to tell you that we had such a WONDERFUL time on our Disney vacation! Thank you so much for your help in the planning and for answering all of my MANY questions during the planning process! Everything on the trip went off without a hitch, and with 3 small children that was very important! We were so glad that we did the Park Hopper w/ Water Park (like you suggested) because it offered us the flexibility to be able to go wherever…whenever!
The hotel was great. We knew we were staying in a "value" resort, so yes the room was a bit small, but the preferred location that you had requested was perfect for us. We were in the Toy Story building (thanks again for requesting that for us) which is right near the pool, hotel lobby and food court. We were on the first floor, which was great because we were right near the big Toy Story figures they have outside so it allowed us to let our two older kids (8 & 4) play outside in that area while we were getting ready and we could still keep an eye on them. It worked out really well for us.
The Magical Express from the airport to the resort was great. The line looked long, but they moved everyone right along and I'd guess that from the time we got in line to when they dropped us off at our resort it was probably only about 45 minutes or so. And not having to deal with your luggage at the airport is GREAT!
The Dining Plan worked out very well for us. The neat part was that with needing to make reservations for most of the Table Service meals, it encouraged us to try restaurants at some of the other resorts. Our favorite meal was at the Whispering Canyon Café at the Wilderness Resort that is in the Magic Kingdom resort area. The only thing that we noticed was that at a few of the restaurants (Grand Floridian Café, Mama Melrose's at Hollywood Studios) it seemed that the service we received was a little lacking after they found out we were on the dining plan. I know that the plan used to include gratuity, but no longer does, and I wonder if some of the server's are being impacted by that change? We tipped generously for all of our meals, but maybe not everyone does? BUT, other than that small issue, it was so nice to have the majority of our meal expenses taken care of and included in our package. I will say that the dining experience at Cinderella's Royal Table (we went for breakfast) is WELL worth the 2 table service meals you use… not only did our daughter love meeting all the princesses (especially Cinderella!), my sons enjoyed it too and the food was EXCELLENT!
We did end up getting tickets for Mickey's Pirate and Princess Party at Magic Kingdom, which was GREAT. If you know anyone visiting Disney while it's still going on (I'm not sure how much longer they're doing it) we highly recommend it. Our family had a great time that night. The parade and fireworks are different than what they normally do at Magic Kingdom, and due to the limited number of guests they allow you are able to get on the rides that are open with little or no wait. The experience was well worth the additional cost of the admission!
So I just wanted to say thank you for helping us plan what turned out to be a wonderful family vacation. We actually came home relaxed (we were shocked!) and whe
n anyone asks about or trip we go on and on and on about how great it was. So thanks, again, for all of your help. We're already looking forward to doing a Land/Sea trip with a Disney cruise so we'll be calling on you again for help! (We're also hoping to do some kind of tropical vacation next year, sans the kids, so I'll be in touch!)
Schulist Family of Eagle
Ben & Maria and Vincent & Gianna went to Walt Disney World and stayed at the Pop Century Resort.


Thanks so much again for making this possible. Our pics are not that great. We concentrated more on doing things than taking pics. I hope you enjoy.
Talk to you soon!! Maria
We think the pictures were GREAT!!!
Chef Mickey's inside the Contemporary
Hi Gayle,
We are back home safe & sound - exhausted, but with wonderful memories. Thank you again for putting together such a wonderful trip for us. Also, thanks for the last minute tips you called with - they proved useful. Everything from the flight, rental car, Disney Resort, meal plan, and park hopper went smoothly and meet our needs perfectly. The trip was very enjoyable for the kids and the adults alike. Karisa said it was her best birthday ever!
Thanks again,
Dan & Denise
A WONDERFUL BIRTHDAY CELEBRATION (and she isn't a kid...but definately a kid at heart)
Linda Skarr "The Birthday Girl" took her whole family on a wonderful trip to Disney for her BIRTHDAY CELEBRATION!!!
Gayle,
I can't thank you enough for all your help. This trip was sooo wonderful. One of the greatest trips we ever were on. This was the best present going along with all my family. Healthy for everyone. We all just loved it. The Polynesian Hotel was great. Glad we booked as a group with you. All our rooms were together and that was so handy. My little neice Anderson said it was "MAGICAL", everything was magical to her!! Everyone should celebrate their birthday here at Disney. Any age will love all the attention and special treatment you get.
Thanks for booking the dinners for us. Lets tell everyone to do that ahead or you can't get in anywhere. I thought we could wing it but not with this size group. We thought the Coral Reef was excellent and that was the day of my BIRTHDAY!! The Yaht and Beach club was great. Got a little lost finding it. The Tusker House had the African Buffet at Animal Kingdom that we really enjoyed too. The food was good here. Went to Tony's Toontown Italian in Magic Kingdom for lunch and that was a nice option too. Loved the meal plan.
Linda Skarr
We all said we would go again!
Hi Sara,
We all had a fantastic time. It was so much fun being together. Pop Century was a great place to stay, food and transportation were excellent.
Thank you for helping me put together a very memorable vacation.
Priscilla
Hi Gail,

We had a wonderful trip. Our two grandchildren loved it. We went to a different theme park everyday. Got to the parks by 10 or 10:30 am and closed the parks at night. One night we left The Magic Kingdom at 1:30 am. All Star Movies was nice. The pool area was very nice, the food was good and the room was small but clean and comfortable. We didn't have a reservation for the dinosaur restaurant in Downtown Disney and the wait was over an hour, so we looked around but didn't eat there.

Thanks for all your help Gail.

Judie
POLYNESIAN RESORT
Hey Gayle
We had a great time. The Polynesian was very nice and the girls LOVED the pool and water slide (we even went down a few times J). We enjoyed being able to take the boat over to Magic Kingdom and we could also see the fireworks from our room which was great for the nights we were home early. Our favorite restaurant was Narkoosis seafood place . (I probably spelled that completely wrong). It was definitely worth the 2 meal tickets!
Our kids wanted to go to the kids center that night so Shaun and I went on our own. The girls had a great time with the staff of the hotel that night. The girls loved the character dinner with the Winnie the Pooh Characters however next time I am definately going to try to get into the princess one. Liberty Tree Tavern was a good dinner (very unique place) but it was very good. Downtown Disney was neat, but Madison got sick while we were there so we didn't do as much down there as we would have liked.
Overall we had a great vacation. The weather was absolutely perfect. It was in the 80's all week and we had no rain. The kids were exhausted when we got back and of course they did not want to leave.
I can have Shaun send over a few pictures. He got some great ones!
Have a great day!
Kim Thome
THERE IS MORE TO ORLANDO than DISNEYWORLD!..... DISNEY CRUISES ARE GREAT TOO!
UNIVERSAL IS A BLAST AND ONLY A SHORT DISTANCE FROM THE MOUSE, JUST ASK YOUR KIDS!
DISNEY CRUISE MEMORIES!
Trinity, Felicity and Kynzi got all dressed up in their finest Princess outfits for a memorable 7th birthday dinner for Felicity.

Here are three PRINCESSES who loved their DISNEY CRUISE! Cousins and friends joined this Disney group in April. The adults and children all agreed they loved the Disney Cruise ship and the whole experience!
Nassau and Disney's private island were a huge hit with this group! Lani, Kynzi, Trinity, Colt, Hunter, Fisher and Felicity enjoyed the private island on the Disney Cruise as much as the parents did! The weather was great, the white powder sand and cool blue ocean water was amazing for these kids to frolic around. I can't believe they sat still long enough for a picture!
Cousins are the BEST!!!
Every night on the 3 day Disney cruise was a reason to dress up like pirates, spacemen and princesses! Imagine the fun this group of cousins had on this cruise. They will remember it forever!!!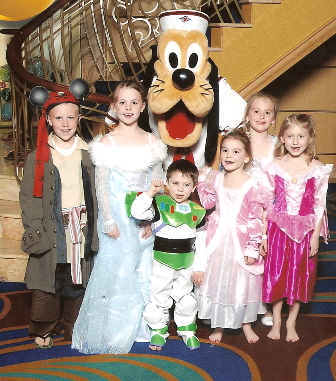 Mom can talk like Donald Duck and Donald was so impressed she got the thumbs up!
Every child's dream is to hug Donald Duck, looks like mom's dream came true along with the girls! This picture was taken on the private island on the Disney Cruise. Gesica, Felicity and Trinity from Burlington said it was the best time ever and they were glad to be there with all their family on vacation!!!
The 3 night Disney Cruise stopped in Nassau, Bahamas and the family visited the Atlantis while there. Everyone loved the beach but said to watch out for the undertow for the small children. It would be a body surfing paradise for some of the adults though! Great sand to play in and a beautiful aqua ocean to admire!
Tammy and Geoff Luther from Illinois took their 2 children on a 7 day DISNEY CRUISE ADVENTURE!
LOVED IT, LOVED IT, LOVED IT!
This was better than any other trip we have ever taken. Hey, I loved Italy and all the other ones, but this time we had the kids with us the whole week so I did not have to rush home or worry about them. We could have stayed over longer. This was one of the best vacations because it was just the 4 of us. Kids and dad bonded! Geoff got to spend some real quality time.. one on one with both the kids for the whole trip. No interrruptions. No work. Just a lot of FUN!
The cruise was a blast. The Disney characters are on the boat the whole time. You don't have to run around and look for them. It is a scheduled time to meet up with them and not thousands of kids standing in line.
The kids loved the Soda and Juice fountain. The kids drinks are included!! This was perfect for the kids. Everything the whole cruise and itinerary was great too. I would do it again.
We took the second dining and never felt rushed. It was the best time!!
Kids are hanging loose on Disney's private island Castaway Cay!!!
Like I said this is a definite "DO AGAIN TRIP"
Tam
1st Time Cruisers Rave over their DISNEY MAGIC cruise!
Hi Sara!
We had so much fun on the cruise - the kids talk about it constantly.
Natalie misses the beach and Joshua misses Mickey. The weather was fabulous and best of all we missed the snowstorm of the decade. I've included a small sample of pictures - I took over 300! I can't believe the detail to service on the cruise. The kids didn't do the Oceaneer's Club very much as they loved the pool and just walking around looking at everything. I loved our servers and they were very good to the kids.
We talked to so many people both on our cruise and other cruises at the ports and everyone claims no one does it like Disney. I don't have anything to compare to since this was our first cruise but I have to say I was very impressed. I am glad we did the room with the verandah as that was well worth the extra money. It also made the room feel so much larger. The kids couldn't wait to get back to the room after the show to see what character the towels would be on the bed! The food was fabulous and I think we all gained 5 lbs. and the entertainment was incredible. Thank you for the autograph books as we carried them with us constantly to get the autographs of the characters. We got to see everyone and some of them several times. Wait times weren't that bad - usually about 15-20 minutes except for the Princesses - that was over an hour. I just can't say enough about the cruise - it was unforgettable.
Thank you so much for walking us through our very first cruise and we are so glad we did the Disney one.
Carrie
Karen,
The trip was amazing the kids had so much fun and so did we. My mom kept up with us for the most part, and we did make time for relaxing which was nice. Thank you so much for following up with us to see how our trip was.
Tiffany Goodson
FAMILY DISNEY TRIP WITH MOM
Julie Staupe and her family had a wonderful time at Disneyworld! The Polynesian Resort was wonderful. They even had movies on the beach there! Julie and her family would highly recommend taking the DELUXE DINING program. They all said the dinners were out of this world and cuisine was fabulous. The food would have been so expensive if they didn't have it and she was so happy they saved a ton$$!! Even ended up with extra meals left over. Everyone loved the BROWN DERBY restaurant best! It was their absolute favorite. Napoli, the Japanese restaurant, and Tavern at Magic Kingdom were great.
Little Evalynn had a "PRINCESS MAKE OVER" and would not get out of her princess costume. It was a huge success!
Isn't time for YOU to make some DISNEY MEMORIES with YOUR FAMILY?
Contact your Authorized Disney Vacation Planner today! 262-542-5955 or email: