Requirements for Getting Married in Tahiti
WEDDINGS IN TAHITI ARE THE ULTIIMATE SPOT FOR A DESTINATION WEDDING!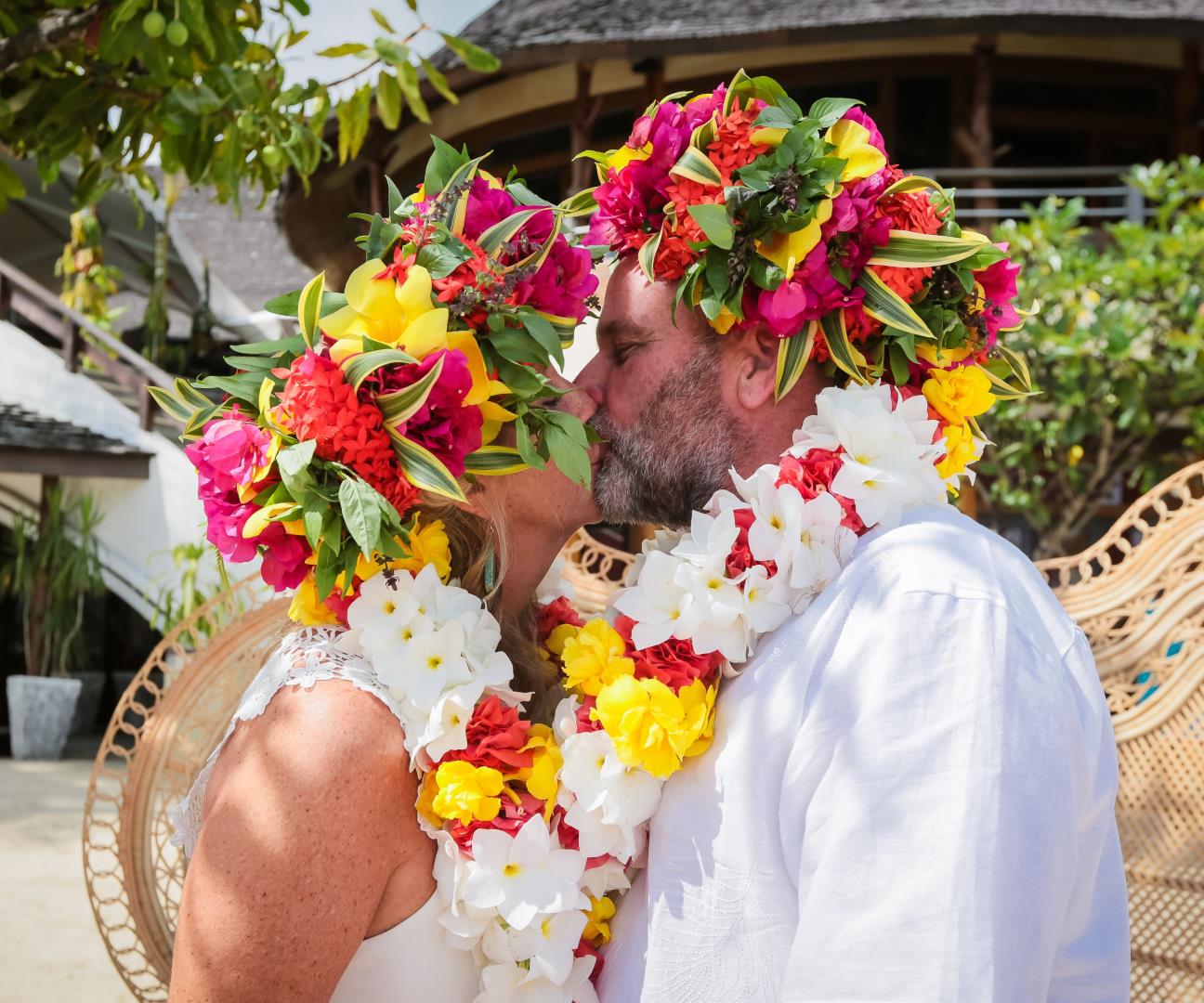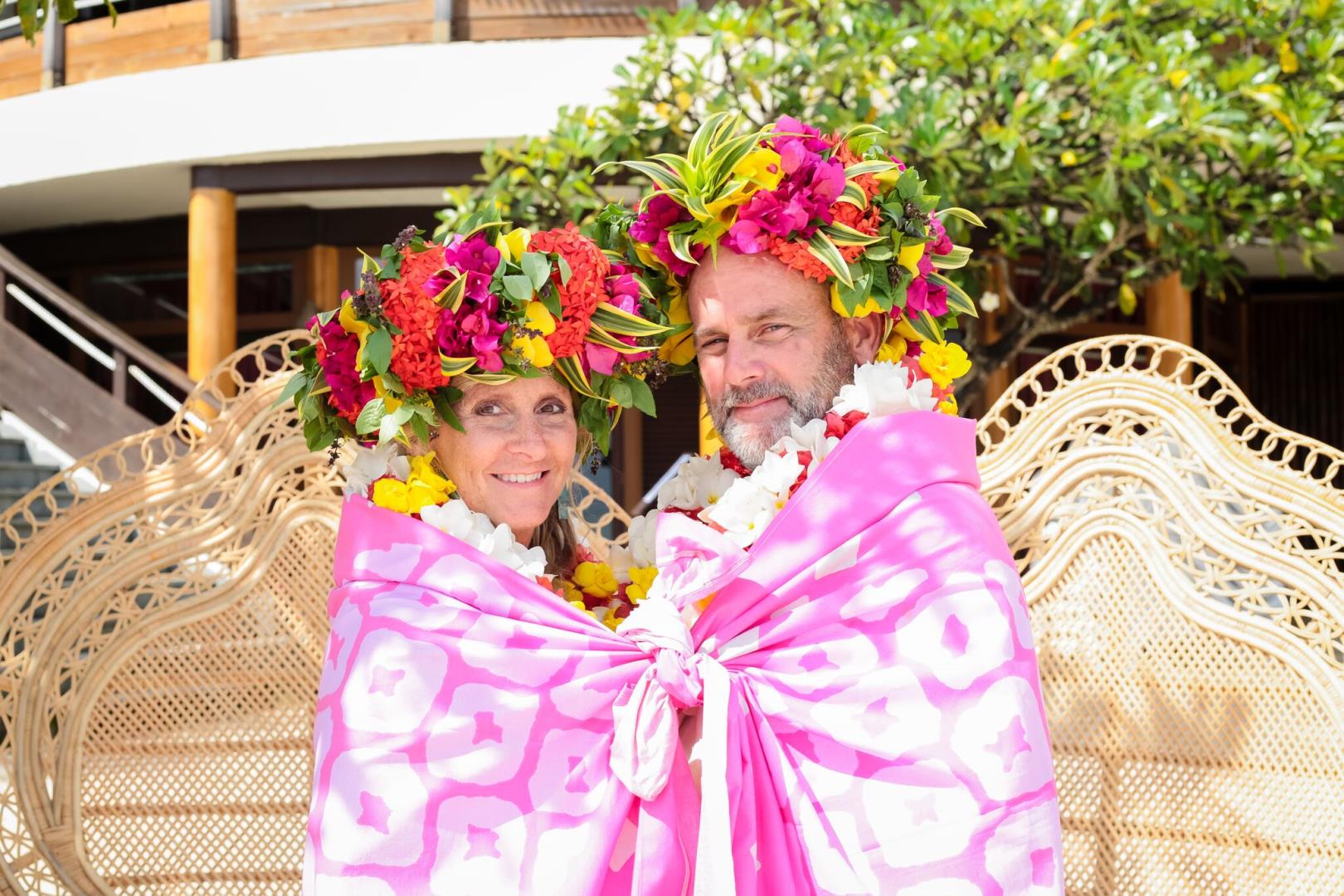 Ia Orana! Why wouldn't you want to get married in PARADISE!?!
We would be happy to customize your wedding or vow renewal on one of the beautiful islands of TAHITI! If you prefer to put your wedding together with a wedding coordinator, we can help with the travel plans and assist with anything else you want us to get involved with! Its YOUR WEDDING! Your choices!
Any island in Tahiti would be the Perfect destination for a Wedding or Vow Renewals!
Each of the many islands of Tahiti is already a tiny paradise, with its gorgeous turquoise waters, intimate seclusion, famous overwater bungalows, outstanding activities and award winning Polynesian Spas. Tahiti and Her Islands are so romantically unique offering the world's most perfect hotel room, an overwater bungalow! This once in a lifetime experience will allow you to stay in a thatched-roof hideaway over a gorgeous blue lagoon, with all of the features of a first class hotel at your fingertips.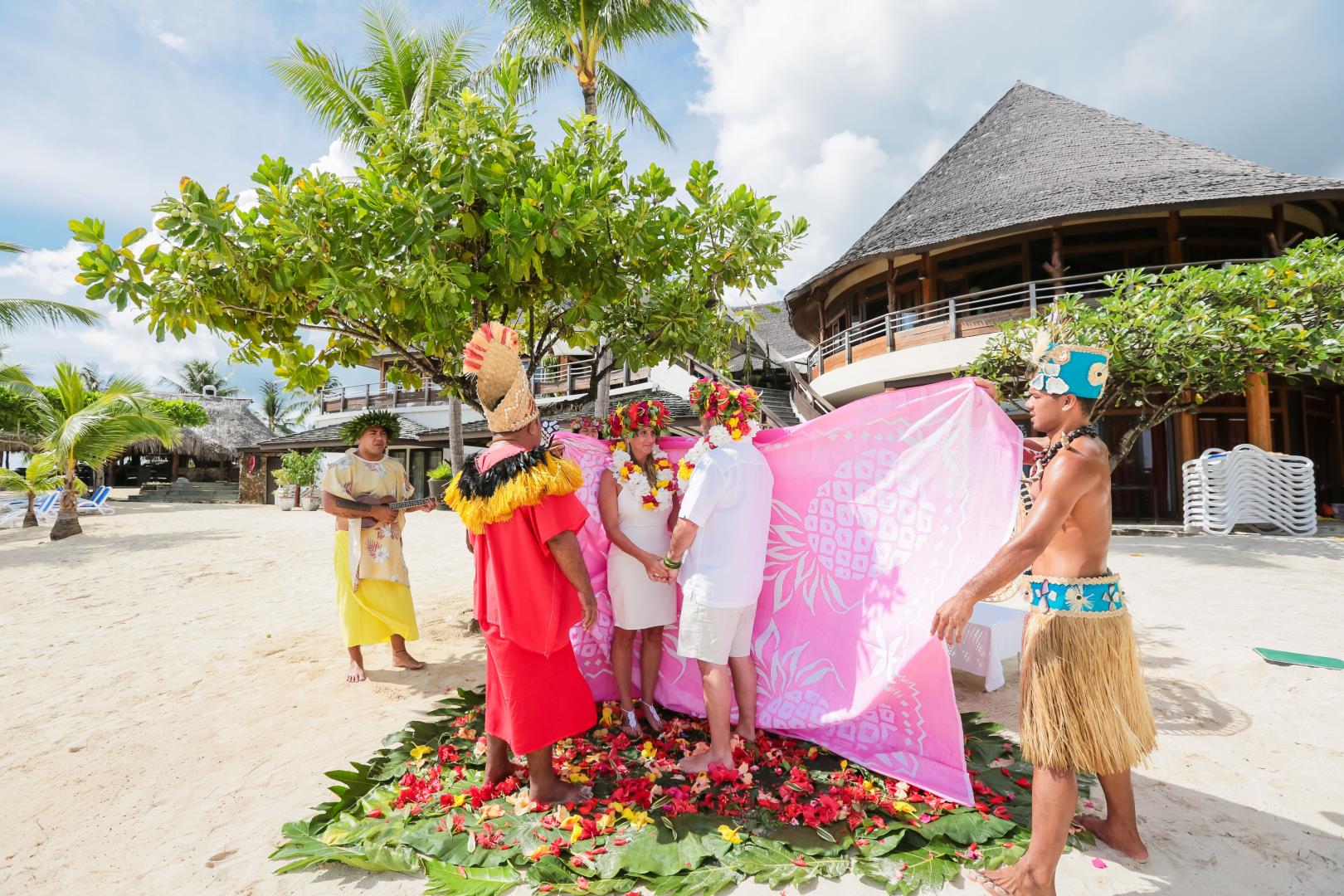 "As a Tahiti Tiare Specialist for many years and a Honeymoon and Destination Wedding Specialist since 1991...I want to be perfectly honest with you", says Gayle Zielke, Tahiti Tiare Agent,
"Originally when they first allowed the destination weddings in Tahiti, there was so much red tape and legal paperwork to do to have a legal wedding in Tahiti that I usually recommended that you get married in the court house back home first and then still have the most beautiful ceremony in Tahiti, Moorea, BORA BORA, Taha'a or any of the other 118 romantic islands and atolls you can choose from to tie the knot", says Gayle!
Since then we have had quite a few couples brave the paperwork and some had the legal weddings and some chose the symbolic ceremony instead. It is really up to you. It is your wedding and we will help you as best as we can.
Vow Renewals in Tahiti are so popular now! I have had quite a few couples get married back home and do a vow renewal for wedding or anniversary in Bora Bora, Moorea or one of the other Tahitian islands. Everyone loved it! Even the other guests at the resorts are impressed!
"I really think that the Ceremony is is the most important part of getting married in Tahiti". "So while all the legal paperwork and translations take time and energy why don't you have an amazing ceremony in French Polynesia and keep the legal leg work at home". "I have lots of options for you for wedding ceremonies and would love to discuss this with you more in detail", Gayle Zielke. But it is really up to you. My brides and grooms are the boss! If you have the time and energy for a bit of paperwork and a little extra work it may be totally worth it for you.
Ask about our ala carte menu for your beautiful ceremony in Tahiti!




One of our brides said: Well...no doubt the best trip we've ever taken!!
Beyond what we expected! And I must say the tour people were amazing.

Thank you so much for everything!!! Lisa
More on Tahiti and her islands!

Each of the many islands of Tahiti is a tiny paradise. Some isles are crowned with jagged peaks soaring magically out of the ocean in a explosion of green velvet while others appear as if gracefully tossed upon the ocean -barely floating above the breaking wave making Tahiti the romantic destination.
Countless visitors to Tahiti are discovering what is becoming tradition – wedding vow renewal ceremonies. Many hotels, tour operators, and cruise lines can arrange a romantic and festive traditional Tahitian wedding ceremony or vow renewal ceremony. Not legally binding, the traditional ceremonies are popular for people on their honeymoons and those celebrating anniversaries.

Although there are many different variations, the ceremony traditionally begins with the bride being treated to a soothing monoi-oil massage by her Tahitian "bridesmaid," with monoi oil while being sung to and adorned with fragrant flowers. Meanwhile, the groom is taken to a motu (small islet) by outrigger canoe, painted with tattoos, and given a crown of tropical leaves. The bride wears a traditional Tahitian wedding pareu and a flowered headpiece.

A priest conducts the wedding vow renewal ceremony in Tahitian and each couple is given a Tahitian name and a name for their first-born child.
A Tahitian marriage certificate made of tapa parchment is presented to the couple while village women sing hymns. The ceremony is often followed by a romantic sunset cruise where the bride and groom continue to be serenaded by soft Tahitian music. It's a once-in-a-lifetime experience that can only be found in the islands of Tahiti.
Symbolic or vow renewal weddings are so much more easier and convenient for our couples and no one has to know our little secret. The surprise and secret is safe with me. Privacy is a top concern of our whole office. We want your wedding or ceremony to be memorable not a hassle!
Why wait, visit PARADISE now!
Mauru'uru!
"I would love to recommend a vacation for you that will exceed your expectations ...and I know just the slice of Paradise...YOU...are looking for!"
Mauru'uru roa!
Gayle Zielke, MCC, President
First Choice Travel and Cruise
HONEYMOON & DESTINATION
Wedding Specialists
Your Certified Tahiti Tiare Specialists