PUTTING FAMILY FIRST!
Since 1991 our First Choice Travel and Cruise Family Travel Specialists have the experience, knowledge and insight on all the resorts and destinations perfect for YOUR FAMILY vacation!
Multi-Generational family vacations is the most popular way to really get to spend some quality time with your family!!!! Don't just dream about your family vacation, contact a First Choice Travel and Cruise Family Travel Specialist for ideas and help in planning these wonderful memorable vacation.

Let us know if your family vacation is a REUNION or GATHERING of over 10 people! There may be discounts or other special added values for GROUPS!!! We do know about the specials perks for groups to Disney, for Destination Weddings, CRUISES, Friends and Family vacations.
MAKE SOME HAWAII FAMILY VACATION MEMORIES
Did you know that Family Savings can be found in Hawaii? There are always special rates just for families traveling to Hawaii! Talk to a Hawaii Specialist today for more information.

Don't go to Hawaii without a Hawaii Destination Specialist. Ask us about "family values" with a vacation to Hawaii. Choose some great properties that offer specials and take advantage of their Kids Stay, Play and Eat Free programs. Plus receive other Free Deals and perks when you bring the kids along to Hawaii. Now that's a great vacation value!
While famous around the world as an unforgettable honeymoon destination, Maui and also all of Hawaii offers an abundance of family-friendly attractions too. Take a trek through a bamboo forest and scout for rare tropical birds. Spend each day on a different beach. Hike down an ancient path, or straight up a volcano. Take a road trip to the other side of the island, or take a glass-bottom boat ride to a whole new world. And be sure to check out the wonderful Maui Ocean Center, featuring a 750,000-gallon, open-ocean tank with a walk-through acrylic tube. Several of the larger resort hotels provide supervised activity programs for young guests, giving them a unique opportunity to experience Hawaii's culture. And many hotels and resorts offer special family rates that often include free accommodations and meals for children under twelve.
GUESS WHO IS #1 FOR FAMILY VACATIONS!...
You are right!!! Walt Disney World® Resort always receives the Great Escapes Travel Award for "Favorite Vacation Spot" from travel enthusiasts across the United States selected for the highest standards of service and excellence in the industry.

There has never been a better time to book a vacation to the "Favorite Vacation Spot." So many new things happening at Disney. Find out before you go so you don't miss out on a minute of the MAGIC!!
INSIDER DISNEY TIPS: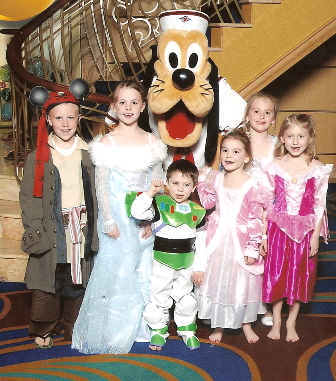 After we book your Disney trip we can help you with your DISNEY EXPERIENCE!
When you arrive you can pick up maps for each park at your hotel. Plan on the Magic Kingdom being crowded and taking at least the whole day or more to visit. Epcot is a good full day park with rides, amusements and all the countries to visit.
Animal Kingdom is perfect for a half day visit if you arrive and want to explore it.
Walt Disney Studios can be a half day visit too. Depends on your interests.
I usually do Downtown Disney, now called Disney Springs at night for shopping, dinner and fun! No need to use a park ticket here.
​DISNEY TIPS AT THE PARKS: Find out where the transportation is located so you can end your day there. I was in the wrong area for the boat pick up so I thought we could take a bus. We had to walk all the way back. After a really long day of walking we weren't too happy. So please check the maps for all transportation options so you don't do what I did.
FAVORITE RESTAURANTS: Probably one of the nicest restaurants at Disney for the fine dining is the Yachtsman Steakhouse near Epcot. But I loved the Coral Reef restaurant too for fish and many other choices. You do not have to dress up that much there but it is still a very nice restaurant. The Luau at the Polynesian is another favorite and will be a fun casual atmosphere...really gets the kids in the Hawaiian spirit!
MEAL PLAN: Take the meal plan. Believe me you will be happy you did. You will thank us when we tell you how much money you will save by taking the meal plan. Let our Authorized Disney planners help you to make dinner reservations and plan your trip with you. NEW: You will need to pay the gratuity on all dinners, it is not included in the meal plan anymore. For breakfast or lunch you are only using the quick serve dining so it will not be necessary to tip.

I really like to tell my clients to plan their days at the park to coordinate around the dining reservations we make for dinner. Makes sense to plan ahead! Don't want to miss one minute of your DISNEY VACATION!
PRE-REGISTER YOUR ROOM: Talk to on of our Authorized Disney Vacation Planners for more information and tips! We will walk you through the whole DISNEYWORLD process!!! We are here for you!
If you have not been to DisneyWorld lately it is time to find the child in yourself again!!! The only place on earth that lets your dreams become realities.
Why not see what you are missing at Disneyland in California? Add it to a trip when you are in California or plan a weekend away and make sure you visit what is new at Disneyland! (See where it all began!!)
I don't know anyone who wouldn't want to cruise on a DISNEY SHIP! The shows and activities are the best on the HIGH SEAS!!! Invite the whole family and your friends!!

If you are looking for a little ADVENTURE and FUN we have some for you with Adventures by DISNEY!!!


UNIVERSAL STUDIOS!
If you have already been to Universal Studios but not lately you are missing out! Ask one of our First Choice Travel and Cruise Family Specialists what's new at this great theme park! YOU won't believe how different it is!
Call 262-542-5955 and ask for an Earmarked DISNEY Travel specialist at First Choice Travel and Cruise....YOUR authorized Disney Vacation Planners!!!