Good Morning Cathy:
I just wanted to let you know that we just loved our vacation at the Excellence this past week. As you are aware this was our second trip in two years to this resort and truly found ourselves "welcomed home". We are already planning our 2010 return for the same week, although we are planning on making it a 10 day trip.
The resort is beautiful, the service beyond compare, the people attentive and friendly, not to mention how wonderful the food at the restaurants is, even the buffet's (available at breakfast and lunch), you know I am not a buffet girl. We enjoyed the entertainment that was offered nightly. This trip we even made use of the spa facilities, a delightful way to spend a couple of hours.
The treated us like treasured family, champagne in the room, basket of fruit to welcome us. A special deal for couples at the spa we couldn't pass up and then they sent at gift package, a cap, a polo shirt and a beach bag.
We also wanted to mention that we do use the private service to get us to the resorts, and this year, a delightful young man named Eric picked us up for the return trip to the airport, and he made even that sad trip enjoyable. This gentleman was the best ambassador for Funjet that we have come across in all of our years traveling.
As always thank you for taking care of the all details, for making our time away perfect.
Mary B Briggs
New Berlin
Cathy's clients were not happy with the Adventura Palace Resort in the Riviera Maya
I just had a couple at The Aventura Spa Palace-booked in a concierge room. They were checking hotel out for their daughter's wedding next year. It's not going to be there!!!
Very, very small rooms...had 1 sink. Compared it to an older H.I., with the sink outside the toilet area. Mike said it was at least 25 years old and just felt old, due to the small size. Was kept clean!!!
However, food and drink and service was excellent, UNTIL, the group of 900 showed up. Service went right down hill!!!. Not enough staff on ,and it took forever to get waited on. Also-there were no beach actiivtesdue to the very small beach!!!
They had a free shuttle into Playadelcarmen, I believe to use the beach at the Palace there. It left @ 8AM-4:30PM returned. So, all in all, any place with a Convention Center won't work for them.
Also-smaller groups also were there over their 9 day stay, and basically the same thing happened
They are looking at the Excellence Riviera and the Eldorado Seaside Suites. His son's wedding was at The Grand Palladium Riviera, and it went very smooth!! The daughter wanted a different resort!!
LAS VEGAS
Thank You! Thank You!
We had the most amazing time in Vegas! I have never flown Southwest Airlines and the experience was great. Everyone was so customer service orientated and very friendly. The queuing up for seating was really smooth. We ended up with A assignments for both flights and on our return flight we sat in the fourth row which was nice for disembarking. The seats were leather and 3 across on both sides.
The Venetian was luxurious to say the least. Our room was opulent with a very large bathroom with a separate commode room, a shower, a tub and a double sink. The suite was also spacious with a king bed (very comfortable) and a step down into a sitting area with a TV, table and chairs, and a desk with a fax machine. We stayed on the 26th floor and had a picturesque view of the mountains. The virtual tour of the suite is exactly what you get. We opted not to spend the extra $45/nite for the view of the strip. Instead we ventured out at night to catch the water/light show at the Mirage and the volcano show too.
Thank you so much for figuring out the details. We all had a great time and enjoyed our trip.
Excellence Punta Cana

Hi Cathy!!!

First and foremost, I am SO sorry it has taken me so long to reply to you about our fabulous trip to Punta Cana! I have received your emails, just crazy busy, and I really do apologize!!

The Punta Cana Excellence was a great break from reality and the weather was just fab--only 20 minutes of a short rain shower the entire week we were there!! Just a couple things to mention when recommending this resort to others (and keep in mind Kevin and I have now been to several all-inclusive resorts as you know and we tend to be a bit "snobbish" with some things! haha). But as always, as an agent, I know you want to be accurate with travelers' reviews!!!
The resort was beautiful--the beaches were just as I remembered when I traveled in college with my family. We received a free 30 min. horse back ride with our package--great perk and Kevin's first horseback ride!!! The room was so-so, a bit weathered--but we got the top floor per your request, so THANK YOU!! We got high ceilings, so that helped. The air conditioning never got quite cool enough--but most nights we were just too tired to worry :) We happened to travel in October when we knew it would be extra hot, so that was definitely ok. The maid service was great--and I should have used my Spanish more than I did! Kevin tried to encourage me too!!!
They even had an Anniversary banner on our room's door the entire week--very nice touch. Since we were there in the off-season, all 8 restaurants were not always open--about 2 per night were closed--so we just had to pay attention to the schedule left in our room each day after they cleaned. However, with our "anniversary" package a "romantic" dinner was included, so we chose a place and reserved it for our last night there--and unfortunately held out on going there until that night--well, that morning, I noticed that the specific restaurant chosen was to be closed that evening for dinner--I went to talk to the concierge and she confirmed. Apparently, they were going to call us later that day (when we most likely wouldn't have been in our room) to let us know. Anyway, we decided to forget that dinner and just went to one of our choice; I think we only missed out on a bottle of champagne and some rose petals on a table; it wasn't a dinner on the beach as that would have been an additional charge. But it was ALL good!!!! :)

The food was mostly good--we definitely did not like the Lobster at the Lobster House--but when we came back I remembered seeing reviews about that and we should have avoided it as there were so many other places to pick from! The room service was quick, but the food was never very good--much better to go to the restaurant itself.

We didn't do any adventures--there weren't any that struck our fancy :) and we very much enjoyed the beach and the pool!!!

Overall, a very good trip and just fun to be with my husband!!!! :) :)

I hope that was helpful! And again, I'm so sorry it took me so long!!! Happy Thanksgiving to you too!!!!

Take Care,

Jocelyn (& Kevin)
Also, one more thing! The nightly entertainment there was just wonderful!!! And we got to see a Michael Jackson impersonator one night and it "blew our socks off!!!" :) Best entertainment of all resorts I've ever been to. Also, it was SUCH a coincidence--we ran into a high school friend of mine who was there with his new wife on their honeymoon--they had just gotten married! SMALL world!!! And they were having the time of their lives! :)
AVALON RIVER CRUISE WAS A HIT WITH THE LADIES!
Hi Cathy,

The trip was tremendous! All of the arrangements were 1st class. The limo ride was a great way to get to O'Hare. Sure saved time (and $) vs. going to Mitchell Field 1st. Budapest was loverly! We had views of the Danube, 2 bridges, churches and government buildings on bluffs. All were illuminated (as Europeans say) at night! Gorgeous!.

The Avalon River Boat was great-- rooms, food, captain, tour director, Isobel, etc. The cruise and tours were organized and interesting.
Rather hard to tell ahead of time (or we forgot to ask) how long and difficult the walking would be. Our captain got us thru on the river when other boats were stuck! The river view thru the Wachau (SP?) Valley of vineyards and quaint towns was splendid. Vienna and the Strauss Concert really superb .

Prague and hotel were also very nice. It would have been nice if our hotel rooms (both hotels) had been close together and on the same floor. The concentration camp outside of Prague was sobering, but a "must see".

The British Air seats were comfortable and made the flight much better than prior flights in the "cattle car". Worth the extra cost.

Thanks for your detailed coordination. Thanks, too for the fun Bon Voyage Basket of goodies. I especially loved the delicious trail mix.

Thank you for arranging such a great trip for us!

Kathy
Mother and daughter trip to San Diego stayed at The Loew's Coronado Bay Resort
Hi:
Trip was outstanding-lots of great memories made. The hotel was A-1-clean, great staff, wonderful layout. There was a huge Latino Association convention at the site, but we never felt neglected. At first we thought site was too far away from city of Coronado and San Diego, but with the help of the staff, found ways to get to the city sites using hotel shuttle service-free and a local van service that was very reasonable. Used the Trolley twice and that allowed us to get around and see the sites- great trolley drivers-worth the cost of the fare.

Weather was perfect-food good-wonderful mother-daughter time. Southwest is a great airline- everything went smooth as you promised. Did hit some bad weather coming home, so got to see what lightening looks like bouncing off an airplane.
Thanks again for all your help.
Attached a picture that sums up the trip.
Kiki and Kris
Spend the Holidays in the Bahamas like this family did! The Riu Palace in Nassau was where they spent Christmas! It was truly a success for Marie, Shannon and Jim!
Amy and Marcus Honeymooned at the The Riu Palace on Paradise Island in the Bahamas!!
Hi Cathy!!
The hotel was great and the service was amazing!! Everybody was so nice. We loved all of the restaurants and choices we had. The all day buffets were perfect since there were a few days when we were so tired from the excursions that we just took food up to our room and relaxed. Everything was so convenient.
We ended up doing the Dolphin Encounter, a deep sea fishing excursion, and the Sandy Toes Rose Island half day excursion. It was so nice to just be able to book these right from the lobby of our hotel. We LOVED the view from our junior oceanview suite! We got great pictures of the ocean and beach.
We thank you so much for your help! You were very fast and efficient, helping us plan our whole honeymoon in just one week!! You made it so simple for us to just hop on a plane and not have to worry about anything else. Hopefully we'll be working on another trip with you in the future!
DREAMS PUERTO VALLARTA
Hi, Cathy!
Dreams gave us an upgrade to an ocean-view room--I believe it was due to their less-than-capacity status--not sure, but what a great view! The staff was the most genuinely cordial and caring group--by far the best of the other 5 resorts we have been to. One whole side of the complex is private condos--that's why it looks large, but has only 200+ actual hotel rooms. The food--flavor and presentation were very good. We enjoyed meals at the Portofino Italian, Oceana seafood, and the El Patio gourmet Mexican food! No reservations were required which was especially nice. The only negative to the resort was that we did not have hot water for 2 nights--such a bummer after a day on the sandy beach! :( Some heard that this happened to other guests during previous weeks. The rooms were very new (3 years), modern, and European--very nice.
The spa was great--we had a couples' massage--very nice. And we would strongly recommend the "OceanFriendly" Whale Watching tour which I found on line and booked it prior to our trip. The tour is lead by Oskar who is an oceanographer and his smallish boat with a captain and birder was extremely infomational and fun--only 10 of us on board. Those that had attended a "Vallarta Adventure" type tour said that OceanFriendly was 500x better.
The weather was cloudy almost all week and actually rained one day. The people at the resort couldn't believe the long unprecedented stretch of bad weather--too bad since I love the sun! The beaches were the best we have ever seen and we could walk 2 miles in either direction without hitting a major obstacle.
Thank you for helping us with the coordination. We said that we would go back, but when it comes right down to it, we usually like to try somewhere new! We'll see!
Take care,
Peggy and Mark
Honeymooners Lara and Ken enjoyed the Ocean Maya Royale
Cathy,
We had a FABULOUS trip. The hotel was very well kept, beautiful, wonderful location, amazing staff... We relaxed and enjoyed the all inclusive food and drinks to the fullest. We are very glad we upgraded to Privilege; our room was beautiful, we had access to a private part of the beach, wireless in our room and a private business center. I would recommend Ocean Maya Royale for anyone who is looking for a romantic, relaxing trip! They do have entertainment but it's very much a couples resort. While we were there we booked a photo shoot and had some amazing honeymoon photos taken, some of which I've included. They took pictures on the resort and walked us down the beach past several other resorts (whose beaches were not as nice; washing away) to a lagoon. BEAUTIFUL!!
Honeymoon 1 was taken on the grounds, 2 on the hammocks by the ocean, 3 on the hotel beach (at night they hang a light and you can eat there on the beach), 4 is the hotel's pier, 5-7 are at the lagoon. You can see how shallow it was, the water was turqouise, the sand white!!!
Thank you again for your help, we will definitely use your services again in the near future!! Any recommendations for the caribbean? : )
Lara
Celebrity's Silhouette in the Med from Rome to Venice
The trip was unbelievable! We tried to have a favorite, but it was hard to pick. We really like the Greek islands and of course Rome. The ship was awesome. Food, service, accommodates, entertainment etc. We will never travel anything else. Also, going by cruise worked out perfect. We were able to see so much. Malta was also beautiful. Not sure if you have been there.
Thank you so much for the bottles of wine. We really enjoyed them. Sarah turns 21 this week and was concerned she wasn't going to be able to drink (all the Celebrity literature said you had to be 21). However, they allow drinking at age 18, probably in line with Europe standards. She, of course, was very happy!!

When in Rome, we opted to go the Coliseum and forum on Sunday. We'll, very crowed because the Vatican was closed. We were approached by a tour company to do a skip line. I was skeptical at first but then as we got more information, we decided to do it. What a great option. We had to wait about 20 minutes and they had a tour guide and a group of about 10 people (including us). The lines were about 2 hours long and we were able to get right in. The tour guide was great as well. They close the street in front of the Coliseum that day so walking around was really nice. Might be something to recommend to future clients.
For the most part our transfers were great. When we arrived in Rome, our driver was a little late and the place was very overwhelming (not to mention, we were all tired and crabby), but once he found us, it was smooth sailing. The transfer to the ship was late but I had the hotel desk clerk call the company and they arrived within about 10 minutes. The trip to the Venice airport was a bit strange. He dropped us off at the bottom of a entry driveway and we had to walk up to departures. It was very strange. Not sure if that is their protocol but we made it. One thing to note. We had a 7 am pick-up for a 10:50 flight. Delta does not open until 3 hours before their first flight. This was their first so we did have to wait a bit at the airport. I will say, though, that we were first in line and it took them forever to check people in. Also, the ship had us scheduled for a 7:50 departure group. Not sure if they get our travel arrangements. I went to guest relations and they moved us to the 6:30 group to make our 7 am pick up.
The Hotel in Rome was The Visconti Palace, and they just loved it.
The hotel in Rome was great. Very nice and they had a good breakfast. The location was central and we were able to walk many places. I would definitely stay there again. We were also able to find a place to do laundry ... that was quite an experience!
Our Vatican tour (skip the line) was very good. It was super crowded that day as well. I would say it was a bit long but not sure if there is any other way to go about it. We saw it all there.
So overall OUTSTANDING!! You did an awesome job with all the arrangements. This was definitely a way to take kids to Europe. We didn't have to worry about much except making sure we got up in time for our tour and to get to the dining room on time! Thanks for all your hard work in helping us plan this!
Larson Family, from Minneapolis, with the Gordy's
ALASKA CRUISE AND TOUR
Hi Cathy!
Still acclimating to being home, the time change etc. The overnight flights are always a killer. We had to be out of our room in fairbanks at 1100 Am then had 8 hours to "kill" waiting for our flight pick up, then of course the overnight flight etc. All went well,no travel problems or delays. The weather in fairbanks was beautiful so steve and I walked all over and just enjoyed the day. I didnt want to wait any longer to thank you for the wonderful welcome gifts on the ship. The strawberries and wine were wonderful and we enjoyed them. We all took turns taking our wine to dinner. The shipboard credits you gave us were enjoyed as well. That was such a surprise!! Thank you so much. Our trip was flawless thanks to you and we all had a great time. The biggest disappointment was the rain in ketchikan....not so much that it was raining as we expected that but the cloud ceiling was so low that we had our flight excursion cancelled.....we were all devasted by that.... The scenery was just gorgeous thru out and surprising to me Steve has said he loves cruising...ha ha I never expected that!! The biggest problem was that we just couldnt see and do everything!! I guess that is why people go back.....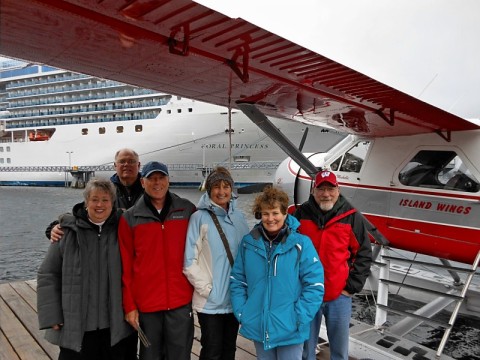 The cabins were wonderful!! I will never not have a balcony cabin again. we loved having that instant access to "outside" and our views were always great. Loved being able to see coming into port and when we got tired out on deck on the glacier days it was still a wonderful view in our cabin and we could hear the commentary on our TV. Liked our location too... slightly to the front of the ship from the middle..... I do wonder how a "bigger" person can maneuver in the shower tho...ha ha. we had a comedian one night that made great jokes about that....
certainly is worth thinking about the mediterranean...those are the ports I want to see....and we love being stationery and unpacking. our land tour days were quite hectic...made me miss the leisure of being at sea.
I think debbie and jim and patti and ken all had fun as well. debbie was really a trooper with her knee and she did very well.
thank you again for the fun surprises on board..............LuAnn
U BY UNIWORLD CRUISE is NEW!
UNIWORLD CRUISE- Comments on their U adventure!
Since "U" is a totally different product than a regular River cruise, only 2 meals a day, 2 excursions, and no Liquor Drinks included. Cathy Eickhoff's guests were all concerned that they'd be too old, for this, are early 50's, but the price was right, about ½ of a regular river cruise!
Cathy,
Now keep in mind that we don't have anything to compare to ... this was our first river boat cruise.
It was great! The boat was very nice but simple. Our room was nice but very small (u warned me). Nice size bathroom and great view.
Food was very good. Brunch and dinner every day. All meals were buffet with a chef station (omelets, pasta, carved pork). Great salad bar, awesome desserts.
Service overall was excellent. You could tell that they emphasize this. We had booked two tours in Amsterdam based on the itinerary. We found out on the first day that they changed the first first two days and so we couldn't use our tickets. The host bent over backwards trying to find us another option. In the end for one, they couldn't and so uniworld gave us a credit for the value ... they didn't have to do that. We were able to convince the Van Gogh museum to accept our tickets that were for another day. They did a good job of knowing our names.

They had two hosts (young) that did all our excursions and city tours. The city tours were great. Good orientation and then we got to do what we wanted. My only complaint was they they could have had more options for excursions. We did two excursions on the same day.
On our 4th day, they started in cologne. The ship then went to Bonn and let off people that wanted to bike. They biked to Remagen, got back on boat and went to koblenz. Glenn and I opted to train between cologne and koblenz. We stopped in 4 cities along the way with very little problem and then met the ship. Worked great and gave us some variety. We didn't want to be on the ship for a good chunk of the day.
Loved the Rhine gorge!! Sat on top of ship all morning as we went thru it. And, we loved Germany. Rudeshiem was the highlight!
There were 60 passengers on the boat ... capacity was 120. That made it great. About 40% of the people were our age or older and we believe the rest were 30 or younger. But a good crowd. For the most part we all got along and got to know each other. There were some late night activities on the ship that we for the most part did not do. Which was just fine. Wasnt too noisy or rowdy for us old people. Mostly Americans but some Australians and britts.
Definitely didn't need a drink package. Our bar bill was small (becuz we drank a lot of beer in town and brought so wine and whiskey on the boat with no issues).
They used an app on our phone to communicate everything. Worked great. But u really have to have cell service. Our carrier charges $10/day per phone in most countries so it was fine for us. We would have been lost without our phones on this trip. Free WiFi on the boat!
Over all, very good. We think we would definitely pick them again. The hotel manager told us that they are going to try to keep pricing where we got it. They think that is important to get the younger crowd.
Oh...we did have a hard time finding our transportation when we arrived. We called the number provided and they then showed. Was a private driver in a black car. Not bad...
Thanks Cathy!!
Cathy's client cruised on NCL's NEW Ship THE EPIC and talks about her experiences on The HAVEN
Hi,
My very wonderful clients just returned from a sailing on the Norwegian Epic.
She put several bids in on upgraded cabins and really wanted a Haven, and received it a few days prior to sailing!!!
Cathy feels her client is very accurate on her reviews and this might encourage others to try for these upgrades…..
Below are her words:
We LOVED the Haven especially on this ship since it is so big. I am not sure we will travel with standard accommodations in the future. It was like being on a ship within a ship. We never waited to get a drink, get a chair in the sun, dinner or to exit the ship. Our cabin was great. Large and the balcony on the aft facing was awesome. We were a distance from the actual Haven area but managed just fine. Because we were on Deck 13, we just walked the length of the ship and up two floors. We hardly ever took an elevator. Got our steps in everyday.
My only comment on the less positive side was that the menu in the Haven restaurant did not change all week. A little more variety would have been welcome. We did have dinners In cagneys (great and because we were Haven we got a preferred seat), the habachi place (also great), and the Italian (just okay). We ate all other meals in the Haven - food was great, excellent service!
All in all - extremely satisfied. Although a lot pricier than a standard cabin, I think it is with it.
Thanks again Cathy for another travel adventure!!!
If you would like to contact Cathy for your special vacation, honeymoon or anniversary trip please email or call her at:
CATHY EICKHOFF
FLYING HIGH TRAVEL
W/1ST CHOICE TRAVEL & CRUISE
PH: 262.938.9913