FIJI ADVENTURES
Fiji Adventure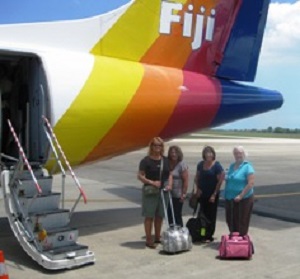 Bula Bula!!
I am back from my adventure to FIJI. Very exciting & exotic! We visited 3 islands, all of which were unique in their own way. The Fijiean people are the friendliest people I have ever met. Everything is very casual.
After a 10 hr. flight from LAX our first stop was at the Namale Resort in Savusavu on the island of VanuaLevu. Absolutely breathtaking! There are no "hotels" in Fiji. Each guest has their own private "Bure" or bungalow. Very luxurious. You don't wear shoes into the restaurant, you leave them at the entryway. When you leave, your shoes are turned around ready for you to slip on and walk away, incredible. The food here was excellent. There are lots of adventures for you to experience. The diving is spectacular. I didn't dive personally but a fellow agent did. I did snorkel though and that was amazing as well. There are reefs to explore and rainforests. Just beautiful!
Our next stop was the Sonaisali Resort on the island of VituLevu, (the main island). I would not go back to this resort but the island is beautiful. There are many other beautiful resorts on this island near the town of Nadi. The Sofitel being one of them which we visited. Beautiful. We saw a wedding while we were there (at sunset on the beach). Doesn't get much better than that;) If you want more action than some of the more remote outer islands this is the place for you.
Our 3rd stop was the Yasawa Island Resort on Yasawa Island. This had to be the most beautiful island I have ever seen. You fly over on the little 8 pass. plane and land in a field which is the resorts private landing strip. This is the island of Fiji that you see in the pictures. The beautiful turquoise water and reefs. We visited a village and met the "chief". Wow… was quite the experience. Again snorkeling was impressive (and the diving). The Bure's are beautiful. The local people and their music, just great.
If you like adventure or just want to get away from it all. Fiji is the place. The "Kava ceremony" is a must do as well;) It would also be a great stopver if you are planning on visiting Australia & New Zealand.
Bula…this is the Fiji greeting, thankyou, your welcome, etc., etc.