"EUROPE CALLS EVERYONE BACK TO THEIR ROOTS AND IF YOU ANSWER THE CALL YOU WILL NEVER FORGET YOUR TIME THERE! YOU WILL BE HOOKED AND WANT TO RETURN!"
"Everywhere in Europe it feels like a fairytale land come true! The beautiful landscapes and cities are amazing. It is so unbelievable how these old buildings and landmarks along with castles are still standing. You have to see it for yourself. Taste and enjoy the excellent food and drink from all the local little towns and you will always feel at home", says Gayle Zielke, MCC president of First Choice Travel and Cruise.
To contact one of our First Choice Travel and Cruise's EUROPEAN Specialists call 262-542-5955 and ask for a specialist that is certified by the country/destination you are interested in. Email
Here are some of our European Success Stories from our VIP Clients!
ITALY CELEBRATION OF LIFE
Hi Gayle,
THANK YOU!! We had a great time in Italy!! We were up and at 'em early every day, but we covered a lot of territory, and I wouldn't have changed a thing!! Especially glad you recommended going a day early and staying the extra day….next time, maybe a couple more days????
Globus was a wonderful tour company, our Tour Director, Laura, and the bus driver, Bruno, talked of a reunion trip for our whole group in two years to Spain.
The paintings and architecture did NOT disappoint and I was in awe often. Easter with the Pope was the icing on the cake…the popemobile sighting was phenomenal. He celebrated Stations of the Cross at the Colloseum on Good Friday…it was so cool to watch that on TV and knew exactly where he was because we had just been there a few days earlier.
Each stop provided more learning and experiences…from shopping, to eating, and photo ops, as you could tell by my posts. I have soooo many pictures to sort through.
Thank you again for the wonderful memories!! Please tell Nikki that I'm glad I ended up canceling the gondola excursion I booked online, because it turned out that if I kept it as it was online (Tues. AM the only option), we would've missed St. Mark's Square and the Murano Glass Factory. We went on the gondola ride Monday evening and it was PERFECT!! Also, we really really enjoyed the organic farm dinner…atmosphere, ambiance and food were all perfect!
You can use any picture you think is best! This is not the last trip we'll be on!!!!
Thanks again,
Terry
Steve said it was TERRY'S trip but I think he loved it too!
Gayle, Thank you. It was a trip of a lifetime. Thanks for making it happen. You are the best!
ITALY ANNIVERSARY
Hi Nikki! Yes, our trip was amazing!! The trip of a lifetime.
Our flights home were right on time, no issues at all. Thanks for being there for us though.
The tour was great. Our guide and bus driver were fun and dynamic, very organized. It was nice not to worry about plans. They took care of everything. We made some new friends from all over, who we are staying in touch with. We got to see a little bit of a lot of things! That might be my one complaint....not enough time in each location. But honestly, there's no way to fix that if you're going to see as much as we did for the price point we were at. There were so many amazing cities to see. Sistine Chapel and the Vatican...just wow. Orvieto, so quaint, and Siena, really cool. Florence, awesome (I bought a fabulous leather jacket!). Assisi was deeply moving. Tuscany, so beautiful. We really loved something about all of them. Chas really enjoyed the architecture and the art. And the weather!! We got so lucky and had mid 70s and sun almost the entire time! (you special ordered that for us, right?)
I'd heard so many people say that they didn't like Venice much (smelly), but it was my favorite stop. Not smelly at all in October! Such a magical place. We added on the optional excursion to Venetian Lagoon, Burano, and we were glad we did...so pretty and full of history (well, all of Italy is full of history, isn't it?:) I'll attach a pic of the pretty painted houses. So cool.
The Venice day has an included dinner at the end of the day. You have to leave Venice at 5pm to go to the hotel for the meal, so we opted out of that with a few of our new friends and stayed into the night, had a lovely relaxed stroll, happy hour and a late dinner. Best decision ever. We made our own way back to the hotel on the bus around 10pm and Francesco (our guide) was waiting up for us in the lobby. I think he was worried! lol. (picture it, he's 29 and we're all 50-something haha)
The food. Well, when we went on our own to restaurants....amazing. We loved everything we got. The meals that were included on the tour were good but nothing to write home about. They were meals that can be produced for a large group. The pasta was always good (pasta with every meal!) but the rest was so-so. We ended up skipping a few of them and going out on our own to enjoy the local restaurants. The Tuscan dinner was really good though! Great wine tasting and dancing under the stars.
I felt like we were pretty adventurous (for me anyhow) during our free time. We went to the Borghese Gallery and gardens, revisited St. Peter's and the Vatican area in the evening so we could take our time browsing. Shopped and strolled throughout Rome like we knew what we were doing :) We even did a load of laundry at a laundromat! Google Maps and Rick Steves were our best friends. We braved the crowds, used the metro system, both the bus and the subway, took the bullet train down to Naples on our own. We loved Pompeii, and the hike up Mt. Vesuvius was very cool. Definitely recommend that tour.
Oh, you asked about the hotels. They were good! We really wanted to experience "Italian style" hotels, and a few of them were like that and a few were more modern. We often had a terrace and rarely had A/C! But that was okay. We could open the windows for fresh air. (can't do that in the US!)
So I think I answered all your questions here! Thanks for everything you did to make our trip so amazing. We really appreciate your patience and hard work!
Connie
ITALY HONEYMOON
Hello Mary!
Our trip was amazing! The tour guides were great, and we were very happy with the itinerary.
We're really happy that you had us fly in to Venice first, because that gave us a few days to adjust to the time change before our longer days in Rome...we loved Venice though, and wished we would've spent more time there!
Rome was breathtaking. We really liked the location of our Hotel, which was really close to a lot of the sites we wanted to see.
We had a Rainy day in the Amalfi Coast/Pompei, but it didn't take away from the beauty at all.​​​​​​​​​​​​​​​​​​​​​​​​​​​​​​​​​​​​
The pace was good, and we even had time to take an additional trip to Florence!
Attached are a few pictures, but they don't do the sites justice.
Thanks so much for your assistance! It made our honeymoon so much more enjoyable!
Joseph and Jill
RUSSIA on an Insight Vacation tour for these beautiful LADIES

Hi Gayle. Our trip was fantastic ! Everything went very smooth. Hotels were excellent, as well as our service. Tour guide was over the top good and sooo nice. We loved Moscow not so much St Petersburg. Two days in St Petersburg would have been sufficient. Our favorite was the Kremlin Place and their malls are beautiful.. We were very impressed and we loved all the history. Would recommend Moscow !! Thank u for setting up this trip :) Nancy and Sandy

SCOTLAND with GLOBUS
The trip exceeded our expectations. We were constantly on the move. Saw a lot of castles (palaces). We had a wonderful tour guide and driver.
I would recommend this tour to anyone who wanted to see Scotland in depth.
Thanks for all your work in putting this tour together.
Al & Sharon Marifke
SPAIN & Portugal was where Walter and Esther spent their Anniversary!
INSIGHT ITALY TRIP
It was a trip of a lifetime but DO hope to go back. Chris and Bob
Hi Gayle,
We had an incredible time and there really is not much to say that we should have or could have improved on. When we got off the plane (after a smooth flight all the way) there was a cute little Italian girl, holding up a sign that said Robert Worpel. She whisked us away on a van that took us to the water taxi and OMGosh, what a blast right from the start!!! Our first night (ate a great restaurante) and our first night accommodations ended up being one of our favorites on the whole trip. (They

stayed at the Bisanzio Hotel on a pre-night stay before the tour and loved it.)



We had a very HOT walk (3 bridges if I remember correctly) the next day switching to our hotel but it was very doable. We'd highly recommend it! In the attempt to keep this email from getting ridiculous, the tour did what we had hoped... showed us much of Italy so we will be able to return to what we'd like to see more of. Our tour director could be a little scatterbrained when he spoke but was very knowledgeable and was very good at all the details and cared much about all of us. We will get back with you if we think of anything that we think would be helpful but Insight did a very nice job... with good locations of hotels, coach was comfortable, nice group of people, etc. I'm not sure if this was OUR tour director that lined up the city tour guides but they were ALL top notch!
Thank you for your help and we definitely will be going back. We have fallen in love with Italy!

Chris and Bob
IRELAND is one of the most reasonable destinations in Europte to visit. Ask a EUROPE SPECIALIST at First Choice Travel and Cruise how you can visit your dream bucket list.... European Vacation. Call: 262-542-5955 or

IRELAND
Good Morning Mary,
Our CIE trip was Marvelous! Everything went so smoothly. Our tour director (Gordon) and both Drivers (John & Garry) made the trip so fun. Gordon (to me, he was a Sean Connery look alike – even Scottish) was full of historical and current information. He was funny too. He also took good care of us, making sure everything ran well. We learned that our first driver John (who drives for Dixieland tours during the winter), met his wife (from the USA) on one of the tours, so Mary and I joked that we should send our oldest daughter Tiffany on an tour.
All the hotels were very nice with The Culloden Estate and Spa in Belfast being just amazing. We enjoy all the many Attractions/stops along the way. I have a nice picture kissing the Blarney stone. When Mary and I go on vacation we seem to ask ourselves "What should we do now" That certainly wasn't the case with this trip. The tour idea was good for us to do. We only wished we could stay longer than one night in some places. We also got along so well with the other group members. It was a smaller group, only 21 of us to start the tour, then 4 individuals went home when we reached Dublin.
We would definitely go on another CIE tour.
Tom

IRELAND Fun for 2 sisters and their husbands!

Good Morning, Nikki & Gayle!
I am writing to tell you that Paul and I had a wonderful time on the CIE tour in Ireland. Our Driver/Tour Guide, Jim McCormick, was a great historian and storyteller. We learned so much from him on our travels and enjoyed his funny stories. Because CIE handles tours so well, Jerry & Denise Hoinacki and I want to reserve places on the Wales & England Tour.
I went on CIEs website yesterday and found an Irish and Scottish Sampler Tour that is an 8 day/7 night trip that would be a really nice tag on to the Wales & England itinerary. It also is a small group departure. We are thinking seriously about doing this tour in addition to the earlier Wales & England tour.
Looking forward to this new adventure!
Lindy, Paul, Denise and Jerry
IRELAND

Go visit and join in the fun in IRELAND like this group did.




We had a magnificent time! What a lovely country and to be able to see it
with family was wonderfu! The tour was great - couldn't think of a thing we
would change. We took Airport Connection to O'Hare and from the minute they
picked us all up at our house till they dropped us off, everything went
perfect. I would recommend CEI tours to anyone! Our tour director Michael
was great - entertaining and very informative and helpful.
Thanks again for all your help with this trip. I included a picture of all
of us that you might enjoy!!
Sharon & Pat

I just don't know where to start! The trip was wonderful! I would recommend CIE tours to anyone and everyone. We were treated GREAT! The places we stayed were top notch . We were all VERY stratified with everything.
Patrick and Sharon Passler
Patricia and Richard Rabay
Dennis and Kathleen Skwor
and brother Timothy and Susan Blattner
Carol O'Loughlin-Smart and the Balicki, Smart family outside cousin Roddy O'Loughlin's
house in Ennistymon, County Clare Ireland June.
"We all are so grateful, you've made many good things happen for us."
YOUNG COUPLES WANT TO VISIT IRELAND TOO
Hi Gayle,

We had an absolutely wonderful time in Ireland! The weather was really great, minus one day where it was rainy and gloomy all day (of course that was the same day as the scenic drive through the Ring of Kerry!). We really enjoyed all of the excursions, especially the National Stud and the Rathburn Farm trip.

I still can't get over how beautiful the country is, and how vibrant all of the shades of green are - no pictures can do it justice! We really enjoyed ourselves. I loved the relaxed culture, and the people were all wonderful. We liked to spend our evenings just wandering around the towns and visiting pubs.
I have tons of pictures to share, I'd love to send some over to you!

If they'd like to, I'd love to talk to the couple directly and answer any questions they may have. Aside from 2 others, we were by far the youngest on the trip - but Justin and I didn't mind that at all!
The only downsides to the trip were that a couple of the hotels were not as nice as we had hoped, especially the one in Killarney (the other travelers all had updated rooms, but we got one that wasn't yet updated). Also, Waterford was a bit of a bust, as the factory is no longer open. Instead of the factory tour, we had a 20-minute walking tour of the city, and that was it. There wasn't much to do in the city in the evening, so we felt a bit disappointed in that part.

It was funny that you emailed me today, as I was just on your website earlier looking at vacation options - I'm getting the itch to travel again!

Hope all is well,

Margaret and Justin Rooney
(with a name like Rooney they might have been looking for their roots and found a lot of fun along the way)
MORE FAMILIES ARE VISITING IRELAND
Finally getting back you on our family's trip to Ireland.
All went well and all enjoyed the trip. Comments about accommodations. Hopefully you have the names because I am a little foggy about those (now):
Dublin – Great place to stay. Very convenient. Staff was very helpful and made our stay enjoyable. We recommended that some friends stay here last month and they found it the same. Breakfast and the hotel bar were both good. Good "Irish" feel
Waterford – Good place to stay also. We were only here for one short day and night.
Kinsale B&B – OK place, since it's a family's house, they had some activity of their own too. Relatively close to town.
Killarney – Good place to stay. Not a very "Ireland" feel though more American, seemed to be very new.
Enistimon (sorry about the spelling) – I would not recommend this place or town. Although it appeared to be the best accommodations in town, there wasn't much too this town including restaurants. We did enjoy the pubs here though, very Irish feel so all was not lost.
Dublin – Really enjoyed the big city sights, sounds, museums, eateries and pubs.
Waterford – The crystal tour was well done and very informative. We were not originally planning on taking it but changed our minds and glad we did. Had a fun time ourside of town. Went looking for distant relatives only knowing to find a pub, ask for a certain person who was supposed to direct us to another that would have the "book" containing the history/ancestory of the area. Only found the pub but asked around and everyone seemed to know someone that knew someone, lots of stories and they broke out in Gaelic songs while we talked, very enjoyable.
Kinsale – Beautiful town and surrounding area. Wished we had more time here but too much to see and not enough time. Great dinner spots with pubs, enjoyed the people. Great fort in town but we spent too much time here.
Killarney – Very busy downtown with lots of restaurants/pubs. We didn't do the Ring of Kerry but did drive around the Dingle Penninsula. Really enjoyed this. Great scenery. We ran across a beach, think it was called Inch. We were able to drive our car on it. Lots of hills, stone walls, sheep, etc to see.
Enistimon – Took a ferry out to Aran Islands (the closest one). I have been on lots of boats but we picked a rough day to take the trip, dreary, windy, wavey but nothing that a few sea sickness bags couldn't help. Anyway got to the island and we were really sure what to do. Walked to one of the three pubs and had our first beer by 10am (not our usual schedule). Walked out about an hour later and the same "tour guides" were still waiting for us. Not knowing what else to do, we took it. It was very enjoyable and a great way to meet the driver and spend an hour with him. City of La Hinch seemed like a fun spot, had dinner there.
Roads were better than I imagined. At the last minute I upgraded to a slightly larger van with automatic. All went well except on one rainy, dreary day while rounding a left turn/curve on a highway. Seemed like the weight of the rain made a trees lining the road bend excessively over the road and a car was coming around the curve at the same time, anyway I took the curve a little tight and well the mirror wasn't the same after that. No worries, all was ok at check-in.
Take care.
Mike & Deb Czarnecki


EUROPE IS A GREAT PLACE FOR A HONEYMOON!
Hello Tana,
Our honeymoon was great! We had a great time in Europe. We will like to share some favorites.
1. Venice: It was great just walking around the little streets and getting lost. We really enjoyed that! The guide was great since she took us to the main attractions in the square. We arrived during an important celebration in Venice, so we got to see fireworks at the St. Mark Square!
2. Rome: Rome is great for sightseeing. Everything wasn't too far from our hotel and it was easy to take the metro and get around the city. We visited the Vatican although we had to get there very early in order to not wait in line. The roman forum and the Coliseum are a must! FYI, visitors should go to the roman forum first since the ticket for the roman forum is also valid for the Coliseum and the ticket is valid for 24 hrs (the coliseum line is very long, while the roman forum has a much smaller line and less wait). We spent a lot of time walking the streets of Rome, sightseeing at night is great! Plaza Naveno is also a great place to hang out and appreciate the artists of Rome.
3. Paris: We bought a 2 day pass for about 32 Euros, which includes tons of museums and you're allowed to skip the lines if you have this pass. The pass allowed us into the Arc del Triumphe, the Louvre Museum, Notre dame, etc. This helped us save a lot of time in lines and enjoy our trip more. The Eiffel Tower is a must! It was very close to the hotel n what we enjoyed the most was buying a glass of wine and some snacks and sitting by the tower and watching it light up at night. We did go up the tower, although we had to be there extremely early since the wait is extremely long.
4. Madrid: The city was amazing and everything was walk able from the hotel. The Plaza Mayor is very nice, there was a performance when we were there. The car tour definitely helped us out a lot since we got to see more of the palace and where the bull fights take place. Shopping is also very accessible, and the nightlife is very fun!
5. Barcelona: The city is very big, it required a map and lots of walking. We visited La Sagrada Familia and we really enjoyed it. The car tour was also very convenient due to the size of the city, however, we were not able to visit as many attractions due to the traffic. The city is great for shopping, there are shops everywhere.
Overall, the hotels were amazing and the trains were great too! All the food we tried was amazing.
A quote that would describe our trip: Trip of a lifetime! Nothing more romantic than sharing a bottle of wine by the Eiffel Tower.
Thanks for putting all this together for us!
Thank you.
Jessica and Jesus Aquino
SCOTLAND

Have you ever dreamed of a Scotish Wedding? Kerri Lapointe and Michael Webber tied the knot near a castle in Scotland. Family and friends joined them for the ceremony and the festivities. These two sure know how to "live the dream"!!!
We're back from Scotland and I wanted to just drop you a quick note. We had a fantastic time! The driver and tour guide were a joy, and the weather was decidedly un-Scottish. We never had rain during the day, had only a few overcast days, and got to 80 degrees at least once! No one will believe we were in Scotland --I got a sunburn, and when we went to Iona I took a picture that looks positively Caribbean: blue-green sea, white sand, sailboat ... Orkney was a high point -- everyone was so glad the weather cooperated, as the last two tours had to cancel that excursion due to rough seas.
I haven't had time to wade through pictures yet, or swap with other folks on the tour (the up side of digital is that you can take so many pictures), but if I come across a good one of us I'll pass it on. I might not find one, as Joanne doesn't always want her picture taken :-( Maybe someone got one of me playing the pipes.
We tried Haggis, and found that we actually liked it (at least in its modern incarnation); black pudding, on the other hand, not so much ... We had great salmon, scotch, beer (although Stella Artois from Belgium was the most prevalent -- reminded me of all the Budweiser in Ireland). No lamb, however, despite the large numbers in evidence. The bus driver said there would be too much paperwork to make it worth hitting one ;-)
Anyway, thanks for recommending a great tour. The only thing we would have done differently would be to add a few extra days at one end or the other, for more time in Glasgow and Edinburgh -- we missed things like national museums, etc.
Globus's Alpine Countries tour for this fun group
Thank you Sheri from First Choice Travel for setting up a great tour which we will always remember.
Hi Mary,
I wanted to send you a message to say Thanks! Thank you so very much for all of your hard work and careful planning for our European adventure. Every place we stayed was lovely and we had a wonderful time. I am happy to report that all of our travels went off without a hitch and everyone enjoyed the trip very much.
I think Lido was the favorite… Hotel and especially the beach! We spent a whole day just lounging on the beach and swimming and relaxing, which was amazing. One thing I did want to let you know about the hotel in Lido – they have no ground level floors and they have no elevator. Susie ended up being just fine, but if someone was traveling with a wheelchair it would be a real problem. I just wanted to make sure you know for booking in the future that the hotel is lovely and we really enjoyed our time there, but it is absolutely not handicap accessible as the first floor is up two flights of stairs.
Again, thank you so very much we had an amazing time and I know that First Choice Travel and Cruise has some new #1 fans after this vacation. Have a great day!
Best Regards,
Melissa Line
SOUTHERN SPAIN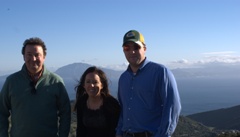 Everything was great. The time went by way too fast, as always!
Attached is a picture of us in southern Spain, along the Mediterranean. That's Africa in the background!
Thanks for all your help,
Virginia

A GIFT THEY WILL ALWAYS REMEMBER
Pastor Verne and Lynnette Hagenbeck were given a European trip of a lifetime by their whole First Assembly of God congregation when he retired.
Verne said it was awesome! Everything worked out good. They really enjoyed the Globus tour ( Rome to London) and the trip to Noway before the tour worked out really well. It was a TROUBLE FREE VACATION!
Verne and Lynnette
Girl trip to Paris and Nice France!
Check out the Girls in France!!!
Mother and Daughter trips of a lifetime!
Dear Gayle,
We are still talking about our trip!
Our tour guide Elena Bertola was outstanding and if you ever have the chance to pass that on to Globus, it would be really appreciated. Also, I wanted to share that the hotels they picked were also great. I got a little nervous initially since they had some bad reviews online. The Albani in Rome was very nice. The colors were a little outdated but the hotel caters to Americans and it gave us a chance to get used to European hotels (which are quite different from in the US) before heading onto Florence and Venice.
We had such a great group of people on the trip and we made friends with another mother-daughter pair from Hawaii. So, if you have anything going to Hawaii next year or a singles tour through Globus (for the other lady and me), we would like to know.
At Trevi Fountain wishing to return to Rome!
Thanks again, Gayle, for all your outstanding help. I so do appreciate it.
LONDON AND PARIS FOR A WEEK..OH MY!! 34 Women take on EUROPE for a week!
We are sure London and Paris will not be the same after all these women of all ages experienced the trip of a lifetime!
Mothers and Daughters and Sisters and Girl Friends had a wonderful time in London and Paris for a week! The semi escorted tour was very flexible so we all had lots of time for sightseeing and plenty of time for SHOPPING!! It was a ball and we are all so glad we did it!! Always grab any opportunity that comes your way, you'll never know what you missed otherwise!! Please join the Mother, Daughter, Sister and Friend getaways. Every year the First Choice Ladies Women's Trip is a winner. This year back on a cruise to the Mediteranean!! There is always someone new who joins in the fun! It could be YOU! Invite a friend. For more information on the
Mother/Daughter Women's
trip.
Tammy Luther, Cookie Brock, Gayle Zielke, Robbie Geboy and Margo Bucholtz shopping and touring in Paris! Just a couple of the 34 women that went to London and Paris with the Mother/Daughter/Sister group.


Comments from Cathy Eickhoff on her trip to PARIS!

What a fantastic city!!! Contrary to most opinions, the French people we encountered were very nice and offered to help. Restaurant tip: If the check is 10.3 Euro- leave 11 Euro and that's very accepted. Also, when eating at these really neat little bistros which are on every corner, the prices usually increase as you move from sitting outside to inside the restaurant where prices are the highest.
The Parisians love to sit outside in the sun, even if it's only 45-50 degrees. And, a glass of wine costs less than a "light coke." A coke was about 3-4 euro-about 4.50-5.20US. We bought a 2 day pass on L'Open Tour which is the double decker bus and runs on 4 seperate routes. It runs from 20 min-30 min, more frequently in high season. It really covers the whole city and very easy to maneuver on. A 2 day pass was 27Euro, and well worth it. Also, the Metro is 1.3 Euro per segment. And we took it and saved cab fare. The Metro was clean, wll marked and we felt safe.
We did the 'tourist attractions''- such as The Eiffel Tower (twice ) The Louvre, Notre Dame, Versailles, Chartres Cathedral, saw the show and had dinner at the Moulin Rouge. We were not able to see Giverny-Monet's home and gardens because they were not open til 4/1. We did a package which included dinner at the Eiffel Tower and an evening cruise on the Seine River-this was really wonderful. At night, the Eiffel Tower goes into a twinkling mode for about 10 minutes each hour, after dark. That was really magnificent!!!!!!
I forgot the most important thing-the FOOD was just wonderful-French onion soup to die for-desserts that were better than those I had in Germany, which I thought were very good. Everything is from scratch-or so it seemed and richer than rich!!!!!!!
And, if you need to get from either Roissy or CharlesdeGaulle to the city-the air France bus is a real bargain at 10Euro-about $13US. Just ask Information at the airport and ask for the stop closest to their hotel, then they can hop a cab to their hotel. We walked from the stop near the Arc de Triomphe to our hotel about a 20 minute walk, which took us a little longer cause we got lost on the first day. One does not need to fly Air France to use the bus-it is for everyone.
A MEDITERRANEAN CRUISE IS THE WAY TO SEE MANY PORTS OF CALL IN EUROPE

The Med Cruise group in Mykonos, Greece. A wonderful time was had by all. We visited all over the Mediterranean and Mykonos was one of our HIGHLIGHTS! We all totally relaxed and enjoyed the day running around town and we took no tours here. Sometimes that is the best way to have a great time is to go out and explore on your own.

Don and Nancy Andrews, Audrey Lehner, waiter, Esther Van Lare and Gayle Zielke in Mykonos, Greece.



Pictured below are Gary Zielke, Richard Parrillo, Andy Lehner and Brian Ewald in Mykonos, Greece. The women were off shopping again!
Gary and Gayle Zielke, Brian and Betty Ewald, Rich Parrillo and Esther Van Lare, Chris Jahn, Doreen Katers and Audrey (hidden) and Andy Lehner.

Pictured here are Geri Murphy and Christine Jahn in Mykonos, Greece.

Thanks for everything you did to make the cruise a fabulous expericence!
Chris

Dear Gayle,
Thank you so much for all your hard work in arranging "the trip of a lifetime". My beautiful memories of other people and the scenery will last forever!
Thank you,
Coral Wilkens

Pictured above is part of the group in Mykonos from our Med Cruise group!

More great Celebrity Cruises

Steve and Pat Busalacchi from Muskego cruised the Mediteranean on Celebrity Cruise Lines in the fall and loved it! They took hundreds of pictures of scenery. Every one was better than the last, but I had a hard time finding one of the both of them. Here is Pat in Santorini Greece enjoying the sights! They both agreed that Nice, France (Southern France) was their favorite, Italy was second and Spain was third on the list of many favorites. It was hard to choose.
Bourn Giorno

I just wanted to drop you a line to let you know we had a wonderful trip to Italy. Globus really treats their customers well. The only complaint we had was they could have gotten us to the airport a good ½ hour earlier for our flight home. We had a flight and we didn't get to the airport until It was a bit tight but we did make it. An extra ½ hour would have been good. The sights, wine, countryside, everything was wonderful. Thanks for helping us with our travel plans and we look forward to using you again sometime in the future. We had a great time.


Globus was wonderful!! Oh, the hotels were really good, too. We actually stayed in Venice. Our tour guide said the tours are set up that you may stay downtown in Florence - we stayed out of town at a Sheraton which was very nice. But then the trade off is once you go to Venice, the Sheraton people get to stay in Venice and the downtown Florence people stay in the town on the mainland, I don't remember the name of it, but it was a bit of a distance. So we lucked out perfectly. We were a block off St. Mark's Square.
Barb & Carl Lancelle
Carleen & Ed Michalski
We had a wonderful time on our pre, post & Celebrity cruise. The most educational, cultural, and geographically interesting vacation we've ever done. The Hotel Sofitel in Venice was wonderful, but it was quite challenging to figure out the best way to get there from the airport. We wound up on the public bus with our luggage, which was actually the best, especially at 2 Euro each. There's alot to tell about it all. We can't pick a favorite time or place as it was all good. I'd sail on that ship again just to be able to experience the Olympic Restaurant - the extra-charge one. The best dinner we've ever, ever had. Our cabin was great. Our friends' surprises were very fun. We enjoyed Barcelona in the end despite the rain. Took in a flamenco show, did a city bus tour, etc. Celebrated Bill's birthday at the Hard Rock Cafe - so nice after lots of "what-is-this" kind of food!
Our old friends (and retired co-worker) Carol and Wally Zeck on their Med cruise. Pictured here in Monte Carlo.
"Thanks to First Choice Travel for recommending this incredible Mediterranean cruise. The itinerary was spectacular and a considerable value for the price," said Carol Zeck from her new home in Arizona. Carol and Wally Zeck enjoyed the harbor in Lisbon, Portugal and when they visited Valetta, Malta.
Pat Bonesteel and the gang loved their cruise from Barcelona on Royal Caribbean
Just wanted to let you know we had a great time on our cruise. It's the best way to see Europe and we would do it again. Got to stay in Madrid an extra night due to Iberia airlines fault. Another Atlanta situation but we got hotel, 3 meals and shuttle free even wine!
Thanks again you and Mary really helped us alot.
Good Morning, Gayle!
I saw Pat Bonesteel yesterday. She told me you would like to have a photo of our Mediterranean cruise group. Thanks to you and your crew for all the hard work that went into making this dream trip a reality for us. We had such a fantastic time, I can't imagine topping this one! But keep your ideas for great escapes coming! Thanks again!
Belinda S. "Lindy" Bowers
Thanks Lindy for the photo. All of you look so nice, glad you had a ball on this trip to the Mediterranean.
No worries, I will think of something exciting for you all! Gayle
Gayle,
We enjoyed our trip very much. We put on a lot of miles, ate a ton of good food, and visited with many relatives. Because of this, our pictures mostly consist of people – not interesting to the average tourist. Thank you very much for handling the travel arraignments, it all ran very smoothly.
Have a good day, Linda Dschida
THE WHOLE FAMILY TOOK A TOUR THROUGHOUT GERMANY
Gayle, We had a great time! The guide was terrific and the driver also very good. I would do another Globus tour, even by myself! We needed more time at some places and less at others, but the hotels were very nice, except one or two, and the food great-except a couple of times. But it was nice with so large a group to have an itinerary planned and times set to be places so no one would gripe or slow everyone else down. I will send a few of my 847 pictures (and those are mine alone--the kids took lots, too). Had some rainy days, but the weather generally was great for touring.
The ride to and from the airport was a Godsend--thanks again!
Long flight overseas, but was able to sleep. Kids bought me a cuckoo clock as a thank-you!
There were a few people on the tour who were a real hoot!
Our flight from Chicago to Frankfurt was delayed an hour and a half, so we thought we would miss our ride to the hotel, but the tour director had called the airline and found our flight was late so he waited for us! That really endeared them to us!
So, it was a great trip and I would go again in a heartbeat!

Thanks for everything!

Pam
I received Pam's Christmas Greetings: Our highlight of our family trip to Germany! I have waited 45 years to go back there, so this summer we all took a tour of Germany. We visited Frankfurt, Cologne, Berlin, Leipzig, Nuremberg, Rothenburg, Munich, Oberammergau, Neuschwanstein, Linderhof, Lindau, The Black Forest, and Heidelberg in 12 days. It was incredible!!!
CRUISE THE MED

A Celebrity European Med Cruise
We sailed onboard the Millenium from Venice to Barecelona. The hotel was very nice and about a 10 minute walk from LasRamblas, which is the area you want to be in or near.
The cruise was FANTASTIC, to say the least. The ports were great, as were the shore excursions. The first night was spent on board overnite in Venice, which allowed an excursion the next day. Then on to Dubrovnik, Croatia, which is said to be "the new riveria" on the Adriatic Coast. It was such a charming walled city, with great nooks and crannies. Athens and The Acropolis were amazing, and Santorini was just like the pix you've seen of the white closely spaced houses. And, you can either take a mule up or down the mt, or just take the cable car, which we did.
Naples and Sorrento, were also charming and great shopping. And Pompei was amazing-and lots and lots of walking!!!!
We were fortunate to visit The Sistine Chapel and, of course St Peter's Basilica, and, the coliseum. We could have had another day in Rome to see more, but one can't see everything in 2 days, either. For Round trip cruises-it is a must to do a pre or post-or strongly suggest a cruisetour. So much to see and do, and so little time!!!!!!
Florence and Pisa were also great. Our guide told us that all of Pisa is leaning, or sinking, cause the city is built on a swamp.
Our stop at Villefranche is also the port for Monte Carlo and Nice. We found out that we could have taken the train or a bus to Nice for 1 euro-about $ 1.20 US. All in all, this was a great cruise, and I can't wait to do it again!!!!!
I have been on several Celebrity cruises, and have no problem reccomending them due to the consistency and quality of the food and service.
What a wonderful AUNT to take her nephew on a once a year special cruise like this!

This once a year special cruise departed Southampton, London and cruised Iceland, Norway, the British Isles, and the fjords. A perfect place to meet up a couple of days before the cruise was London where Diane and Saku took the evening Jack the Ripper tour. Saku and Diane even met the famous Alice Cooper at breakfast at their hotel.
"It was a pleasure for me to have my nephew join me on such a special cruise. He served as a protector and a great guide through Norway and London. Saku's dream was to see Iceland and I made that possible for him. I am very proud to be able to share my dreams and vacations with Saku while also making his dreams come true. Saku, is Finnish but lives in Gothenburg, Sweden. I had the honor to visit his home two years ago and hope to visit him again soon."
Diane from Bristol and Saku from Sweden
Another BALTIC CRUISE to remember!
Imagine starting your cruise in Copenhagen with time to explore the city! All of us enjoyed visiting these countries that none of us have seen before. We made the most out of this trip. All the history we found in Norway, Sweden, Poland and St Petersburg Russia was a great highlight of the trip. The Lehner's brought their grand daughter Aubrieanna when she graduated! What a great gift! Educational too!
Pictured are the Busalacchi's, Lehners, Ewalds, Haasch's and Zielke's.
A little fun in Sweden at the ICE BAR!! What an education that was too!
ITALY IS A ONE OF THE MOST POPULAR EUROPE DESTINATIONS!
Mary and Bob Berdahl in Italy
Thank you for helpand planning with our Italy trip. Florence, Venice and Cinque Terre!
Mary and Bob Berdahl from Park Rapids Minnesota

Haven't YOU always wanted to take a ride on a Gondola in VENICE???
The Romans are coming!


Pictured above are Robert and Maria Klein from Big Bend, WI who visited Rome with 2 of their daughters (Desery Gutwein & Linda Dschida) and son-in-law Otto (taking the picture). They all had a great time in Rome and Germany. They visited the island of Capri and Pompei too!

Here they are celebrating their time in Rome, Italy!

SPECIAL 20 YEAR ANNIVERSARY IN FRANCE, ITALY AND SWIZERLAND!
Had a great time. Hotel they moved us and billed us at the original price. We didn't get to see much of the first, but the one they put us up at The Reserve ? was great. Good location, close to a little town with great restaurants.
We liked each town/city for it's own uniqueness. Really loved seeing the sites in Rome, but the traffic (smart cars and scooters) was enough to be glad you were on your way. Shopping in Florance was productive. Bought Keith a leather jacket and a couple leather purses. Few nice necklaces. The trips on the tour were great. Met a couple old ladies from Maryland that were a super treat! They absolutely fell in love with Keith. Small group with nice people except one jerk and his girlfriend. Venice was super cool with all the bridges and canals. Drank lots of wine there. Well. . . everywhere!
Dropped my camera the 2nd day in Italy. So we have pictures of the Vatican and several of the statues, etc, but most are from the crazy nights in France. Met some people at a local pub and partied into the wee night. Communication wasn't the easiest but you know us. We can pretty much wing it any where.
We're thinking maybe Spain would be a good place to go. Where did you have in mind?

By the way, we thought Globus did a fantastic job. We would highly recommend a tour through them to anyone!

Thanks Gayle!

Keith and Stacy
I think this picture of Keith Peterson was taken in France
but I am still trying to get to find out the REAL story
of this bike he was on!! STAY TUNED for more on BAD TRANSPORTATION!!
ITALY
Globus escorted vacation for a great group of friends!
This is just a short note to let you know that we had a fantastic time in Italy, far exceeding expectations. Without a doubt our best vacation since we started doing vacations in 1995.
Our tour director, Salvatore, had 12 years experience and was correct when he said we would not need name tags in two days because by then we would all be family. The 29 of us became close in that time and had impromptu get togethers before/after group dinners. There were many hugs and kisses on the last day.
Globus does a fantastic job of seeing what needs to be seen in the allotted time and the hotels were always in the best locations close to the action. They definitely know how to run a tour. We are already thinking of another trip, perhaps a river cruise in France.
We always write up a detail report of our activities on what we did. If you wish, I could send you a copy.
The Krumrai's, Marifke's, and Brey's
ITALIAN HONEYMOON WITH GLOBUS
Joe and I had a WONDERFUL time in Italy!! The tour was great, and we definitely had enough free time to wonder around the cities at our own pace. Our tour director Alessandro was the BEST!
Thank you SO much for helping us plan the perfect honeymoon! Now we need to figure out where to go next :-)
PS-I think Vernisha wished to go back to Italy again!

Why don't YOU celebrate a special ANNIVERSARY or go to ITALY just for the FUN of it??!!
Garilyn and Robert went to Scotland and England and then over to Paris to join their niece and nephew there. Pictured are the two of them on the Beatles tour in Liverpool. IMAGINE!!!
Judi,

We have single pictures but none of the two of us together in Scotland, but have two of us in Liverpool we met a Mother and Daughter from Canada and they took the pictures of us. The two single ones of Bob and I are on the muliniummn wheel and some from Paris.
Barbara and Dan Sedlock with Buck and Carol Houston on a Globus tour ...The Best of Austria and Switzerland. Dan and Barb told Judi Lapointe they had a wonderful time!!!
EXCITING GREECE
Jennifer and Nate Walters celebrate another anniversary in GREECE! What beautiful pictures and wonderful memories they brought back!!
Celebrate in the MED like David and Corinne Zweifel did!

"The Mediterranean is a wonderful place to visit - well worth your time and money. Everyone should take a cruise like this at least once in their lifetime".
Glad you enjoyed the pictures - that is just a few - I took lots of them - and video too....
Top is David in - Valletta, Malta
This was taken after we climbed many steps to enter the city of Valletta, Malta. The Brilliance of the Seas is in the background.
Left - Gondolas in Venice
Corinne - Enjoying gelato in Livorno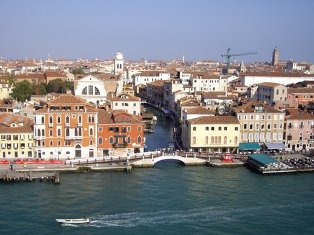 Beautiful Tuscania, Italy
BRUSSELS
Pat, It has been a wild and busy summer. I took about 2000 pictures, with a lot of editing in process. We do many senior citizen programs at nursing homes etc each year about our travels.
We had 43 people in our group. There were only 9 Americans and the balance were from Australia and New Zealand. We have a lot of invitations to visit our friends there. It was expensive, but a fabulous trip. The tour guide was from Munich. She was school teacher filled with the old history of the entire area. She also spoke all languages. Our bus driver was Italian. I certainly would recommend the tour to anyone. Globus did a super job. Our guide Hanni was so special!
Thank you. Albert Frankenstein
A GROUP OF 33 CRUISED THE MEDITERRANEAN AND SAID THEY WILL NEVER FORGET IT!
Pictured here are only a handful of guests First Choice Travel and Cruise hosted on the Voyager of the Seas. First Choice Travel and Cruise invited some of our usual group travelers, mothers, daughters, friends and couples. We all made some new friends on this exciting itinerary from Barcelona, Nice, Monaco, Monte Carlo, Rome, Florence, Naples, Sorrento and Palermo, Sicily and will never forget it either!
Pictured on top are Jim and Mary Ellen Webber, Geoff and Tammy Luther,
Dan Slane, Allen and Sharon Kohn, Marilyn Masar and Tammy Erdmann, Cathy Eichoff, Ron Reichert, Pat Weber, Lora Brodzeller, Gayle Zielke, Gesica Zelechowski, Roxanne Slane, Teresa Ramsey, Robbie Geboy, Arlene Reichert, Anna Restivo and Cookie Brock!
Everyone agreed it was one of the most amazing trips for all of us!



There was more to see than Palermo on this stop.
Here is Geoff Luther with all his girlfriends on the last port of this exciting cruise. Geoff said he wasn't sure he was going to be able to see all of these destinations as easily as he did in his wheelchair and he said this cruise was definately the way to do it. He was pleasantly surprised how easy it was for him and he was so happy to be able to see all these ports with such good company.
We lucked out with English speaking taxi drivers we found at each port and they were all so accomodating for Geoff and the rest of the group. We were all so impressed they did speak enough English to take us where we wanted to go.
(from left Gayle Zielke, Gesica Zelechowski, Tammy Luther, Robbie Geboy, a sailor Robbie picked up, Teresa Ramsey and Cookie Brock, with Geoff Luther in front row)
Tammy Luther said she would go back in a heart beat!!! I know Geoff would agree with her!!

Hey Gayle!
"I still feel like I am living in a dream that I was able to go on such a wonderful trip. My fairy tale vacation to the Mediterranean was more than I could have ever imagined!!!!!"
Everyone here keeps asking me what was my favorite city and its so hard to answer because they each had their own special touch to them to make it so unique."
I loved that we went a day ahead to be able to see Barcelona and that was a great tour too. Had a great time with "our own taxi" and we really lucked out with drivers.
Thanks for everything, Gayle! It was wonderful to see everyone and be together.
love ya,
Teresa

Cookie Brock agreed and said this was a Trip of a lifetime for her! So many great places to see in a week! It was amazing!
Pictured are Dan and Roxanne Slane, Geoff and Tammy Luther, Allen and Sharon Kohn, Cathy Eichoff and Anna Restivo, Cookie Brock and Teresa Ramsey, Robbie Geboy, Gesica Zelechowski and Gayle Zielke in Barcelona, Spain before the cruise! We all were happy we went the day before the cruise so we were ready for Mediterrean adventure aboard the Voyager of the Seas for a week!
Thanks for everything, Gayle. This really was a wonderful vacation!
This was, by far, the most educational trip we've ever taken! Not only did we have a fabulous time, but we learned so much about the historic significance of many of the buildings. The entire area -- Barcelona, Nice, Monaco, and all of Italy -- is beautiful. We were very impressed with how warm and friendly the people were. Luckily, almost everyone speaks English!

Roxanne and Dan Slane

The trip was fabulous! I'd highly recommend this cruise to anyone who was contemplating it. Check these pics out: http://italy.slanes.com
Rose and Joan on their first cruise...LOVING IT!!!

We had a wonderful time and everything was perfect. It would be fun to be at one port for awhile. Thanks for everything Gayle. Rose
MORE OF A GIRLS NIGHT OUT!! OR AS WE CALL IT MARTINI NIGHT!
Anna, Rose, Cathy, Cookie, Gayle and Joan celebrate at our favorite Aquarium Bar on the Voyager of the Seas!!

Gesica Zelechowski (who celebrated her 30th Birthday on board) said she loved every minute of this trip. Hugs and kisses for mom who made it possible was priceless. Couldn't say enough how great everything was. So many pictures, education, beautiful scenery and new experiences... so little time. The cab rides to the small villages were so fun. Singing "That's Amore' and other Italian songs with the whole van full of friends and family was a blast. Being able to travel to all these destinations was out of this world!!
The Trip was extremely outstanding! The best thing we did was get a local cabby to show us the highlights instead of those expensive boring tours! What a BLAST!!!!!!
I love big group vacations.
Gesica
Sharon and Allen Kohn said: It was wonderful - Now we need to rest up from the trip. I have to admit it was so nice. We always wanted to go to Italy and with being on the cruise ship it just made it so much better. Like I told different people about our trip, during the day we were Spanish, French and Italian but when we went back onto the boat we were Americans. Just made the trip so very nice. We could unpack and that was our home base for the week. I just can't help telling people around here how nice our trip was, and if they ever want to go over to the Mediterranean the cruise ship is the way to go.
Jim and Mary Ellen Webber of M&W Industrial Equipment said this was the BEST trip they every had! Loved Iberia Air, loved the hotel and the cruise on the Voyager of the Seas!
AVALON RIVER CRUISE (FRANCE)
Gayle;
Our vacation to France was a really great experience. We saw what we consider the highlights of the country, from the French Rivera (Cannes to Nice), wineries, medieval structures to the Roman aqueduct.
The cruise up the Rhone was relaxing with just the right amount of tourists on board. The people were friendly and we spent considerable time with a few other couples. The tours off the boat were informative and gave us insight as to what we were seeing. We always take in the optional tours and have seldom been disappointed.
After leaving the cruise and proceeding to Paris, we took in the optional tour of the Louvre which was great and highly recommended. Cameras are allowed everywhere. A small group of us asked the guide if he could get us outside for photos of the pyramid and he was able to accommodate us through an exit and then get us back in. (extra gratuity here)
A great vacation that met or exceeded our expectations.
Krumrai/Marifke Group
GLOBUS EUROPEAN TOUR SUCCESS!
We had a wonderful time! Our tour director Anne Horsman was delightful! She was extremely knowledgeable and shared many interesting stories. I was very impressed with her ability to recite so many historical facts and dates. Our city tour guides wer equally as impressive - especially our Roman Tour guide Stefano.
Our hotel accommodations were very good as was the food. There were numerous optional excursions offered and we enjoyed all those we participated in.
We traveled with a great group of people and keep in contact with many of them. One of the young men in our group created a Facebook page so we can share pictures and keep in touch.
My personal favorite was Switzwerland. It was a bit slower paced and the scenery was breathtaking! Jeff's favorite was Italy.
We would highly recommend Globus to our friends and family and will definitely keep them in mind for any future travel plans.
Thanks,
Jan Rzepinski
Sweden and Russia vacation for Joe Leeser and Erika
Joe and Erika took a short Baltic Cruise on Royal Caribbean while they were visiting friends in Sweden. How exciting for them to travel to the BALTICS!!!
1st one is the Hermitage : Russia
Changing of the guard in Sweden

Welcome sign in Sweden and ...........Upnorth Sweden...Lingonberry picking.

Gayle,
The cruise was great. Got a little seasick..never been on a big boat for that long before, but no real complaints. Me and Erika both enjoyed our time on the cruise very much.
Russia:
We went to the Hermitage, some 5 star resturant, St. Isaac's Cathedral and the Church of the Savior on Blood. All of that was awesome.
Sweden:
Gamla stan and just walked around the city. (Central Station is CRAZY!!!!)

Thanks for everything.
-Joe
Gayle
Thanks again for all your help. It certainly was a great vacation!
Mike & Diane
FOR MORE INFORMATION ON TRIPS TO EUROPE CALL A FIRST CHOICE TRAVEL AND CRUISE EUROPEAN SPECIALIST TODAY! 262-542-5955 / 800-896-4360 or
RIVER CRUISING
is the perfect way to visit Europe and all sorts of little unknown cities.