River Cruise Pictures & Comments from our Guests
Exciting River Cruises!

Take a moment to see what our River Cruising valued clients have to say about their Amazing River Journeys!
Uniworld River Cruise Portugal and Spain
Everyone loved our Uniworld River Cruise on Portugal's Porto River! The amazing sights we experienced were out of this world. The wineries and other activities we participated in each day were all great. The staff and everyone on board treated us like KINGS & QUEENS! The dining experiences and the all inclusive program were the icing on the cake!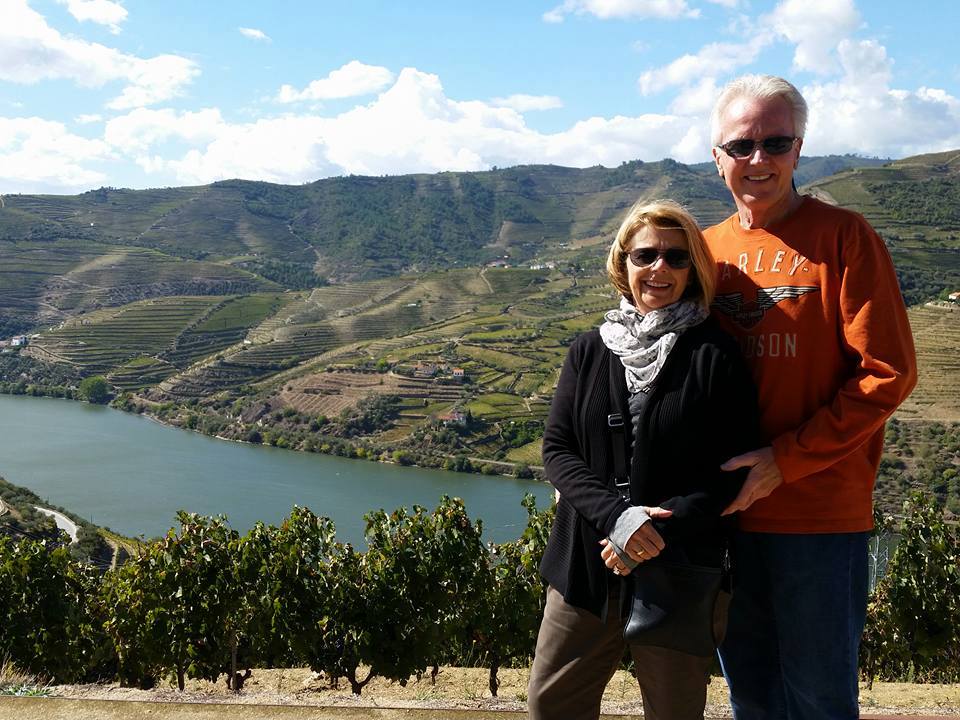 Viking River Cruise Adventure for Joe and Nancy on the Rhine and Danube River
"Thank you Mary for setting up this fantastic 15 day Viking Rhine/Danube River cruise. It was one of the best trips we've ever taken. Definitely will go on another Viking cruise. Already purchased certificates for the next cruise. Spectacular scenery, made wonderful new friends"
Mary. Enjoyed our Viking River Cruise immensely. Attached is a photo of us with one of the nightly entertainments that they had.
Greg and Mary Benes
Viking River Cruise ....Bordeaux, France
Hi Gayle,
Hope you had a fantastic trip. We certainly did. This was way beyond our expectations. The crew was great, service impeccable and the food and wine goes without saying. Loved all the excursions they offered and we did sign on to lunch at a Chateaux. Fabulous!
After all the wine we tasted and drank I still remember the trip........
Thanks for all your help and patience.

Pat
The grapes are merlot and the Chateaux Sharon and I are standing at is where we had lunch a tour of the vineyards and the huge Chateaux.
U BY UNIWORLD is NEW!
UNIWORLD CRUISE- Comments on their adventure!
Since "U" is a totally different product than a regular River cruise, only 2 meals a day, 2 excursions, and no Liquor Drinks included. Cathy Eickhoff's guests were all concerned that they'd be too old, for this, are early 50's, but the price was right, about ½ of a regular river cruise!
Cathy,
Now keep in mind that we don't have anything to compare to ... this was our first river boat cruise.
It was great! The boat was very nice but simple. Our room was nice but very small (u warned me). Nice size bathroom and great view.
Food was very good. Brunch and dinner every day. All meals were buffet with a chef station (omelets, pasta, carved pork). Great salad bar, awesome desserts.
Service overall was excellent. You could tell that they emphasize this. We had booked two tours in Amsterdam based on the itinerary. We found out on the first day that they changed the first first two days and so we couldn't use our tickets. The host bent over backwards trying to find us another option. In the end for one, they couldn't and so uniworld gave us a credit for the value ... they didn't have to do that. We were able to convince the Van Gogh museum to accept our tickets that were for another day. They did a good job of knowing our names.

They had two hosts (young) that did all our excursions and city tours. The city tours were great. Good orientation and then we got to do what we wanted. My only complaint was they they could have had more options for excursions. We did two excursions on the same day.
On our 4th day, they started in cologne. The ship then went to Bonn and let off people that wanted to bike. They biked to Remagen, got back on boat and went to koblenz. Glenn and I opted to train between cologne and koblenz. We stopped in 4 cities along the way with very little problem and then met the ship. Worked great and gave us some variety. We didn't want to be on the ship for a good chunk of the day.
Loved the Rhine gorge!! Sat on top of ship all morning as we went thru it. And, we loved Germany. Rudeshiem was the highlight!
There were 60 passengers on the boat ... capacity was 120. That made it great. About 40% of the people were our age or older and we believe the rest were 30 or younger. But a good crowd. For the most part we all got along and got to know each other. There were some late night activities on the ship that we for the most part did not do. Which was just fine. Wasnt too noisy or rowdy for us old people. Mostly Americans but some Australians and britts.
Definitely didn't need a drink package. Our bar bill was small (becuz we drank a lot of beer in town and brought so wine and whiskey on the boat with no issues).
They used an app on our phone to communicate everything. Worked great. But u really have to have cell service. Our carrier charges $10/day per phone in most countries so it was fine for us. We would have been lost without our phones on this trip. Free WiFi on the boat!
Over all, very good. We think we would definitely pick them again. The hotel manager told us that they are going to try to keep pricing where we got it. They think that is important to get the younger crowd.
Oh...we did have a hard time finding our transportation when we arrived. We called the number provided and they then showed. Was a private driver in a black car. Not bad...
A Uniworld Danube River Cruise with a Prague extension for these good friends!
I think we all really enjoyed our cruise and overall trip. The Uniworld experience was top-notch. The scenery was beautiful, tours were well handled, boat staff was excellent. The food onboard was good to great, with a couple notable exceptions. The wines and beers on board where good, the whiskey was even better. They had my favorite Scotch as an included item.( Oban 14).
Breakfasts were wonderful, with fresh scrambled eggs and the possibility of a fresh made omelets or egg over easy, whatever. In addition there was a full array of side items that made it a pleasure. Lunch was also buffet, with many delicious items. Dinner was off the menu, with several interesting alternatives each night. bus transportation and guides were excellent. Individual devices for listening to the guide with earphone for the most part worked well. we felt a bit rushed on some tours, but I don't know how we would've covered the vast amount to be seen had they not pushed us a bit.
I would highly recommend Uniworld. The hotel connections were also fine, Imperial Hotel, Prague, had some fluke things like the shower situation but that's local culture and an old but updated facility.
Trip home with both flights on British airlines went just fine. The flight from US to Heathrow ; Heathrow to Budapest had its problems in terms of flight delay out of Chicago, lost luggage, etc. We were supposedly on the fast track for security at Heathrow to try to make our flight. Security worked extremely slow, and we missed the flight.

It was a great trip, and it's hard to say which city we loved the most. Just watching the countryside go by as our boat traveled northward through the Danube or watching the countryside out of our bus window as we drove from Passau to Prague, was very enjoyable.
We enjoyed almost every evening on the boat or hotel in the lounge. On the boat, they had various musical entertainment in the evening that were very talented. Along the way, there were two concerts that were perfect as well.
A great trip overall and thanks for your role in setting it up. I also had the perfect companions with whom to travel.
Sisters on Uniworld River Cruise through Italy
Geri, Lois, Jan and Darlene loved their Uniworld River Cruise in Italy!
Gayle,
Our river cruise in Italy on Uniworld was 10 times more than what we expected! It was fantastic!
The food was definitely gourmet. Absolutely over the top!
This was nothing like a big cruise ship! Only 95 guests. We all loved it. All four of us, oohed and aahd! The ship was gorgeous.
We were treated royally. The open markets, our sister singing on stage, so many Italian sights, sounds and memories.
Brothers and their wives on an Avalon Rhine River Cruise!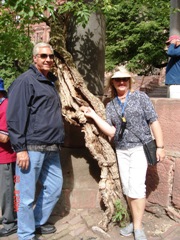 Hi Gayle,
This photo was taken at the tree that is centuries old and if you swear your love for each other while holding hands thru the hole n the tree, it is supposed to last forever.
Watching castles along the romantic part of the Rhine River!
Below is a beautiful castle on the Rhine.
Above: Chuck and Darrel eating eel like the locals in the charming village of Zaanse Schans in Holland.
The cruise was great, we loved the ship and the rooms were quite spacious for a boat. The tours were really enjoyable and I'm sure we will figure out what towns we actually saw when we go through all the pictures. For an "old peoples" cruise, they really keep you busy. Our favorite city was Heidelberg, but we loved the Black Forest and all the charming small towns in Germany. Lake Lucerne on the back end of the trip was a really nice way to end, it was beautiful and peaceful.
Thanks again for all your help. By the way, the cuckoo clock we bought in the Black Forest just arrived and we love it.
Charles and Susan Kuiper with Darrel and Diane Kuiper
AVALON Burgundy and Provence

Hi Sheri! Had a wonderful time and all accommodations turned out as expected. Avalon is a great company, all top drawer!
Lois Knutson and Ellen Schowalter
Avalon River Cruise
Hello Mary,
Thanks for the welcome home. The trip was wonderful. Everythinhg was first rate! We could not have asked for a better experience! We really enjoyed our Avalon adventure...food was fantastic and the service was excellent. On top of all that ....our captain was quite the character. We had a great time.
Attached is one of our pictures for your funny file. It is of the captain of our ship with only his head showing thru the trap door in the wheel house. The wheel house is lowered all the way down because of the upcoming very low bridge.
Regards,
Roy and Char Everett

UNIWORLD GROUP with Kathy Neuharth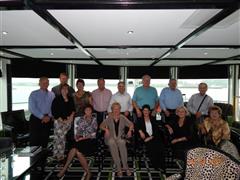 My husband Wade and I have always loved Europe and have gone by train, bus, car and cruise, but never did a river cruise. This fall we decided to fulfill that dream along with 6 other couples. We went on Uniworld's River Princess for 13 days from Amsterdam to Vienna, along the Rhine, Main and Danube Rivers. We all had the time of our lives. The staff treated us all like VIP's, the food was superb, the beds very comfy and the scenery awesome. From the big cities (Amsterdam, Cologne, Vienna) to charming small villages, we loved every second. Uniworld advertises themselves as a boutique cruise line, with only 123 passengers on board. They went out of their way to make our trip special. We are all looking forward to the next river cruise on Uniworld!
Kathy Neuharth
Avalon River Cruise (FRANCE)
RIVER CRUISE WAS GREAT!
Gayle;
Our vacation to France was a really great experience. We saw what we consider the highlights of the country, from the French Rivera (Cannes to Nice), wineries, medieval structures to the Roman aqueduct.
The cruise up the Rhone was relaxing with just the right amount of tourists on board. The people were friendly and we spent considerable time with a few other couples. The tours off the boat were informative and gave us insight as to what we were seeing. We always take in the optional tours and have seldom been disappointed.
After leaving the cruise and proceeding to Paris, we took in the optional tour of the Louvre which was great and highly recommended. Cameras are allowed everywhere. A small group of us asked the guide if he could get us outside for photos of the pyramid and he was able to accommodate us through an exit and then get us back in. (extra gratuity here)
A great vacation that met or exceeded our expectations.
Krumrai/Marifke Group
Viking River Cruise
2 Week Prague
Hi Gayle,

We had a great trip!! We ran in to some record high heat early in the trip. The ship gave us plenty of free water though and there was also plenty of local cold beer to sample. So we stayed cool! We were able to tour some wonderful churches, palaces, and castles, as well as see many of them from the ship. It was interesting to see first hand how the ship went thru the many lockes along the way. We were able to sample the local beer and wine, and to taste the local food both on and off the ship. The crew was very accommodating and friendly, and Rick enjoyed a few good conversations with the Captain. It was a small ship, so we met many nice people while on board. Gayle, we appreciate you, as well as all of your staff, who helped to make this trip one we will always remember.

Lori & Rick Berndsen
PRAGUE TO BUDAPEST ON THE DANUBE
If you go like us on facebook you can access the pics and info.
UNIWORLD

I just returned from a week long RIVER CRUISE on Uniworld Cruises. All I can say is Oh my Gosh!!!
Everyone needs to do this!!!!
The Uniworld people met us at security in Budapest and transferred us to the ship!!! No hassles there!!! Even though our new flights were about 2 to 2 1/2 hours earlier than when we were expected! Very smooth and nice.

All cabins on Uniworld are ocean view. On the top floor you have a whole wall of windows. Almost like sliding glass doors, but they don't open. We were on the next floor under that and we had wall to wall windows, but they were only the top half of the wall. Cabins are very small, but lots of places for storage, so you don't have stuff sitting around.

The cruise ship only holds 140 passengers---so when they tell you you will know everyone by the end, they really mean it!!! Not only are you on a personal note with the staff, you pretty much know everyone's name on the ship. Dining if open and free style, and most people chose to meet
different people daily, only a few stuck to themselves. There were only 84 passengers on our cruise, as it was the first sailing of the season. Fabulous!!!! Fabulous!!! Fabulous!!!

We spent the first day in Budapest, Hungary. They did a half day city tour and showed us all the sights, including fisherman's ... and then for the last half of the day and evening, we were free to explore Budapest---we took a small boat from our ship across the river, and we were right in the heart of the main shopping strip. We walked down to the end to the Market, where they sell fruits, vegetables, fish, etc. as well as locally made items. We were told this was the best place to buy Paprika. They sell both sweet and hot and Budapest is very well known for this!!

Monday night we set sail and on Tuesday we were is Bratislava, Slovakia. It is a very new country, formed out of Czechoslovakia, when it split. We did a city tour here as well and then free time for shopping. What impressed me most, was our guide, who I would consider young----maybe mid 30's , talked about communism and how they could look over the river and see freedom, but there were guards with rifles stationed all around, and could not get to it!!!! Although we all know this from history, just seeing it and talking to someone who had actually been through it was fabulous.

Wednesday we sailed to Durnstein in the morning and visited the quaint little town, and then sailed on to Melk for the afternoon and evening. We did the city tour and visited cathedrals, where we had a short organ concert performed just for us.

On Thursday, we moved onto Vienna. Up until today the weather had been sunny and around 60 and Beautiful. Today it was rainy off and on and dreary and we had to wear our winter coats again. We did a city tour in the morning, and then had some free time in the later afternoon for shopping
or exploring, and then we went to a Mozart and Strauss concert in the evening. This was the only thing that was an extra excursion, all the rest of the tours are included. It was so worth it!!! There was a small orchestra, and singers, and ballet. We just felt to get that close and not experience the music would be a shame.

On Friday we sailed on to Linz and had a full day trip to Strasburg, Austria. Absolutely beautiful-----saw Mozart's birthplace. Can't describe the beauty of it all. After the bus returned, we got to walk into Linz and do some shopping in their town square.

One of the main things to remember is that the ship docks right in the center of town and you can get off and walk anywhere, so there are no other expenses.( except for shopping). All your shore excursions are pretty much included. They only offer a few others, like the concert one we did. The flowers were in full bloom and fabulous everywhere. Their climate is much like ours, so I don't know how they keep them blooming this time of the year, but they do. (I think their nights aren't as cold as ours!!!!) I have a picture on my desk of the flowers, if you are in the office, come see it!

There is really not much to do on the ship, there is a piano player in the evening in the lounge, and that is it. But you are so close to town, and the ship doesn't sail until late many evening, so you can get off and walk to town. Sometimes when Europeans say it is a short walk, I get worried, because they are much more accustomed to walking than Americans, but all these stops really were easy walking distance for everyone.

The overall age on the cruise was much younger than I expected. I would say 50's or so. Not a ton of real young people, but definitely some, so they are not all old. Very active staff, that participate in things as well, and everyone does many things!!!
Did I say it was all FABULOUS!!! This type of cruise is not for everyone but if you are looking for something different, this is definitely an option. Oh yeah, on the tours, they give everyone headsets so you can hear the guide well, without having to stay huddled around!!!! In the cathedrals you can wander and look at things, and still hear all she is telling you.

Karen Noll
PS- While all the food is included (and it is quite fantastic) it is not like on a regular cruise ship. You get three meals, and they have donuts and coffee out for those up real early besides. There is a really nice buffet breakfast, and a nice buffet at lunch time, and then your dinner is sit down (most nights). If something big is going on that evening, they occasionally do it as a buffet----like the night in Vienna when everyone (almost) went to the concert.

Lunch times Vary a little bit, depending on when tours return, etc. But then there is no more food until supper. You get plenty of food---it is just different.
Bette and Chuck Zarnke on their Uniworld River Cruise
Uniworld River Princess sailing from Vienna to Amsterdam for 13 days.
Our cabin had a French balcony . The cabin was comfortable enough. Very clean. The beds exceptional comfortable. However as to be expected they are small. But very little time is spent in the cabin . This particular cabin had excellent internet something I did not expect in the room.
Food and wine was outstanding including the early breakfast and lunch. Never did we go hungry.
Between 4:00 and 5:00 they had tea time with snacks, depending on the time we sailed you had Cocktails from 6:00 to the time of dinner with small snack served at your table until the time of dinner at 7:00.
Daily programs were given to you daily so you could plan the next day; tours had three choices, active, walking and slow walking, guess what I was on; The tour guides were excellent and the videos you were
given was never a problem hearing all the information about the destinations.
Entertainment was mostly a repeat of the piano player same songs over and over again; We did have a few nights were we had Dixie and Swing and Singer that came aboard for about an hour. One of the couples on this cruise put together a karaoke night; she printed off the words from her cell phone.
The ship's fitness center has one treadmill, two stationary bikes and one climbing machine, few weights, I never seen many make use of this.
Had two small washers and dryers, ironing board and complimentary soap; had to be up early or wait until after dinner to get to use them; dryers took forever I hung most of the laundry in the shower overnight and that worked great, it did the trick.
We enjoyed the smaller towns especially Regensburg, and Rudesheim; Amsterdam was a must to see but the weather that day was raining and very windy;
There is nothing I would change on this wonderful cruise, every one of the staff goes out of your way to wait on you. We meet a lot of great people the cruise only had 79 people on the ship I think it usually has 132 so it was really nice
If you ever get a chance Uniworld is really the best, everything was included all alcohol (top shelf) gratuities, transfers and best of all the transportation for tours were on deluxe motor coaches.
Bette

AVALON RIVER CRUISE....CHINA, HONG KONG, AND MORE!
Annually we take 2 month long trips throughout North America, Europe or Asia. Last year our trip to China, Hong Kong, Tibet and Mongolia with 1.4 B people and a 5000 year history was beyond words. The supreme highlight was spending 4 days staying in a Ger in the Gobi Desert riding Mongolian horses and camels visiting the nomads.


For more pictures see our ASIA/CHINA customer reviews.
Community volunteer, Mukwonago Lions Club,
Wisconsin Chapter of the OHS
Uniworld Germany River Cruise on the Main/Rhine River
Gesica and Gayle along with a great group of adventure seekers visited Germany starting in Munich and ending in Cologne! This was Gesica's first time and a first for many in the group! The Beer, wine and food were excellent on Uniworld and so were the activiites and sights we experienced.
A few highlights from the group!
For more information on which river cruise will be your best option please contact a First Choice Travel and Cruise River Cruise Specialist. 262-542-5955 or email: