Welcome to First Choice Travel and Cruise's Customer Comments and Pictures. Since 1991 we have enjoyed being part of making "MEMORIES" for our clients. We really enjoy hearing the great things and even the not so great our clients have to say about their VACATIONS and I think you will too! Sometimes a picture is worth a thousand words so please take a look at our "SHOW & TELL" from our clients!
Can't decide where to go? Read what our friends below have to say about the resorts, the destinations and our guests own travel experiences before YOU make up your mind!!
You can also find more pictures and quotes from our clients by clicking on the following destinations: ALASKA, Costa Rica, Tahiti, Hawaii, Europe, Mexico, Family Vacations, and Cruisers, Destination Weddings and Honeymoons and page down to the bottom!
VIETNAM
We recently returned from Vietnam and Cambodia and I would be remiss if I did not acknowledge Sheri Koch for the planning and coordination she provided to make it such a wonderful trip. We have worked with Sheri since 2002 to book travel to China, Peru, Croatia and numerous other destinations. Because of the great customer service she provides it's easy to plan and book a trip and we always know we can embark on our travel confident that all the details have been attended to and everything will go flawlessly. (As much as that is possible when traveling!)
This great service is evident every time we work with her and our trip to Vietnam and Cambodia was no exception. Although we were going to travel with a tour we wanted to arrive a few days prior to the start of the tour and she deftly handled all the independent flight arrangements, airport transfers and hotel arrangements. Then about one week before departure a problem arose concerning the cabin we would occupy while on the cruise we would be taking up the Mekong River at the midpoint of our trip. After a frantic call to Sheri, she contacted General Tours/Ama Waterways and quickly resolved the issue and our accommodations on the boat were fantastic.
It's examples such as these that make it such a joy to work to work with her and we look forward to planning our next adventure with Sheri and First Choice Travel and Cruise.
Regards,
Cindy Barder
ST LUCIA
Gregory and Lindsey and they stayed at Sandals Regency La Toc.
Hi Mary!
It was AMAZING!!! We were so blessed with amazing weather, only 1 day of rain. Went on 2 excursions that were very fun. Our room was facing the ocean and the pool. The hospitality we got was outstanding, people there were so so nice. Everything was just wonderful!
Punta Cana
We want to thank you for working with the group and taking care of making all the arrangements. We had a wonderful time. In fact, we are already thinking of next year, possibly going back to Ocean Blue but making reservations for privileged.
Eddie and I even had fresh fruit and Champaign in our room, I am sure you had something to do with that. Your the best!
Thanks again and we'll be in touch soon.
Company trip to Las Vegas
There's no question in my mind I wouldn't have been able to get my entire team to Las Vegas on such short notice, and on budget, if it wasn't for you and your team's diligence and time consuming "extra" efforts.
You and your team did a great job and I will absolutely use your services again!
Barbados (SANDALS)
We got a great room. It is on the first floor close to water sports. Mike did 2 dives today. I Got a mani/pedi then we got a couples massage. Last night we ate at Bombay. Really nice, the waiter helped us order the perfect meal. The plane trip here started early but was Ok. It always helps to get a glass of champagne upon arrival.
A reminder about Disney's photo pass to a favorite client brought out this reaction: We used it last year and thank goodness! Michael and I were so awestruck that we forgot to take any pictures of our own!
San Antonio....The River Walk
Hi Gayle, We loved San Antonio! And we both agreed that the Omni was the only one we would have wanted to stay at. It was beautiful, our room was spacious and pretty, and it looked right out over the Riverwalk. It has so much character and history. So yes I think you can keep on recommending it to clients. We did the tourist-y things like the Alamo, the Tower of the Americas, and went into a lot of nice bars and restaurants. Everything we did was fun and we were both tired by the time we got back so the trip was a success.
Dave and Gay
A Globus Tour in the US
Clyde and Ellen Krumrai visited Washington DC - Philadelphia on a wonderful Globus - America's Historic East tour!!!
Another great tour (it is not a vacation since one does not relax). Thanks to Senator Kohl's office Ellen and I had a White House tour on Saturday morning. It was suppose to be at 9, but was changed to 7AM because of activities later in the day. I asked the secret service agent in the main dining room what the occasion was. It was a staff meeting a few hours later in the room we were in. The table had note pads and pencils at each chair and silver coffe pots and WH cups at each end of the table.
It was an excellent tour, saw many things and also learned a little history that we did not know. Most of the hotels and meals were very good, but there were a few that could have been better. Williamsburg is very touristy and the Crown Plaza there was very disappointing.
It was a very busy week and most of the time we all said that we could have spent more time at most of the places. All the people on the tour were friendly and we spent many hours with couples from New Zealand and London. It is a well run tour, knowledgeable guides and we would highly recommend it.
Clyde and Ellen
Suprise Birthday trip to the
Turks and Caicos! They stayed at Seven Stars Resort.
Sara,
The trip was great! It was the best beach we've ever been to ….resort was also very high end. We would recommend turks to everyone!
Thanks -Jake
The Group from Random Lake Area stayed at the Ocean Coral and Turquesa in the Riveria Maya
Gayle,
If anyone didn't have fun on this trip it is was too bad.
14 people left and 14 came back. The trip started off with 9 airplanes arriving Cancun at pretty much the same time. I thought there might be a riot. It took around 2 hrs to get through. That was the only negative.
The resort was just fine. The food was average to good. Nobody I know complained. I gained five pounds. With 14 people we all did some excursions. I managed to get some golf in $$$. Sandy finally swam with the dolphins. Buck list check. Of course we did the normal shopping and snorkeling. The weather was between 80 and 88.
The flight home was uneventful and on time. As we get older it takes extra time to get back into the normal routine. I am not sure if Sandy down loaded the pictures. We will send you at least a group picture. Norm celebrated his birthday on the trip.
Thanks a lot. Sandy and Dennis
The weather was good, we did have one day that was cool when the sun wasn't out. Our room was very nice. One thing is our group was spread out all over, which we didn't like. We were in all different building. The swim up pool bar was great. The only thing I did not like was kids in the pool bar, even at night like 10:30p.m.
I did tell the staff that was the one thing I did not like. The food was good. Some of the waiters were not very friendly, which again we did tell the staff. In all everyone had a great time, and the time went very fast. Sherry and I did swim with the dolphins, which was great. The guys did golf one day. That was a little pricey. In all it was fun.
Sandy
Hi Gayle,
The weather was a little cooler than other years, but still nice. The Cancun airport was just crazy. It took us 1 1/2 to 2 hours to get through customs and get our luggage.
The food and drinks were good. The people at the resort were very friendly. Diane and I went snorkeling with the resort staff. We got onto a boat right on the beach and they took us to the reef about ¾ mile out. It cost $39.00. well worth it. We didn't have to get on a bus or pick up other people at different hotels. We snorkeled for 1 hour. That is plenty of time to explore. Swimming against the current takes a little out of you. There was 3 people from the resort in the water with us to make sure everyone was doing OK.I really liked the location. A short bus trip to and from the resort was great.
When we checked in, Diane asked if they had any ocean view rooms and they upgraded us for free. We didn't go on the timeshare tour. I really didn't see the need to be "Privileged" or pay the additional cost. The evening shows were good and the staff very friendly.
As I get a little older, and a grandpa, I didn't appreciate it that there were kids around 12 years old in our pool with all the drinking going on. We told the staff about that and they said they really couldn't do anything about it. It was up to the parents.
Al
Hello to Gayle and staff,
Congrats on 20 years of making people smile!!!!!! We thank you for all the years that you have given us memories to cherish for a lifetime. Wishing you many more years of continued success.
Sara,
Thank you!! Very, VERY excited to go. Especially, looking outside right now - snowing... Yep, we're good on passports, just got them less than 4 years ago, and only went to Mexico with them so far. Thanks so much for all of your help. You REALLY made me feel comfortable with all of this. You were extremely prompt in returning calls and e-mails - thank you! The wedding will be small but it will be all ours!
Thanks Again Sara!
Alta
NEW ORLEANS FUN TRIP
Hi Tana!

I guess I am the one who is extremely behind and I apologize for the late
response. I hope all is well. The trip was outstanding to sum it up. It
was the best vacation Athena and I have shared together and I wanted to take
this moment to say thank you for everything you have done to make that
possible. I hope this picture will work for you. Thanks again!

Hotel was Maison DuPuy

Ed and Athena
JAMAICA at the IBEROSTAR GRAND....ADULTS ONLY LUXURY VACATION
Kevin wrote to me about his trip to Jamaica at the wonderful adult only Iberostar Grand:
Gayle, that place was amazing. I didn't step foot off the resort. No reason to! It was awesome. I wanted to leave and try the zip line but why leave when you've already found paradise.
The view from the pool bar is something I will never forget.

"Gayle by far the best vacation I've taken to date. Kudos! I cannot wait to see where you send me next!! no worries mon!

Kevin
A Group of us joined the B93.3 WLDB radio station in Ocho Rios, Jamaica for a wonderful week of FUN in the SUN!!! Staying at the Sunset Jamaica Grande was indeed a GRAND time. The time went by so fast and the weather was soooo nice in JAMAICA MAN!!! Mindi Abair's concert was certainly a sweet addition to all the FUN! The Rainforest Bobsled, Mystic Mountain and The Zip Lining there was a BLAST! A BIG Thanks to Michelle Powers Kaufman from Sunset Jamaica Grande for all her help and assistance with the Jamaica TouristBoard, sightseeing tours and radio promotions.
Harold & Marilyn Kirby, Gary & Diane Staples, Russell Frye & Thomas Frye, Melvin & Barbara Mueller, Donald & Judith Suleski, Robbie Geboy, Gayle Zielke, Joy Johnson and Gina Koukouras, Mindi and Jason, Stan Atkinson – Program Director, Tammy and Kaley Atkinson, Nolan, Carol Gortmaker – Morning Show Co-host and Alan Gortmaker, Patrick and Amy Berger, William Hurwitz – Station General Manager and Lynn Hurwitz.
The girls were all over Russ Frye in the picture on the right. He did not seem to mind it in the least! Robbie, Gina, Gayle, Mindi, Russ,Kaley, Amy and Joy.
Donald Jr. & Marna Untiet are not pictured.
Gayle,
Thanks for everything you did to make our trip memorable.
Thanks.
Judie Suleski
I can't begin to explain how strongly Ron and I are anticipating this vacation!! I also wanted you and Karen to know how much we appreciate you guys getting back to us and working hard to find us a vacation. I didn't tell you this, but I did call Fox World (2 different locations) and one of the Apple vacation numbers in the Sunday paper before I finally gave in and told Ron I was going back to "the place next to my dry cleaner". Do you know that out of the 3 agents I talked to between Fox and Apple, only 2 sent me package ideas (one each), the other one said she would and never did, the 2 that sent me something never bothered to follow up with me after that initial email exchange. I called, sent email questions, asked for different package ideas . . . nothing. The one guy said that we'd "never find a package in March" because everything was booked into April. I thought that, wow, travel agents must not be too needy for new clients!!
I am glad you guys showed my Fox Point boyfriend that us Waukesha ladies can get it done!

GREAT CRUISES can even be more fun with a GROUP! Share the experiences with some new friends!
Hi, Gayle!
The weather was perfect. The last night at sea was a tiny bit bumpy. The ship was fantastic, the food delicious and the staff very helpful. Everyone had a wonderful time! They are already asking where we are going on the next cruise!

Thanks to you and your staff for all the help in putting this adventure together for our club members and their friends.

Belinda S. "Lindy" Bowers
AVP-Marketing
Citizens Bank of Mukwonago
The Citizens Bank of Mukwonago... Good Life Club cruised from San Juan to the exotic caribbean on the ADVENTURE OF THE SEAS! Sounds like they had a great adventure. The cruisers came together from all over Wisconsin and Arizona too!
RIVER CRUISE UPDATE
THANKS! That insurance news was awesome. You're always one step ahead on keeping down costs. Appreciate it very much! BEA & Rog
FIRST TIME CRUISER
To Gayle and First Choice Travel and Cruise,
I have just returned from my first cruise on Royal Caribbean on the "Adventure of the Seas"!
Everything was perfect. Our Junior suite was much larger than I thought and very comfortable.
I so appreciate your service and would definately recommend you and First Choice Travel and Cruise to my friends.
You are great. My heartfelt thanks.
Why not surprise your sweetheart with an ENGAGEMENT TRIP?
Or even better... pull a cool surprise while you are on vacation like John Palmer did to Rebecca Van Wormer. With the help of the hotel he planned a special private candle light dinner on the beach and then asked her if she would MARRY him !!
Of course she said YES!! How Romantic!
Rebecca, the owner of WHIZBANG Salon in Waterford and John from Quality Auto and Truck of Racine said there will be a wedding soon!
SPECIAL ANNIVERSARY TRIPS or ANNUAL ANNIVERSARY VACATIONS!
THE ATLANTIS IN NASSAU BAHAMAS
Anniversary Trip
Gayle--HI!! Thank you so much for all of your help. We had a great time. That is an amazing resort. Very, very beautiful. It is great for people with kids because there were a ton of aquariums and waterslides. The food was outrageously expensive but very good so I would warn people to plan for that. We had a great time though. I went to a dolphin encounter there off the property that was
great. Thank you so much--you always do such a great job with helping us.
Jennifer and Nathan Walters
Louisville, Kentucky
Special Anniversary trip to TAHITI!
Hi Gayle,
We wanted to thank you for following up on our recent trip. You did a wonderful job and we are delighted with the goodwill of both resorts. We will remember Tahiti and you with fond memories. We did experience many wonderful new things and we thank you for your input of picking out certain excursions. They all proved to be exceptional!
We really did have a wonderful time and we do hope to return. We are already saving again to go there!!
Thank you again for everything!
GIFT CERTIFICATES ARE GREAT GIFTS FOR ANNIVERSARY PRESENTS!
Tana helped Teresa work with her friends and relatives to collect money for her parents 35th Wedding Anniversary. She was so grateful and nice to work with Tana said.
Tana,
You have helped us out greatly! Thank you very much! Our parents will have a wonderful trip for their 25th Anniversary. Thanks for your help!
Paul, Shannon, Todd, Michelle, Rick and Teresa
A 10 year Anniversary for the Burnett's celebrated in Jamaica!
Our trip was wonderful! Sandals provided the perfect getaway and the weather was perfect. Our next trip will probably be a family trip to Disney - we will let you know when the time comes. Thanks again,
Hi Gayle ~
Just wanted to drop a quick note to tell you how much we enjoyed our recent anniversary trip to Mexico.
Looking back, we can't think of one single thing that could've been any better than it was! Our flights were right on time and flawless in both directions. Our resort - the Iberostar Paraiso Lindo - was absolutely beautiful, with great food and even greater people. The Lomas Travel representative at our resort, Mauricio Cosey, was especially helpful and courteous.
We wish we had photos to share with you, but our camera never made it out of the bag! We were so busy
being lazy and just having a good time that taking pictures even seemed too big of a chore. (If that's not a testament to total relaxation - I'm not sure what is!) But we will certainly never forget it.
We've already started talking about when we're going back; we'll be calling you when the time comes!
Sincerely ~Adam & Stefanie Bonesteel
(Side note: NO PROBLEM about the pictures...we understand and are HAPPY you had the perfect Anniversary trip!)
Anniversary cruise to the Mediterranean
The Celebrity Mediterranean cruise I just experienced was a wonderful once in a lifetime trip. See more...Gayle
Brian and Betty Ewald of Oconomowoc celebrated a special Anniversary on a Mediterranean cruise. They visited Italy, the island of Capri, Mykonos and Santorini, Greece along with Nice, France, Monte Carlo and Monaco! A good time was had by all.
The guys had a great time on their own in Mykonos, Greece. The ladies were busy shopping and enjoying the sights!
CELEBRATE A SPECIAL ANNIVERSARY IN HAWAII!
Margo and Rick Bucholtz from Oconomowoc have been waiting to go to HAWAII all their lives. Rick really wanted to go but it took a special 30th anniversary to get them there!!! They had the time of their lives and enjoyed Honolulu and a cruise to Maui, Kauai and the Big Island too!!
The Bucholtz's loved the cruise and all of Hawaii. Margo found a new friend and Rick finally got to see the black sand beaches of the BIG ISLAND. Unfortunately they could not see the volcanoe.
ITALY
We had a WONDERFUL time!! I can't thank you enough. We met some incredible people on the tour. We have even decided to keep in touch and maybe meet in Hawaii next year with the four other people we really clicked with on the tour. Globus was excellent-absolutely no worries. The guides name was Elena Bertola and she was outstanding.
I'm excited for you to go- I'm sure you have been there before though. The weather in Italy is a little hotter now than it was when we were there. It was beautiful. Bring the umbrella- it sprinkled intermittently then was sunny and 70's.
The biggest advice I can suggest for anyone you send on these trips is to be comfortable- shoes, clothes, etc. Some people thought it was the fashion capitol and dressed with that in mind. No one on the street looked like a high fashion model. Also, to wear a purse that goes across the body but not to be too freaked by the concern of theft. I wore the money belt and thought it was terribly uncomfortable. I could have easily just put some money in my purse and left everything else in the hotel safe. I really didn't worry about being pick-pocketed.
The other thing that gave me some hassle was my Tyme card. It worked fine at the Bank of Rome but when I went to use it at another Tyme machine, it said the card was out of funds. I really got concerned. I was told it would work at any time machine that carried the Plus logo. Wrong!- it needed to be attached to a bank to work. Just something that might help another client from some significant worries.
Anyway, have an absolutely great time. I would advise you to skip the Uffizi Gallery in Florence if you have another option. I, personally, absolutely loved Venice. Can't wait to hear what you liked best.
Be safe and enjoy your vacation!
Working with Tana at First Choice Travel and Cruise was the BEST decision I made related to our 25th wedding anniversary trip!
Tana took care of all the details, help make the selection for travel destination, recommended the best places to stay, and put the entire trip together in a manner that fit our budget. Her follow-up was phenomenal! I have and will continue to recommend Tana and First Choice Travel and Cruise to all my friends and family!
Thanks Tana!
Dale and Vicky Schaechterle
President
Realty Executives Integrity
OUR GREAT NEXT DOOR NEIGHBORS IN THE MALL
--Barb and Joe Gonzales from the Hair Artistry Hair Salon went to Hawaii 2 years in a row. This time they went with their long time friends Carole and Ron Wolter to celebrate a Special Anniversary!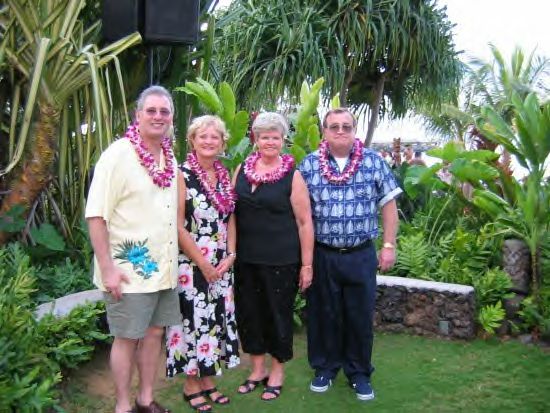 We're back from our HAWAII vacation and it was wonderful!!! We were at the Old Lahina Luau as you suggested and it was great! We'll talk more later. Thanks a million . Barb
A GIFT FOR LOYALTY AND EMPLOYEMNT TO HAWAII
After 50 years of service Steve and Lois Vaclav from New Berlin were given a wonderful Hawaiian Cruise for Steve's retirement from HM Graphics in Milwaukee. Wow what a nice company to work for! Steve and Lois loved their NCL cruise to Hawaii. Lois said they saw the whales on all three islands!
Celebrating a special Anniversary in BERMUDA!
Hi Gayle - Jim and I had a great time in Bermuda! It was absolutely beautiful and the Elbow Beach hotel was great. Jim said I picked the perfect hotel. The picture they put on their hotel postcard is exactly the view we had from our room. You'll have to check it out in person when you can. They did give us free breakfast for our days in April which turned out to be an excellent value. It otherwise would have cost about $20/person for a great buffet spread of hot and cold items, pastries, and special orders from the kitchen like omelets and waffles, etc. They also gave us a complimentary bottle of champagne our first day, so we celebrated accordingly! The staff was super friendly, as were everyone else we encountered on the island.
The weather was more cloudy than we would have liked, and we got totally drenched by rain on our motor scooter, but we got enough sun to get a tan. The beaches on the South Shore were absolutely beautiful - some of the best I have ever seen. Lots of secluded coves you could have all to yourself (at least at this time of year - probably not during the middle of the tourist season), or you could stay on the main beaches which were as clean as could be. Just don't go for the food - lots of British type fare at the pubs and otherwise eclectic mix of everything imaginable from pasta to seafood, but all expensive - which I expected. Also, very good shopping in Hamilton, but disappointed in shopping at St. George's.
CHECK OUT THE PINK SAND!

Thanks for your help in booking our trip!
Terri Sgarlata Lutz and Jim Lutz
FAMILY VACATIONS!
DISNEYWORLD is great all year long!
What a wonderful way to celebrate the Easter Spring Break with a Grand Gathering at DisneyWorld. Len and Reggie Lester, the Weinkauf's and Raduenz families had a great time at Disney. Reese, Julia, Olivia, Anna and Tess celebrated birthdays while they were there too.

Reggie said the meal plan was well worth it and they loved the International Illuminations dinner show. The children were able to participate in the show too which made the trip extra special.
They definately wished they stayed longer!!

There is always next time!
Hi Gayle:
We all had a great time and here is a picture of the gang at Disneyworld in October.
Kathy Rosenkranz

The whole Rosenkrantz family was able to get together for this family reunion at Disneyworld! They loved the meal plan and the FAST PASS too!
The Krause Family just returned from their family vacation at to Walt Disney World. We had a wonderful time!!!!! We didn't have to stand in lines at all and everything was decorated so beautifully. Thanks again for making our trip run so smoothly.
Lesa M. Krause
ARUBA!
Gayle,
We had so much fun while we were in Aruba! The guys went on a hour long boat thrill ride called the screamer. They really liked that. Also, Thatcher went on a Pelican Tour snorkeling trip. They went in Catalina Bay, a shipwreck and one other place that I can't remember. They served a champagne brunch. I know that they got to see the lighthouse from one of the sites. My mom and I went on a bus tour that went to the lighthouse, the rocks, the sand dunes, and the natural bridge. I hope you have as good of a time as we did.
AMANDA SEARS
For more Family Vacations and Disney trips click here: "
SHOW AND TELL
Family Vacations.
VACATIONS FOR EVERYONE
Hi Tana
I am not sure where next. Thanks for all of your work. This weekend Barb and I were talking that we could set these trips ourselves over the net which would be less money but, we like the idea that we give you the information and you do all of the work. It makes our worries about if we get what we wanted right.
Jim and Barb Foley
Disney is NOT just for the kids. Don and Marna Unitet went for their anniversary trip and loved it.
The resort and park were great. Everything you arranged for was wonderful - we even had a few great nights in downtown at a comedy club and the Adventurer's club. Now I can cross Disney off of my must see list. Someday I'll have to take my granddaughter.
Thanks for everything. Hope to see you in Mexico next January. Don and Marna
RIVIERA MAYA and MEXICO

Pictured below is Jaloo and Michael Becker at the Club Maeva in the Mayan Riviera.
Mary,
Thank you so much for all you did for our vacation to Mexico. We definately will come to you for all our future travels.
Thanks again,
Michael and Jaloo Becker
Hi Pat, The trip was fantastic. Everything went perfectly. Apple Vacations is top notch. USA 3000 was one of the best air lines we have ever flown with. We wouldn't travel with any other group now that we have traveled with Apple. The people, the resort, the food, the drinks, the entertainment, the ruins, everything was perfect. We discussed what could have been improved or changed and could not come up with one thing we would have changed or would have wanted changed. Thanks for all your help and recommendations! You did GOOD!!!!!!!
Thanks again,
Jeff and Gina Rose
Dear Pat,
Thank you for booking our Funjet Vacation to the Moon Palace Resort in Cancun. This was our first vacation to Mexico, but it will definitely not be our last. The Funjet representatives and the staff at this resort were so accomodating. The food and drinks were plentiful, our room was perfect.
This was the most relaxing stress-free vacation we have ever taken. Thanks again and have a great summer.
Sharon and Dale Fredrickson
The NEW...Ocean Coral and Turquesa
Dear Tana,
We had a great time, didn't want to come home as usual. The resort was nice for what we paid. It had some positives and negatives, but mostly positive. Rooms all were ocean view unless you were on the first or second floors. We requested 3rd and got it. Resort was beautiful, clean, ocean had some seaweed but they were always cleaning it up. Service was good. Location was great, 20 minutes from the airport. The biggest negative was the entertainment, wasn't much of that, the shows at night were not good, but since we had such a big group, we made our own fun, so wasn't a problem.
We also went to Alux lounge and restaurant, which I had read about on the internet. It is a actual living cave that was made into a restaurant and bar. It was wonderful. We even got a tour from our server. There are about 10 little different rooms throughout the cave that were made into bar areas or dining areas. We just had drinks, but the food looked good too. They did alot of tableside cooking. Would really recommend that place to people
6 of us took a side trip to a Maroma Paradise Marina which wasn't too far from the resort. It was a trip that included our transportation and then 45 minutes on ATV's that took us through the jungle and then dunes on the beach, we then got off the ATVs and got on 2 man speed boats for 45 minutes out on the ocean. We had a blast and would really recommend that trip.
I had read about this trip on the internet, so at the resort I asked our Apple rep about booking that and she tried to talk us out of it because she said that the equipment always broke down and you go really slow on the atvs and boats and that we wouldn't like the trip. She then tried to sell us on a Apple excusion but they didn't have one that included both atvs and speed boats, we would have to take 2 different excusions to do both. Since we didn't want to do that, we booked the first trip that I had read about through Funjet and we had a blast!!! So we were glad that we didn't listen to the Apple rep, we felt that she was just trying to sell us whatever she got the best commission.
Some of the others did the ruins (Chicken Pizza) and X-caret and had a good time.
We thought the resort was worth the price and enjoyed it. I would recommend the place for the price.
Another negative was that they really catered to the Italians. We watched them having special check ins with drinks. They had a special theatre just for them where the shows were all in Italian. One of the pools where they all hung out played only Italian music. So we thought that was weird.
Again, thanks for all of your help.
HONEYMOON!
The Pence's said the Honeymoon was the only thing that went right with their wedding plans. "We loved the Iberostar Paraisio in Playa del Carmen."
MOTHER/Daughter trip!!!!!!!!
Tana's clients just returned from the Brand New...GRAND SUNSET PRINCESS
Cindy Ziegler Fritz and her Daughter Missy called Tana to let her know how awesome the GRAND SUNET PRINCESS Resort was. They took a quick 5 night mother/daughter trip during Missy's winter break and had nothing but wonderful things to say. Loved it and can't wait to go back!
The grounds were beautiful and they really did a nice job landscaping. Beach a little rocky but not a big deal, great for walking, food was excellent, shower and bathrooms were marbled. Cindy said to her husband that they will be taking a trip back to this resort just the 2 of them.
Ginger and Damon Logan said their ANNIVERSARY trip to the Excellence Riviera Maya was EXCELLENT!
When we got to Excellence Riviera Maya we were treated like VIP'S!! Our Anniversary trip was very memorable! The spa was an adventure and so was Excaret. The weather wasn't the best but we didn't let a few clouds ruin our trip. We met some other couples there and played pool and other activities to make the best time!!
We swam with the dolphins and this was so fun. Damon said it was one of the best expriences he has ever had.
SECOND HONEYMOONS ARE GREAT! Try one!
Hi Gayle. The second honeymoon was great. The weather was perfect and we thouroughly relaxed almost everyday. The Iberostar Beach was very nice.
We did the Coba Mayan Adventure while we were there. It was great. We got to bike through the Mayan Pyramids, swim in a cenote(cave with fresh water), reppell down a huge cliff and zip line from cliff to cliff. What a rush!! After that we got to share a meal with some of the Mayan people. The food was fantastic.
One other thing. I need to mention our Fun Jet rep's at the resort. Ceasar and Rosario were absolutely wonderful. They answered all of our questions and informed us very well. They kind of let us know which excursion to go on and we will never forget it.
Thanks again Gayle and we will definitley look to you in the future for all our trips. Chris and Stacey
PUERTO VALLARTA!
Just wanted to let you know...WE HAD A FABULOUS TIME !!!!!!!
I hated to come back...LOL The RIU was soooo nice...everyone was really great......I wish we could have stayed longer. The weather could have been nicer, but it was warm, just not as sunny as we would have liked, still allot warmer than Wisconsin !! Everything went very smoothly and our Trafic tours reps were very nice & helped us out with things. We did end up switching rooms because we overlooked the parking lot but they gladly switched us right
away & our new room was on the 4th floor & overlooked the fountain...we could even see the ocean from that floor!
Thnx again to you & Mary for everything !! :-) Can't wait to go on our next trip !!
Donna Brady
Quick Signs
Stayed at the GOLDEN CROWN PARADISE in
Puerto Vallarta!
Hi Tana!
We had fun. The weather wasn't as good as we had wanted, but no one has control over that except mother nature. Met some nice people and spent some time wave running in the ocean, massages and LOTS of cocktails!! Thanks for you help w/ everything!
~Laura and Steve Stuehn of New Berlin
Tana,
We had a great time. I really enjoyed the hotel. Our room was very nice. We had a great view from our balcony. The time went too quickly.
We did have a great side trip. We went on a Jungle Tour with Vallarta Adventures. It was wonderful. We got up into the mountains to see how the indigenous people live. We actually got to go to the home of a family and we were served home-made tortillas with beans, quacamole, etc.
Chris and I are looking forward to our next trip to Mexico. I was so nervous this time because I didn't know what to expect. Now I DO know what to expect and I'm excited to go back. Thanks for all you help. We'll talk to you soon to plan the next excursion.
Susan and Chris Reading of Mukwonago, Stayed at the RIU JALISCO
IXTAPA and ZIHUATANEJO
Hi Gayle,
We got back safe and sound. Cant beleive came home to snow. The weather was just great there. In the 90's. The tesoro resort was not all that bad. I was sort of surprised. The food was good and the service was great. Really nice people there. The rooms needed some up dating but over all really nice for the price. We did get a suite room. I do not know if you pulled some strings but thank you if you did. We really appreciated that. Did not so much like the long flight there. I guess we just got spoiled with the riveria maya. The one thing my husband liked was the fishing. They did get a sail fish that was 125lbs. Happy for him since that is all he likes to do and was so looking forward to that.
Just wanted to give you a thank you again for another sucessful trip. Talk to you in the future. Jane and Rick Thome
**We found a bargain trip for the THOME'S and friends and relatives. When you are looking for a deal under or around $1000 you know it is not going to be a 5 star and Jane and Rick were happy with their BARGAIN VACATION!!
Gayle, Here is a picture from the full gang from Random Lake.
Left to right Steve,Diane,Shaun,Kim,Joe,Lydia,Jane,Rick. Had a great time in Ixpapa at the Tesoro.
Did not see anything bad to say of in the neighborhood we were in. Went out a few nights later and never saw anything. I think like you say things going on only in the bad areas and up in the mountains. Lydia and Joe went out for a bike ride one day and never came across anything. I think they went 10 miles.
We all loved the area. Hotel was a great value for your buck. The staff was very nice and took care of everyone the same way. The rooms needed some updating but other than that they were good. Food was O.K. Thank you again for another great year of vacation. The Thomes
COZUMEL
Stayed at Wynhdam Cozumel Resort and Spa and celebrated with friends!
We had a wonderful time on our vacation. Loved the non-stop flight and the Apple people meeting us at the airport....even though they x-rayed every suitcase coming off our plane and only had 2 staff people! The hotel lobby was so impressive when we arrived tired, hungry, and thirsty! Unfortunately, we didn't get a "special room", but we made a switch the next day to get a king size bed. We found out that many people had this problem and if you complained you got a nicer room. Manchesters decided to upgrade to an ocean view for an additional $300.
We totally enjoyed the pools, especially the swim up bar. The two restaurants requiring reservations were incredible. The presentation of the food and the service was wonderful!
Steve and I swam with the dolphins and Carlos was able to get Steve in the same session as me for only $99! It was everything I had looked forward to for so long!
We also went on a catamaran for snorkeling, but Steve ended up aspirating water into his lungs, which was a bit scary. The good news was the hotel dr. was wonderful and came within 20 minutes to check him out and give him an antibiotic to prevent pneumonia....all for $100 on our credit card. He said to call back with any other problems for no extra charge during our stay, 24 hours a day! He was wonderful! We didn't have any other problems.
For future reference, we felt for the money we spent, it was worth it. We checked out the Sabor (adults only) upgrade....definitely not worth the $. They had access to one more restaurant, which served Chinese and was supposed to be good, but most of the people there came over to our pools and restaurants.
Deb M. went to a session at the spa and said it was wonderful and everyday something was discounted! She had a 90 minute massage for $100, but she started with a steam, whirlpool and then the massage was 90 minutes.. That was followed by tea!
As far as future travels, I am convinced to use you as a travel agent again. You are awesome!
We are thankful for the wonderful relaxing time we had together in Mexico. Thanks for all your help.
JAMAICA
CELEBRATE A SPECIAL BIRTHDAY WITH FRIENDS!
We absolutely LOVE this picture that Diane Gamez sent me. I think YOU will too!!! How fun is this, to spend your 50th birthday in JAMAICA with your high school girl friends from all over the United States!!! (PS- Most of the husbands came along too for the RIDE!!!!) I love the t-shirts, what a reunion this must have been!

Hi Gayle:
We had a GREAT time!!! Everyone was very happy with ALL the arrangements. The resort and rooms were beautiful, the weather was perfect and the food was wonderful. Our FunJet contact, Marissa, was excellent. She was very organized and very helpful. We did alot. We climbed Duns River Falls, we did the Canopy Tour where you zip line through the mountains (I did it twice), we went bike riding down the mountainside (was very treacherous though because of the poor condition of the roads*), golfed, snorkeled, kayacked, went scuba diving, swam with the dolphins, shopped, relaxed in the sun, had massages, joined in on the games they had scheduled throughout the day and enjoyed the entertainment each evening, gambled at the casino - but the highlight was when all the girls went skinny-dipping in the pool at midnight to start the celebration of Karol's 50th birthday on Jan. 31st!!! We surprised her and had shirts made up that said "Almost 50 and Fabulous" - her shirt had an "X" through the word "Almost".
At the end everyone thanked me for taking care of all the arrangements because they all had such a great time and enjoyed the resort - so, thank YOU, Gayle, for all your work to make this the memorable trip we were hoping for! Diane Gamez
We had a great time...there was never a doubt that we would!
Invite your friends and family along when you renew your VOWS like Bill and Kathy Lohr did!


Dear Tana,
We had a wonderful time, excellent!!!!!!!!!!! Everything went well, no problems with the flights or transfers.We did have our own bus with just one other couple on it that was going to Trelawny. So it was really nice, I was able to talk on the bus microphone and introduce everyone and tell how we know them. That way everyone got to know each other All 24 of us had so much fun at Trelawny. For what we paid for that place, we sure got our money worth. Some minor things, such as they were always out of beach towels and kept running out of glasses at the beach bar and the breakfast and lunch food was the same every day, but was worth 4 apples and what we paid for. Lots of activities for everyone, I even did the trapeze!! The teenagers were busy all day!! The resort got to know us right away, don't know why???? OF course Ron won the karakokee, he sang Celebrate by Kool and the Gang and brought the house down!!!! Talent show night the activity people asked our guys to be in it and 5 of them did YMCA. The resort had costumes and dance routines set up for them and they took 1st place!!!
Our wedding day renewal was very windy, so we decided not to have the ceremony in the gazebo which was on the beach. The waves were crashing up onto the gazebo. So the wedding planner suggested the garden in front of the hotel by the fountain. It was out of the wind and was perfect. The ceremnony was beautiful and we both said yes again! Then we went up to the area that was overlooking the first pool and slide and they had it all decorated and we had champagne and cake there. Later that night we had our reception in the Casablanca restaurant which was just beautiful. They had a special 5 course menu printed up for us with our wedding heading and it all was delicious. Julie played the piano with our wedding songs, we danced and the night was everything that we had hoped for.
It was so hard to see everyone off a week later, but with so many memories. The resort then arranged for us to transfer down to Breezes Runaway Bay and we moved right in and boy was it quiet with just the 2 of us!!! We quickly made friends, lots of WI people and off we went again. We really loved Breezes, excellent resort The food was the greatest. Nice beach, rooms, etc ..... Nicer than Trelawny, but also 5 apples and more expensive. There sure is a difference between 3-4 and 5 apples. We are getting spoiled!!! We did have a couple of cloudy, windy days and 1morning with rain during the 2 weeks, but nothing that ruined our vacation for us. When you go for 2 weeks, you can use some days out of the hot sun. Came back very tan!!! Now back to reality and cold!!!!!
Thank you again, Tana for everything that you did for us we really appreciated it.
Kathy and Bill Lohr
SANDALS NEGRIL IN JAMAICA
Hi Tana,
Jamaica was the best ever. The weather was great the room was great I wish we could have stayed forever. We had no rain this year was made for a wonderful 7 nights and 8 days. We did have a 5 hour delay on the Sunday when we left because of the fog. However, when we arrived it was just beautiful. I want to thank you again for all your help in getting us back to Sandals Negril. I know that I have the best travel agent out there. When we where talking to other people they didn't have nice things to say about their agents but I sure did. If there are some really good deals for Jamaica please let me know.
Cross your fingers and pray for the best that we can go back again in 2010.
Again thanks for the great trip.
Lynn and Dennis Gale of Lannan WI
Riu Montego Bay
One of our agents SUZIE tells all about her trip to Jamaica at a new property,

I took a group of young people (18-24yrs) to Riu Montego Bay in Jamaica last week.
It was close to the airport and a great place to take a group, families, any age of clients would like it. There were more mature-aged people than I expected. Not many small kids.
I chose this resort because it was close to airport and a little closer than Negril.
The other assistant manager made dinner reservations (3 specialty) for my group of 12 for me before we got there. It was a nice touch. Nedsky was always asking me how everything was, if there were any constructive ideas I had, and he was always present in the resort. The front desk staff is very good.
Food-good! The buffet was really good, always something special each night.
Italian-part buffet(good)and order your entree. Entrees were good, not great though.
Oriental-all buffet(exceptionally good)
Steak House-buffet(good)order entree. Steak was good here.
Jerk Chicken Hut-amazing!
Clean resort, very roomy accommodations', bartenders were cheery and helpful, the entertainment was fabulous. Steel Drum night, beach party with dancing and fire on the beach, nice sports bar.
Wedding coordinator on site! 4 weddings there that week, pretty!
Sports bar had 3 computers for use, they were down for a day but got fixed very soon after that.
Pay for minutes like most places. 2 pool tables, they need to be updated though.
$49/pperson Margharitaville/snorkeling/shopping boat excursion from the beach (Scuba Caribe), which
is part of hotel. SO MUCH FUN...look for Nexie, she's the one who gave me a group discount of 15%.
The snorkeling is at Doctor's Cave reef. Voted #10 most beautiful snorkeling spots in the world. Seriously, it was amazing. Right up there with Fiji! Stopped at Margharitaville for water slides/trampolines and shopping on the Hip Strip. This is s must do if in MoBay.
Our FJ and APPLE reps were on site were there every day. Both were so helpful.
If anyone needs any more info let me know.

Also went to Sandals Royal Caribbean for the day, which was a 5 min. walk for us. The offshore island is cool. One of the pics is on that island, with the white decorations that were for a wedding reception. Took the shuttle to Sandals MoBay. Nice also. We ate at both resorts, such good food at both. Went to check out Sandals Carlisle. Not impressed at all. Nice pool area, that's it. Right on the Hip Strip, beach (small and crowded) is across the street. Old resort. Old rooms. According to one of the staff, they have 60% repeat clients because of the customer service.
Suzie
SUZIE MICHAELSON
414-828-6302

GRAN BAHIA IN RUNAWAY BAY, JAMAICA
Thanks for the awesome trip!
Everything was perfect (except the room Air Conditioner, but I bitched 3 times and they never really got it going and it was a little steamy) so we just drank more fluids and all was really really good.
We both had a blast all over. The Katamaran booze cruise with snorkling and the Zip line / Bobcat runs were very cool.
People we met from other resorts new more about the BAHIA than we did (all positive).
We just enjoyed it....Thank you very much.


Thanks again!
Marc A.J. Gillet
Advanced 3D Laser Processing from Northern Lights Laser
Hi Tana,

It's been almost two weeks since we have been back from our trip to Punta Cana, but I wanted to let you know how great it was! Thank you so much for helping us arrange the trip. Your help was invaluable. We loved the resort. It was perfect. The Riu Macao was perfect. Just what we were looking for. I liked that it was smaller than the others and a little more laid back.
Weather was awesome and the service at the RIU is exceptional. I would definitely recommend this trip.
Thanks again for your help!
Anne and Steven Schowalter of Waukesha WI
Hi Paula
We had a great time in Punta Cana! I'm very happy we decided to go on Wed – Wed. We missed all the snow and instead of having 15" of snow we had 15" sand under our feet J We did hear some of the horror stories from guests that arrived later. One couple was to leave Sunday at 7:00 am and did not leave until 9pm the same night. They basically lost the first day. I don't know if you had a hand in it but I think Robin & I had the best room in the resort with a beautiful ocean and pool view. Thanks for putting it together!
The resort, service & food overall was great. I would say the buffet was pretty good. We ate at 3 of the specialty restaurants. We all liked the steak house on the beach the best. They did a grilled lunch on the beach all of the days except the 2 windy days. That was really good too.
There is a little shopping on the beach east of the resort. You can barter with the vendors. We did not do any of the excursions because of Robins broken ribs. Laurie & Ray and kids went on a couple. they were a little disappointed with because the Funjet rep "Harry" said they would ride the ATV on the beach and have lunch. They basically rode on the road with no lunch. They did stop by the beach for a swim. I think they had fun overall but would have liked a few more things for the kids on the resort.
We returned very relaxed and tan J I wish I was there again instead of in the grey rainy office L I do have my pictures and I am listening to Jimmy Buffet to ease back to reality.
Thanks for setting up a great trip for us. TERRI BIRD
VEGAS BABY
Hey Gayle!
Vegas was nice, not very relaxing, which I should have expected. Still like my beach in Negril the best. It was something to see that is for sure. We saw a great X rated show called Zumanity which is one of the CircDe Soeil shows. It had great comedy, and great showmanship!! It was a little of both. Not to mention that I got front row seats and got brought up on stage go figure!
No we did not win any money, missed winning a car twice by ONE slider thingy, we had 4 in a row on the pull and needed 5! Go figure, the employee at Mandalay Bay even said that he has never seen anyone come that close. Mandalay Bay has an EXCELLENT breakfast buffet, the best I think.
The lazy river is nice, but there were so many more kids there than I ever expected. That is crazy to me to see people pushing babies around in strollers at 1 AM! CRAZY!
Thanks Gayle!!
Michelle A. Weber
WEDDING GROUP IN PUNTA CANA
Hi there!!! We had the best time!!!!! We would go back to Punta Cana in a heart beat! The weather was perfect. It rained one day for 10 min it was a drizzle. We actually just sat in the rain. It was awesome!
The resort was absolutely beautiful! It was huge.....like a little village. I liked the food, I thought it was very good. The biggest variety I have seen at a resort. I can't believe how much there was to choose from. The buffets, the sit down restaurants. The drinks, it was wonderful. The beaches and the water were amazing.....I can't believe how clear the water was and how white the sand was. The pools were very nice as well. We did spend most of our time on the beach! They were amazing!
The wedding.....oh my gosh!!!!! I could not of asked for anything better. We had the best day. We woke up had a nice breakfast, had a couples massage, then we met under the beautiful cazebo then we had a wonderful photographer and made a beautiful album for us. We also received a cd with all the pics that the photographer took. Carolina ( wedding coordinator) made sure the day was perfect. Anything we needed she made sure we were taken care of! The wedding dinner was very fun. We had a nice wedding cake the staff was very fun. They made up some tables and they were decorated very nicely. We had the best day. I can not say that enough!!!!!
The week was wonderful!!!!!!! Thank you so much for everything that you did to make our day the best ever!!!!!!
Mark and Nicky Breu
For more pictures and comments from our Destination Wedding couples and guests click on Destination Weddings.
ALASKA
Hi Tana
Sorry I haven't gotten back to you sooner. I think every one should go to Alaska at least once in their
life time. The cruise was great and we love the ports also. We thought the Helicopter ride to the Glacier was the high lite of the trip but once we once on the mainland and started back down it just got better. I am glad we did the cruise first even though it was a wonderful part of the trip I think we we would of did it the other way the cruise would of been a let down from all the beauty in Alaska it self.
The whole trip was wonderful. Had two days of rain but both were on the ship. The rest of the weather was
beautiful for Fall. Saw all kinds of wile life both on the ship and the land. McKinley was awesome to see we had clear Sky's the whole time we were on the train. We meet so many nice people both on the ship and the train. Even saw the Northern Lights while we were flying back home.
So much to tell not enough time. Will write soon with pictures and next vacation plans.
Jim Foley
The Tessmers said that they were treated like royalty on their Brewester Tour in Canada, and they would recommend them to everyone.
For more client reviews and pictures click on ALASKA
PROBLEMS ARISE. WE ARE HERE FOR YOU!
Hi Mary,
I am not surprised to hear you are the Manager, you do a great job managing. I would be happy to have you post my email comments, I could not agree more with the "why" to use a Travel Agent. We would not do it any other way, as you know I have recommended many people to you for that very reason.
First of all, I would like to thank you for all your hard work in getting us a new flight and making all the arrangements for transportation for Sunday from the airport to the resort. Everything went off without an issue. Without you and your extreme efforts to assure all T's were crossed and all I's were dotted, it was very likely we may have had to cancel our trip for the entire week.
Thank you also for going above and beyond to send us information on how to file the insurance claim and for adding the news feed, you could not have done more to accommodate us. We are extremely thankful for your efforts!!!
Yes, the rest of our vacation was great.
I would like to send an email to your Manager to let he/she know of your efforts to assure our vacation went off without additional issue's.
Thanks again, we will be in touch.
Judy
FLORIDA
Gayle--Hi!
Our trip was great! The Mandarin Oriental was super nice. The car worked out well because we were about 15 minutes from South Beach. I think next time I would stay on South Beach because there was a lot going on there, but the hotel was super nice.
Key West was even better. I LOVED the cottages! Very pricey, but couldn't have been more charming. I was grateful to have such a nice pool and beach. It worked out really well. If you have anyone that wanted to do the same trip, I would probably tell them to fly into Key West so they only have to drive one way to Miami and not do a round trip. The car ride each way was a little over 4 hours. I didn't mind it so much, but Nate didn't enjoy it because he had done it a few times before.
Once again, you planned a fantastic trip for us. We really had a good time.
Have a great day! Jennifer
ADVENTURE TRAVEL
Yes, after a week of trying to rest and get back into real life, here I am.
First of all, you really must look into Lindblad Expeditions for your travel choices. Some people might find them very rewarding. BUT you must remember they are not cruises....but expeditions connected with the National Geographic Society.
People will be disappointed if they are expecting a "cruise." Lindblad remembers everything from soup to nuts and leaves nothing to chance. It was the most organized and well planned trip I have ever been on.
All staff and people and guests were outstanding.
Do you think you would look better dressed in all these clothes?? Just kidding.
PS-Diane is calling herself the PENQUIN LADY now!!!
For more excitement about Dianes trip and more pictures from Diane's once in a lifetime trip to the ANTARCTIC visit our ADVENTURE and WOMENS TRIPS pages!!!! She made a lot of new friends on this trip, some were furry and had feathers!
PERU
Adam and Maia's trip to South America was a blast. These were taken in Peru and in Rio de Janeiro, Brazil.
For more client reviews and pictures click on
HONEYMOONS
, DESTINATION WEDDINGS, or the Destination of your choice!
Let us know what you think of YOUR vacation experience.
Just email or your favorite First Choice agent. Show us those favorite vacation pictures and give us your opinion on the resort, ship or the destination! Tell your friends about First Choice Travel agents and our service. We really appreciate those referals.
First Choice Travel and Cruise
262-542-5955 / 800-896-4360
www.FirstChoiceTravelandCruise.com
To access exclusive information "like" us on
Facebook
.