River Cruising is the best way to see small cities of Europe!

Gayle Zielke, president of First Choice Travel and Cruise shares her experience on her first river cruise quite a few years ago. Now we travel on a river cruise every year!
For many years I have been thinking about experiencing the European river cruises I have been sending my clients to enjoy. I know that they have LOVED the experience and Karen Noll in the office had a wonderful time when she cruised on hers. but I didn't know if this was the kind of cruise for me.
River Cruising is one of the most requested ways to see Europe, but this is not a cruise for everyone. If you want the big ship atmosphere, entertainment and long lines... this is not the cruise for you!
I saw Honeymooners looking for a quiet escape and well seasoned travelers looking for an amazing out of the ordinary European experience. Part of our job is to match our clients with the right vacation experience and this is one of those vacations that has a specific following. Once we find a good fit, River Cruise clients will come back for more!
Gary and I sailed from Basel to Amsterdam with Avalon Waterways (The Creativitiy) and it was more than we could have ever expected! Avalon has the newest European river boat fleet in the industry and each ship only has about 100 people so crowds are never an issue. You get to know almost everyone on board and by the end Gary knew everyone at happy hour!!!
This is really a great way to see Europe, the small ships get into the nooks and crannies that the mega ship clients never see. Many of Europe's most magnificent cities line the banks of the Rhine, Main, Moselle, Rhone and Danube Rivers so don't think you will miss the sights! You will get the up close and personal views of these cities while you move down the river and dock in the heart of the action! Fairytale Castles, charming countryside, and fortresses rich culture and history are the focus on these cruises.
In port Avalon helps you see your destination like a local. Working with Local Guides they make sure you experience the area's most famous sights as well as the inside secrets and native stories. Unlike other guided tours Avalon clients will never miss out because headsets are standard features on all guided shore excursions in Europe and Egypt. This means that everyone hears what the tour guide is saying not just the people at the head of the tour. The best part is that almost every day there was a FREE guided tour. If that wasn't enough there were plenty of other tours for purchase and don't worry there is also plenty of time to explore on your own.
Gary liked the casual atmosphere that allowed him to wear jeans all day long and even to dinner if he wanted. Some people changed for dinner but I didn't see a single sequined dress or tuxedo. I liked the laid back atmosphere on the ship, and I never felt rushed or like I was going to miss something. The small group and complimentary wine at dinner was a pleasant surprise and made it easy to make friends!
Call me if you this is something you might be interested in I would love to share my experiences and help you book this dream vacation.
Want to know more about the River Cruise phenomenom? Talk to anyone who has taken a river cruise and I bet you will find out they are officially hooked! It is not only a great way to explore the smaller cities near the river and major waterways but so relaxing and fun too! The smaller more intimate ships like this will definately get you interested in visiting more destinations this way.
Our next River Cruise Adventure was on the: DANUBE RIVER CRUISE!
Portugal and Spain
Christmas Markets
Paris to Normandy
Burgundy and Provence
Gayle Zielke, president of First Choice Travel and Cruise shares her experience on her first river cruise quite a few years ago.
"I would love to recommend a vacation for you that will exceed your expectations ...and I know just the slice of Paradise...YOU...are looking for!" Gayle Zielke MCC president First Choice Travel and Cruise
GET HOOKED ON RIVER CRUISING
When Karen returned from her river cruise she could NOT stop talking about it. Here is what she has to say: "Oh my Gosh"!!!!
I just returned from a week long RIVER CRUISE on Uniworld Cruises. All I can say is Oh my Gosh!!!
Everyone needs to do this!!!!
The Uniworld people met us at security in Budapest and transferred us to the ship!!! No hassles there!!! Even though our new flights were about 2 to 2 1/2 hours earlier than when we were expected! Very smooth and nice.

All cabins on Uniworld are ocean view. On the top floor you have a whole wall of windows. Almost like sliding glass doors, but they don't open. We were on the next floor under that and we had wall to wall windows, but they were only the top half of the wall. Cabins are very small, but lots of places for storage, so you don't have stuff sitting around.

The cruise ship only holds 140 passengers---so when they tell you you will know everyone by the end, they really mean it!!! Not only are you on a personal note with the staff, you pretty much know everyone's name on the ship. Dining if open and free style, and most people chose to meet
different people daily, only a few stuck to themselves. There were only 84 passengers on our cruise, as it was the first sailing of the season. Fabulous!!!! Fabulous!!! Fabulous!!!

We spent the first day in Budapest, Hungary. They did a half day city tour and showed us all the sights, including fisherman's ... and then for the last half of the day and evening, we were free to explore Budapest---we took a small boat from our ship across the river, and we were right in the heart of the main shopping strip. We walked down to the end to the Market, where they sell fruits, vegetables, fish, etc. as well as locally made items. We were told this was the best place to buy Paprika. They sell both sweet and hot and Budapest is very well known for this!!

Monday night we set sail and on Tuesday we were is Bratislava, Slovakia. It is a very new country, formed out of Czechoslovakia, when it split. We did a city tour here as well and then free time for shopping. What impressed me most, was our guide, who I would consider young----maybe mid
30's , talked about communism and how they could look over the river and see freedom, but there were guards with rifles stationed all around, and could not get to it!!!! Although we all know this from history, just seeing it and talking to someone who had actually been through it was fabulous.

Wednesday we sailed to Durnstein in the morning and visited the quaint little town, and then sailed on to Melk for the afternoon and evening. We did the city tour and visited cathedrals, where we had a short organ concert performed just for us.

On Thursday, we moved onto Vienna. Up until today the weather had been sunny and around 60 and Beautiful. Today it was rainy off and on and dreary and we had to wear our winter coats again. We did a city tour in the morning, and then had some free time in the later afternoon for shopping
or exploring, and then we went to a Mozart and Strauss concert in the evening. This was the only thing that was an extra excursion, all the rest of the tours are included. It was so worth it!!! There was a small orchestra, and singers, and ballet. We just felt to get that close and not experience the music would be a shame.

On Friday we sailed on to Linz and had a full day trip to Strasburg, Austria. Absolutely beautiful-----saw Mozart's birthplace. Can't describe the beauty of it all. After the bus returned, we got to walk into Linz and do some shopping in their town square. Bought a pair of shoes!!!!! (Because it is not a vacation, if you can't buy shoes!!!)

Saturday we sailed into Passau, Germany and spend the day touring, and exploring. Then on Sunday it was time to depart.

One of the main things to remember is that the ship docks right in the center of town and you can get off and walk anywhere, so there are no other expenses.( except for shopping). All your shore excursions are pretty much included. They only offer a few others, like the concert one we did. The flowers were in full bloom and fabulous everywhere. Their climate is much like ours, so I don't know how they keep them blooming this time of the year, but they do. (I think their nights aren't as cold as ours!!!!) I have a picture on my desk of the flowers, if you are in the office, come see it!

There is really not much to do on the ship, there is a piano player in the evening in the lounge, and that is it. But you are so close to town, and the ship doesn't sail until late many evening, so you can get off and walk to town. Sometimes when Europeans say it is a short walk, I get worried, because they are much more accustomed to walking than Americans, but all these stops really were easy walking distance for everyone.

The overall age on the cruise was much younger than I expected. I would say 50's or so. Not a ton of real young people, but definitely some, so they are not all old. Very active staff, that participate in things as well, and everyone does many things!!!

Did I say it was all FABULOUS!!! This type of cruise is not for everyone but if you are looking for something different, this is definitely an option. We did see the Viking Cruise Ships while we were there, and their crowd definitely seemed a lot older.

Oh yeah, on the tours, they give everyone headsets so you can hear the guide well, without having to stay huddled around!!!! In the cathedrals you can wander and look at things, and still hear all she is telling you.

Karen Noll
PS- While all the food is included (and it is quite fantastic) it is not like on a regular cruise ship. You get three meals, and they have donuts and coffee out for those up real early besides. There is a really nice buffet breakfast, and a nice buffet at lunch time, and then your dinner is sit down (most nights). If something big is going on that evening, they occasionally do it as a buffet----like the night in
Vienna when everyone (almost) went to the concert.

Lunch times Vary a little bit, depending on when tours return, etc. But then there is no more food until supper. You get plenty of food---it is just different.

As I have diabetes, I cannot go from 1 or 2 until 7 without something to eat in the middle. I had taken a box of cheese and crackers on the plane, so I just ate a few of those, and I was fine. Just be aware that the food arrangement is different.
PRAGUE TO BUDAPEST ON THE DANUBE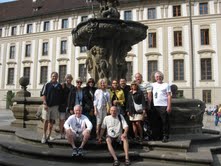 Had a wonderful time. Thanks for all the memories. Reggie
Gayle,
Thanks again for all your help. It certainly was a great vacation!

Mike & Diane
We want to thank u for a wonderful trip abroad... I would rate the trip as great, the staff, the ship, and service as excellent, the food was excellent for breakfast and lunch and dinner was hit and miss. We loved every port, only wish there was more time.. The 15min. stops were hard, no time to really do anything..Overall, we have a treasure chest full of wonderful memories with new friends and a beautiful fun filled trip with many laughs and that's what life is all about !! Going home was hard on Dean because of the seat assignments. That is no one's fault, things like that just happen... Looking forward to our get together... Love, Nancy
If you go like us on facebook you can access the pics and info.
Uniworld Italy River Cruise
Our river cruise in Italy on Uniworld was 10 times more than what we expected! It was fantastic!
The food was definitely gourmet. Absolutely over the top! This was nothing like a big cruise ship! Only 95 guests. We all loved it. All four of us, oohed and aahd! The ship was gorgeous.
We were treated royally. The open markets, our sister singing on stage, so many Italian sights, sounds and memories.
Mary and Gayle had a wonderful adventure on the Danube with Viking Cruise Line!
For more information on which river cruise will be best for you please contact Gayle Zielke or Mary Malsch your River Cruise Specialists: 262-542-5955 or email: or