Here are just some of our favorite photo's and comments from our beautiful COUPLES! See more pics and quotes on our Destination Wedding pages along with Customer Comments. We are so happy to share them with you!
**You may also be interested in the winners of the State Fair Bridal Show at the Excellence Resorts! See below in the Riviera Maya area. Every year there is a winner and this year it could be YOU!!

Our trip was amazing! The tour guides were great, and we were very happy with the itinerary.
We're really happy that you had us fly in to Venice first, because that gave us a few days to adjust to the time change before our longer days in Rome...we loved Venice though, and wished we would've spent more time there!
We had a Rainy day in the Amalfi Coast/Pompei, but it didn't take away from the beauty at all.​​​​​​​​​​​​​​​​​​​​​​
Attached are a few pictures, but they don't do the sites justice.
Thanks so much for your assistance! It made our honeymoon so much more enjoyable!
We had a fantastic time! I am so glad we opted for the beachfront verandah suite.. it really made the vacation! We were steps from our lounge chairs, the beach bar, the swim up bar.. the beach grill.. and the OCEAN! It was so nice to be able to just walk out our French doors and be on the beach. They had us all set for 2nd floor and I said 'oh that's too bad we really hoped for 1st floor' and he immediately changed us! Also we got a key to the French doors so we could enter and leave that way which was so nice!
We did meet our friends on the beach the first afternoon/ evening. Ate at Lemongrass.. lovely.. enjoyed the beach BBQ the first night we were there.. watched uninterrupted TV before bed.. had a really neat shower in our bathroom! You could just walk in and out of it.. like it was part of the room. They are very accommodating there.. I wanted soy milk for my coffee at breakfast and they didn't have any.. when I got back to my room there was a carton for me! Also we did the catamaran cruise on our last night there.. which was super fun.
One thing to note: THEY HAVE THE BEST FRENCH FRIES EVER at the little poolside grill! I'm not sure what they are doing there.. but SO GOOD! :)
It went by super fast.. and we miss it already! I am going to attach a bunch of pix for you.. THANK YOU SO MUCH for everything !!!
(PS from Gayle- I can't believe we did their honeymoon.... 10 years ago!!! Seems like yestarday. Time goes fast, best to enjoy and celebrate the FUN!!)
Once again, Thank you so much!
Jason and Callie
Belize Honeymooners
Honeymoon at Secrets SilverSands in the Riviera Maya
Hi Gayle,
The honeymoon was great! Secrets Silversands was fantastic. We only have Dreams Los Cabos to compare it to, but we were not disappointed. With the exception of the buildings being just slightly older looking in finishes than Dreams was, the properties were very comparable in quality. The place was very well maintained, the food was very good in general, and the service was top notch.
The hotel had a decent entertainment staff, and there were plenty of activities throughout the day. We didn't go on any excursions through outside companies, but did go offsite with the organized activities through the hotel. The beach was far nicer than that in Cabo, with far less shells and stones. The seaweed appears to be a continuous battle for the hotels in this area, as there are people out all day raking it up.
The drinks were great most of the time, all top shelf alcohol. Most of the bartenders were excellent, with a few that were not so creative or talented. We just avoided those guys. The bars and poolside staff were overall very good. We never had to wait or wonder when we would get service next.
There were a good variety of food options, and we didn't find any that we didn't like. I loved the Mediterranean, French, and Sushi places. Justine loved the Sushi, Mediterranean, and Italian. The breakfast buffet had enough options for anyone. The Mexican restaurant was so-so. We try to get to every restaurant, but the seafood place was a surprise closure on the last night we were there, which is when we were going to try it. If we went back to this resort, we would probably double up at the Mediterranean, French, and Asian places, as well as try the seafood restaurant. There was an outdoor bar with self-serve quesadillas, nachos, wings, fries, fruit, salad, veggies, and made to order burgers, dogs, and chicken breast. We just walked up to that place for a small lunch snack every day and it got the job done.
We ended up traveling in first class both ways, which we didn't expect. It was very nice! I don't know if those were the remaining seats when we booked, or if you knew some secret for upgrading, but it worked out great! I'm just afraid we'll want to travel that way every time now. The airport transfer process was pretty easy.
We talked to many people at the resort who were repeat visitors to the resort and to the brand, at least 5 different couples that we happened to meet. They all said that the service and food were unmatched.
We wish that we could have stayed a few more days, it really was a great time. We decided that we need to try to take that sort of vacation more frequently, every 1-2 years at least, maybe mixing this in with our usual favorites like Disney and visiting places with some history. We also decided that it was fun meeting new people, but that we'd probably love it if we could get small groups of our friends to go together. After our experiences and everyone we talked to, we'll probably take some convincing to try something outside of this family of resort brands!
Thank you again for helping set this trip up relatively late in the game. It really was a great time.

Why not go to Australia on your Honeymoon?

Mary,
Australia was wonderful and we can't wait to go back! Here we are at the Sydney Harbour on our Dinner Cruise.

Scott Berwanger and Karen Strabel


EUROPE HONEYMOON WAS A SUCCESS
Hello Tana,
Our honeymoon was great! We had a great time in Europe. We will like to share some favorites.
1. Venice: It was great just walking around the little streets and getting lost. We really enjoyed that! The guide was great since she took us to the main attractions in the square. We arrived during an important celebration in Venice, so we got to see fireworks at the St. Mark Square!
2. Rome: Rome is great for sightseeing. Everything wasn't too far from our hotel and it was easy to take the metro and get around the city. We visited the Vatican although we had to get there very early in order to not wait in line. The roman forum and the Coliseum are a must! FYI, visitors should go to the roman forum first since the ticket for the roman forum is also valid for the Coliseum and the ticket is valid for 24 hrs (the coliseum line is very long, while the roman forum has a much smaller line and less wait). We spent a lot of time walking the streets of Rome, sightseeing at night is great! Plaza Naveno is also a great place to hang out and appreciate the artists of Rome.
3. Paris: We bought a 2 day pass for about 32 Euros, which includes tons of museums and you're allowed to skip the lines if you have this pass. The pass allowed us into the Arc del Triumphe, the Louvre Museum, Notre dame, etc. This helped us save a lot of time in lines and enjoy our trip more. The Eiffel Tower is a must! It was very close to the hotel n what we enjoyed the most was buying a glass of wine and some snacks and sitting by the tower and watching it light up at night. We did go up the tower, although we had to be there extremely early since the wait is extremely long.
4. Madrid: The city was amazing and everything was walk able from the hotel. The Plaza Mayor is very nice, there was a performance when we were there. The car tour definitely helped us out a lot since we got to see more of the palace and where the bull fights take place. Shopping is also very accessible, and the nightlife is very fun!
5. Barcelona: The city is very big, it required a map and lots of walking. We visited La Sagrada Familia and we really enjoyed it. The car tour was also very convenient due to the size of the city, however, we were not able to visit as many attractions due to the traffic. The city is great for shopping, there are shops everywhere.
Overall, the hotels were amazing and the trains were great too! All the food we tried was amazing.
A quote that would describe our trip: Trip of a lifetime! Nothing more romantic than sharing a bottle of wine by the Eiffel Tower.
Thanks for putting all this together for us!
Thank you.
Jessica and Jesus Aquino
SANDALS GRANDE IN JAMAICA
Thanks so much for helping us out with our honeymoon. We had a wonderful time and we were so RELAXED! It was great!
We really liked the Sandals Grande Riviera property! Everyone was unbelievably nice. Our luggage got lost on the way there, and the staff was so accommodating and helpful. The resort was very clean and bigger than we expected. There was always something to do, although we found ourselves not really knowing what time it was so we spent most of our time lounging on the beach or by the pools and swim-up bars, which was great :) The beach was on the small side, as we knew it would be, but it wasn't ever crowded (we guessed it was maybe the time of year?) so we loved hanging out there. It rained almost every day but only for an hour or less in the afternoons so it never got in the way of any plans. The food was awesome! We definitely never went hungry and we really liked the variety of cuisine at all the restaurants.
We did two excursions: the catamaran cruise to Dunn's River Falls and a deep sea fishing trip. The Falls trip was so much fun! I would definitely recommend that to other couples. The deep sea fishing trip would definitely have been fun on better fishing day- we didn't catch anything :) Still was nice though!
Overall, we would definitely recommend it to other honeymooners.
Thanks for the well wishes and again for your help! Glad you liked the wedding pics. It was a wonderful day!
SANDALS WHITEHOUSE now called SOUTH COAST
Gayle,
The trip was wonderful. The seats were next to each other on both flights, without any intervention by us. Perhaps someone ahead of us had a similar problem and they shuffled us before it was our turn in line. We liked this Sandals more than Ocho Rios, but St. Lucia is still our favorite. If we went back to Jamaica, it would be to this location. This was in a perfect location for southern and western sun. We had a great time, met a lot of people from WI, made some new friends, even Canadians.
Todd and Beth
SANDALS ANTIGUA ANNIVERSARY TRIP SUCCESS FOR THESE TWO COUPLES!
Hi, Gayle!

Thanks for the Sandal's Grande Antigua recommendation. The resort was all you said it would be. A beautiful setting, warm weather, a great beach, delicious food, plenty of rum drinks to enjoy (we'll not contract scurvy for at least a year now) and a very friendly, helpful staff. We loved the central location and the comfort of our Hibiscus walkout suite. Everything we wanted to see and do was just a short walk away. Spent most days playing cards at the swim-up pool bar making friends with the bartender, Latoya. We came home very relaxed, but not happy that we still have such cold temperatures to deal with here at home. Maybe we should have stayed another week in the tropics???

Not yet sure where we'll want to go for our next adventure, but we'll be sure to call when we want you to help us. Thanks again, Gayle. We had a wonderful vacation thanks to you!

Belinda
ARUBA
Hey Tana, We enjoyed Aruba immensely! It was terrific! Thank you for all your help, everything went very smooth. We met some very nice couples all of whom where honeymooning also. One couple staying at the hotel was from Boston and we met another very nice couple from Sweden, among others, on our Kuku Kunuku party bus tour. It was a bar hopping excursion, boy did Todd have a good time! We also took a jeep tour with ABC Tours one day and got to see the whole island. Much of which we never would have seen if we'd have rented a car on our own! I will send pictures of that too! I will work on getting you pictures, we've been a little busy here at work and at home trying to get caught up with everything. It was sooooo wonderful to get away, but as you know a real bummer to get caught up with reality once you get back.

Talk to you soon,
Kim and Todd Schaefgen of Oconomowoc WI
ARUBA OCCIDENTAL GRAND
Hey Gayle: The trip was really good! The resort was very nice, but the food wasn't the best we've had on vacation.

I really, really like how all the resorts were connected by the long sidewalk down on the beach. It was so nice to be able to walk down the entire beach and look at all the other resorts, especially at night. Plus, there was shopping right across the street which was so cool for when I got bored of reading. This is a great selling point for someone considering Aruba for a vacation.
Pete enjoyed the diving, but again—Cozumel is better!
Thanks for arranging everything for us, Gayle. It was a really wonderful vacation.
Sherry
PUNTA CANA
Hello Gayle,
Anna and I had a great time and the resort was very nice. We went Zip lining which was a lot of fun. Other than that it was a whole lot of relaxing and drinking. The wedding was beautiful and I think Kristin was very happy.
For me it is always great to spend time with my friends since I am away from home. Everything was great, Apple Vacations did a great job.
Thanks for everything. Brian Scott
Honeymoon at Secrets Royal Beach in Punta Cana
Sheri,
Our trip was wonderful! Beautiful weather service at Secrets was excellent – exactly what you said it would be!, and very relaxing. Food was also very good and we always thought it was easy to eat when we wanted. We went on three excursions over the course of the week which were great – our trip would not have been the same without them. I'm glad we took your advice on those and waited until we were down there to book them. Also took advantage of the spa which was a great treat.
Chris and Courtney Amble

Excellence Punta Cana Honeymoons!
Our Honeymoon at the Excellence Punta Cana
Hi Pat,
We had such an amazing time on our honeymoon, we are hoping to go back and
celebrate our 1 year anniversary.
Thank you very much,
We look forward to hearing from you,
Brittany Behm
Gayle-
Just wanted to let you know that Patrick and I enjoyed our honeymoon to Punta Cana. It was wonderful.
Christy Zimmerman Blessing
MORE EXCELLENT HONEYMOONS
Gayle,
The honeymoon was fantastic. The hotel was great. The food was great with really good variety. I would definitely recommend the hotel to other couples. The beach was nice. The water is rough compared to the Caribbean side or that is what we were told although we enjoyed the ocean. We had gone on one excursion to go zip lining. It was a great time. Very organized. We will work on getting some pictures to you.
I was really glad you had contacted us too. In traveling, it has made us a want to travel more. Thank you so much for all you did. The vacation we had was a blast.
Jackie Savorias
Gayle,
Our honeymoon was great. We really loved the swim up room and would recommend it to everyone. Thanks for the help choosing between all the resorts.
ANOTHER EXCELLENT HONEYMOON AT THE EXCELLENCE!!!
The HONEYMOON was GREAT!!! Everything we expected and more. We had a top floor room overlooking a garden which was perfect. Large jacuzzi tub and king size bed, we tried to upgrade when we got there but they said everything was booked. No big deal. It was cool because they had a banner on the door that said Excellence Honeymooners. There were alot of those around the resort.
The food, service, beach, pools and hospitality was outstanding. We thought the beach was nicer than in Mexico. I wish people back the US were like them. We had so much fun being together. It was definetly relaxing. We did the SPA the 2nd day we were there. Both got 80 minute full body massages, which was well worth the money. The Saona Island excursion was awesome, Luke loved the speed boat ride. I would recommend that trip to anyone. We also did a 4-wheeling excursion that went through the local town and stopped at a freshwater cave that we were able to swim in, that was neat. The only thing that was a bummer was the weather the 1st couple of days, I guess a storm was going through so it rained alot and it was over cast, but once that storm was over it was clear blue sky and sunny everyday.
Luke and I can't thank you all enough for helping us book this trip. We are already talking about our 1 year trip. We were thinking a cruise around Europe...what do you think??

Sarah
CATALONIA BAVARO BEACH GOLF & CASINO RESORT (ANNIVERSARY)
I don't know what you did to get us the "Privileged" status at the resort but boy was it wonderful! We are very grateful to you. This was a very special part of our trip. We were able to get golf cart rides to and from our room since our room was close to the pool and beach and pretty far away from the front of the hotel where everything else was. We walked the first few days then took advantage of the rides. Everyone there (all the employees) were absolutely wonderful and got to know us and our wants pretty fast especially for breakfast at the buffet by the beach. By the time we were seated in the "Privileged" area of the restaurant we had our morning tea (green for Tom and black for me) waiting for us. We also got to know Esther at the privileged check-in area very well and had her join us for dinner at the buffet restaurant one night. We took advantage of the free internet there as well.
We met lots of nice people from Canada and the US while on the computer and planned dinners with some of them. The Japanese restaurant was one of our favorites and had a chance to go twice. We also liked the Steak House. Our room was on the third floor which gave us wonderful breezes on the patio. We didn't have to turn the air-conditioning on until about the fourth day there. Sometimes the stairs were hard to get up after a long day on the beach but we always seemed to make it. We had a couple of things in our room that needed to be taken care of (light bulbs in some of the lights were out) but these were taken care of pronto so no complaints. We even had a "pillow menu" to choose the type of pillows we wanted! The resort itself was in some dis-repair but heard that it is mostly due to the economy that the repairs are not done already. They must not have enough guests right now to cover the cost of the repairs. But these were all minor. For us the resort was a little large compared to what we have had in the past but it was wonderful to try something different.
We did not partake of any of the excursions because we were there to relax. We were amazed at how much more excursions were available compared to the last time we were in the DR. They have come a long way. Even have a shopping center in the city of Higuey! This amazed us. All in all it was just what we wanted so thank you verrrrry much for planning this for us. We look forward to more trips that you will help us take. Enjoy the attached pictures!
Love, Tom and Jennifer Witt
Another Catalonia Successful Anniversary trip!
Gayle,
Thank you so much the welcome home. We had a wonderful time. We truly enjoyed it. Food was fabulous n very delicious, way to much to choose from. No excursion just alot of relaxing and people watching - which was wonderful entertainment.
Thanks for the recommendation. We loved it.
Juanita and Stephen Tyler
HONEYMOONS IN TAHITI

Our picture was taken right outside our porch on Moorea, beach bungalow at the Intercontinental. This is the wonderful lagoon I was talking about. Great snorkeling here.

Our trip was awesome! We loved Moorea, and loved the beach bungalows even more at the intercontinental than the over water's at the intercontinental.
W
e also did the shark and sea ray excursion there and had lunch on the motu. It was unbelievable.
D
id I mention the food? I
t was outstanding. That breakfast was well worth it! It saved us a lot of money, and monkeying around and no worries.
Bora Bora. A
bsolutely fabulous and the service couldn't have been better. We met a bunch of other honeymooners here with our same wedding date and spent many of our later evenings celebrating with them. YES
, we got the canoe breakfast. It was really neat. Thank you for organizing that.
It was so hard to come back, I cried the whole way and most of yesterday.
(my eye's are still puffy!) and it was so romantic. A great way to kick off our new lives together.

It was so fabulous. Thanks again Gayle!
It was the most amazing time ever!
We are already thinking of our next vacation!
Love,
Laura and Luke Leonard from Burnsville, Minnesota
TAHITI HONEYMOON COUPLES
Thanks Gayle for all the updates! We truly appreciate them, especially since we rarely have time to think about our honeymoon or the resort. The wedding is in two days, so we are getting things done to make that day very special!!
Jerald from Virginia
Healy Yunker Honeymoon in Tahiti, so what if it was belated. Check it out!
Gayle, thanks so much for all you've done! We're incredibly excited! We have over 40 people coming to the house on Saturday for our vow renewal ceremony in honor of our 5 year anniversary so this will truly feel like the honeymoon we've been holding out for.
Janis from California
"Choosing an island to visit in Tahiti is like going through your jewelry box to choose from a diamond, ruby, emerald or tanzanite! As a Tahiti Tiare Specialist I can help you choose the right JEWEL for YOU!",
Gayle Zielke, Tahiti Tiare agent!!
Gennell and Ben Warner Tahiti Honeymoon
Please see TAHITI for many more exciting honeymoon and anniversary guests.
HAWAII HONEYMOON

The trip (MAUI AND KONA HONEYMOON) was great! It has been a long time (too long) since I had a nice 10-day'er. You forget how easy it is to forget about work and lose track of days. Thanks for your help setting this up for us. Everything was great. Did a lot of different things and took a ton of great pictures.
Thanks again! Patrick and Meghan Dietz of Waukesha, WI
Honolulu, Maui and Kauai HONEYMOON!
Adam and Kelly Landwehr had a wonderful time on their HONEYMOON in Hawaii! Adam said it was FANTASTIC and would go back in a heartbeat. The Helicopter ride they took in Kauai was a blast. He said he wished of paid the extra money for a full hour ride in Kauai and recommends that to anyone who is going. 1/2 hour was too short. The Zipline in Maui was awesome. The Maui down hill bike ride was cool but said he would recommend that you rent a bike and go on your own if you want to go fast for an adrenaline rush! The road to Hana is a must while in Maui!! In Honolulu try the Hana Room at the top of the Sheraton Waikiki.
Honeymoon Cruise in Hawaii
Hi Gayle,
Ashley and I absolutely loved our honeymoon in Hawaii. I guess here is a list of what would be our highlights.
The Hilton Hawaiian village was an amazing resort, we were upgraded to an unbelievable ocean view. It was a very convenient hotel for everything we wanted to do. I would say though that if I went back to O'ahu I would not want to stay in Honolulu as it feels more like a city in Hawaii.
Our cruise was fantastic. Ashley and I both agree it was the best way to get a taste of Hawaii.
Excursions, wow did we do some amazing ones. Our Rainforest and Waterfall hike was incredible, we had a great guide and got to jump off cliffs by waterfalls… AMAZING!!! Our volcano bike ride was excellent as well. The views were stunning. Our luau was absolutely incredible. I would highly recommend that luau among any other. The grounds it was on blew away any hotel/resort luau. The food, especially pork, was the best we had ever had. Our kayak excursion was also breathtaking. Ashley and I both agree Kauai is by far the most beautiful island.
One complaint I might have is our flight with United Airlines. Unknown to us, they did not provide any food on their flight as complimentary. Not even a granola bar or peanuts. They only offered a snack package or meal, $6 and $9 respectively, which was not acceptable for us. Ashley and I were surprised and unhappy about that considering the length of flight and cost of the flight.
Overall we are very, very happy with our trip and have been raving about it ever since we got back. I left a lot out in this e-mail, but really could go on forever about all of our wonderful experiences. Thank you so much for your help through this long process. Your help was invaluable in the success and smoothness of our honeymoon.

Chuck
SHERATON MAUI HONEYMOONERS
Thank you Tana, the trip was wonderful.
Maui was just breathtaking, the resort (Sheraton Maui) was beautiful and we had a wonderful time ... overall the trip was wonderful. Enjoy the pics!
John and Evelyn!
OAHU, HONOLULU AND MAUI.....HAWAII HONEYMOON!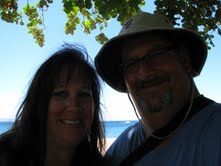 Joe Hurley and Ann Fleischman spent their honeymoon in Oahu at the Hilton Hawaiian Village and at the Royal
Hi Pat,

The trip was fantastic! My wife and I had such a wonderful time! It was very difficult to come back.

The weather was close to 90 every day and sunny. We drove around each island, stopped when we felt like, but mostly just enjoyed the views. We went to Pearl Harbor and the Dole Plantation on Oahu, walked to Waikiki a couple of times and spent time at the beach and in the pool. On Maui we went to the Iao Valley and Haleakala. What a view!

It was an absolutely amazing trip! The worst part was the flights home. The seats were horribly cramped and the people in front tilted their seats back, pinning our knees. Next time I pay for First Class! :)

Thank you for all your help in getting things setup. Everything went perfectly.

When we go back in a couple of years, I'll be sure to contact you.

Thank you again.
Show and Tell from our Hawaii guests!


RIVIERA MAYA ...ONE OF THE MOST POPULAR HONEYMOON DESTINATIONS!
Gayle,
Our Honeymoon at the El Dorado Royale was unbelieveable! We had the Best time in Mexico. Glad we got the Casita Suite, it was fabulous. Went on the ATV trip and Jungle trip which was a blast. The candle light dinner on the beach was GREAT!!

Honeymooners Samantha and Kirk Brendelson from Muskego
Everyone always wants one of these CASITAS once they see them!
Annette and Kurt Kruepke had a wonderful time in thier casita suite at the El Dorado Royale. They celebrated their special anniversary in the Mayan Riviera with a candle light dinner on the beach. How romantic!

We had a great time!!
Thanks for the great recommendation.
Annette
We had a fine time on our trip. The property at the Royale was fabulous. There was little not to like about that place. They had great food, excellent service, and everything was up kept so well. We did manage to get sick on our second day, but didn't let it get us down. We found time to take a shuttle into Playa Del Carmen, a must for shoppers. Also we went to a nearby place called Paradise Marona, where we went snorkeling, and deep sea fishing. The weather was perfect, the only down side is it is always very windy, and the waves are nuts. In all we had a great time and would highly recommend it to anyone looking to travel that way. Our pictures didn't turn out, that stunk.
In a swim up Casita at the El Dorado Royale in the Riviera Maya!
The El Dorado Royale in the Riviera Maya was the setting for this anniversary celebration!
Judi,
I can't say enough about the resort- we loved it! I could not just pick one pict so I sent a few for you to look at. The beach bed, fountain, ocean and rocks, monkies, and our favorite sunrise pict are from the resort. We took an excurtion to xel-ha (the pict with the bandanas) and Tulum as well as did the boat ride with lobster dinner on the beach. We enjoyed the excurtions as well as all the activities on the resort. Thanks for all your help,
Crystal and Dustin Starrett
Another El Dorado Royale lover!
Good morning Gayle
The vacation was excellent. The resort was up to our expectations. We had a 3rd floor corner room and if you looked in the right spot we had an ocean view.
We had a blast at the dolphin swim, snorkeled in the lagoon and we stayed for the night show.
Thanks for your help
Phil and Karen
Gayle,
Our trip was wonderful. We did enjoy our dinner on the beach -- thank you!! And we had another surprise when we checked in ... they upgraded us to a swim-up casita, which we absolutely loved! The El Dorado is heaven on earth. We really hope we'll be able to go back again next winter!
We do continue to disappoint in the picture department, however. Like with past trips, we get so relaxed that the camera hardly makes it out of the bag. If it's not a book, a drink, or having to do with water or sand, it doesn't even cross our minds!
Thanks again for all of your help. I'm sure we're no different than most of your clients in that we have to work very hard in order to be able to enjoy nice vacations. When we do find the time and the money to make it happen, we want to make sure we get it right. We really appreciate that you help us make it the best it can be!
Adam & Stef
COUPLES CELEBRATE WITH FRIENDS
Tana, Another fabulous trip at the EL DORADO ROYALE! Here is a picture of us at the candle light dinner for Gordie's birthday. It was wonderful.
Thanks again!
Schaefgen's of Waukesha and Hall's from Hartland
Gayle--Hi! I love the Excellence Riviera Maya! We walked out of the van from the airport and it was fun to get champagne! We were immediately impressed--the property is beautiful. The restaurants were really pretty and had good atmosphere. The food was pretty good for an all-inclusive (better than other places we had been). Thank you so much for getting our room upgraded! We loved it--we had the room where there was a jacuzzi outside and you could walk right out of your room and go in the lazy river. It was great!

We went to Tulum one day--we took a private car (through Lomas) which cost $110 for the both of us for 5 hrs. This worked out better than the planned excursion to Telum which left an hour and a half earlier to pick up people at other hotels with a big bus. It was only $30 more to take the private car and he offered to take us into Playa Del Carmen(which we didn't do). I would recommend this to other people because it worked out really nice. We also did the snorkel excursion to Maroma Beach on the Catamaran which was very nice as well.

The pools and beach at the hotel were very nice. It was somewhat small which was actually pretty nice because it made it easy to get around. We liked how the liquor was more upscale and they had a lot of fun bars there. The staff was really friendly.

Overall, I really loved it. It was super nice. You always do such a fantastic job for us!!! We really appreciate it!!!!!
Love, Jennifer
Kentucky
WINNERS of a State Fair BRIDAL SHOW:
Subject: Honeymoon!

Hi Tana!
Thank you so much for all your help; you guys have made this very easy for us and I really appreciate it. This is the first time I have ever gone on a trip like this...I have only flown 2 times and that was to Florida to stay in a condo that a friend of the family owns! I will definitely use your services for future trips and I will continue to refer you to friends and family as well!!!
Thanks again for all your help!

THE EXCELLENCE IN THE RIVIERA MAYA HONEYMOONERS
Our trip was BEAUTIFUL. I would definitely recommend the EXCELLENCE RIVIERA Resort.
Thank you for recommending this perfect resort to us!!
Thanks again,
Chris and Erica Ramirez of Waukesha
Secrets Maroma
Hi Gayle,
We did enjoy Mexico and Secrets Maroma.
Our excursions that you booked ahead of time worked out well.
Chichen Itzian was too long in the bus-6 hours or so. We would've loved to know that ahead of time. The tour guide was excellent and the food on that trip-yum!
Xacret park was a blast-highlight of the trip!
Beach was still beautiful, soft sand!
Atmosphere wasn't has romantic as I had pictured being a secrets resort and all
We would put Excellence Resort in Punta Cana ahead of Secrets Maroma due to cost with same experience.
Overall, it was a nice to get away and enjoy warm weather!
Thanks again for checking in.
Alex
EXCELLENT HONEYMOON AT THE EXCELLENCE RIVIERA MAYA
Hi Gayle,
Lizzy and I had so much fun at the Excellence RC. The resort was absolutely beautiful, and we couldn't have asked for a better place to go during our honeymoon and first trip to Mexico!
Thank you so much for the detailed planning out you did for us. We had no issues at all. Airlines ran on time, the Lomas Travel transport was great, Excellence itself was top-notch, and the XPLOR park was really cool too!
For a honeymoon, the adults-only all-inclusive resort is DEFINITELY the way to go. We mostly relaxed and enjoyed great weather during our stay, but we did do a day trip to XPLOR park and really enjoyed it. Although it's set up like a theme park, it is so much better! The zip lines were really cool, and I enjoyed the swimming through the caves as well. That was a nice, long day and a lot of fun. While at the resort we also booked an hour-long snorkeling trip out to the reef. We saw a lot of cool fish and enjoyed that very much as well.
Excellence RC had fantastic service, and we thought the resort itself was just beautiful and very well-maintained. We took a walk up the coastline there and had to agree that Excellence was the best-looking resort that we walked by for sure! Our (my) only problem was eating way way way too much of the delicious food!
Anyway, thanks again for the work you did in helping us plan and book such a great honeymoon. We couldn't ask for any more from our honeymoon and are already trying to figure out ways to make it back there again in a few years! You're the best!! We'll look through a few pictures we took and send you a few that look good soon. Until then, thanks again for everything!

Steve and Liz Gale
HONEYMOON WINNER OF ONE OF OUR BRIDAL SHOW GIVEAWAYS! Excellence Playa
Hi Tana,
Our trip was amazing!! We had so much fun! The resort and people were
awesome! Bob and I decided to go back for our 5 year anniversary! Thank you
so much for the opportunity!
Sincerely,
Erica and Bob Stamm
Another winner at Wisconsin State Fair Bridal Show
Tana,
The Excellence Resort was AMAZING. The staff were all incredibly friendly and attentive and all the pools were so relaxing. The beach was gorgeous as well, although the weather didn't permit us to swim in the ocean, it was still beautiful and relaxing to sit on the beach. We had a wonderful,large room with a pool side view. The resort brought us complimentaryfruits and champagne on our 2nd day there and we thought that was a great touch. We only left the resort once and that was to go on a para sailing trip that was recommended by the concierge. We had a great time and even off the resort were treated very kindly. We will never forget our time in Mexico,we were treated so well! We can not wait to go back. We felt so lucky and blessed to have won this trip and would recommend the resort to everyone.
Thanks so much!!
Aaron and Jessica Schwid
Another Bridal Show winner where we give away the GRAND PRIZE: Excellence Playa Mujeres
They just got back from their honeymoon at Excellence Playa Mujeres
WHAT AN INCREDIBLE RESORT!!!!!!!!!!!!!!!
You guys spoiled us ROTTEN :)! We can't thank you enough for the most amazing vacation of our lives. :)
Food was amazing, pools were amazing, weather was amazing, and boy did we get treated like ROYALTY! :)
What a tramendous blessing.
THANK YOU AGAIN AND AGAIN AND AGAIN !!!!!
Celebrate a Special Anniversary at the NEW Secrets Maroma!
The trip was amazing and we had a really good time! The resort is beautiful and the beach everything we had hoped for- powder white sand and clear blue water. We had a swim out room that we ordered.
We had a wonderful time at the Grand Palladium Colonial. It was an excellent place for our honeymoon.

Sherri Schreck
Secrets Maroma
We just returned and had an amazing time. The hotel was great, employees are friendly and food was very good. Top shelf drinks too. Thank you for putting it all together, traveling was trouble free and easy.
GRAND PALLADIUM WHITE SANDS
Hi Pat,
We had a FABULOUS time!!!!!!!!!!!!!!!!!!!!!!! We had our little quirks and bumps, but rolled with it and made the best of each day. We left the resort for 2 trips....Tulum and Ziplining/caves/snorkeling in the cenote. What a blast!!!! I did attach a few pictures from the ziplining day.
The beautiful caves were so neat to snorkel in...cold at first....but fun! The resort was enormous and beautiful. Great food too. Thank you for all your help in planning this trip! We look forward to going again some day.
In any case, our time in Riviera Maya was a dream. Thank you!!!!!!!!!!!!!!!!!!!
Sincerely,
Melissa and Chris Schroeter
The Blue Bay Grand Esmeralda Honeymoon
Hi Gayle-
Thank you so much for booking our honeymoon. It was the most amazing honeymoon we could ever image. We did 2 spa days at the resort, which also had the best food. I think we gained 10lbs each with all the good food and options. Everything was perfect from the airport to the resort, the transportation and the service of the staff. Lomas Travel helped us plan our excursions, by suggesting the Dolphinaries, a brand new Dolphin encounter that just opened in April, and got us the opening rate. That was the best thing to interact with the animals, and the foot push. We also did the Captin Hook Dinner Show and Cruise. We had so much fun and met a lot of great people on that trip. We also did the ATV and Speed boats on a really windy and rainy day. But that made it even better, speeding through the mud puddles on the ATV's and hitting the 8 ft waves on the boat.
We definitely will return some day, it was awesome!
Thanks so much for your tips on traveling to Mexico....never got sick and our credit cards worked :)
Annie and Mike Thym
Belated Honeymoon in the Rivera Maya at the Barcelo Maya and Caribe
Pat,
Well, Mark and I made it back from our adventure and we could not have had a better time...THANK YOU. We took about 3300 pictures and will be sorting through them over the next couple of weeks. As soon as we find the perfect shoots to send you we will.
I cannot wait to plan our next adventure with you - we are looking to go somewhere new.
Again, we want to thank you for your help and understanding as my nerves got the best of me sometimes.
Jen and Mark Thomas
Our Honeymoon at the Royal in Playa Del Carmen

Steve and I can not thank you enough for recommending this breathtaking resort. This was the trip of our lives. These pictures do not give justice to the amazing time we had. Everything was beyond perfect. The staff, the food, the activities, the accommodations and the location were all 5 stars!! The funjet representative was very helpful and helped us plan activities to put the icing on top of our wonderful honeymoon. We went on ATV's, speed boating, parasailing and swimming with the dolphins. We also had a moonlight massage on the resorts beach, which was amazingly romantic. We are planning on returning for an anniversary. Thank you again Pat and I look forward to working with you again in the future!
Thank you,
Ashley and Steve Johnson!
MORE PICTURES FROM THIS HONEYMOONER ON OUR MEXICO PAGE!
The Pence's told Gayle, "The Honeymoon was the only thing that went right with their wedding plans. "We loved the Iberostar Paraisio in Playa del Carmen."
Tana,
Our Honeymoon was wonderful, and I would definitely recommend Riviera Maya Mexico to anyone. It is so beautiful there, the Caribbean sea is awesome, and there is so much to see and do. Our resort the flamenco by Xcaret was excellent, great food, great accommodations, so much going on you can't possible do it all! Rob and I cannot wait to go back again next year.
We had a blast. The weather was great, the resort was Beautiful and the food was excellent. Overall it was wonderful and I would absolutely recommend that resort to anyone looking to travel. They took care of us as honeymooners and just as visitors to their resort. it was perfect!

Rob and Stacie of Waukesha
OCEAN CORAL AND TURQUESA
Gayle,
Thank you for everything! The resort was beautiful and the service was great! We really appreciate everything you did to make our honeymoon so wonderful!
Here are some pictures of our time in Mexico! We met another couple down there and we went on the extreme adventure excursion through the resort! It was a lot of fun and only a half day event! I have a lot of pictures of this as well. I would recommend it to anyone, we had an amazing time and got some amazing pictures!
Thank you again for your recommendation! The place was beautiful, clean, and the service was great!
Nicole and Ryan Sippel
IBEROSTAR GRAND HONEYMOON!
Thanks for following up with us. We had a BLAST in Mexico and at the Iberostar Grand. Such a great time. All our dinner reservations were made. The tours were fantastic. The Salvetica Zip Line tour was my favorite. They run a great business there. Lots of excitement and positive people. The only negative feedback I can give is regarding the Telum/Xel-Ha day trip. The timing was a little frustrating. We only had an hour at Telum before we had to leave for Xel-Ha. We literally only got to do 25% of the tour. We had to run around and see the remainder of the ruins on our own in 20 minutes. Otherwise, the ruins were beautiful and Xel-Ha was a ton of fun.
Thanks again for all your help making this a memorable honeymoon. I will pass along my feedback to Eric and we will definitely keep you in mind for any future travel.
Another GRAND Honeymoon!
Hi Gayle- We had a great time. We did do an ATV excursion one day – it was a good time, only rained a few days and was HOT! I don't have any pictures uploaded yet, but will send any along once I do . Thank you again for your help, it was a stress free process which is definitely what we needed following the wedding. Look forward to working with you again soon….(hint hint Bill)
COZUMEL
Gayle,
We had a fabulous time in Cozumel. Thanks for all your help!! We loved the hotel; it was very nice, really high class (well, at least for me!) Probably the most exciting thing we did was rented a jeep and drove all around the island. We saw the Mayan ruins and drove up the beautiful coastline--what a sight! Thank you again for sending us on such a great trip! Talk to you soon.
Gayle and Pete Schmidt

Pete is standing on the Carribean coastline of the island. The waves were crashing at just the right moment to capture a perfect shot!
PUERTO VALLARTA
Hi Tana!
We had fun. The weather wasn't as good as we had wanted, but no one has control over that except mother nature. Met some nice people and spent some time wave running in the ocean, massages and LOTS of cocktails!! Thanks for you help w/ everything!
Stayed at the GOLDEN CROWN PARADISE in Puerto Vallarta!
~Laura and Steve Stuehn of New Berlin
ST LUCIA
Hi Tana,
Our trip to St. Lucia was fantastic. The weather was perfect and the Sandals Grande was so nice. We did a couple excursions, that we'd definitely recommend. The Zip Lines through the rain forest was a lot of fun and so was the Booze Cruise at sunset. We actually ended up winning the Booze Cruise for free during the managers meet and greet night. Overall we had a great time. The only thing I'd have to complain about would be their clarification of a Beachfront Ocean View Penthouse Suite. We could see the ocean, but it was not beachfront and it was quite a ways from the ocean. A bit disappointing, but we didn't spend a ton of time in our room anyway. Thanks again for all your help. Kevin and Lindi Gill of Pewaukee


Gayle, we just wanted to say thanks again for everything. The honeymoon to Sandals Grande St Lucia was perfect. We would even do the flights all over it was so worth it. Thank
you! Talk to you soon. Linda and Michael Jakus

The Honeymoon was fantastic! We would definitely go back to Sandals again. Thank you again for all your help.

Michael & Chanelle Pergande
Comments from their Honeymoon at the Sandals St Lucia Regency!

SANDALS HALCYON ST LUCIA
Hi Pat,
Thanks for your help in making our honeymoon vacation a pleasure. Our travel connections were absolutely perfect to and from St. Lucia. We're looking forward to working with you again, perhaps near the end of this year, for another island vacation. We're attaching a few photos here from our stay at Sandals.
Tom & Jennifer Hicks
A wonderful Sandals Halcyon Anniversary trip for 2 couples!
We had a wonderful time at the Halcyon Sandals Resort. The tranquil setting and the helpful staff had us in a state of relaxation very quickly. We had a chance to visit the La Toc Resort when we went golfing one morning. We took the early shuttle to enjoy breakfast at La Toc and stayed for lunch after we finished our golf game. On another afternoon, we went on a snorkeling trip that took us to Marigot Bay, Anse Chastanet and the Pitons. Somehow, we couldn't muster the ambition to leave Halcyon again to visit the Grande. Talk about being lazy! We loved the intimacy of the Halcyon resort so much that we hated to leave. We enjoyed playing cards at the pool while our bartender, Agnes, kept us hydrated with a variety of tasty rum drinks. All of the meals were superb. Contrary to the brochure photos of young, slim and beautiful people at the resort, most of the other guests at Halcyon were close to our age and came in all shapes and sizes. We were very comfortable with the guests we met and had no problem making new aquaintances. Sadly, most of the photos I took were of the resort and the beutiful grounds, so I have no pictures of the four of us enjoying our vacation.
The one drawback of the vacation was the long flight.
Thanks, Gayle. As always, we appreciate all you do to make our vacations occasions to treasure.
SANDALS LA TOC GOLF RESORT AND SPA IN ST LUCIA
Hi Gayle,
Our trip was amazing. The resort was beautiful. We definatly choose the right hotel and we met some really great people. We did the zip lining tour and the land and sea tour. Both were amazing and we got some really good video footage of the ziplining :)
We are planning Antigua for January!!!

Ashley and Josh Smith
Sandals Grande St Lucia
Lisa,
Olivia and I would like to thank your for your assistance with booking our Honeymoon!
As we discussed, the Honeymoon in St. Lucia was awesome. From a feedback standpoint, St Lucia is very nice. An added bonus was that English was the prominent language. From a comparison standpoint, I still feel that Mexico is a better way to go considering the overall cost of the trip. The main concerns with Mexico are the language barriers and crime concerns. I have stayed at Riveria Maya Grand Palladium resort before (that is where I am getting my comparisons). Sandals states that they are an all inclusive; however, they had one restaurant that was $140 per couple to eat at. In talking with others, the restaurant was nothing special and only seated 40 people so Sandals thought they needed to charge for it. In either case, I feel it is a disservice to pay as much as we did to find out that one restaurant charges another $140 to go to. Another concern I had was that they charged for internet service. They were very accommodating to gluten allergies.
In the end we had a great time, but their "nickel and dime-ing" is a huge insult to the Sandals experience.
Thanks again!
Brandon

JAMAICA
Hey Tana,

The trip was amazing. We couldn't have asked for better weather. Sandals Ocho Rios was great! Thank you for getting us such a great deal and being so helpfull! When we go again, we will give you a call!

Brian & Megan Walulik of Delavan
Anniversary Celebration trip in Jamaica at the Lady Hamilton Palladium

Gayle, Thanks so much for helping up plan a fabulous vacation! Fantastic! We can't wait to go again.
HONEYMOONERS AT COUPLES NEGRIL
Nancy,
I am so very sorry it took me so long to get these pictures to you. I have just been so very busy lately! Our trip to Jamaica was amazing!!
The new MR and MRS KUNESH
HONEYMOON AT COUPLES SWEPT AWAY
Gayle,
Our honeymoon was absolutely amazing and we loved Swept Away, we will definitely be going back!
The resort has so much to offer that we only look their shopping shuttle off the resort, no other excusions this time. We also did not visit the sister hotel, I am sure it is wonderful to.
Thanks again for everything!
Dana
SPECIAL 5TH ANNIVERSARY AT THE IBEROSTAR GRAND

OUR 5th Aniversary Vacation to Iberostar Grand Rose Hall in Jamaica!
Hi Mary,
Just wanted to drop you a quick note to say our trip to Jamaica and the Iberostar Grand Rose Hall was absolutely Wonderful. It is an absolutely Beautiful property , the staff is so friendly and accomadating.
The the food was Great with the exception of the Buffets. The Alcohol is All Top Shelf. Only short 15 minute ride from Mo Bay Airport. The Rooms are truly unbeliveable. I would definately recommend to others.
Our 5Th year Aniversary Vacation was truly one to Remember for many years to come !!! Thanks Again !!! I have attached some pictures for you !!!
Rick & Cheryl Crivello
COUPLES NEGRIL
Tana,
"Couples Negril is a great place to vacation, especially to learn to scuba dive - warm water, beautiful beaches and great dive instructors. Thanks Tana for an awesome vacation! We are looking forward to the next one!"
Thanks!
Paul and Teresa Joachimczyk
WE LOVE THIS PICTURE, DON'T YOU?!!!
JAMAICA
Secrets St. James/Wild Orchid hotel
Hey Tana!
Yes, home sweet home - I guess :) The trip was so………wonderful. I loved everything about it. The hotel was excellent, the beach was nice, and the scenery was beautiful! The people were very welcoming and sweet. We went snorkeling right off the beach @ the resort and it was very scenic with a beautiful reef and colorful fish. We went to Dunn's River Falls which was cool and zip lining which was also awesome. The weather was nice and sunny with very little rain.
Love, love, loved the trip! I wish I was going back next week :) I would definitely recommend the Secrets St. James/Wild Orchid hotel to anyone.
Anyway, thank you so much for booking the trip for us you did an amazing job!
Thank you!
Sariah & Aaron
SANDALS ANTIGUA
Hi Karen,
The trip was fabulous! We ate too much, drank too much, got too much sun and not enough sleep – it was great!! The resort was beautiful – the beach was the best out of all the places we've been. The island was beautiful – very hilly which surprised me. We took an island tour (we always do that) so saw some beautiful places. The restaurants were excellent – sometimes the service was a little slow but we had to remind ourselves everyone is on "island time". We're so used to rushing around it took awhile to sit back and relax. Had the best massage ever! Shopping in St. John's was great. We had a wonderful time – can't wait for our next trip!
Paula
SANDALS ST LUCIA SPECIAL ANNIVERSARY AND RETURN TRIP!
Gayle,
The trip was fabulous. We did enjoy the Regency a bit more than the Halcyon because of dining options, activities, and the scenery. Beth keeps talking about "when" we go back. We took the catamaran to Soufriere on her birthday. She won the beer drinking contest that afternoon. We did enjoy the dinner for Sandals Select members where we came home with a spice basket, bottle of rum, and another cruise the following day to Marigot Bay.

Thank you for your help in planning the trip.
Todd and Beth
ST THOMAS
Sugar Bay Resort & Spa
Honeymoon was GREAT. We really enjoyed the resort, which was good because we never really left. The weather wasn't ideal and it got a little nasty mid-week, so there weren't a whole lot of activities available most days. However, that just made more time for relaxing, which is what we went for. We can certainly get you some pictures and I'm sure Kari will be happy to fill you in with more details.
Thanks for all your help, we really did have a great time!
Justin and Kari
EUROPE
ITALIAN HONEYMOON WITH GLOBUS
Joe and I had a WONDERFUL time in Italy!! The tour was great, and we definitely had enough free time to wonder around the cities at our own pace. Our tour director Alessandro was the BEST! I haven't uploaded any pictures yet, but I will definitely get to it tomorrow or this weekend and send you some so you can use for your website and/or newsletter! Thank you SO much for helping us plan the perfect honeymoon! Now we need to figure out where to go next :-)
PS-Joe's pictures were so good I thought he used postcards but Vernisha said they were really his pics! Just gorgeous!
SPECIAL ANNIVERSARY TRIP TO ITALY
Hi Gayle!

Yes, back home safe. Had a great time.
We liked each town/city for it's own uniqueness. Really loved seeing the sites in Rome, but the traffic (smart cars and scooters) was enough to be glad you were on your way. Shopping in Florence was productive. Bought Keith a leather jacket and a couple leather purses. Few nice necklaces. The trips on the tour were great. Met a couple old ladies from Maryland that were a super treat! They absolutely fell in love with Keith. Small group with nice people except one jerk and his girlfriend. Venice was super cool with all the bridges and canals. Drank lots of wine there. Well. . . everywhere!

Dropped my camera the 2nd day in Italy. So we have pictures of the Vatican and several of the statues, etc, but most are from the crazy nights in France. Met some people at a local pub and partied into the wee night. Communication wasn't the easiest but you know us. We can pretty much wing it any where.

By the way, we thought Globus did a fantastic job. We would highly recommend a tour through them to anyone!

Thanks Gayle!

Keith and Stacy
KEITH HAD SOME BAD TRANSPORTATION...AND A LOT OF FUN!
WONDERFUL ANNIVERSARY CELEBRATION IN ITALY!

Hi Sara!
We had a great trip, thank you for asking.

Our tour was excellent - it was 100% run by Central Holidays - we never saw an Apple Vacations sign or anything and nobody else on the tour had evenheard of Apple Vacations - so that was interesting. The tour was actually a segment of a much larger tour - something I wish we had known because it went on to Sicily which I would have liked to see. It started in Venice and went to Florence and a couple other placesbefore getting to Rome. Approx 20-25 of the tour had started in Venice and there were about 10 of us that joined them in Rome. Our tour guide was fantastic although a bit crazy on not being late - we always had to be 2 minutes early otherwise he would get grumpy. But I think that is better than always running late, and our days were maximized to say the least. I also liked that we had quite a bit of downtime; the first two days in Rome were completely free and we got to explore and get lost and that was awesome. We did an optional tour to the Catacombs and the Pantheon which was cool and got to see more than we would have on the tourand on foot. The same guide was our guide the day we saw the major stuff on the first "real" day of the tour. Her name was Franca and she was fantastic; she was fiesty, funny, and very Roman - she looked like CocoChanel. I loved her, I think we had a bond and we were hugging by the end of the Romepart of the tour. Ha!

Obviously Jake and I were the youngest of the group - the next closestin age were people in their mid 40's and some people were in their mid80's. Everyone was mostly from the East Coast and many were from Long Island - they were all hilarious and we really enjoyed the group. Central Holidays picked pretty good hotels - our hotel in Rome was surprisingly modern and the rooms were big. The food was also great and the location couldnt have been better. The food at the hotel in Sorrento was horrible - that was probably our only complaint of the whole tour because we had one dinner there and felt "forced" to eat there because it was one of the free meals and we would have rather gone to town on our own and eaten at a nice restaurant - even the breakfast was disgusting - and the coffee! We loved the Amalfi Coast and I think our favorite day on the tour was probably the day that was the most vague on the tour itinerary. We took the bus from Sorrento and drove along the coast line which was beautiful. We stopped in Positano which was amazing, took a boat to the town of Amalfi for some shopping and cappacinos and then went to Ravello for the best lunch with the best views. It was wonderful - our only complaint on that day was we wished we had more time in each place! Another time!

Our stay in Paris was also great - we stayed at the Renaissance Arc de Trioumpe (sp?) and Justin Bieber was staying there too - hilarious. He was in the room right below us and we ran into him in the elevator. We tried getting cocktails at Hotel Ritz because that is shutting down for a few months but Kanye and Jay Z were there partying - it was so weird. I figured out the trains right away butwe still probably walked 5 miles a day at a minimum. The shopping in Paris was AMAZING. I got the the most beautiful lacy sexy pretty tops - the type of stuff you find at Anthropologie here for so much - for such inexpensive prices. I loved it, I wish I had more time to scour around and shop because they were definetly no name vintagy type shops. Love! I actually got one beautiful sheer longsleeved top at this really weird vintage shop for 1 Euro! And of course it was my favorite find.

All in all, it was a great relaxing trip. The days we were actually with the whole group were hectic but completely worth it. I felt bad for all the older people because there was a LOT of walking; but the best part of the trip was definetly the fact that we had so much free time in Rome. We welcomed our stay in Paris because that was all free time as well.

Thanks,
Nisha
YOUNG COUPLES WANT TO VISIT IRELAND TOO
Hi Gayle,

We had an absolutely wonderful time in Ireland! The weather was really great, minus one day where it was rainy and gloomy all day (of course that was the same day as the scenic drive through the Ring of Kerry!). We really enjoyed all of the excursions, especially the National Stud and the Rathburn Farm trip.

I still can't get over how beautiful the country is, and how vibrant all of the shades of green are - no pictures can do it justice! We really enjoyed ourselves. I loved the relaxed culture, and the people were all wonderful. We liked to spend our evenings just wandering around the towns and visiting pubs.

I have tons of pictures to share, I'd love to send some over to you!

If they'd like to, I'd love to talk to the couple directly and answer any questions they may have. Aside from 2 others, we were by far the youngest on the trip - but Justin and I didn't mind that at all!

The only downsides to the trip were that a couple of the hotels were not as nice as we had hoped, especially the one in Killarney (the other travelers all had updated rooms, but we got one that wasn't yet updated). Also, Waterford was a bit of a bust, as the factory is no longer open. Instead of the factory tour, we had a 20-minute walking tour of the city, and that was it. There wasn't much to do in the city in the evening, so we felt a bit disappointed in that part.

It was funny that you emailed me today, as I was just on your website earlier looking at vacation options - I'm getting the itch to travel again!

Hope all is well,

Margaret and Justin Rooney
(with a name like Rooney they might have been looking for their roots and found a lot of fun along the way)
LAST MINUTE ANNIVERSARY TRIPS CAN BE PERFECT! JUST WHAT YOU NEED!
Hi Gayle,
We did have a great time. We toured around Tampa and of course went to see Erikas dad run his racecar. She loved it. We even got some sun Saturday and Sunday before we left. An extra couple days would have been nice...but that darn thing called work almost always interferes .
As usual you did a great job setting things up for us. We definitely appreciate the last minute work you did. We plan on taking a trip sometime this summer...where???? Don't know just yet.
Thanks again, and we look forward to calling you again soon.
Allen & Erika Buchholz
COSTA RICA HONEYMOON
RIU GUANACASTE
Hi Gayle,
Sorry for the delay – Ray and I have both been swamped with work following our trip. I had wanted to reach out to you as well to say thank you for all your help. We had such a great time on our Honeymoon!
We thought the hotel was great and the area was nice – not too far from various other beaches/towns that we wanted to check out. We did one full day tour through Swiss travel that included the Arenal Volcano/Lake Arenal boat ride, taking a tram-ride up a mountain and zip-lining down, a stop at The Springs hot spring resort… lunch and dinner included… it was fantastic! We also went fishing for a half day (through another company) – that was very fun!
I can definitely send you a few pics. I'll be travelling the rest of this week again but will be in touch soon with some pictures after that (or if I can find some spare time in the airport).
Thanks again for all your help – we had a wonderful experience. I'll be in touch again soon.
Best,
Jenny

HONEYMOON CRUISE
Nicole Duzynski and Christopher Kachelski are the great looking Honeymoon couple who cruised on the Carnival Victory to the southern Caribbean!
Pat,
The cruise was BEAUTIFUL and soooo much fun! We are going to try and go again sometime next year! We really liked St. Kitts and St.Maarten the best (although St. Lucia was extremely beautiful as well!!) I have attached a picture of chris and I from a platform at the top of an attraction in St. Thomas. If you want any more let me know! We took ALOT of pictures! Thanks again for helping us out! We really appreciate it! You gave us a truly memorable vacation (and our room....omg the balcony was huge! nothing like I expected!!)
Thanks again!! Nicole
Thank you so much for all the ideas and great trips you provide us. You have never steered us wrong...hope we live up to the expectations :)
Looking for a romantic rendezvous for yourselves? Why not take your other half to the most romantic destinations in the world and celebrate the romance in your life!
Who doesn't love SURPRISES? Ask us to help you with a surprise vacation/celebration trip for your signaficant other and be a... HERO!
For more destination, resort reviews and pictures for our HONEYMOONERS and ANNIVERSARY COUPLES go check out our
and