AWARDS, ASSOCIATIONS AND TESTIMONIALS FROM OUR AGENTS, SUPPLIERS AND CLIENTS

First Choice Travel and Cruise locally owned and operated since 1991!
Area Travel Agent Recognized and Rewarded by Funjet Vacations
Funjet Vacations awarded Gayle Zielke, president of First Choice Travel and Cruise the Funjet First Award.
This award recognizes Zielke as the top travel agent in Wisconsin for her dedication and service to her local clients.
The Funjet First award is based on three areas of the travel agency business, including customer care, engagement and strategic selling.
For customer care, Funjet Vacations rewards agents who offer comprehensive service to their clients from the planning stages to the completion of their trip. Travel agents have many unique resources to take advantage of, and Funjet Vacations is looking for them to utilize these in the engagement category. In the strategic selling category, Funjet Vacations recognizes travel agents who tailor trips to the specific needs of their clientele, and ensure they have the best vacation experience and memories possible.
Winning the Funjet First Award is truly an honor, said Gayle Zielke, president. All of our agents at First Choice Travel and Cruise are so proud to be recognized for our excellent service to the clients in our community.
Gayle Zielke has been serving the greater Milwaukee and Waukesha area residents since 1989. Working at First Choice Travel and Cruise since 1991, Gayle specializes in Destination Wedding groups, Honeymoons, Tahiti, River Cruises and All-inclusive vacations. First Choice Travel and Cruise agents are best known for their destination specialists for Alaska, Hawaii, Cruises, Europe, Caribbean, Tahiti and Australia.
**First Choice Travel and Cruise has been in the top 10 Travel Agencies in Wisconsin in the Milwaukee Business Journal for many, many years! Congrats to all our Travel Experts to make this happen every year!

Travel Industry Awards and Recognitions
Here are some of the Awards and Recognitions we have won over the years for excellence in top sales and service!
Funjet Vacations
500 Club – Silver 2005
500 Club – Silver 2006
500 Club – Gold 2007
500 Club - Gold 2008
500 Club - Gold 2009
500 Club - Gold 2010
500 Club - Gold 2011
500 Club - Gold 2012
500 Club - Gold 2013
500 Club - Gold 2014
500 Club - Gold 2015
500 Club - Gold 2016
500 Club - Gold 2017
500 Club - Gold 2018
500 Club - Gold 2019
500 Club - Gold 2020
2021 ALG EMERALD
***500 club member since 1993 every year!!


Apple Vacations

Platinum Apple 2005
Premier Apple 2006
Premier Apple 2007
Premier Apple 2008
Golden Apple 2009
Golden Apple 2010
Golden Apple 2013
Golden Apple 2015
Golden Apple 2016
Golden Apple 2017
Golden Apple 2018
Golden Apple 2019 then came the FUNJET and APPLE merger to ALG Vacations!
Golden Apple member since 1995 year!!
MAST presented 80 awards to member agencies, individuals and suppliers. The MVP Awards dinner and presentation was a great success and lots of fun. Many thanks to our sponsors of MAST Awards Night – Apple Vacations, Disney Destinations and Disney Cruise Line, Globus Family of Brands, and Royal Caribbean International. Congratulations to all of our award recipients. First Choice Travel and Cruise won 3 Awards!
MAST AWARDS
Royal Caribbean top sales
Avanti Destinations top sales
All Star top producer
Congratulations First Choice Travel and Cruise for being recognized as a Globus family Premier Agency Partner.
Gesica is accepting the award for the Team!
Globus, Avalon and Cosmos
Our First Choice Travel Disney Specialists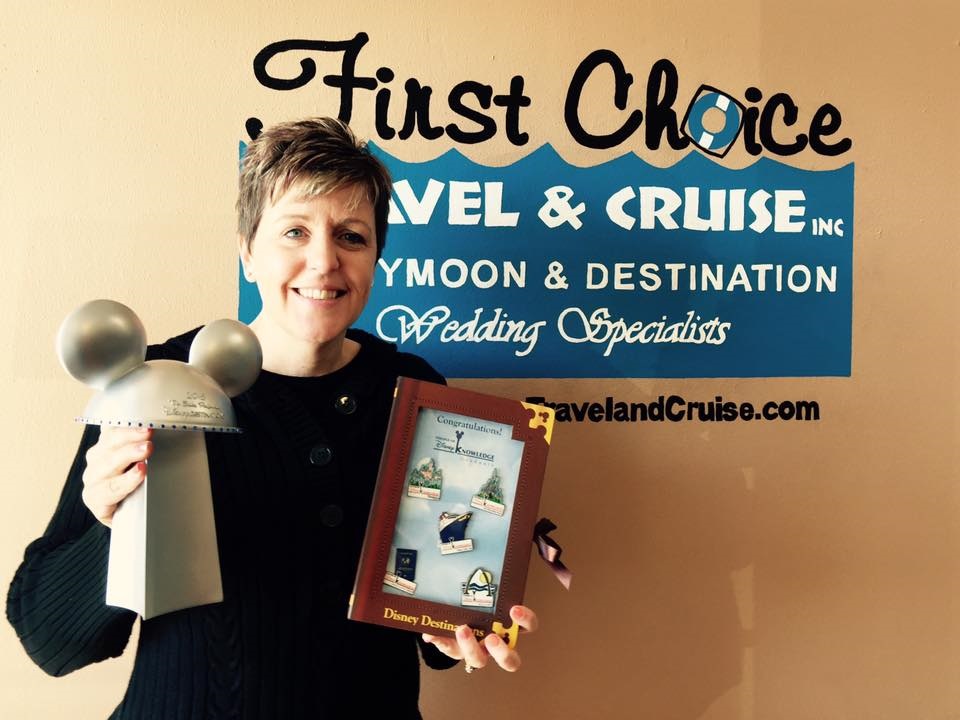 Congratulations to the whole First Choice Travel Team!
We've won the
We are excited to announce First Choice Travel and Cruise has won this prestigious award, as determined by reviews from past clients. WeddingWire Bride's Choice Awards™ 2013 recognizes the top five percent of Wedding Professionals nationwide.
First Choice Travel selected for 2013 Wisconsin Excellence Award by SBIEC
On behalf of the Small Business Institute for Excellence in Commerce, I wanted to let you know that First Choice Travel has been recognized
as a 2013 Wisconsin Excellence Award recipient.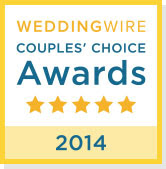 CONGRATULATIONS TO FIRST CHOICE TRAVEL AND CRUISE WINNING COUPLES CHOICE AWARD.
FIRST CHOICE TRAVEL AND CRUISE TRAVEL AGENTS SPEAK OUT!
You are a great team! Everyone in the office is sooo helpful & kind. It is so wonderful to be part of thisJ
Paula A. Weber-Colgate


Tana Kubricky says, "I have worked for First Choice since 1998. It truly is a full service agency since Gayle (the owner) even found my husband for me. Everyone here is truly enjoyable to work with!!" Thank you for always encouraging us and being excited for us!
Tana-Waukesha

I used to work for Boston Store Travel for 10 years and I have known Gayle forever. When they closed I immediately contacted her and she introduced me to her wonderful staff and outside agent program. I really enjoy working with my past clients and their referals.
Cathy Eickhoff-New Berlin


I have worked for First Choice Travel since 2003 and I felt part of the family right away! Everyone is so knowledgeable and professional.
Pat Weber-Hartland

I just wanted to say thank you for having today's meeting. I learned several helpful hints and some really important information that will help me in the business. It was also really good to see everyone. Thanks again for the opportunity to fulfill my dream of becoming a travel agent, this is really a dream come true!
Laurie Schweikert - Brookfield
Travel Consultant


Gayle,
It is a pleasure working with you. Thank you for always being a great support for me.
The best things
In the world aren't things.
They're people like you!
Sincerely,
Lynn Ewerdt
Your Ticket to Getaway/Affiliation First Choice Travel and Cruise
920 922-8661 or 920 517-3825

I have worked with First Choice Travel and Cruise as an outside agent since 1997. I enjoy doing groups to Mexico, Las Vegas and the Caribbean. The office staff is very knowledgeable and always willing to help. I love the emails that are returned to me within minutes. Thanks again, I truly enjoy working for First Choice Travel.

Y

our happiness is my success!
Bette Zarnke- New Berlin


Gayle,
Just a note to congratulate you on your recent Funjet Award. What an honor! You should be so very proud of your achievements. You have worked so hard and you really deserve it! Glad to be associated with you and your company. Cathy Eickhoff

Gayle,
Congratulations on your incredible honor. You not only impress all of the vendors that you work with, but you have trained a staff to highlight your inoovative ideas. I am very happy for you. Karen

This is awesome! Paula A. Weber

I think we should toast to that award! Suzie Michaelson

Congrats Gayle!!! You are amazing! Kathy Neuharth

Gayle,
Way to go...this is awesome news. I feel so privileged to be a part of your agency. Congratulations! Laurie Schweikert

Gayle,
"Congratulations" on your award with Funjet- YOU deserve it! You've worked very hard to achieve that. As a friend and client forever-I'm very proud of your accomplishments! Marilyn and Bill Kubricky
Congratulations Gayle and First Choice Travel and Cruise on being recognized by The Business Journal Serving Greater Milwaukee in their selection of Largest Milwaukee-Area Travel Agencies!
Travel Industry Partners

Hi Gayle, I wanted to say again how happy I am that you were chosen to win the award. And true to form. I love the fact that you want to promote the heck out of it! Mary Mielke, Business Development Manager, Funjet Vacations

Gayle,
You have my word that you will have the support and resources you need to make sure that we continue to develop our fantastic partnership and find new and creative ways to drive business and serve our mutual customer.
Thanks for all that you have done for us; wefre looking forward to a great year ahead.
Mike Going
Chief Marketing Officer
Funjet Vacations
Thank you Gayle for all of your ongoing collaboration and support. We are anxious to grow together and using all of our combined creative ideas is a great start. We look forward to having a great year together in 2008.
All the best.
Ray Snisky
President
Funjet Vacations

Hi Gayle,
Thanks for your strong support of Princess Cruises through the years. I'm always impressed with the amount of product knowledge your agents have - especially with Princess Alaska Cruisetours! We all know that selecting a Cruisetour can be a bit challenging, due to the many options available through Princess Cruises. It's nice to know that your staff undertands these options so well, and can assist clients in booking the best vacation package based on their budget, interests and lifestyle.

Debra Wayne
District Sales Manager
Princess Cruises and Cunard Line



Hi Gayle,
Royal Caribbean International thanks First Choice Travel for their support and dedication. With all of the vacation options in the marketplace, it's important for consumers to work with experienced and knowledgeable travel agents. Gayle and her staff are committed to staying on top of cruise industry developments and the Royal Caribbean product. Their professionalism, commitment to customer service, and enthusiasm for our brand makes them true partners of Royal Caribbean.

Kerry L. Mitchell
Business Development Manager
Royal Caribbean International
Gayle and the staff of First Choice Travel,
Thank you all for all you do to create the Magic for your guests who choose a Disney Destination Vacation. From a trip to Walt Disney World Resort to a family reunion on Disney Cruise Line, your staff has proven their dedication, knowledge and excitement in providing our mutual guests with magical memories that will last a lifetime. Congratulations on your 6th year as an Authorized Disney Vacation Planner.

Tom Rehbeck
District Manager
Disney Destinations! LLC.
SOUTH PACIFIC
First Choice Travel & Cruise are a "valued" customer of Islands In The Sun. During the time we have worked together, all divisions of our company have come to trust their ability to deliver the highest standard of product to their customers. With a combination of over 25 years of experience in dealing with the public, we have found that First Choice Travel & Cruise agents provide a wide spectrum of knowledge and professionalism. Each member of their team provides an exceptional level of expertise and individual strengths that convert to exceptional service to their customers.
In working with Gayle Zielke, President of First Choice Travel & Cruise, I have found her to be an inspiring leader. She embraces challenges and encourages company strengths to better improve her team's performance. It is my pleasure to work with an Owner/Manger of her caliber and insight into various aspects of the travel industry.
Islands In The Sun highly recommends First Choice Travel & Cruise to any travelers who are searching for "unique" travel experiences. They strive to provide the utmost in customer service, their agents have travelled all over the world, and we are proud to be their "partner" in travel to the South Pacific.
Mark Punshon
Vice President - Sales
Travel2 & Islands In The Sun
Congratulations!!! It's always nice to be recognized!!
FLYING HIGH TRAVEL
W/1ST CHOICE TRAVEL & CRUISE
PH: 262.938.9913
Gayle,
Thanks for the encouragement...
SUZIE
Gayle,
I thank YOU. I know I would not be selling travel if I wasn't given this opportunity. I truly appreciate all you do for me.
Sandals
Best of the Best 2002........on
TOP PRODUCER AWARDS FOR THE FOLLOWING VENDORS:

SuperClubs
Princess Cruise Lines-Top producer 2007
Commodore Certified Travel Agency
Royal Caribbean Cruise Lines
Disney EARMARKED Agency
Globus Vacations
Starwood Properties
Avanti Europe
Karisma Resorts-El Dorado Royale - GI SPECIALIST
2 Diamond Level
INTERNATIONAL AIRLINES TRAVEL AGENT NETWORK SINCE 1991
OTHER AWARDS AND ACHIEVEMENTS
Business Journal top 10 year after year
According to the business Journal First Choice Travel and Cruise is #7 of the largest vacation travel agencies in Wisconsin
First Choice Travel & Cruise Receives 2008 Best of Waukesha Award
U.S. Local Business Association's Award Plaque Honors the Achievement
WASHINGTON D.C., September 25, 2008 -- First Choice Travel & Cruise has been selected for the 2008 Best of Waukesha Award in the Cruises category by the U.S. Local Business Association (USLBA).
The USLBA "Best of Local Business" Award Program recognizes outstanding local businesses throughout the country. Each year, the USLBA identifies companies that they believe have achieved exceptional marketing success in their local community and business category. These are local companies that enhance the positive image of small business through service to their customers and community.
Various sources of information were gathered and analyzed to choose the winners in each category. The 2008 USLBA Award Program focused on quality, not quantity. Winners are determined based on the information gathered both internally by the USLBA and data provided by third parties.
OUR CLIENTS ARE OUR BEST SOURCE OF REFERALS AND REPEAT BUSINESS FOR OVER 30 YEARS!!! THANK YOU ALL!!!
Al Zimdars has endorsed your work as president at First Choice Travel and Cruise.
Dear Gayle,
I've written this recommendation of your work to share.

Details of the Recommendation: "Gayle has helped us plan many vacations. She always offers the best values available. We never would have thought to vacation in Costa Rica, without Gayle's guidance."
Service Category: Travel Agent
Year first hired: 2000 (hired more than once)
Top Qualities: Great Results, High Integrity, Creative
I'm so happy we're going through you guys...it's so much easier! Sue Bluemenfeld
Some CLIENTS COMMENTS AND PICTURES. For more testimonials, pictures and comments see Customer Trip Reviews & Pictures.
Thanks for voting us "Simply the Best" Travel Agency!
A special THANKS to YOU, our friends and clients, who have helped make us one of the most Award-winning travel agencies and supporting a local business!