Some of our Family Vacation "SHOW AND TELL" stories we want to share with you!
Family Vacation Fun!


GREAT FAMILY VACATIONS ....begin with "YOUR FAMILY" TRIPS!
Isn't it time to make some of YOUR own "FAMILY VACATION MEMORIES"?
PUNTA CANA
This adorable family just returned from Punta Cana and said they could have stayed longer! I bet they wish they were there now during this snow storm!
️☃️
"Hi! Just wanted to tell you we did Monkeyland today- it was great! The tour guides were cool and down to earth.
The resort is amazing. The staff is very friendly. The beach is clean, sand is soft!
We're having a blast here
"
Kelly and family just returned from the Royalton Punta Cana. She stayed in the Oceanview Diamond Club. She met up with 2 other couples that didn't book through me. The other couple paid to pick their rooms. I just sent an email to the hotel rep we know and they put her near the other couples
The whole staff at the Royalton were great. They were always playful w the kids too. Temp checks were done before entering any restaurant and hand sanitizer stations were everywhere. What's app is what we used to talk w our butler(who walked us through the resort and up to our rooms). The resort got us our room right by the rest of our group, which was great. Check in was easy and no wait at all. I def didn't bring enough sunscreen spray so we had to use our lotions. The gift shop was selling them for $45
. Room service was fast 20-30 minute wait tops. And they always called to ask if you needed any extras like Mayo or mustard.
The water park slides go into deep water, so kids that can't swim need to bring a life jacket. I didn't see any provided. (We brought our own with). Lilly wasn't tall enough to ride the big slides, but we showed her how to stretch her body and she got on the next day
.
The beach was great and the pool area was very clean. Never a problem getting a spot to sit or hang in the water. Ocean water was crystal clear w some great waves. No rocks or shells for miles along the beach.
The monkeyland excursion you can't bring any bag or purse into the sanctuary, so they had a bin or you could rent a locker for $5. I wish I had worn shorts w pockets that day.
Airports were fast to get through since w have kids- we were able to be in faster lines. Customer service was great w Swift Air, but that was about it. The plane was loud and late for take off and departure. By a lot! And defiantly no enforcement of masks for passengers.
If you have any specific questions ask away. We did a lot in our 7 day trip, and honesty I could have stayed longer. Can't wait to plan another trip with your company! Kelly
MEXICO and the Riviera Maya
Generations
My family and I just got back from Generations Riviera Maya, and I can't wait to share r experiences with YOU!
Want to make your family feel like important ROCKSTARS?
Get a Limo transfer! The facial expressions my family made when they took our luggage and loaded it into the back of the limo was PRICELESS! It was like an excursion all in itself!
​
Generations Riviera Maya was a very small property! So perfect if you like small and boutique resorts.
5 restaurants, only buffet breakfast with an omelet grill, buffet & pool side lunch, Mediterranean, Italian& Japanese(no hibachi table only sushi bar) for dinner. My kids love sushi and so do we!!! Since it's a Karisma Gourmet Inclusive, the food was fabulous!
More comments and pics: Gesica
ALASKA is a FAMILY DESTINATION you might not have thought of but YOU do not want to miss!

Dear Friends,
Back from the "Upper One" (Alaska) and had a great trip. The boat kept us plenty entertained but the scenery and animals were amazing. we saw... black bear and brown bear feeding on the running salmon, huge salmon, Minke Whales, Humpback Whales and Orcas, Sea Otters, Moose and tons of Bald Eagles. The glaciers were amazing and even saw them calving. I recommend this cruise to everyone. And I can't wait to go back and explore some more. Attached just one picture of us, the pictures just don't do the memory justice, but here we are awaiting our ride back (in the background) to Ketchican from our Bear experience in Anan Creek.

Elizabeth Marquardt
SAN JUAN, PUERTO RICO
Rio Mar


Pat,
Loved Puerto Rico! Thanks!
Sandy Jaeger and family stayed at the Rio Mar in Puerto Rico. She said the food was fantastic and they had a wonderful trip.
The picture is from La Coca Falls, El Yunque Rainforest in Puerto Rico, one of the excursions they did to the rain forest.







El San Juan Resort & Casino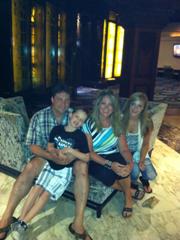 Hi Gayle,
We had an amazing time and the hotel was beautiful! Puerto Rico was everything we expected and more! We would go back again in a heartbeat. We saw the Rainforest which was amazing, did a snorkeling tour and spent lots of time at the beaches and the pools. The hotel had mixed reviews, but everyone we talked to there loved it, as did we. We stayed in the Garden Lanai and thought it was wonderful. The rooms were clean and wonderful. The hotel was definitely expensive but we expected it.
The staff at the hotel was amazing, friendly and helpful – it made our trip so worthwhile, everyone was so willing to help in any way possible. They told us where to travel, restaurants to go to, and where to grocery shop etc. The drivers that spoke English were extremely proud of their country and couldn't wait to tell us all about the culture of their country. I would highly recommend to anyone to rent a car to just to site see and see the local cities and what they have to offer. We drove the rainforest and saw it at our own pace then went to Laquillo beach, a prime beach in the area; all at our own pace.

I do have more pictures outside of the hotel (rainforest, snorkeling and other things).
Just let me know.
Jodi Hotz
JAMAICA
Pat Weber said, "The Semrow family trip to Beaches Boscobel in Ocho Rios was definately a success!"
Looks like this is a perfect before and after photo op shot!!!

MEXICO
Mexico is probably the #1 favorite FAMILY DESTINATION! All-inclusives rule with these families. Read on and find out why. (OK don't forget...DISNEY is right up there too!)
Sandy Peters and her family enjoyed Dreams Riviera Cancun in Mexico!
Thank you so much for arranging our vacation to Mexico! We loved it ! We are all home safe and relaxed!! My new favorite vacation... kids all had a great time. My little granddaughter cried cause she wanted to live there forever!!! Had a photo shoot done there... very happy with that too!
Thank you so much for getting me to reconsider going to Mexico! Felt very safe at all times!! Heck I'm already thinking about next year already 🤣
❤️ Sandy Peters
Dreams Puerto Aventuras Resort
Thank you Lisa!
You did such a great job for us, we really appreciate it!
We would like to thank you for helping make our vacation such an exceptional experience. You really exceeded our expectations in assisting with the arrangements in making our vacation plans.
We cannot thank you enough for taking the time to make additional contacts at the Dreams Puerto Aventuras Resort prior to our arrival. From the time we arrived at the resort we felt so welcomed and were given VIP status.
The Dreams Puerto Aventuras Resort was a beautiful and clean resort. We enjoyed our room upgrade and loved seeing the ocean view off of our terrace. The room décor was pretty and well maintained. The food was very good. Thank you for making contacts regarding Corah and Corah's love of seafood. Jennifer Barnett greeted us at check in and talked with us regarding the special occasion meal that was to be provided for our family. It was completely amazing! The gorgeous table was set up on the beach right by the ocean, the service was magnificent, and the meal consisted of an appetizer of shrimp empanadas, seafood chowder, and lobster and shrimp for the main course with multiple yummy desserts to finish off the meal. We truly felt like royalty and the whole family enjoyed the entire evenings dining experience. Our waiter Jaimie did a great job. Also David who was head of food service helped make the evening possible.
We would definitely recommend the Dreams Puerto Aventuras Resort. It was a great smaller resort. The beach was fantastic since the reefs right off the shore provided snorkeling opportunities off the resort's beach front. We were able to see multiple types of fish, conch shells, stingray and coral. The Barracuda Bar with the swings overlooking the ocean was a beautiful place to cool down with a frosty drink. The girls loved the ocean trampoline off of the beachfront.
Thank you for helping us find the type of resort we were looking for. It was clean, family oriented, had great swimming and snorkeling opportunities, great service and good food. We have already referred family members to you and will recommend your services at First Choice Travel and Cruise in the future.
Thank you so very much.
Sincerely,
Marla, Todd, Myah and Corah Buth

FAMILY VACATION SUCCESS ...AT IBEROSTAR QUETZAL
Hi Gayle,
Just wanted to let you know that we had a wonderful time on our family trip to the Iberostar Quetzal in Riviera Maya. We really loved the resort. It was a good size (not too big) and we loved the tropical feel with the thatched roofs and the paths through the jungle with monkeys, peacocks and other animals. The staff treated us well, and everyone was very nice and helpful. Our kids had never been to an all-inclusive before, and they loved it. The beach is always important to me, and I really loved this one - a large, sandy beach with plenty of chairs to relax and enjoy the beautiful setting. Tony and I both agreed that this resort is one of our favorites we have visited and would definitely like to go back in the future. Maybe you can let us know if you come across any special deals!
Thanks, Gayle, for suggesting this resort to us, and thanks to both of you for all of your help with the planning and arrangements. We thoroughly enjoyed ourselves, but as always, the week went too fast!
Karen Manvilla
CROWN PARADISE CLUB IN CANCUN

Hi Gayle!
We had a great trip! I would recommend it to anyone vacationing with kids.
Pros-
Kids loved the kids club. There is also a shaded pool near the kids club that we used one day after we had too much sun.
Lots of activities for the kids
Pools are nice-after 9am it is impossible to get a chair though. We usually found chairs on the beach or an area between the pools and beach.
Beach was awesome!! We did a lot of walking both directions! Cabanas fill up fast right away in the morning but if you watch you can usually grab one in the afternoon.
Little to no wait at the bars for drinks-not a lot of wait staff walking around to serve drinks though. They had a kids drink menu and the kids loved ordering their own drinks!
Breakfast and lunch buffets were good-did not eat supper there
Cons-
Hotel is old and rooms are run down(as you warned me) The room we were first given was FILTHY. We requested a different room and they gave us keys to check out 2 other rooms. Both were much cleaner and we actually ended up taking a honeymoon suite for an up charge. Huge wrap around deck facing the ocean-it was beautiful. The kids enjoyed the hot tub on the deck every night!
Restaurant food was ok-although we were very disappointed with the Italian restaurant - beautiful view of ocean made up for the food. The reservations you made for us worked out well and I was able to make the last reservation no problem-they take reservations 1 day in advance only
Kids menu is the same at every restaurant-kids didn't seem to mind though
Theater for shows not very modern and it is indoors. We just went to one show-a kids show that our kids enjoyed.
All in all it was a great vacation-we heard from many people-if you are vacationing with kids this is the perfect hotel!
PUERTO VALLARTA
Three generations of ADVENTURE SEEKERS in Puerto Vallarta at the Marival!

We had a wonderful time. The resort was just fine. The staff is polite, the food is fine, the alcohol floweth should you want it. The rooms are fine. The only temporary note is that there is construction of a new building immediately to the north of the resort and some of the guests on the outside of the north building were a bit grumpy about the noise. Ah, well…
It really is a great place for kids…and nice for adults as well. I would happily recommend it. The pools are heated, the beach clean, little undertow, nice waves for boogie boarding, low tide is nice for shelling and hunting sand dollars. We saw a Green Ridley turtle laying her eggs and the next morning helped a baby turtle into the waves as the sanctuary had released some up along the beach. Lots of pelicans and frigates to watch… People watching is nice too.
We spent a bit of time in Bucerias…next town north. It is small and very typical of a Mexican suburb. Small tourist market and a reasonable selection of trinkets, bit better prices and the kids in the street selling chiclets. Jack learned a lot. Spent an afternoon in PV proper. I would spend a bit more time exploring it if we go back. It reminds me a great deal of the Mexico I knew 30 years ago.


Took Jeanne and Jack to whale watch…took the catamaran so that Jeanne could go with her knees. Glad we did. The sailing would have been good for cookie tossing. Saw 30 whales and 3 of them breached. That was wonderful. Went along to the Islas Marietas. There were interesting from the standpoint of habitat (no water, lots of birds and guano) but if someone wants to snorkel/SCUBA there are far better places on the planet to do so.
Jack learned to boogie board. For a kid the beach at Marival was perfect for that.
I also took Jack to the south location to zip line in the canopy. He was a bit tentative at first but after the first line he became more confident and did well. There are two miles of cables, 13 or 14 lines, and the longest is ¼ mile and about 550 feet above the bottom of the canyon. The weather was dry and there were no insects to speak of. I imagine there'd be more during other parts of the year. The trip to the site was in an open, bright blue jungle bus, south along the coast past Mismaloya, and up to the hills. Nice drive.
Tana~
We all had a great time. Chris and Susan were really impressed by Funjet and the RIU. They are ready to go back next year. We did go on the jeep tour through Vallerta Adverntures. Totally awesome. Well worth the $80/person. Would highly recommend to anyone. Thanks for putting together another successful trip. Debi and Jeff Maxfield of Wauwatosa
HUATULCO
Hi Mary, we had an awesome time in Huatulco with our three girls. It was by far our best vacation ever! Very clean, very nice people, beautiful scenery, and perfect weather everyday. Loved the size of the resort for us! I can not wait to go back there again and we are very sad to return to this crummy weather! The vacation was flawless and I highly recommend Huatulco and the Gala Beach Resort! Thanks so much for putting this trip together for us!
Julie Spanton
RIVIERA MAYA

CELEBRATE A 50th WEDDING ANNIVERSARY WITH A FAMILY VACATION!
The CALTEUX FAMILY returned from DREAMS TULUM and they had a great time celebrating a 50th wedding anniversary and 2 birthday's!
They are already planning on going back because everything was so fabulous!
Thanks Tana for putting together a wonderful family vacation!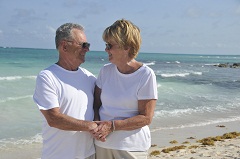 The CALTEUX FAMILY returned from DREAMS TULUM and they had a great time celebrating a 50th wedding anniversary and 2 birthday's!
They are already planning on going back because everything was so fabulous!
Thanks Tana for putting together a wonderful family vacation!
The CALTEUX FAMILY returned from DREAMS TULUM and they had a great time celebrating a 50th wedding anniversary and 2 birthday's!
They are already planning on going back because everything was so fabulous!
Thanks Tana for putting together a wonderful family vacation!
The Wallhauser family stayed in the Mayan Riviera at the Sandos Gala Playacar!

Good Morning Gayle,
Thanks for all your help. We had a great time. The weather was super. Sunny and almost 90 everyday. The resort was very nice and the kids really loved it, especially the beach and pools. the passports arrived the day before, talk about cutting it close.The flight and ground transportation went well and the funjet reps where very helpful. I am sure we will be doing this again soon.
Thanks
John Wallhausser

The Morano family stayed at the Palladium White Sands in the Mayan Riviera. Here they are snorkeling in the cliff!!

Hi Gayle,
we loved it - the kids loved it! We have zillions of pictures - I'll pick out some good ones and send to you - here's a couple and yes, we jumped off
the cliff into the water. I would highly recommend the Mayan Adventure day trip - it was so much fun and the leaders were very attentive and interesting. We loved Nora!


The hotel was very nice - the weather was perfect - 85/90 each day.
thanks for your help!
Cathee
IBEROSTAR PARAISO in the RIVIERA MAYA
Hi Gayle:
Everything was perfect, flight on time, great weather and facilities were top notch. We did 4 wheeling, scuba diving, snorkeling, cave diving and body surfing.
You did a great job!
Many thanks, John and Tawny
Hey Pat!
We had a blast!! The Cancun Palace was fabulous! Everyone was so nice and accommodating. We didn't get the king bed we requested but between you and me, I slept like a rock every night in my own little double bed. haha! The weather could have been a little better as we had a couple of cloudy days, but at least it wasn't like it was here! Thanks so much for all your help in planning it. Let's get together soon.
Sandy Wegener and family!
IBEROSTAR QUETZAL
Sara ~
Thank you so much for all your help with our vacation plans last week to Playa del Carmen and the Iberostar Queztal. We had WONDERFUL weather, and a great time! The resort was exactly the same as we left it 7 years ago. The property is very clean, staff friend, and food good. The beds, however, as hard as a rock J. We joked about them – but they didn't dampen our spirits!
Thought you might enjoy a silly photo from Xcaret, on our one day adventure.
I will HIGHLY recommend you and First Choice Travel again. I also learned we have a mutual customer – the Kern Family Foundation.
Thank you again ~
Shelly Eggert
Tana told us the Kalmadge Family had a blast at the Iberostar Quetzal! Looks like everyone had some DOLPHIN fun too! Including mom!
Swimming with the Dolphins is not just for the KIDS!!!
Gayle!
I also have been meaning to thank you for sending us to the Iberostar! We loved it and were super impressed at the pools and landscaping. It was beautiful. The new Grand (adults only) hotel looked amazing. Had I known earlier I would have arranged a tour though it. All in all it was a good trip but was a bit difficult and worrysome traveling with the babes. I was a bit of a freak about EVERYTHING - and there was no reason to be!
We also did one excursion at Xel Ha. I had been there as a child and was impressed at how much it has grown!
Thanks again, hope to hear from you soon.

Laura Leonard
Looks like MOM was able to relax on this vacation!!!!



Awesome time at the Grand Sirenis – Riviera Maya. It was everything we hoped for. Thanks for ordering up the perfect weather! We had a blast and can't wait for our next trip!
McCarty Family, Waukesha WI
Another great family vacation at Grand Sirenis Riviera Maya!
We had a great time. Next time I will eat less and drink more. We had beautiful weather. The staff was very nice all week. The snorkeling at the resort was really good. It has a coral reef out front. We swam with a sea turtle one day. Eric had a stingray right below him. The Apple evening beach party was fantastic. Thanks for your help. I will send a picture soon.
COZUMEL
Here is a happy little girl... Felicity Zelechowski who was lucky enough to swim with the dolphins with her dad at Xcaret! She is still talking about this family trip and probably will for YEARS to come!
The Zelechowski's from Burlington stayed at the Grand Occidental in Cozumel for their Easter Vacation. They took a ferry over to Playa Del Carmen and got to swim with the dolphins at Xcaret. The whole family loved this vacation and will remember it forever!!
PS-Dad got to get up close and personal with a new friend too!
PUNTA CANA
Hi Gayle,
We had a wonderful time in Punta Cana. Both of my kids thought it was better than Mexico. We had villa 1, 2nd floor, adjoining rooms right by the ocean and pool side. Everybody loved the location. The weather was beautiful, a little windy the first 3 days. The surf was really high and nobody was permitted in the ocean the first 2 days. The water came up on the beach and knocked over some palapas, flooded the beach bar and toppled some palm trees. The damage was minor and didn't distract from the enjoyment. The beach was certainly beautiful. We had an excellent maid and the rooms were very comfortable. The kids went parasailing and I dragged Rita to a local cigar factory. It is interesting to experience the local economy and countryside.
Thanks again for your great service and dedication. I always appreciate working with a professional.
Respectfully,

John W. Wallhausser
Financial Adviser
We just wanted to thank you again for finding us a fabulous vacation destination for a wonderful price! The Dominican was beautiful, the people were wonderful, the resort was outstanding and we had such a great time! Hopefully we will see you again next summer for another amazing trip.
Thanks Again,
The Lepkowski Family
(Jay, Valerie & Destiny)
As promised here are a couple of pictures of me and my families trip to Punta Cana. I'm the one second from the right. We had a great time and the weather was wonderful. We didn't want to come back. The Apple staff was great and helpful when we needed them. Thanks again. I'll let you know when I'm planning my next vacation has you were just wonderful to work with and made everything run smoothly.
Bambi Schilling
Make Lasting Memories for Generations with a Family Vacation!!!!!
Hey we just stayed at the Holiday Inn Puerto Vallarta. A good time was had by all.
Pat and Paul Weber and the whole family!!!
IRELAND FAMILY VACATION
Carol O'Loughlin-Smart and the Balicki, Smart family outside cousin Roddy O'Loughlin's
house in Ennistymon, County Clare Ireland.
The card said: THANKS! "We all are so grateful, you've made many good things happen for us."
A WONDERFUL FAMILY VACATION IN GERMANY
We had a great time! The guide was terrific and the driver also very good. I would do another Globus tour, even by myself! We needed more time at some places and less at others, but the hotels were very nice, except one or two, and the food great-except a couple of times. But it was nice with so large a group to have an itinerary planned and times set to be places so no one would gripe or slow everyone else down. I will send a few of my 847 pictures (and those are mine alone--the kids took lots, too). Had some rainy days, but the weather generally was great for touring.
The ride to and from the airport was a Godsend--thanks again!
Long flight overseas, but was able to sleep. Kids bought me a cuckoo clock as a thank-you!
There were a few people on the tour who were a real hoot!
Our flight from Chicago to Frankfurt was delayed an hour and a half, so we thought we would miss our ride to the hotel, but the tour director had called the airline and found our flight was late so he waited for us! That really endeared them to us!


So, it was a great trip and I would go again in a heartbeat!
Thanks for everything!

Pam

DISNEY
IS STILL THE #1 FAMILY VACATION IN THE UNITED STATES!
Disney is not just for the kids! Grandparents, Adults and families vote Disney #1

Disney's Caribbean Beach Resort for this family group
Gayle: Just wanted to let you know what a great time we all had. Everything was as good as it could be. The kids all loved it and me and Ron had smiles on our faces the whole week. Ian took the Jedi training and built his very own light saber and Kahlan met all her favorite Princess's. The meal plan worked out well except it was way too much food for us but we were able to try a lot of different foods.
The resort was awesome, the people were great and we had the best time ever.
Thanks, Vic
Christensen Family at the Wilderness Lodge Villas
Hi Gayle,
The Disney trip was wonderful! We had a super time. The Villas are great - we definitely made the right choice with the Wilderness Lodge. The style is right up our alley. The villas are really nice - could not think of any thing that could have been better. Spacious, clean, nice decor, comfortable beds. Eric was in a studio unit next to us and Scott & family just down the hall.
We all enjoyed everything! Kids and adults alike. The kids got many character autographs and we did the Character breakfast in the Magic Kingdom at the Crystal Palace with the Winnie the Pooh characters. It was super.
We visited all the areas starting with Disney Springs the first afternoon/evening for dinner at Fulton's Crab House. Excellent food! Next Disney Studios which was fun. Did the Mickey Christmas Party that evening in a little rain, but not too bad. Next day was spent in the Animal Kingdom. Peter, Eric & I ate lunch at the Yak & Yeti which was awesome! Then Eric and I did the Everest roller coaster ride! Wow!!! I survived but held onto Eric for dear life - great fun. That night we ate at Artist Point in the Wilderness and it was wonderful - the best meal and dining experience of the trip. Would highly recommend it. The next day was Epcot, which we all enjoyed. Dinner at Hacienda San Angel where we ate late, had a window table and enjoyed the laser fire works show. The last full day we spent in the Magic Kingdom, starting with the character breakfast. Had about one hour of heavy rain in the afternoon then it cleared. Dinner the last night at Wilderness Lodge Whispering Canyon Cafe- cowboy theme , casual restaurant. It was good but not our favorite. If we did this again that is probably the one we would skip and pick something else. So many places to choose from! Also ate at Portabello in Disney Springs and that was really good.
We have hundreds of pictures! Will send some later as I am baking pies and getting ready for Thanksgiving dinner for the crew tomorrow.
You did a fabulous job helping us plan this trip and we thank you. I am sure there are things I have forgotten to mention. The flights were good - no problems - and all the transportation was good too. The kids acted like old pros on the flight home!
We split up during each day and did what we wanted and met up during the course of the day and did some things together too. Different interests and different levels of stamina too !
Thanks again.
Donna
Gayle
The trip was great - thanks for all of the help setting it up.
The hotel was excellent - they got it all decorated for Christmas the last night we were there, so we were able to see it.
The villas are awesome - highly recommend.
Artist Point restaurant at the Wilderness was fantastic - highly recommend.
We also loved Fulton's Crab House, and the character breakfast at the Crystal Palace.
Talk to you soon - thanks again for the great service and planning.
You and your crew did a fantastic job setting everything up!!
Scott Christensen and Family
A "Disney Magical Moment" happened for my good clients Allen Buchholz and his mom, dad and sisters family.
They were all upgraded to the Cadoi Village condo with a full kitchen at the Animal Kingdom. Allen said that, " Everyone thought it was awesome and fantastic trip".
DISNEY REPEATER FAMILY VACATION
Hi Gayle!
Best trip yet!
Loved animal kingdom villas - the Savannah view was definitely worth the extra buck!
Ate in Mexico at Epcot - always good! Dinner at Chrystal palace - food is always just ok, but the character experiences are amazing!
If your clients like water parks at all, I would tell them that too is worth the extra $ - they were awesome!
Lots of new Star Wars stuff now - kids both did Jedi training (have to get there before park opens - only 400 slots/day), met Kylo Ren & chewbacca! Saw two shows - both great - frozen forever after and festival of the lion king!
I bought the memory maker, so we have a ton of pics!!
Can't wait to go back!
Have a great day! Carrie

DISNEY AND FLORIDA
Hi Gayle, Thank you so much for all your help.your such a sweetheart!! I am grateful for your help.
LOVED IT!!!! We had an awesome vacation.It was perfect and i dont think we could of had anymore fun than we did.The Caribbean Beach was so clean and the grounds were amazing.We were blown away with the food choices we had. Sooooo much variety, and so delicious. We had some left over, would encourage everyone to use all the snacks and meals when they want...even early on. We thought we would run out and we actually had extras.
Discovery Cove ...fantastic and worth every penny.Universal just as awesome.
THANK YOU SO much for helping create some of our BEST family memories to a family(us) who has been grieving alot .

Sincerely Kathy Leonardelli
Sam Douglas-----son of Melissa and Tim went to Disney---stayed at Boardwalk Villas at the
beginning of Dec.


Hi!
The trip was good. Sam LOVED it. He loved meeting all the characters and the
parades and especially the rides. He was really disappointed that he was one
inch too short for splash mountain and big thunder railroad and test track
at epcot. I had no idea he would even want to go on those big rides. But he
was totally into the rides.

It was MUCH more crowded than when we went 6 years ago the same week - so
apparently the word is out that Disney at Christmas is the time to go. The
only thing we were really disappointed with was the transportation system.
We waited FOREVER for buses- the average wait was 30-45 minutes. That has
not been an issue in the past - so we were really surprised. The first day
were there it took almost 2 hours to get to the Magic Kingdom.

The Boardwalk was nice. It was nice to have all those food options right
there. The dining plan worked out well - it was a lot of food. The only
challenge was using our table service since it was really hard to get
reservations. But we managed.

I have attached some pictures. Feel free to use one on the web site. Once we
have all our pictures - we will have to stop by and show you and Sam can
tell you all about the trip - he hasn't stopped talking about it.

Hope you guys have a wonderful Christmas!!!
Mel

DISNEY CRUISE
We loved it! We didn't have any delays on our flights.
The Disney picture of Jay, Robin, Alex and Hanna Gallo was sent to Karen.

The Gallo family had a wonderful time on their family vacation. They loved the dining plan and thought it was a great value. Now they are saving to go back for their next trip!!

Karen,
Thanks for the Memories! We can't wait to go back!!! Jason Gallo
Rob and DeeAnne Hamer took the family to Disney and said it was Excellent! The resort was Disney Movies and they said they were in the Toy Story section with Buzz Lightyear! The kids and whole family had a wonderful time watching the younger kids expressions every moment!
Hi Gayle-
We had a great vacation. Everything was perfect!! The weather was awesome - 75-80 each day.
You picked a perfect resort for us. It was so neat to have a white sandy beach right outside our door. One night the four of us went out in the moonlight and drew pictures in the sand and layed in the hammocks and looked up at the stars and the moon. It was so nice to spead time with the kids. You did a great job at all the arrangements. Thanks so much for your help!
Thanks Again.
The Olson's ...Scott, Mary, Justin and Miranda
The Webber family had these comments about Disney's photo pass:
We used it last year and thank goodness! Michael and I were so awestruck that we forgot to take any pictures of our own!

Pat,
We had a great time ;) James has memories for life. thanks for all
the planning flight hotel and the park hopper worked great, thanks again!
Steve ,Becky , and James
FAMILY REUNION & 50th ANNIVERSARY TRIP
Hi Tana,
You set us up with yet another spectacular family vacation. So far, you've arranged a Caribbean cruise, a wonderful trip to the Riviera Maya, and now a fantastic family reunion in Disney. We hooked up with 30 other family members from across the country and we had the time of our lives =) Attached is a photo of just some of the family at my parents 50th Anniversary Luncheon; some of us riding the Tower of Terror; and of course Cinderella's Castle. Everything went smoothly from door to door. Weather was in the 70s all week – pretty good for January! Maybe Alaska should be next? Thanks again for all you did.
(I saw our picture still there from Mexico – makes me want to go back!)
Elaine T. McCarty and Family of Waukesha, WI
HAMER FAMILY DISNEYWORLD
Once again we would like to thank you for getting our trip to Disney set up the whole family had so much fun and we love looking at the pictures and talking about the trip with friends and family. We can't wait to set up another trip with you and your staff they were all very helpful.
See MANY more pictures on the Disney page!
Imagine meeting a PRINCESS for DINNER! Acting and dressing up like PIRATE? It is all MAGICAL!
*****Want to see more DISNEY trips? Click here for many more comments, pictures and reviews of DISNEY VACATIONS... Disney family trips and cruises!
FAMILY CRUISES ARE ARE REALLY FUN, EXCITING AND LOTS TO DO!!!
Hi Sara,

I thought of you many times on the trip - especially when things worked
out so perfectly every step of the way. We had an amazing trip! The kids
were thrilled and we were able to relax and spend as much time (or as
little) as we wanted with them. ;)


The hotel in Puerto Rico was super and we were able to get around Old San
Juan and the fort the next morning before we hopped on the ship.

The ports of call were all fabulous. The girls fell in love with the waiters
and couldn't wait to see them each night. They loved the attention. Royal
Caribbean is the best! And the girls LOVED their room. We also loved the
balcony room.

Here are a few pics to show you what a great time we had.
Thank you for ALL your help. You were so helpful and I don't think we would
change a thing. It was fantastic!!

Dori Loppnow

Ahoy there.....Another great FAMILY VACATION is by cruise!


Hello Tana,
Our Cruise and vacation was GREAT! We went during a perfect week with the freezing cold weather around here! We visited the Island of Grand Turk and Nassau in the Bahamas. It was too windy and dangerous to go to Half Moon Cay and so we didn't stop at that port. It was great bonding time with the family and a well needed break for all of us! Jack had a wonderful 50th Birthday and Ashley enjoyed her 18th Birthday. We even took Ashley "gambling" in the casino on her 18th Birthday (legal on the boat) and she lost $10 in 5-10 minutes…Ha! She loved the chance to do it, but decided she didn't like losing money that fast. We spent some time snorkeling in the Bahamas off some beautiful colorful reefs and even Brooke tried it, although she wasn't sure about "swimming WITH the fish"… the food was wonderful, the weather was perfect, and we all want to go back. Well, enjoy the photos!
Brenda Lytle
Here is little Brooke on the beach having the time of her life on this great FAMILY VACATION!!! Wonderful MEMORIES were definately made on this trip!
Family cruise on Carnival
The West family returned from their family cruise on Carnival's Valor and they can't say enough good things about it. The whole family had a wonderful time!
Call today to make some FAMILY MEMORIES of YOUR OWN! 262-542-5955 or