LOVED the spa, hairdo services, the swim up bar, the pool exercise classes/instructors and wedding planner.
Also- a highlight was our private catamaran which we booked - highly recommend for groups!!!! We loved it, our guests raved about this day so we were very glad we booked this for everyone; open bar, snorkeling, swim stop.
Renee Rzepenski and Justin Schwanke got married at the Blue Bay Grand Esmeralda along with many friends, guests and relatives!
See...even though we had plenty of guests.. we still had time to ourselves!
EL DORADO ROYALE WEDDING
Christine Cook and Matt Biehl from Mound Minnesota invited some close friends and relatives to their beautiful beach wedding at the El Dorado Royale in the Mayan Riviera. Pictured are the happy couple and thier guests. Christine and Matt loved their swim up Casita Suite room! The whole group had a blast at the wedding and enjoyed the resort tremendously.
Another El Dorado Royale wedding!
Hi Gayle,

Thanks for asking about the wedding!! Everything was just great, the wedding coordinator did a wonderful job. The setting was gorgeous, the flowers were beautiful, the food was excellent!! Katie was a beautiful bride.

They expanded the resort so much since our last visit there 4 years ago. We so much enjoyed the sun and warm weather and the change to sit back and relax. The Lomas representatives were not only helpful but had a wonderful sense of humor and very outgoing personalities.

I will be happy to share some pictures with you as soon as I get them downloaded to my computer.

I'm hoping the 50 and 60 degrees comes back soon!!!

Thanks for all your help with planning the travel arrangements for the big group.

Pat
EL DORADO MAROMA WEDDING!!
Tana,
Everything was AMAZING!!! We cannot wait to go back! It'll be a few years though, BUT you DEFINITELY get what you pay for! El Dorado Maroma really knows how to spoil you!!! It took some getting used to tell you the truth. It was absolutely phenomenal though.
Thank you again for everything

Tasha and Daniel Greene
Catalonia Riviera Maya
First Choice Travel's Lynn Ewerdt is congratulating her clients Jason and Jessica Welter on their beautiful wedding!
Lynn said she was so happy with the wedding and what an awesome job Catalonia Riviera Maya did for the bride and groom.
"Just as these grains of sand can never be separated and poured again into the individual containers, so will your marriage and your family be."
Sand ceremony pictured are: Bride Jessica, groom Jason (Welter) daughter Emmalee, son Carter (Helms)and bride's mother Debbie Tenor looking on.
Jessica and Jason Welter – "Best wishes today and always".
Family picture back row is Chuck (Tenor, father of the bride), Debbie (Tenor, mother of the bride), Jessica (Welter, bride), Jason (Welter, groom), Maryann (Welter, groom's mother) and Kathleen (Wennesheimer, aunt of the groom)"Family memories"
Sara Manikowski and Gavin Garcia were married at the Catalonia Riviera Maya
Hey Pat,

Just writing you because we are back now! Amazing trip! Thanks so much for all the hard work... Our resort was amazing. All in all our resort was perfect, the wedding was a dream and everything fell into place. Thanks again.
Sara Garcia & Family!
Take a look at these gorgeous Garcia Wedding pictures.
Iberostar Paraiso Lindo
Katie Morgan and Jay Polakowski planned their wedding at the Iberostar Paraiso Lindo and invited this whole group of family and friends to join them witness the ceremony of a lifetime! I love to hear it when the BRIDE says it was PERFECT!!!
Hi Gayle,
Thanks for checking in. The resort was amazing. We loved it, and so did all of our guests. Very clean, good drinks, good food, nice beach, fun pool, it was all so wonderful! Everything went very smooth. We really hung out at the resort mostly with the other guests but we did go into Playa Del Carmen one day. It was fun for Jay to experience that because he has never been anywhere like that before. It was perfect. I have attached a few pictures for you to view. Thanks for helping coordinate everything! It was the trip of a lifetime!
Sincerely,
Katie Polakowski
FEED BACK FROM TANA'S BRIDE THAT JUST GOT BACK FROM IBEROSTAR PARAISO
HI Tana,

We had a wonderful time - can't believe it's over already! Kind of a shock to come back to the weather here, but.....

The iberostar was a good choice for the wedding, and all of our guests had a good time, and got to relax. We went into Playa Del Carmen for a day, and also ziplining and dune buggy racing at Selvatica (so much fun - highly recommend it). Below is some feed back on our wedding for future brides you work with.

Feedback on the Iberostar Beach:
Pros:
=Convenient location - easy and quick to get to from the airport
=Beautiful landscaping
-Really nice beach and pool
=Clean
=Friendly service - always someone putting another drink in your hand
=Fun - a lot of activities going on
=Karla the wedding coordinator was great
=The Gazebo we used for the wedding was private, secluded and beautiful!
-The wedding package was nice with the private dinner on the beach, couple massage, Presidential suite, etc.

Cons:
=In general the food was disappointing (except our private dinner on the beach and our wedding dinner - those were great)
=The photographer was not great - missed a lot of details (like the fact that we had wristbands still on in the beginning, tourists in background of some of the shots, strange gaps between people in the wedding party). It would have been worth the money to bring our own.
=Housekeeping threw out my bouquet. They also through out a bag that had one of the bridesmaid's bra for under her dress (before the wedding)
=We saw a couple of ceremonies on the beach - they are set-up about 10 feet away from where tourist are walking on the sand (not very private). We're glad we chose the gazebo!
-The rooms and bathrooms were a little small, and didn't have a lot of space for storing our stuff

Thanks again for your help,
Keri
Keri and Eric De Bruin had their destination wedding at the Iberostar Paraiso Beach Resort in January
Keri said ""Our destination wedding was stress free - what a great way to start a marriage!"
Iberostar Quetzal Wedding for Sadie Brown and Dan Cambon
Hi Gayle,
The wedding was fabulous! Everything turned out perfect. We honestly couldn't have asked for more. The resort was amazing. Everyone thouroughly enjoyed themselves. The wedding went great thanks to their wedding planner, Gabriela. And the photographers were talented and enthusiastic.
I'd love to share some of the wedding photos with you! They should be on their way to me now...hopefully I'll get them in the next couple days. Once I do, I'll send you an email.
Once again, thank you for all your help. You really made this a stressless experience for Dan, I and our guests.
Best Regards,
Gayle,
The hotel Quetzal was fantastic… from the peacocks, to the monkeys, waterfall, flamingoes, everything was colorful and lush AND pristine! Don't ask me how they do it! The rooms were very nice, comfortable, etc. Service, impeccable. Food – ok. Drinks great.
After the lovely beach ceremony, the photos took up some time while others watched and had nice hoirs d'oeuvres ,etc and then we wall walked to a restaurant close by where the food was served…Oh the DJ was bad! He had no clue of what was wanted… My daughter, as all of us speak perfect Spanish and he still couldn't get it right! So she put on the Ipod she brought and left it at that…We all danced and danced till we were kicked out! JJ
We had a lovely 5 day break there!@ Absolutely NO problems of any kind…but WE did get stuck for 10 min at the airport as we took the bait of someone in blue who said he represented our travel group…AH!
Did go to any side trips…not worth it to us! The distances and the time (all day trips) would have detracted from our get-together!
Until the next trip – thanks so much for your patience and friendly service. Oh! We were NOT put in one o two buildings…but through the hotel… BUT we took walkie talkies to communicate! Aha…we got them!
Hasta pronto –
Lilly Taylor for the Cambon-Brown wedding
THE SANDOS PLAYACAR BEACH WEDDING
The Jim Larson and Megan Fielkow wedding group stayed at the Sandos Playacar. Gayle says this whole group was so excited to be part of this wedding!! Everyone including the bride, groom, the family and friends were so fun to talk to and to work with! They couldn't wait to go.
Hello Gayle!
Incredible! Couldn't have been better! It was fantastic. The Wedding was unbelieveable! Everyone at the hotel was so friendly and helpful with the wedding, it was just excellent! The food was great. Weather was too. When it wasn't as sunny everyone got together and hung out and met each other.
Here are some pics of the amazing evening at Sandos Playa Car. (see the slide show on top of this page)
Thank you again and again for the outstanding job you did for us!!!! That week changed many of our lives, and created some new friendships that will last for many years to come!


Jim Larson
HealthMarkets Inc.
Gayle,
Yes the wedding was a blast!! And while the weather was cloudy/rainy most of the time - it really turned out gorgeous for the big event! Erin
Gayle -
The wedding was AWESOME! We had the best time! So much fun!
The place was really nice and Megan was the most beautiful bride!
Stephanie
The Best picture & Megan's Favorite is #300 - Just our style. Megan loves the crazy face pictures. Molly Johns
You can see more pictures of Jim and Megan's wedding on our wedding page slide show!
THE SANDOS PLAYACAR
Another great looking couple had their wedding at the Sandos Playacar too!
Sonia Villarreal and Mark Greenwood invited friends and family to witness their special day. Looks like it was a wonderful day to get married!!!
Hi Gayle,

Everything was perfect for the wedding I do believe that you
recommended the right resort for our group. Everyone had a great time.

Thank you very much for your time and assistance.

A very grateful bride,
Sonia Greenwood
Gayle,
The resort was wonderful and a very good choice. It met all our needs. Our rooms were top notch. The food, the shows, the restaurants were excellent. I think everyone in our group would go there again.
Mother of the Bride... Anna Villarreal
Here are some more pictures. This is it. Just looking at the pictures takes me back to the wonderful time we had.
Hot tip: Sonia needed to have her marriage documents translated into English before going to the DMV or social security office after she was married. She went on Mitchell Street and had it translated for $20.00 verses paying $250.00 in Mexico.
Click here for more really great pictures of... Sonia and Mark's Wedding, compliments of the mother of the bride. They are absolutely wonderful...Thanks for sharing Anna!
SANDOS CARACOL BEACH RESORT
SANDOS CARACOL BEACH RESORT AND SPA IS A SISTER HOTEL TO THE SANDOS PLAYACAR ABOVE IN THE RIVIERA MAYA WAS THE SETTING FOR THIS WEDDING FOR ANDREA ZIEBEL AND BILLIE MCCARTHY
Tana
We had a great time. The resort was wonderful.
During the typical wedding you are lucky if you get to talk to everyone once. We had an week in paradise to spend time with our closest friends and family, so when our actual wedding day came, we were able to savor every moment without hurrying to greet everyone. We are still in awe at how perfect everything turned out.
Thanks
Andrea and Billy McCarthy
Karen Bridges was the photographer who went along on this beautiful destination wedding for Andrea and Billy. She was nice enough to share with us these pictures. Please see the link below!

Karen Bridges
Owner/Photographer
Bridges Wedding Photography
www.beyondthewell.com/weddings
Click here for more beautiful pictures of
ANDY AND MEGAN'S....SANDOS CARACOL WEDDING
Gayle, I quickly grabbed a bunch of pictures from different points of the day. If you have any requests let me know. We have about 1000 pictures.
The trip was amazing and worked out really well. It was a ton of fun having so many friends with us on vacation. Everyone had a great time and it was nice to be able to spend time with all of our guests compared to the brief amount of time you have at a traditional wedding. The wedding coordinator Katrina was extremely helpful. She felt very bad that we had to move our ceremony under a hut like patio because it rained just before the ceremony was supposed to start. We made the best of it had it worked out well. The dinner and party they setup for us were also really nice and a ton of fun. The food was great the whole week, the Wedding cake was delicious.
Thanks for everything. Let us know if you have any more specific questions because I am sure I am missing things.
Andy Young
Click here for more pictures: ANDY AND MEGAN YOUNG WEDDING
Hi Gayle - it was a wonderful trip.
The Sandos Caracal resort was really nice. We've stayed in the Nuevo Vallarta area for years (and prefer the water and weather on that side) but this resort seemed a step up from our favorite Marival in Vallarta. The food was very good, great shower, hair dryers, and many more locations to sit and visit, have a drink, etc. The staff (especially Corina, her assistant, and the restaurant managers) bent over backwards to make everything right and treated all of us so specially. Poor Corina - it rained before the ceremony and everything had to be moved but it still turned out beautifully and it didn't rain during the ceremony or for the rest of the night so pictures could be taken on the beach, etc.
Personally, our Continental experience was great - we even got a substantial snack on our trip out of Milwaukee (unheard of it seems these days) and our flight home arrived 10 minutes early. Our only problem was that we had a very short connection time in Houston to get to our MX connection (and that's a big airport) so we ran and ran, only to discover that our flight had just started to board and we had plenty of time (it left quite late).
Thanks again, Cindy
MOON PALACE
MOON PALACE was the location Sherri Gille and Richard Lambert chose for their December wedding!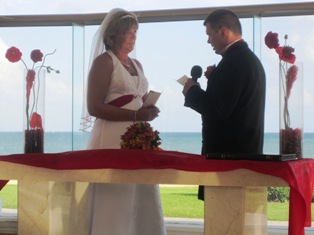 Hi Pat,
The wedding was spectacular!! Had awesome weather throughout the whole two weeks. It rained the day we came home, but that was okay!! They did a great job with the ceremony. Had dinner and the wedding cake at the Barracuda Restaurant at the Moon Palace the night of the wedding. I am so glad we upgraded our ceremony package from the "free wedding' to the Ruby Package. We seen a couple getting married with just the "free deal" and although it was still very nice, the added options with the package deals just made it so much more beautiful and storybook.
We are already talking about next December's trip....possibly Fiji if we can get a decent price on it.
Thanks again for your help with our trip!!
Happy New Year!!
Sheri and Rick Lambert
MOON PALACE WEDDING
Jason and Jodi Meinen made an appointment with Tana Kubricky one of First Choice Travel and Cruise's WEDDING and HONEYMOON consultants. Together they planned their Destination Wedding of their dreams! They were so excited and nervous about planning this special event that included 25 of their closest friends and relatives. Jodi came in with the pictures after the wedding and said everything was perfect! The bride and groom chose the Mayan Riviera and they all stayed at the Moon Palace over Easter. It was a blast and the bride and groom look very happy! hmmmm How Romantic!
Another Amazing Moon Palace Wedding
Hi Gayle,

Mexico was absolutely perfect. I can't wait to go back. The Moon Palace staff was very friendly, and the resort was beautiful. It was great for the whole family, so many pools to choose from. The only downside for us was the beach. There was a ton of seaweed everywhere, and the water was green like a lake. Just not the tropical turquoise we were expecting, besides that it was wonderful!

Thank you so much for all of your help with our wedding. The Moon Palace was the best choice for our wedding, and we are so happy with the trip. Hopefully we can make out there again sometime.

Dave & Cali
See more on Cali and Dave's wedding!
OCEAN CORAL AND TURQUESA
Hi Gayle!
Everything with the resort was great! The wedding went off without a hitch! There were no complaints. We had our meeting with Veronica. She was wonderful. We asked to change the time of our dinner because our dinner was going to start at the same time the Badger game was starting for the final four. She was very accommodating We chose to go with all white decorations and everything was very elegant. I was a little worried that because I wasn't making very many choices or giving much direction on decorating, but there was no need to be. I couldn't have been more pleased. Everything turned out absolutely beautiful.
We had great wait service, everyone was soooooo polite and anytime there was a concern they were so quick to solve it for us.
Omar from Lomas travel was WONDERFUL and the gentleman who was working with him was great also (I didn't catch his name). They were so helpful and made everyone feel comfortable and welcome. They always remembered our names and made sure that we were being taken care of, made sure we were drinking enough water, and were very helpful with picking out excursions. There were several different excursions that our group did. I will have to get a list from everyone and get back to you.
Other than the reservation confusion, we had the privilege room and were told there were no reservations for dinner. We really didn't reap any benefits of being privilege other than our wonderful room. The restaurants were amazing. The food was delicious. The wait staff were fun and friendly.
Lindsay Leinberger and Luke Bader Wedding!
Mother of the Groom:
Our time was wonderful. The place was beautiful and the people kind and helpful. Omar Rosado and Ross did an excellent job taking care of our group. They were always available to help us with our wide array of questions. Omar's efficiency was very appreciated. Oh..the wedding was better than a fairytale...it was God's blessing!
Thank you Gayle for great assistance.
Sue Bader
The Riviera Maya and Cancun is one of the most popular choices for Destinations Weddings! Great for families, couples and everyone in between!
Time to start planning your WEDDING OR HONEYMOON! Contact the EXPERTS, not the Amateurs!