THE MEXICO WE ALL LOVE TO VISIT!
WE LOVE TO VACATION IN MEXICO and so do OUR GUESTS!
Mexico is one of our most favorite destinations! Great place for Honeymooners, Destination Weddings, family and single trips too. Really just about everyone loves Mexico!! The Riviera Maya is probably our most sought after and requestions repeat destination! That says it all!!
There is so much to see and do in MEXICO...we know YOU will love it too!
SEE WHAT OUR CLIENTS HAVE TO SAY ABOUT THEIR TRIP TO MEXICO!!!
Hi Tana, Thanks for checking in! The trip was lovely! The weather was absolutely perfect every day!
Dreams Vallarta Bay was nice overall. I would say that there are many aspects that we really enjoyed including the Mexican fiesta on Thursday night and the dinner restaurant selections. The service overall was outstanding; just great hospitality. And we felt really safe.
We did an offsite excursion of Rhythms of the Night that we booked through Amstar and it was really awesome! We also were able to go to a street art and market at the marina which was really nice as well.
Thanks again for all your help! It was invaluable!
Take Care,
Daniele and Amed
Dan and Julie at the beaufiful Secrets Maroma
Marianne and her man loved Secrets Maroma!
My husband and I would like to take this opportunity to thank Lisa and First Choice Travel for a memorable 25th anniversary trip. Lisa has planned our families vacations for several years now and she always handles every little detail so all we need to do is focus on having a great time. On 9/18/21 we traveled to Mexico and stayed at the Secrets Maroma Beach resort. We were highly impressed at the property, food, service and attention to detail. Lisa even planned our romantic dinner on the beach and it was something we will never forget! I remember my friend saying it reminded her of a season of the bachelorette lol. We had an amazing time and highly recommend Lisa from First Choice Travel! She truly takes the stress out of traveling.
Marianne
XPLOR
Tana is the BEST travel agent you could ever have! Not only did she pull the best prices and get us the best deals she was right there whenever we needed help or had questions! We just got back from Mexico about a month ago and we can't wait to book our next trip with her for January 2022!! I would 100% recommend her to help you book your next vacation or even just air fare! She cares about making sure you have all that you need and have the best vacation!

Schears Family
Dreams Sands Cancun Resort and Spa
Bianca,
We had a great time!
Resort was great and very clean. Buffet food was decent but dinner food from the restaurants was good! The beach was fabulous! They followed all covid protocols and all staff had their mask on even in the hot sun. All the staff was very nice and made sure you had what you needed.
Testing was very easy to set up and took very little time out of our trip. I'd say between checking in to the test, the actual test, and waiting for results took less than 10 minutes.
Jacob and Amanda
FIRST trip to Mexico they stayed at the Iberostar Paraiso Beach and had this to say:
"Our trip was amazing as it was the first trip we went on alone since we started dating.
We had loads of fun and relaxation. The beach was amazing. It was a lil big for just the 2 of us, but would be amazing for a family experience.
The food was good but lunch seemed to be routine. We found the cafe in the shopping center that was included the last day, definitely would have eaten there more.
The excursions were good. Tulum was nice to see but one of those now that I have seen don't need to go back. We greatly enjoyed the Cenote and snorkeling. So much so that we would do snorkeling again."
Contact your favorite agent to start planning your trip! #firstchoicetravelandcruise #weloveourclients #makememories #planyouradventure #useatravelagent #mketravelagent #stuffthesuitcase #dreamingoftravel #travelagentsrock #travelagentsrock
Nicci and Joe
Another First Time to Mexico Trip
Hi Gesica, We had a very nice time. Flight was good. Little chaos when first getting to the Amstar folks, but once we finally got on the road all good. Resort was nice and food was all very good. The resort people were fantastic. When first arriving, they try to get you to go up to the more expensive rooms of the resort, so that was a little frustrating. After having been in an airport and plane for most of the day, we just wanted to eat and get to the beach...Yayo (our guy), did finally get us to the buffet to eat and eventually to our room. Learning curve for us I guess.
It was very windy there and water was rough, so no snorkeling at our resort, just lots of laying on the beach. Now that I know what to expect from them, there will definately be things that I look for in the future. With covid, the theater was not up and running yet, but it would have been nice to see a show there. We did see a fire show one night when we finally figured out what was happening.
Excursion was great. The people were very friendly and helpful. The food was great too. Everything was very clean and organized.
Thank you for your help in our first trip to Mexico. We will be back!
Sarah
This wonderful wife surprised her husband with a Romantic BIRTHDAY trip celebration to the El Dorado Maroma! They will not be the same!
Gesica,
The trip was amazing!! Our room upgrade was incredible. We didn't do any excursions. Every day we ate breakfast, sat on the beach and drank cocktails, ate lunch, back to the beach, then a couple cocktails in the pool and back to our room to swim in OUR OWN POOL before dinner. Food was delicious!!! The Caribbean Grill was so yummy, however Jesse doesn't remember it ;). And surprisingly the Italian restaurant was our favorite!! So good!!
We each got 80 minute massages Friday morning after spending an hour in the sauna/water ritual tubs. (We may have gotten the massages tanks to getting suckered into a membership talk, however this hard ass got us out in 45 minutes). It was the most relaxing trip we've ever been on. We did take a paddle board ride and a ride on a double kayak. The water was gorgeous.
Thank you so much! It was a perfect vacation!
Maggie and Jesse
Stayed at the HAVEN in Riviera Maya
Hi Tana!
Just wanted to send a quick thank you! Michelle and I had a fantastic time at Haven! Once again everything went great. From the flight, to the transportation, to the resort, it was all great. Michelle and I feel at home at Haven and we are already thinking about when we can go back again. I think we may try to really go all out with the serenity club next time we go so we can get the full experience!
Again, thank you for all you did to make another vacation perfect!
Take care!
Todd and Michelle
Puerto Vallarta
Thank you First Choice Travel and. Cruise for the lovely vacation to Puerto Vallarta! It was a great week! Barb and Joe Gonzales
FAMILY VACATION AT DREAMS HUATULCO WAS A SUCCESS!



The Coates Family enjoyed their family vacation to Huatulco and even made some new friends! Thanks again for your continued business over the past few years! You are a pleasure to work with and look forward to working with you in the future! TANA





Excellence Playa Mujures Anniversary Success Story
Trip was fabulous! The Excellence Playa Mujeres was awesome! Highly recommend staying in the Excellence Club rooms. Cost is not too much more. Perks are location to beach, private pools and private beach. We were on the 2nd floor (really floor 3 because they start at 0) and would ask for 4th floor next time to get better ocean view. Still had nice view on 3 but now know for the future. Food was amazing and the service was outstanding. The concierge found us at lunch one day to ask if we needed anything. He made spa reservations while we ate! Would highly recommend this hotel! Much better food than the Azul that we went to a few years ago. Checked out the Finest for families right next door, too!
Weather was great. Rained the whole first day we arrived and was clear skies the rest of the time!
Overall, great trip and very relaxing! Trying to see when we can get back there again. That's how great it was!
Thanks!
Maggie
THE BELOVED HOTEL for this group
It was kick ass, Gayle. Small and felt like half full. Was easy for our big group to dine together. Loved having that small marina next door. We took a memorable boat cruise out to isla mujeres Saturday morning, everyone loved it. Location is mint, I highly recommend!
It was awesome Gayle I would highly recommend it. Service food and drinks were fantastic. The margaritas were very good.
Mother and Daughter Spring Break in Puerto Vallarta
Dreams Villamagna Nuevo Vallarta - Unlimited-Luxury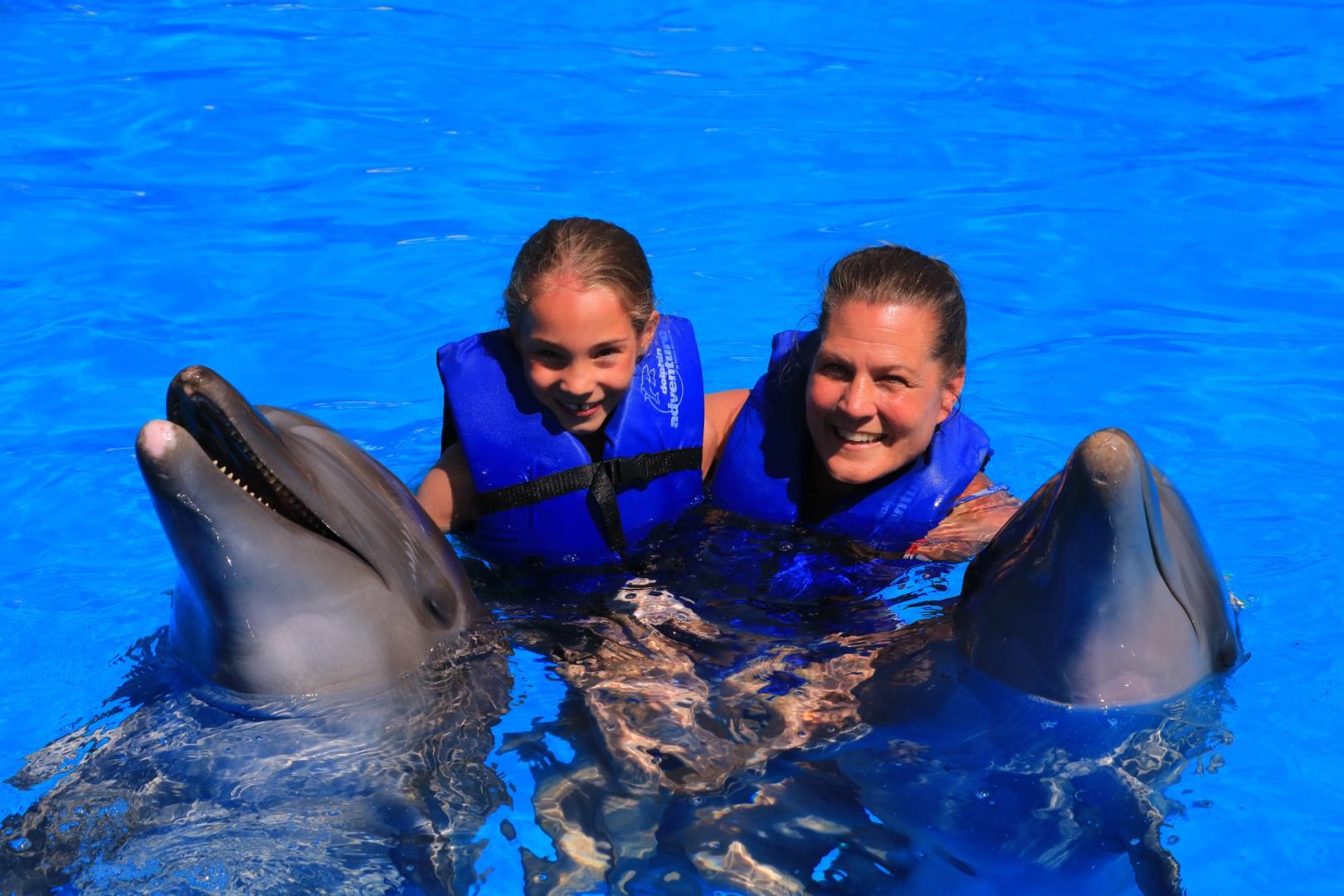 Did we tire you out just watching our posts?! We were very active, but we also spent a day just getting massages, and we spent the last two days just laying around by the pool and walking along the beach.
Our first full day we spent at the pool, and the sea turtles were just dumb luck and timing……cost was just a donation, and was a very good outing for us. The turtle rescue was just about ½ mile up the beach from us, and since they had hatched that morning, the volunteer was visiting all of the nearby hotels to get people to walk over for the release at sunset (and to request donations). That was really cool, and Casey really enjoyed!
We never did make it into town! Just the excursions!
We actually added the sea lions on to what you had already booked for us for the Dolphins….was a definite winner to add that! And we just "happened" to see the whales in the middle of that excursion…..because I had already pre-paid for the pictures for both excursions, the photographer added his whale pictures for me!
The resort was very nice, and we had a great room. The waiters were all very friendly, and it was sad to leave them.
Finally – the zip-lining trip was SPECTACULAR! It was done by Vallarta Adventures, and I would highly recommend it! It was a long day, and recommended for "active" people for sure, but well worth the efforts!
And, last, but not least, for anyone concerned about the "safety" in Mexico, I have never felt so safe and watched over at anywhere else in the world (and you know I've traveled a lot)! The hotel kept track of every time we left (putting us on a list with our room number) and came back (checking us off that we had returned)! I think that you would have to work hard and be careless to get into trouble. As with any travel, you need to be aware and responsible for your choices and decisions. At an all-inclusive, it is easy to over-indulge, but I never have a problem with this, as I stay aware, and always drink extra water to stay hydrated! People need to be personally responsible for their own choices, and have some self-control!
THANKS! For getting us there – this was a great location!
Marge
SECRETS MAROMA
Hi Lisa,
Please let me start by saying thank you and that we had the most fantastic time! We are so appreciative of your guidance, patience, and coordination. The resort was the perfect fit for our style—relaxing with a healthy dose of fun. The staff was friendly, and the accommodations were luxurious. We were so appreciative to have everything we wanted taken care of up front and we didn't have to put up any sort of a fight (rooms near each other, ocean view, renovated room, it's a celebration, patio tub, etc.).
We never left the resort… but had we booked one extra day, I would have ventured off. There was so much to enjoy there was no reason to leave. We loved the Italian restaurant and almost everything else but would pass on the seaside grill / steaks. Jackie and I were disappointed we didn't discover the hydrotherapy that came with preferred club membership earlier in the trip because it was so awesome.
What a neat place. Coming back to reality is the pits. Hopefully we'll keep in touch and find some more amazing destinations through you in the future! Take care.
Julie Nurse
HARD ROCK HOTEL CANCUN
Hi Gayle,
We had a fabulous time! The Hard Rock was one of the best resorts we've ever vacationed at. This was truly a luxury experience. The food was great, the pool was stunning and the staff was top notch! You planned everything perfectly, and I really appreciated the private car for the transfer from the airport to the hotel.

We had a couple of adventurous excursion, like exploring an underground cenote ans swimming with dolphins.It was so special taking the girls to Xel-ha, the same ecopark that Ken and I visited on our honeymoon, (that you planned!)15 years ago. Thank you so much for all your work on this and I can't wait to plan our next vacation....Hawaii????

Take care,
Liz Vandervest
ANNIVERSARY at Excellence Riviera Cancun
Hi Lisa,
We loved staying at the Excellence Riviera Cancun resort. It was so big with plenty to do. We never got tired of laying by the many pools in the comfy lounge beds. It's a beautiful resort with breathtaking views everywhere you go. We definitely recommend it to anyone!
RIU PALACE CANCUN FAMILY VACATION
We cannot thank you enough for coordinating our family vacation at the Riu Palace Peninsula in Cancun, Mexico. I have to admit, I was a little hesitant with going to Mexico in general but all of that fear/hesitancy was erased immediately upon the first day. I felt completely safe and even a little spoiled on where we were staying.
We want you to know how very pleased we all were with the quality of service you have provided through First Choice Travel & Cruise. We were 100% satisfied with our entire trip. This was our best vacation ever from swimming with Dolphins, zip-lining, sailing, swimming through caves, the foam pool party and everything else in between. This location has a lot to offer, good food and has tons of activities all day long. We have been and will continue to recommend you and your company to others now and in the future and look forward to planning our next trip through you company.
Mother / Daughter trip
On a special diet restriction or allergy? No problem in Mexico
Sun Palace in Cancun and El Dorado Maroma in the Riviera Maya
Hi Gayle,
I just wanted to let you know that the vacation went AWESOME!
After being ill for over a year and having to be on a strict gluten free diet, I was a little nervous to travel. I have to say how wonderful it was to finally not have to worry about accidentally eating something that would make me ill.
Both hotels I stayed at had a gluten free/vegetarian/heart healthy menu with a huge selection to choose from. I didn't feel limited to eating the same thing every night.

They were more accommodating than restaurants in the US, believe it or not!

Every time I stepped in the restaurant they asked if I had any allergies. They were even willing to put something together special if I saw an item on the regular menu to make sure it was gluten free. They also had a special area they cooked the items so it wouldn't cross contaminate with other foods.

The rest of the vacation was great as well! The hotel was beautiful with great views and plenty to do. The El Dorado Maroma was in a great location, if I chose to be more adventurous the activities were within walking distance, but the hotel was nice, quiet and relaxing! The hotel offered daily activities as well, and we did end up participating in a few of those activities. The took us on a kayak tour to a reef and a under ground hoe/cave(cenote, I believe).
Thanks again! Everything turned out AWESOME or as your office girl would say Radical(Gesica)!
-Your Satisfied Client LOL
Breathless Riviera Cancun
Gayle,
The trip was excellent! We enjoy the Breathless Rivera Cancun and all it has to offer. There are things that we liked better at this resort than the one in Punta Cana but there were also somethings that we liked better at the Punta Cana Breathless. They over booked our room class so they bumped us up to an Exhale club room. Which was weird because that is what we wanted to reserve but none were available. It was a nice upgrade and even thou they said it was just for the room we were able to use all of the exhale benefits because they verify it on based on your room number.
Here are some of our thoughts:
Nice grounds, pools, facilities and an excellent staff!
Nice variety of restaurants – Buffet, Italian, French, Mexican, and Oriental for everyone and for Exhale customers they also had a middle eastern - Kibbeh. Kibbeh is mostly an outdoor restaurant overlooking the Exhale customers pool and the ocean. It's a beautiful setting. The only negative is the kitchen can get overwhelmed. The second dinner we had there took about an hour and half and we did not order dessert.
The pool for the Exhale customers as also very nice and better than the one in Punta Cana. Staff was awesome, there were plenty of lounge chairs available, and they had 8-9 beds and you could actually use them. At some of the other AM Resorts people would keep them all day even when they were not using them.
The middle pool was very nice and had activities all day long. We only went to the "party" pool once and that was for the foam party. It was fun but the one in Punta Cana was much better. Some women were topless during the foam party so you might just want to make people aware of that.
The entertainment team was excellent! They got you involved even if you didn't want to initially. J
We did not go to any of the evening shows as we were whipped out each day.
Thanks again for your help with this trip!
Joe and Corey
Secrets Akumal for these Honeymooners
Happy Honeymooners = Happy Travel Agent
Tana blew us out of the water and chose the perfect all inclusive resort for our honeymoon. She was amazing to work with and got us the best deals out there! We stayed at Secrets Akumal Riviera Maya and it was INCREDIBLE!!!
So many great drinks, wonderful food and plenty of different activities to do daily - 10/10 would recommend! We went deep sea fishing, toured Mayan Ruins at Tulum, snorkeled and saw sea turtles (at the resort) and we swam with dolphins, manatees and sea lions! We are excited to use Tana at First Choice Travel and Cruise in the future to book our next vacation!
Steph and Jon
PUERTO VALLARTA - Golden Crown Paradise
T
hanks for setting us up on such an amazing vacation to Puerto Vallarta
Gayle Zielke
! We couldn't have asked for a better trip
🌞
🍹
!!!
Sarah Geboy shared her best restaurants they visited while in Puerto Vallarta!
Good restaurants-
Cafe Desartistes
Red Cabbage
La Palapa- great food & you can eat on the beach
Vista Grill-same owners as palapa- great food and amazing views of the entire city
Cuetos- cab driver took us here. Super good authentic food & seafood. Off the beaten path a bit, but so worth it.
Pipis-authentic mexican with HUGE margaritas. Fun spot but pretty touristy.
Lighthouse- we didnt get to check it out, but came highly recommended for great view & cocktails.
Thanks for a great trip:)
Sarah and Quintan
Hi Gayle,
Our trip to Cabo was amazing!!!!! We didn't want to leave and already want to go back! The hotel was really nice and the food was so good! The number of restaurants and variety of food offered kept us very satisfied. We went on a day cruise with snorkeling which was amazing! Thatcher also did a mountain bike tour that he loved. We kept our phones in the room most of the time we were there so that we would focus on our vacation but we did get a really cool picture of Thatcher with the mountain bike. I will have to get him to send it to me so I can share with you.
Amanda
RIU VALLARTA

THANK YOU!

I just wanted to say thank you for the outstanding job you did for planning my daughter and my trip to Mexico. It was the first time traveling for both of us to Puerto Vallarta and we absolutely loved it and had a memorable time. The flight was great, and Hotel Riu Vallarta was one of the nicest hotels we had ever stayed at. It was great that it was an all inclusive resort and we couldn't have been happier with the beautiful, spacious rooms. The beach overlooking the ocean was great with plenty of chairs to sunbathe and enjoy the great sunrises and sunsets. The pools were also very nice and we enjoyed the swim up bar and the outdoor bar. The many, many choices for food and drinks not only at the buffets, but the restaurants on site was outstanding. The hotel staff were always very friendly and helpful, and the cleanliness of the hotel was top notch. Shopping at the Malecon was fun, and the cab fare to any of the attractions was very reasonable. It may have been our first trip booked through First Choice Travel & Cruise, but it certainly won't be our last!
Again, thank you...Sincerely, Kathie Peffer
EXCEPTIONAL SERVICE

My husband Jon and I recently returned from a vacation in Cancun. We had a wonderful time and a spectacular room thanks to Sara. She was very helpful in making sure Jon and I enjoyed our first trip to Mexico and was able to answer any questions we had. We certainly will plan our next vacation with Sara.
Secrets SilverSands Riviera Maya
Hi Lisa-
We had such an amazing time on our trip to Secret Silversands!! Everything was amazing from the service, food and drinks to the entertainment. The accommodations were fantastic too. We could not have asked for a better trip. Thank you for the recommendation to the resort and the awesome service you also provided.
Birthday trip at Secrets Playa Mujeres
Our trip was amazing! We had lots of fun, really enjoyed the resort and all the employees made our stay very enjoyable. Ryan and I both agree that we would visit another Secrets resort in the future.
SECRETS MAROMA ANNIVERSARY
Hi Gayle,
Thank you for checking in.
We did enjoy Mexico and Secrets Maroma.
Our excursions that you booked ahead of time worked out well.
Chichen Itzian was too long in the bus-6 hours or so. We would've loved to know that ahead of time. The tour guide was excellent and the food on that trip-yum!
Xacret park was a blast-highlight of the trip!
Beach was still beautiful, soft sand!
Atmosphere wasn't has romantic as I had pictured being a secrets resort and all
We would put Excellence Resort in Punta Cana ahead of Secrets Maroma due to cost with same experience.
Overall, it was a nice to get away and enjoy warm weather!
Thanks again for checking in.
Alex
Iberostar Quetzal in the Riviera Maya
We loved it! I loved the thatched roofs. The food was good, I ate chocolate at every meal!! I would go back to an Iberostar. I liked the transport and having the people on site for questions. Your tip sheet was great.
I foolishly and hastily packed the sun screen in my carry on, which of course I know better. After they took it at security, we bought it for 24.00 a bottle!!
The only thing I missed was having good wine. Not unlike other all inclusive's the wine is "white or red". We even bought a few bottles off the wine list that were a little spendy and just okay. I didn't suffer though, I found other things.
I wish I was back! We'll go again.
Thanks for all your help.
FAMILY VACATION SUCCESS ...AT IBEROSTAR QUETZAL
Hi Gayle,
Just wanted to let you know that we had a wonderful time on our family trip to the Iberostar Quetzal in Riviera Maya. We really loved the resort. It was a good size (not too big) and we loved the tropical feel with the thatched roofs and the paths through the jungle with monkeys, peacocks and other animals. The staff treated us well, and everyone was very nice and helpful. Our kids had never been to an all-inclusive before, and they loved it. The beach is always important to me, and I really loved this one - a large, sandy beach with plenty of chairs to relax and enjoy the beautiful setting. Tony and I both agreed that this resort is one of our favorites we have visited and would definitely like to go back in the future. Maybe you can let us know if you come across any special deals!
Thanks, Gayle, for suggesting this resort to us, and thanks to both of you for all of your help with the planning and arrangements. We thoroughly enjoyed ourselves, but as always, the week went too fast!
Karen Manvilla
Celebrating their anniversary at Iberostar Lindo- UPGRADED!

We had a wonderful time and we got upgraded to the maya. Nice room even though we had separate beds. We got to eat at all the specialty resteraunts everyday. The resort was very nice. We didn't mind walking once we found out where to go. We did go golfing and the course was great but challenging. I would go there again. Our favorite restaurant was the Japanese restaurant. We ate there twice. We spent time at the beach and at the pool. Both were fun. The weather was hot but who cares when you can cool off. Thanks for recommending the iberostar.
Good morning Gayle. Great trip.
Resort was very nice. They upgraded us from Lindo to Maya.
All the restaurants that we ate at were very good. The buffets were a little hit and miss but you didn't go hungry.
We did get out and golf. Very nice coarse.
Made a friend down there Don Julio. LOL
Very enjoyable trip.
Phil
WINNING! A WONDERFUL GROUP AT THE EXCELLENCE RESORT WITH BAIRD WARNER!
Also, here are some testimonials...
Just a short note of thanks and gratitude for the outstanding and very special Mexican get away! We all enjoyed ourselves to the max. What wasn't there to like at The Excellence Resort-it was truly excellent! I appreciate your efforts for the trip and the tremendous organizing of such a nice event for all of us. I will never forget it!
Thank you so much for all you did for our Mexico trip! Fox Valley loved it all! It was a dream vacation for all of us!
The trip was fantastic and I have heard nothing but great reviews from my agents.
We enjoyed the resort, the food, the drinks and the water, as well as the snorkeling and wide variety of available activities. It meant so much for us to be able to participate and enjoy the time with each other, our friends and co-workers.
Gayle,
Thanks for arranging our trip with the Baird & Warner team this past week.
My wife and I considered it our best trip ever and we plan on returning frequently!
Gayle,
We had a wonderful trip. The Excellence is a beautiful property. The service and food were very good. Overall, it exceeded my expectations!
Not a big fan of Spirit Airlines. I have flown millions of miles and just do not like their business model.
MORE PICS OF BAIRD WARNER WINNERS!!!
Excellence Riviera Clients
Hi Sara - Nope you are correct we are not happy to be back. LOL But it was fabulous! We had tons O' fun. Attached one picture to give just a hint. OMG I laugh just seeing it.
So the resort was fabulous as were our transfers to/from the airport. The amenities and services was excellent. Our room was upgraded to the 2 floor room and it was grand.
The upgrade for the Excellence club was very nice as well. Worth it especially if doing a longer stay. The food was great and we didn't even get to try everything.
Our flights all worked out very well too which I think we dodged a bullet on our return flight and just made it before the real problems started with flights.

Iberostar at Paraiso golf was excellent. We played again on Friday. The service, course and transportation were all flawless.

I do have a question about tips being included - is there ANY info on how that is possibly spread across the staff? I would have to say it's better to just say tip a lot! :)

So the only gripes and this is for reference to future travelers - Mayakoba not worth the money at all and they mis charged my CC for drinks after golf. Iberostar included food/beverage and transport with their rack rate. The service at Mayakoba was actually horrible. I get better service at Merrill Hills (club I belong to here). We almost did not have a ride back due to their mistake.

For snorkeling we had to jump off a stone wall to get to the beach instead of using the public landing as there was an extra charge for that apparently and then swim out to a small reef. Likely not the best snorkeling not he island. But have to say it was fun and the guys that took us were very nice so only hoping they made out on the deal.

So all and all our downers were nothing, but just wanted to share that the snorkel tour should be avoided and warning that Mayakoba - not really worth it or probably best if played on a high volume day when it's fully staffed as you are paying for good service.

THANKS for the service and resort recommendation. Oh one thing - the road to/from the resort - the only road basically is really bad. It can add significant time to any comings and goings which is part of the reason Mayakoba did not turn out well, but they should have known that. I think it's a well known issue.

Any questions you have for me do let me know but yes it was great. Excellent resort - especially the upgraded excellence club.

Karen Schmid and Russ!
EXCELLENCE PLAYA MUJURES
We loved our vacation....thank you. Everything went very smoothly, and since I was a "repeat" customer we were able to upgrade a bit. We enjoyed everything.
You know, I can't really say I preferred one over the other, although I think this one was a little newer and I preferred this room over the other Excellence.
But I would go to either one again. The staff is so well organized and trained....perfect. And the Lomas ride back to airport perfect too.

El Dorado Maroma
Edward and Ronda de Bie went to El Dorado Maroma
Hi Mary,
We had the most wonderful time! Thank you for everything to help set it up.
We loved the resort. It was exactly as we were hoping. Very small and not crowded. There were lots of options for things to do on resort and off. It was a little expensive to do some of the activities - but it was nice to have the option. The restaurants and all the food was very good. But the best part was the staff and how well they took care of us. We couldn't be happier with how the trip went. I would recommend this resort to anyone!
The weather was a little cool and windy the first few days. But it did improve towards the end of the trip. We still both came back with great tans!
CANCUN
Michael and Deanna Scott went to the Riu Cancun
I just wanted to let you know that we had a fabulous time on vacation. You made a note on our reservations that we were repeat customers to the hotel and because of that we were not only given a free upgrade from our jr suite, they actually had our room ready when we arrived around 11:00 am. I was shocked to have access to our room so early!
The food was great as always and the majority of the staff was above and beyond for friendliness and helpfulness.
Thank you so much for all of your help with our vacation this year it was truly a great experience.
RIVIERA MAYA is Probably #1 HOT SPOT IN ALL OF MEXICO!
With our most repeat visitors!
NOW Sapphire Resort in Riviera Maya
Looks like Now Sapphire was a winner for my VIP clients the Visocky's!! I love to hear it when my clients say the best trip yet....and that is a lot of years! Wow I have to really be on my game for the next one to top this!!!
Gayle,
My opinion it was one of the best. The staff, food beach and location was just great. We would go back again. Terry has pictures lot's of them so I am sure she will respond.
As usual a BIG THANK YOU!
Steve Visocky
Hi Gayle,
LOVED the NOW Sapphire! The resort was pretty, (next time, ocean view!), comfy bed, food was yummy and "preferred" status was great! We hung by the preferred/adult pool. The reserved cabanas, pool floaties, bartender and pool manager were on top of their game ALWAYS.
Probably the best trip yet...I totally relaxed. Thank you for a great trip!!!
Terry
Valentin....Adults ONLY
Carrie and Jay Ewald spent a wonderful trip at the Valentin in the Riviera Maya!
Eating at our favorite restaurant - French
The great view from the wedding spot
Every night they would have a fiesta on the main patio - this was Mexican night
Lisa's client Katie Peters and a new friend!


I really enjoyed working with Katie Peters and friends. They stayed at Ocean Coral and Turquesa in Riviera Maya. What a great picture, looks like it should be in a magazine!!!!!!!!!!!!!!!!!!
Honeymoon at the Secrets Maroma
We just returned and had an amazing time. The hotel was great, employees are friendly and food was very good. Top shelf drinks too. Thank you for putting it all together, traveling was trouble free and easy.
SECRETS SILVER SANDS HONEYMOON
Hi Gayle,
The honeymoon was great! Secrets Silversands was fantastic. We only have Dreams Los Cabos to compare it to, but we were not disappointed. With the exception of the buildings being just slightly older looking in finishes than Dreams was, the properties were very comparable in quality. The place was very well maintained, the food was very good in general, and the service was top notch.
The hotel had a decent entertainment staff, and there were plenty of activities throughout the day. We didn't go on any excursions through outside companies, but did go offsite with the organized activities through the hotel. The beach was far nicer than that in Cabo, with far less shells and stones. The seaweed appears to be a continuous battle for the hotels in this area, as there are people out all day raking it up.
The drinks were great most of the time, all top shelf alcohol. Most of the bartenders were excellent, with a few that were not so creative or talented. We just avoided those guys. The bars and poolside staff were overall very good. We never had to wait or wonder when we would get service next.
There were a good variety of food options, and we didn't find any that we didn't like. I loved the Mediterranean, French, and Sushi places. Justine loved the Sushi, Mediterranean, and Italian. The breakfast buffet had enough options for anyone. The Mexican restaurant was so-so. We try to get to every restaurant, but the seafood place was a surprise closure on the last night we were there, which is when we were going to try it. If we went back to this resort, we would probably double up at the Mediterranean, French, and Asian places, as well as try the seafood restaurant. There was an outdoor bar with self-serve quesadillas, nachos, wings, fries, fruit, salad, veggies, and made to order burgers, dogs, and chicken breast. We just walked up to that place for a small lunch snack every day and it got the job done.
We ended up traveling in first class both ways, which we didn't expect. It was very nice! I don't know if those were the remaining seats when we booked, or if you knew some secret for upgrading, but it worked out great! I'm just afraid we'll want to travel that way every time now. The airport transfer process was pretty easy.
We talked to many people at the resort who were repeat visitors to the resort and to the brand, at least 5 different couples that we happened to meet. They all said that the service and food were unmatched. One couple was staying at another resort but didn't like the service and the distance across the resort, so they bought 4 days worth of day passes for our resort. Another couldn't book their entire trip at our resort, so they stayed down the street for 4 days and then transferred over for the remainder of their trip because they liked it so much.
We wish that we could have stayed a few more days, it really was a great time. We decided that we need to try to take that sort of vacation more frequently, every 1-2 years at least, maybe mixing this in with our usual favorites like Disney and visiting places with some history. We also decided that it was fun meeting new people, but that we'd probably love it if we could get small groups of our friends to go together. After our experiences and everyone we talked to, we'll probably take some convincing to try something outside of this family of resort brands!
Thank you again for helping set this trip up relatively late in the game. It really was a great time. You can click the link below for our photos. We don't usually take a ton of photos, but we tried to at least get some decent ones on this trip.
Talk to you soon. Brian and Justine
FAMILY VACATION / HONEYMOON AT THE AZUL BEACH
(this small boutique resort caters to babies and small children)
Hi Gayle,

Thanks for asking, we enjoyed it! We loved the hotel, the people, the food, the drinks, the beach and the pools, very nice resort. We would do it again.
It was really nice to step out of the suite and jump into the pool or the ocean. The little one was excited to play in the sand on the beach and we enjoyed it to have everything available in the apartment.

We used the room service a couple of times which is very nice when you can't leave the suite because of a sleeping baby.

It was the first time that we had all inclusive and we enjoyed it. It makes sense when you have everything included with three persons.

We liked the Spa very much and had wonderful massages.

Here are some things that could have been better. We don't wanna complain, we had a beautiful honeymoon, but we wanna give you an advice, just for future customers:

- Initially they gave us the wrong room (no oceanview), the next room had oceanview (a small spot far away), but it was smaller that expected. So we finally moved to a honeymoon suite, which was more expensive, but we were very happy with it. Against the information on the website, it is available for families, too.

- Don't listen to the loyalty program presentation. They wanna sell you a timeshare program for thousands of dollars. It might be a good program, but they stole us 2 hours of our vacation (actually they announced 30 minutes). We got some discounts for listening to the presentation(Internet, Spa), which was nice.

It was a pleasure to work with you and we will never forget our honeymoon.

Take care!

Andreas
with Ulrike and Lukas
These 2 good looking couples love the EL DORADO ROYALE and try to visit every year!
Another repeat couple to visit El Dorado Royale,
Gayle,
Our trip was wonderful. We did enjoy our dinner on the beach -- thank you!! And we had another surprise when we checked in ... they upgraded us to a swim-up casita, which we absolutely loved! The El Dorado is heaven on earth. We really hope we'll be able to go back again next winter!
We do continue to disappoint in the picture department, however. Like with past trips, we get so relaxed that the camera hardly makes it out of the bag. If it's not a book, a drink, or having to do with water or sand, it doesn't even cross our minds!
Thanks again for all of your help. I'm sure we're no different than most of your clients in that we have to work very hard in order to be able to enjoy nice vacations. When we do find the time and the money to make it happen, we want to make sure we get it right. We really appreciate that you help us make it the best it can be!
Adam & Stef
Thank you so much for recommending that we take our marriage license with us – we did and were able to get a really great anniversary package with the beach dinner, couples massage and breakfast in bed. It was the first time Adam had had a massage so that was a big deal for him!
LOMAS TRAVEL picks you up at the airport and assists in tours
I just wanted to say thank you very much for being my person-to-go-to about the tours.
My daughter and I enjoyed the Baird & Warner trip to Riviera Maya. We only took in two additional activities: the Royal Dolphin Swim and the Waverunners at Marina Maroma.
So appreciative that you mentioned Marina Maroma to me. My daughter was fortunate to be the only person at the Royal Dolphin Swim so she was able to do so much more -- three foot pushes, two fin rides, and many extra training tricks. We were also the only people to show up for the Waverunner so we had the Waverunner guide all to ourselve and had a fun, fun time.
I will keep your name in mind for any future trip to that area.
Best Wishes,

Jeanne
LOOKS LIKE SOMEONE IS HAVING THE TIME OF THEIR LIVES~!!!
Karen,
Riu Yucatan parasailing...

This was me, one week ago today.

Joe Fox
HONEYMOONERS AT EXCELLENCE
Hi Gayle,
Lizzy and I had so much fun at the Excellence RC. The resort was absolutely beautiful, and we couldn't have asked for a better place to go during our honeymoon and first trip to Mexico!
Thank you so much for the detailed planning out you did for us. We had no issues at all. Airlines ran on time, the Lomas Travel transport was great, Excellence itself was top-notch, and the XPLOR park was really cool too! For a honeymoon, the adults-only all-inclusive resort is DEFINITELY the way to go.
We mostly relaxed and enjoyed great weather during our stay, but we did do a day trip to XPLOR park and really enjoyed it. Although it's set up like a theme park, it is so much better! The zip lines were really cool, and I enjoyed the swimming through the caves as well. That was a nice, long day and a lot of fun. While at the resort we also booked an hour-long snorkeling trip out to the reef. We saw a lot of cool fish and enjoyed that very much as well. Excellence RC had fantastic service, and we thought the resort itself was just beautiful and very well-maintained. We took a walk up the coastline there and had to agree that Excellence was the best-looking resort that we walked by for sure! Our (my) only problem was eating way way way too much of the delicious food!
Anyway, thanks again for the work you did in helping us plan and book such a great honeymoon. We couldn't ask for any more from our honeymoon and are already trying to figure out ways to make it back there again in a few years! You're the best!! We'll look through a few pictures we took and send you a few that look good soon. Until then, thanks again for everything!

Steve and Liz Gale
DREAMS TULUM on a SQUARE APPLE DEAL!
Just a note to let you know how our vacation went. The only complaint we have is they put us in the
older rooms because we took the 6 golden apple square deal. They asked everyone who was on it if
they wanted to upgrade they would have to pay $330-400 extra for a room near the pool area. The hotel rooms we were in needed alot of updating and were in somewhat bad shape.

We loved the smallness and quaintness of the hotel so being back further was no problem. The food in the restaurants was very good and loved the fact we did not need to make reservation. The pool area was very nice but noticed there was a great amount of kids for this time of year. They had a adult only but also kids were sometimes in there. The beach area was beautiful and easy to walk. You could go for miles on the beach since this is the last hotel so far in Tulum...

I would recommend to go here but a long ways from the airport. 1 1/2 hours to get there. In the future they will have a airport and have started it in Coba. Much easier then but it will take some time.
We love this area and Dreams Tulum is very nice.

Thank you again, Rick and Jane Thome


The NEW Now Saphire Riviera ---Special Anniversary Celebration!
Sorry for the delay in getting back to you. We had an amazing time in Riviera Maya!! We stayed at the Now Saphire which is the newer resort there, and it was amazing! The resort was beautiful and everyone there was so helpful and nice!
The food was wonderful, a few different restaurants to eat at and it was really nice not having to make reservations. We didn't even have to wait real long for a table. They also had a few dinners/shows in the main theater so we didn't even get to eat at all the restaurants! The dinners and shows in the theater were excellent and a lot of fun. I would definitely recommend the resort to anyone, and plan to stay there again. Since this was our honeymoon/5 year anniversary one night, we had a sign on our door saying Honeymoon, and rose petals around our bathtub. It was very nice to come into. The room and entire resort was very clean and well maintained. We had a garden view room and it was still a wonderful view without being a beach view room.
We did a few tours well we were there, we did a sunset cruise one night, which had the most amazing views. The dinner was right on the beach and the food was wonderful. Very romantic setting. We also did a ATV/Wave Runner tour, which was a lot of fun. It was great to go out in the ocean with the guide, there were only 2 other girls in our group for the wave runners so that was a wonderful tour being smaller. We also the Mayan ruins tour, with Chica Nitza which was really fun! This was an all day tour, but very fun to see all the different areas and people. We booked these with Lomas Tours, our only complaint was there was some confusion with booking a single verses double on the ATV/Wave Runner. They had us down as a double even though we should have been set up as 2 singles. They did get this straightened out right when we were taking our tour and were excellent about getting it resolved. The rest of time we relaxed and enjoyed the beach! :)
Weather was wonderful well we were there. The day we got in there was a storm but watching the clouds roll in over the ocean was really neat. The rest of the trip it was a little windy but otherwise perfect!
We were a little worried having never taken this large of a trip before, but after our trip we can't wait to go back!
Thank you again for setting up our trip!
Colleen and Ehrin Cultice
The Cultice's were nice enought to share pics of the Now Saphire Riviera since it is so new I haven't even seen it! Thanks to a great couple celebrating a special anniversary!
Another fabulous trip at the EL DORADO ROYALE!
Here is a picture of us at the candle light dinner for Gordie's birthday. It was wonderful.
Thanks again!
Schaefgen's of Waukesha and Hall's from Hartland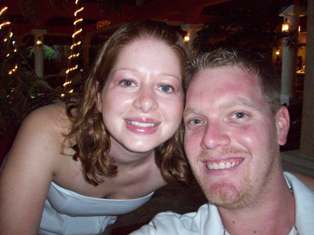 The Grand Palladium Riviera
Our trip was great! The flight there was good, but the one thing I would probably do different is to get private transportation to the hotel.
The hotel was beautiful, although I already knew that from staying there in April. The private suites (mayan suites) were worth the extra money. The outdoor shower is something I will never forget and the one night it rained we ordered a bottle of champagne and dinner from our butler and just sat on our deck and relaxed. The private suites have their own personal butler and room service 24 hours a day. There is also a shuttle just for those in the mayan suites that will take you anywhere on the resort you want instead of waiting for the train (although the train runs about every 10 minutes anyways).
We swam with the dolphins one day on an excursion and another day we booked a couples massage outsideat the spa. The spa is unbelievable and the wirlpools, saunas, and pools are open to everyone without a reservation.
The one thing that has changed since I was there in April is that the "a la carte" restaurants (there are 10 or 12 I think, all themed such as steak, Japanese, Chinese, Italian, French, etc.) are unlimited. Before you were allowed a certain number of dinners there based on how many nights you stay at the resort. Now you can eat at the a la carte restaurants each night if you would like. Although I love all types of food, this was a favorite for my boyfriend who is sooo picky. We ate at the steak restaurant twice and the Italian restaurant once. I would go at 5:30 or make reservations because they are popular.
This was a great vacation and I would recommend this resort to anyone (and I will definately contact you in the future about planning our next vacation, maybe to the same resort). Thank you so much,
Nikki
IBEROSTAR QUETZAL
Sara ~
Thank you so much for all your help with our vacation plans last week to Playa del Carmen and the Iberostar Queztal. We had WONDERFUL weather, and a great time! The resort was exactly the same as we left it 7 years ago. The property is very clean, staff friend, and food good. The beds, however, as hard as a rock J. We joked about them – but they didn't dampen our spirits!
Thought you might enjoy a silly photo from Xcaret, on our one day adventure.
I will HIGHLY recommend you and First Choice Travel again. I also learned we have a mutual customer – the Kern Family Foundation.
Thank you again ~
Shelly Eggert
Grand Sirenis – Riviera Maya
Hi Tana,
Awesome time at the Grand Sirenis – Riviera Maya. It was everything we hoped for. Thanks for ordering up the perfect weather! We had a blast and can't wait for our next trip!
McCarty Family, Waukesha WI
Dear Pat,
Thank you for booking our Funjet Vacation to the Moon Palace Resort in Cancun. This was our first vacation to Mexico, but it will definitely not be our last. The Funjet representatives and the staff at this resort were so accomodating. The food and drinks were plentiful, our room was perfect.

This was the most relaxing stress-free vacation we have ever taken. Thanks again and have a great summer.

Sharon and Dale Fredrickson
GRAND SIRENIS
Hey Gayle,
Wanted to write you a note and let you know the Grand Sirenis was a great place to stay. The resort had a lot too offer. The shows at night were just awesome. The snorkeling there was very good. Secluded area to snorkel in around a island. The food was very good and great service. The rooms were very nice more like a suite...
Also Shaun had a problem with his luggage bag being too big so in milwaukee they let it go on the way back it cost him 50 dollars.. Let people no the new rules on the size of the luggage bags. Just for your info.
Thank you again for another great vacation.. Jane
The NEW...Ocean Coral and Turquesa
The Biwers, Lohrs, Maters, Olshefski, and Schmidt's had a blast the Ocean Coral and Turquesa! Half of them are already booked for 2010 to go back again to the Riviera Maya!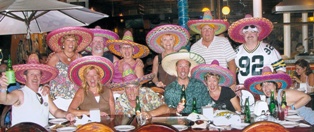 Dear Tana,
We had a great time, didn't want to come home as usual. The resort was nice for what we paid. It had some positives and negatives, but mostly positive. Rooms all were ocean view unless you were on the first or second floors. We requested 3rd and got it. Resort was beautiful, clean, ocean had some seaweed but they were always cleaning it up. Service was good. Location was great, 20 minutes from the airport. The biggest negative was the entertainment, wasn't much of that, the shows at night were not good, but since we had such a big group, we made our own fun, so wasn't a problem.
We also went to Alux lounge and restaurant, which I had read about on the internet. It is a actual living cave that was made into a restaurant and bar. It was wonderful. We even got a tour from our server. There are about 10 little different rooms throughout the cave that were made into bar areas or dining areas. We just had drinks, but the food looked good too. They did alot of tableside cooking. Would really recommend that place to people.
6 of us took a side trip to a Maroma Paradise Marina which wasn't too far from the resort. It was a trip that included our transportation and then 45 minutes on ATV's that took us through the jungle and then dunes on the beach, we then got off the ATVs and got on 2 man speed boats for 45 minutes out on the ocean. We had a blast and would really recommend that trip.
I had read about this trip on the internet, so at the resort I asked our Apple rep about booking that and she tried to talk us out of it because she said that the equipment always broke down and you go really slow on the atvs and boats and that we wouldn't like the trip. She then tried to sell us on a Apple excusion but they didn't have one that included both atvs and speed boats, we would have to take 2 different excusions to do both. Since we didn't want to do that, we booked the first trip that I had read about through Funjet and we had a blast!!! So we were glad that we didn't listen to the Apple rep, we felt that she was just trying to sell us whatever she got the best commission.
Some of the others did the ruins (Chicken Pizza) and X-caret and had a good time.
We thought the resort was worth the price and enjoyed it. I would recommend the place for the price.
Another negative was that they really catered to the Italians. We watched them having special check ins with drinks. They had a special theatre just for them where the shows were all in Italian. One of the pools where they all hung out played only Italian music. So we thought that was weird.
Again, thanks for all of your help.
Our Honeymoon at the Royal in Playa Del Carmen
Steve and I can not thank you enough for recommending this breathtaking resort. This was the trip of our lives. These pictures do not give justice to the amazing time we had. Everything was beyond perfect. The staff, the food, the activities, the accommodations and the location were all 5 stars!! The funjet representative was very helpful and helped us plan activities to put the icing on top of our wonderful honeymoon. We went on ATV's, speed boating, parasailing and swimming with the dolphins. We also had a moonlight massage on the resorts beach, which was amazingly romantic. We are planning on returning for an anniversary. Thank you again Pat and I look forward to working with you again in the future!
Thank you,
Ashley and Steve Johnson!
GRAND SUNSET PRINCESS
A MOTHER/Daughter trip!!!!!!!!
Tana's clients just returned from the Brand New...GRAND SUNSET PRINCESS
Cindy Ziegler Fritz and her Daughter Missy called Tana to let her know how awesome the GRAND SUNET PRINCESS Resort was. They took a quick 5 night mother/daughter trip during Missy's winter break and had nothing but wonderful things to say. Loved it and can't wait to go back!
The grounds were beautiful and they really did a nice job landscaping. Beach a little rocky but not a big deal, great for walking, food was excellent, shower and bathrooms were marbled. Cindy said to her husband that they will be taking a trip back to this resort just the 2 of them.
SANDOS PLAYACAR
Tana,
Had a great time in
Mexico
. Resort was beautiful. Had a great room close to the beach. Food was fantastic, weather good and lots of memories. Please recommend this resort to your clients. Loved it. 5 min. cab ride to Playa. Thanks again for all your help

Kathy and Bill
Kathy and Bill, We loved hearing your opinion on how you felt about this popular resort because we have lots of Wedding groups stay at this resort and they loved it too. We know you both are very well traveled and also in the RESTAURANT business so it is expecially nice to know you think the food was fantastic as well as enjoyed this affordable and wonderful resort in the Riviera Maya!!!!
Thanks for your honest feedback!
Gayle Zielke, president of First Choice Travel and Cruise
VALENTIN
Hi, Gayle:
I figured you'd like to hear from us about our vacation stay at the Valentin. We had a WONDERFUL time!!! And, thanks to you, we ended up getting an upgrade to our room. When we checked in, Don & Jacques inquired about the rooms you tried to reserve for us. To make a long story short, we were UPGRADED to an Emerald Junior Suite, Building 14, which was locatged right off the beach and near the main pool! We were so pleased with everything! The beach and the ocean was the best we've ever had when vacationing in Mexico. And, the food was great, too. We did have a few service issues and the drinks were made differently depending upon which bar you went to. But, not everything can be perfect, right? We ended up having rain the last day of our trip but between the four of us (Bob and Katie and Dennis and I), we managed to take a taxi to Playa del Carmen so we could do a bit of shopping that day. FUN!
You are truly a wonderful agent, Gayle, and so are your employees. We have never had issues with you and your staff and realize the individual time and effort you put into everything to make sure everyone is happy and well taken care of. I'm sending you a couple of pictures so you have a general idea of how "miserable" we were during our stay! LOL!
Oh yes, we did have one major complaint about an excursion we booked with a Funjet rep. All six of us booked the snorkeling/jeep tour to Cozumel and we were all quite disappointed for the money we had to pay. The timing was poorly planned - everything was so extremely rushed. The snorkeling area in Cozumel was horrible - no reef and not much to see. The jeep ride was long with nothing to see except barren land. This, of course, is not your fault at all but is something to inform others about in case they appear interested.
Again, thank you so much for everything you've done for us. We can't tell you how pleased we are. Until next year, it's back to reality again.
Bonnie and Dennis DeCristofaro
Hello Gayle,
Just a quick email to let you know Bob & I sure enjoyed our visit to the Valentin. This is a very nice facility and we sure had a great time. Some of the pluses were:
no kids no towel card no needed reservations for dinner top shelf liquor great food, service and presentation SUPER upgrade (at no charge) to Emerald suites for all three couples no wristband great beach and huge pool perfect manicured grounds and really nice rooms w/ everything you could possibly need
The only complaints were: a fan that didn't stay on when the room was vacant (would be nice to go into a cool room after a hard day at play). The biggest grip was the "daily fights" for beach and pool chairs. They really need to work on that. This is the only time we ever experienced this problem. All in all it was a great time and a great choice. Bob & I are already looking forward to Hawaii next year. Let me know when you and I should start to work on what is available and costs.
Thank you to you and Sarah for all your assistance. It is a pleasure to work with you and your staff. Bob & I always feel that you have our best interest at heart.
Thank you for another great memory.
Katie Watson
VALENTIN ...TRIP SUCCESS!!
Hi Sara,

It was a long overdue vacation, but it was everything we could have hoped it would be and then more.
Thank you for your recommendations and help with this whole process, we would have had no idea where to start and you made it so we wouldn't have to worry about anything. I would recommend this resort to anyone, the food was wonderful, the staff was extremely friendly, and the resort itself is just breathtaking (I have attached a few pics) as far as comparing it to others, we have only stayed here, but when we went on a couple of excursions, others were picked up at other resorts and we could see the difference and were that much more pleased with ours.
Once again, thank you Sara, as soon as we stepped into the airport we were treated special and that special treatment followed through the entire stay. When we entered the resort, the first words they said to us was "welcome home" and they truly did make us feel at home. We have already started looking at dates and counting down the weeks until next year. If your bride has any doubts, tell her to visit the facebook page and read all the comments from people who have been to other resorts in the past and will go nowhere else now.
Thanks again, we will be in touch to book next year's trip.
Tony and Barbara Rossi
CATALONIA
Sara,
Actually because Karen was so helpful the problems were negligible, we even got put in Delta first class on our last leg to Cancun It ended up being a great day and for that matter a fantastic vacation, The Catalonia was amazing a virtual private beach (cove)-snokeling right off the beach in the corel reefs and perfect weather. We took a one day tour from "EdVentues" and it was amazing $84 per person to see the Tulum ruins, zip lining, cenote snorkeling, then swimming with sea turtles and finally a private lagoon for swimming in the brackish water with lots of beautiful fish
All in all a fun time, anything I can do to recommend you travel agency would be my pleasure, I will use your services when I travel!
John
SECRETS
Hi Gayle,
Secrets was fabulous. We loved our vacation at Secrets. By far the best resort we have been to. Food was tremendous for every meal. I'm sure Rox already told you about me singing in the "Idol" contest. It can be viewed at http://www.youtube.com/watch?v=WFzEgrrIxY4
With both kids getting married over the next year and a half, I do not see us taking any vacations for a while but we would enjoy going back to this place. Thanks.
Dan
Secrets was fabulous!! Although we really loved the El Dorado Maroma, Secrets Capri was even better. Since Secrets Capri is larger than the El Dorado, they offered a lot more options -- and their spa was amazing! Both resorts had great food, but there was a wider variety at Secrets.
The reason that Dan was able to perform at Secrets is that the resort had a singing competition one night -- the resort's version of American Idol.

PS from Gayle....I love listening to Dan sing on this UTUBE link!!!
SECRETS SILVERSANDS!
Hey Lisa,
Our vacation was AWESOME! I can't say thank you enough. It worked out great. We got upgraded to Secrets Silversands the first day, so being a 'couples only' resort really made it relaxing and stress free. The resort and staff were overly accomodating! Adam said he's never had that good of service before in his life. We found a snorkeling place down the beach a short ten minute walk... and a place to paint pottery. The apple reps were great on-site also. I can definitely see the benefit of booking through a travel agent and through apple. Thanks again for all your help and for being patient with me. It really couldn't have worked out better!!
Thank you!!
Jamie & Adam
EL DORADO MAROMA RESORT AND SPA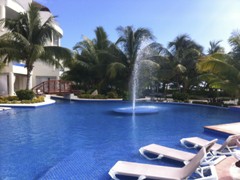 Hi Gayle...What an awesome getaway!!!! Thanks again. The place was beautiful and very comfortable. Unlike our usual vacations when we are go go go, we simply took a few days to just relax and enjoy the surroundings. No exotic excursions - just walked the beach for miles and enjoyed what the resort had to offer. Food and service was very good, too.
Thanks again....Jeff and Therese
VALENTIN
Hi Sara,
Thanks for checking in, it was absolutely fabulous once again. We just love that place :) - after walking the beach to the resort next door (mayan palace) and talking with some other guests and hearing some horror stories, I think we are set on not changing next year either. Why mess with something we love right. We did two different excursions this year, we went into Cozumel and spent a day at xel-ha, both were great and I would recommend them to anyone. You should friend Barb on facebook so you can see the pics (you can friend me as well if you want, but I am boring on there). The only weird thing was the plane trip back, the pilots were late coming in and we sat on the plane for an hour before taking off. Speaking of the plane, I think for next year we would want to see the price for upgrading into business class as well. Thanks for all of your help, it was truly another amazing week.
Thanks,Tony
IXTAPA and ZIHUATANEJO
Tesoro Resort (bargain hotel)
Hi Gayle,
We got back safe and sound. Cant beleive came home to snow. The weather was just great there. In the 90's. The tesoro resort was not all that bad. I was sort of surprised. The food was good and the service was great. Really nice people there. The rooms needed some up dating but over all really nice for the price. We did get a suite room. I do not know if you pulled some strings but thank you if you did. We really appreciated that. Did not so much like the long flight there. I guess we just got spoiled with the riveria maya. The one thing my husband liked was the fishing. They did get a sail fish that was 125lbs. Happy for him since that is all he likes to do and was so looking forward to that.
Just wanted to give you a thank you again for another sucessful trip. Talk to you in the future. Jane and Rick Thome
**We found a bargain trip for the THOME'S and friends and relatives. When you are looking for a deal under or around $1000 you know it is not going to be a 5 star and Jane and Rick were happy with their BARGAIN VACATION!!
Gayle, Here is a picture from the full gang from Random Lake.
Left to right Steve,Diane,Shaun,Kim,Joe,Lydia,Jane,Rick.
Had a great time in Ixpapa at the Tesoro.
Did not see anything bad to say of in the neighborhood we were in. Went out a few nights later and never saw anything. I think like you say things going on only in the bad areas and up in the mountains. Lydia and Joe went out for a bike ride one day and never came across anything. I think they went 10 miles.
We all loved the area. Hotel was a great value for your buck. The staff was very nice and took care of everyone the same way. The rooms needed some updating but other than that they were good. Food was O.K. Thank you again for another great year of vacation. The Thomes
BARCELO IXTAPA
Just got back from Mexico went with my cousin who has been in Ixtapa before at the Barcelo. We did enjoy it for the relaxation ,walking the beach, beach front massages. We went into Zihuatanejo for shopping which was fun bartering and there was a carnival going on which is a big deal there and very fun. Enjoy the pictures.
Thanks again for fun travels!
Barb and Joe Gonzales from Hair Artistry
COZUMEL
Stayed at the Wynhdam Cozumel Resort and Spa and celebrated with friends!
We had a wonderful time on our vacation. Loved the non-stop flight and the Apple people meeting us at the airport....even though they x-rayed every suitcase coming off our plane and only had 2 staff people! The hotel lobby was so impressive when we arrived tired, hungry, and thirsty! Unfortunately, we didn't get a "special room", but we made a switch the next day to get a king size bed. We found out that many people had this problem and if you complained you got a nicer room. Manchesters decided to upgrade to an ocean view for an additional $300.
We totally enjoyed the pools, especially the swim up bar. The two restaurants requiring reservations were incredible. The presentation of the food and the service was wonderful!
Steve and I swam with the dolphins and Carlos was able to get Steve in the same session as me for only $99! It was everything I had looked forward to for so long!
We also went on a catamaran for snorkeling, but Steve ended up aspirating water into his lungs, which was a bit scary. The good news was the hotel dr. was wonderful and came within 20 minutes to check him out and give him an antibiotic to prevent pneumonia....all for $100 on our credit card. He said to call back with any other problems for no extra charge during our stay, 24 hours a day! He was wonderful! We didn't have any other problems.
For future reference, we felt for the money we spent, it was worth it. We checked out the Sabor (adults only) upgrade....definitely not worth the $. They had access to one more restaurant, which served Chinese and was supposed to be good, but most of the people there came over to our pools and restaurants.
Deb M. went to a session at the spa and said it was wonderful and everyday something was discounted! She had a 90 minute massage for $100, but she started with a steam, whirlpool and then the massage was 90 minutes.. That was followed by tea!
As far as future travels, I am convinced to use you as a travel agent again. You are awesome!
We are thankful for the wonderful relaxing time we had together in Mexico. Thanks for all your help.
More Wyndham Cozumel guests
Hey Gayle: The weather was awesome, and the kids had a blast! The resort photographer took a bunch of beautiful pictures of the kids, in addition to all the pictures we all took.
It was a great deal—not as nice as last year. Last year, we were in the Sabor part, and that was super nice. There was only one reservation restaurant, which was okay with the kids. As I think I might have said last year, the buffet food is average, but adequate. The rooms were pretty dinky, and we all had two double beds as opposed to a king bed. Pete went diving everyday. Good to get away, and NOT come home with the swine flu. Oink Oink.
Sherry
As a side note: The Sabor section is the adult only area of the resort in Cozumel.
Wyndham Cozumel Family Vacation
Hi Gayle , we had a GREAT time on our trip .... We loved everything from food to the service at the hotel.. I will send some pictures soon. We will be going back next year for sure!!!!
Thanks for all of your help
Mary
Lee and Mary took their college age sons on this diving family adventure and as you can see they loved every minute of it. 7 days of FUN!!!
Lee, Mary, Robbie and Casey went back to Cozumel again!
This time at the Occidental Grand Cozumel!
On the trip we loved it, wasn't long enough for me . We fished. They dived and snorkeled .. We rented mopeds. It was really nice. We are ready to plan for next year!
IBEROSTAR COZUMEL
Gayle,
We LOVED the Iberostar! It was really relaxed and fun. We found we were definitely in the minority as non-divers ... but everyone was so friendly and welcoming. We would definitely recommend the resort to anyone interested in a casual vacation. If you want to go back and forth into town, its not really for you since its so far away, but if you're content to stay put, its perfect.
Thanks again for your help!
And yes ... we really wish we were back there now!
Iberostar Cozumel -Family trip!
Hi Gayle
It was a lot a fun. It was 80 & sunny. The beach was not too bad but not good for swimming from shore to much coral. We did miss all the snow. Taylor had a blast. I would recommend the resort the staff was great. Probably the best entertainment we ever saw. They were very interactive with the people Taylor loved it.
Thanks for your help on our vacation again.
Jeff Madisen
COZUMEL "GIRLS ONLY TRIP" WAS A SUCCESS!
The Sunscape SABOR
Gayle,

I just wanted to say thanks a bunch for the trip! We had an amazing time...so much so we definitely want to go back again! The staff at the resort were so wonderful. Probably the nicest staff I have ever run into. The weather was perfect, and the excursions we did were great. I can not thank you enough. Definitely just what my family needed after an unpleasant year last year. We just had a blast reconnecting, hanging out at the pool, enjoying life! Thanks again!
Again, thanks a ton. The trip was great and we loved it!
Regina
PUERTO VALLARTA
Crown Paradise Club
Jerry Tarkowski and Bonnie Blask love the Crown Paradise Club in Puerto Vallarta!! I think they have been going there for more than 5 years now, ever since they joined us on a radio group. They have made so many friends in Puerto Vallarta throughout their years traveling there. Crown Paradise is like a second home!!
This time Jerry and Bonnie had some friends and family join in the fun!! Jerry and Bonnie are in the middle sourounded by Lesa, Tammy, Floyd and Tom. Looks like they were having a great time too at...
Gayle,
Had a great time! The hotel, of course, is what we have grown to expect friendly, inviting, and laid back enough to allow us to have our own kind of GOOD TIME. Angie did not find us personally, but there were goodies brought to our room on a couple of occasions. The "kids" also had a really good time and could not get over the friendliness of the staff. Also have apicutre from Pipi's, but it didn't turn out a well as the one from Caramba. Took the Sierra Madre adventure tour, had a tour guide from Ohio with our sense of humor, laughed for seven straight hours,.
Thanks for all you do to make our vacations a JOY!!!
Another Year at the Crown, this time FIRST CLASS!!
My big repeat guests Jerry and Bonnie who first went on a radio group with me to Puerto Vallarta years ago and have since stayed here every year!! They are well known at the resort and loved by everyone...including Gayle!
CROWN PARADISE IN PUERTO VALLARTA
Gayle,
Trip was great, as usual! First class flight was REALLY first class. Sure was nice to pass the lines at check-in and security, didn't even think of that at the time of booking,
Nice to see old friends and make new ones among the staff at Crown Paradise. You know how difficult it is for us to make new friends. Took our long time bartender-friend "Danny DeVito" to dinner one night, really enjoy socializing with the folks there and they are very appreciative. Also had dinner at the home of Eric and Cindy, He was a 16 year old bartender the first year we were there and she worked at the reception desk and still does. They have an adorable 18 month old little girls who is convinced that we are her American grandparents. I think it might be time to move there, I'll know more after the November elections.
Thanks again for all you do to make these trips as easy as they can possibly be!!!
Jerry Tarkowski
Golden Crown Paradise Repeat guests
Just wanted to thank you for the great accommodations we had at Golden Crown Paradise. While we have been there before, we have never had such great rooms, so you must have worked some magic. Thanks again.

RIU VALLARTA
Holiday greetings from PV. Most things are going well. On the third day we received a letter from hotel stating that in cooperati​on with First Choice Travel and Cruise we would like to welcome you. With the letter was an art print from an artist in Spain. Very nice! We think we know who had a lot to do with that. Thank you so much.
First day was not easy to get partial ocean view, but persistence​e pays, and they also sent up a bottle of champagne! This resort is incredible. Thanks for all you have done in the difficult days we have had. Merry Christmas.
Our good clients need a special diet and on arrival meets with the chef's every time she goes to the Riu Palace Pacifico in Puerto Vallarta!
Good morning Pat,
Thank you so much for the paintings. It was very thoughtful of First Choice to honor us with a gift. The vacation was awesome!! The staff remembered us, and welcomed us with hugs and kisses.
One of our servers even traded his day off so he could be present for a birthday party he was helping me plan for Jim. He had the table decorated beautifully with fresh flowers, streamers, and napkins that he folded to look like peacocks. They were placed in our wine glasses with their long tails hanging down to the table top. Each place setting had a large purple flower that looked like an orchid…..they were gorgeous. The servers all gathered around to sing when they brought out the birthday cake. Jim was very surprised and the family was very happy!
Kim and family walked down to the other Rius and couldn't believe the difference in how the staff treated guests. Heard from others on the plane that they thought the other hotels were short staffed, especially in the dining room. We had NO COMPLAINTS at our hotel……everything was first class and the staff was more than attentive to our needs. My daughter and son-in-law couldn't believe how good the food was.
Both have been to Mexico before, but never experienced the excellent selection and presentation that the Palace offers. The chef took very good care of me and my diet. They also took extra precautions to eliminate any cross contamination.
Needless to say we plan on going back next year.
Have a good year….Carolyn and family--
RIU VALLARTA
Sara,
We had a wonderful time. The weather was great. We swam with the dolphins,
went ziplining, took a tour of Puerto Vallarta and went to Las Caletas.
Needless to say we were busy but we still had time to just relax in the sun.
Thank you for the champagne! Thank you also for helping me plan this
wonderful vacation. Hopefully we'll be able to do something next year with
our daughter and her family. The kids would have loved this week.
Denise Frank
CABO SAN LUCAS
HYATT ZIVA CABO
We all loved our trip!!!! The guys did a lot of fishing and we all did day sail! It was an amazing trip!
Amanda Sears
RIU PALACE CABO
Gayle
Subject: Cabo
Well Gayle, you did it again.....beautiful place and a great trip.
LOTS. Of pics!
Terry and Steve Visocky
Gayle,

Cabo was great! We really had a wonderful time...it was so relaxing. The resort was really nice and everyone was super friendly. We spent some time in the downtown area (we went to Cabo Wabo and Squid Roe, we also found a really great little bar/restaurant a little bit away from downtown on the beach called the Sand Bar...great food and super friendly staff) and took a water taxi to Lover's Beach. Both of which were a lot of fun.

The weather was absolutely amazing...I do wish Brett would have listened to me and reapplied the sunscreen so that he didn't get so burnt on the second day we were there...but that's Brett for you.

Thank you so much for setting this up for us. We truly appreciate it! We are hoping to try and get a group of people together and take a trip somewhere to an all-inclusive place next year probably around the same time (since I will be turning 30 next May). Would you be willing to help us plan that? You always do such a great job!

Thanks again for setting up a great trip for us.

Regina
Mexico is not just for couples and families. The Mother/Daughter/Sister group went to CABO and stayed at the RIU SANTE FE and everyone loved it. So will YOU!!! Check out the adventures these women had in Cabo on the link above! Ask your best friend to go on a MEXICO VACATION and enjoy your own adventure!
HUATULCO
Dreams Huatulco
Thank you so much for your help with planning the trip. It was wonderful! We all wish we were still there. It was the first time ever since we have had cell phones that my husband did not even turn his on for the whole week. Neither of us did. The kids took all the pictures, so I'll ask Brian to send you a couple. The weather was beautiful, the resort was great and we all thoroughly enjoyed the whole trip. I am so happy that we did it.
There were only two drawbacks. The rooms were nice and the showers were wonderful but the beds were not Queen size. They were all double beds, which if I had checked, I probably should have known that. It was not good sleeping for the adults, who are all used to King size beds. They were comfortable, just very small. That is one thing I would definitely check for future trips. Other than that, the rooms were great. The second drawback were the sand flies. Upon our arrival we saw quite a few people with the bites all over their legs. Brian and I are the only two who came home with no bites at all. The rest were not bitten up too badly. They came home with 25 or less bites. My husband, who is the one who wakes up early and would go down at

6-7 a.m.

to save pool chairs, came home covered head to toe with the bites. He was totally miserable on Sunday and we thought he was going to have to go to the doctor. After trying numerous products we found Tea Tree Oil worked the best to stop the itching and by Monday morning he was good to go. I know the flies are not anything anyone can control. You may just warn people about them and that they bite at dawn and dusk ( I think mostly at dawn), and to take bug repellent with them and avoid being out early morning. If they do get bites, try the Tea Tree Oil for itch relief.
Everything went very smoothly with getting to the resort and back home. The Apple rep was very helpful and always available. Everyone at the resort were so pleasant and accommodating. Brian and his sister had rooms right next to each other and our room was just down the hall on the opposite side which gave us the ocean view, which was beautiful. Their rooms looked out on one of the pools. It was great that all of our rooms where right together in the one hallway since we had two of the kids in our room and they were always needing to go from room to room for various items and to see their parents. They had a dance show every night, except for New Year's Eve, that was very good. The grandchildren looked forward to it every day. We missed it the first night ,as we did not know to check an electronic board that they have on the stairway from the lobby. If you send people there, tell them to check that board as it tells all of the activities every day.
We were very happy with the Seven Bays Tour. We were on a smaller boat that held maybe 40-50 people and it was able to take us right onto the beaches and pick us back up with steps that were easy to walk up and down for getting on and off. We thoroughly enjoyed that day. We were so happy that we were not on the bigger boats that we saw packed with hundreds of people. Those could not pull right up onto the beaches and they would load people onto a smaller boat, bring them to shore, go back for another load, bring them to shore, etc. Same thing to get everyone back on the boat. Don't ever book people for those large boats. They were packed like sardines and they spent so much time loading and unloading from the small boats. We also saw several older people who could not step up into the small boat and they had to lift one older lady up into the boat. That would be so humiliating. I definitely would not have been happy had we been booked on the large boat. Ours was perfect and they had plenty of drinks for all. We saw schools of Sting Rays jumping up out of the water. Where we had lunch, they pulled onto the beach and led us right to a table already set up for us and it was all so relaxing. Apple took us right to the marina, got us onto the right boat and went on the boat with us. They got us in for lunch on the beach, and back to the hotel. They made it all very easy and relaxing for us.
We all took taxi's into the town one day so the kids could buy some souvenir's and just so we could see the town. You don't really need to since the vendors came to the resort two days while we were there.
I would definitely recommend Dreams to families with children. I would never go there if it were just Larry and I. I would go to Secrets instead. We did not go check out the Secrets in Huatulco while we were there.
I would recommend everyone see the dance shows. They had the same group of 7 dancers every show but they were excellent dancers and they changed the theme for each night.
Thanks again Gayle for all your help. It was a wonderful, relaxing week for our whole family that each and every one of us enjoyed very much.
First Choice Travel and Cruise constantly visits the different hotels and destinations all over Mexico for our clients. We love hearing what our clients have to say about he resorts and area too. Please send us your comments and a picture you would like to share at or call us at 262-542-5955!
More comments and pictures from our guests in Mexico see...Honeymoons & Anniversaries, Destination Weddings, Customers Show and Tell!
Our wonderful guests in MEXICO!

We love Mexico!