Enjoy the beautiful scenery and find out why everyone is always talking about....AUSTRALIA and sometimes New Zealand too!!
TAKE A LOOK AT SOME OF OUR AUSTRALIA CLIENTS ENJOYING A BIT OF DOWN UNDER!

HONEYMOON IN AUSTRALIA!
This is Tyler Barg's and Carol Fallabeck's honeymoon to Australia. They had a great time and the Highlight of the trip was the Thala Beach Lodge and the behind the scenes tour of Steve Irwin's Australia Zoo.
Camels are in Alice Springs next to The Ghan station with David.
Mary,

We are back and SO happy with our trip - thank you for all of your help! The Adina was superb, the train was fantastic and the tours of Uluru and Kata Tjuta were beautiful.

We were treated to a rare sight at Uluru - it rained! Check out the sunrise and the double rainbow.
Thank you again for a perfect vacation.
Sue St. Aubin and David Nelson
Australia and New Zealand on Celebrity Cruise
Australia and New Zealand should be on everyone's travel list!
Hi Nikki,
The cruise was top shelf all the way. We were impressed with the ship, cleanliness of it and attentiveness of the staff wherever we went aboard the Solstice. The food was outstanding both in the dining room and in the Oceanview Café (buffet area).
Our short time in Sydney was wonderful. Great weather gave us lots of opportunity to explore. The Holiday Inn Old Town Hotel at The Rocks is highly recommended. Just 2 blocks from the cruise ship dock and the Rocks area is alive and busy with food and shopping, street fair, train station, ferry station and the view from the hotel rooftop of the Opera house and Harbor bridge was stunning! We booked a private full day tour with Your Sydney Guide to the Blue Mountains. We highly recommend them as a private tour company. We had an amazing day in the blue mountains. I've attached a picture of the 4 of us taken by Alex our guide on an out of the way overlook most tourists don't get to see. We also did our own day "ferry" tour using the ferry system to the taronga zoo, Watsons bay and Manly beach.
The ocean sail across the Tasman Sea was uneventful as seas were only moderate. Our overnight excursion from Milford Sound to Queenstown was spectacular! The attached picture of Laurie and me was taken at Milford Sound and you can see the ship leaving the sound in the far distance. The entire land excursion was one breathtaking view after another. Delicious food at local restaurants along the way, a wonderful hotel in Queenstown, a winery tour and stop at the bungy jumping bridge. Everything was great. The evening cruise on the Ernslaw steamship to dinner and return with piano sing-along made for a great ending to a spectacular day. Though the tour was expensive we were VERY glad we booked it as it was worth every penny!
Shore excursions:
Sadly our swim with the dolphins excursion was cancelled due to 15ft waves on the ocean that day – Celebrity was right there to refund our money in full!
Wellington Quad bike tour was a true highlight of the trip. Riding an ATV up and down the mountains with stunning views everywhere was amazing! We even crossed a river. We commented that everyone had a giant grin in their faces as they navigated the ATV's up and down the trails. Great attention to safety and training to make sure everyone was comfortable navigating the ATV over the rough terrain. While clearly not for everyone this tour was great for us and anyone adventurous! Book early like we did because its only one group per day and only 12 on the tour.
Wineries of Hawkes bay was relaxing and nice to visit the wineries. A fair amount of bus riding though.
Kayaking lake Rotoiti to the glow warm cave was great. Wonderful tour company with great guides. Nice shore lunch and time to relax in the sulfur hot pools. Again not for everyone – over 2 hours of kayaking in tandem kayaks. We loved it!
Bay of Islands paddle boarding and river cruise. Amazing! Saw lots of wildlife up close and we got to paddle board up to a waterfall. Lunch on the river made for another great adventure. Also not for everyone but lots of fun.
New Zealand after the cruise.
We had a small glitch with the car rental. We arrive at the Auckland airport via Uber at about 9:30. The Budget car was confirmed for noon pickup and Budget wanted to charge us for another full day if we left before noon. We chose to wait rather than pay that much extra for just a few hours. It all worked out fine but we ended up sitting for several hours at the airport. Driving on the left was fine and I adapted quickly. Budget left a nice "how we drive in New Zealand" booklet on the seat of the car. Very helpful so you understand speed limits, one lane bridges and how to use them and other tips. Just a few pages of reading before we left the car lot. They also had a sticker on the dash in front of the driver that said "keep left". Other than the timing of the rental "mostly our fault not knowing how quickly we'd get off the ship" the car rental was easy.
Cotswold Cottage our B&B in Thames is highly recommended. Adriene and Garth were amazing hosts in a gorgeous setting. Beautifully prepared breakfast and wonderful room not to mention meeting guests from other countries(Germany and UK) who were also staying there.
Driving around the Coromandel Peninsula from Thames was stunning. Some of New Zealand's best scenery. Ocean drive roads right on the waters edge, winding roads through farm country to spectacular mountain vistas, Fabulous hikes to beautiful beaches. We visited the hot water beach after the tide went out where you dig a hole in the sand and the hot geothermal water bubbles up to provide your own personal hot tub. Garth provided us with a "spade" to dig with.
We had an amazing time for the entire trip!
Australia and New Zealand should be on everyone's travel list!
Thanks,
Doug and Laurie
Another exciting Australia Honeymoon
Pictured is Karen and Scott at the Sydney Harbour on thier Dinner Cruise in Australia.

Karen and Scott Berwanger

A cruise of a lifetime to AUSTRALIA and NEW ZEALAND!


Imagine getting this group together from all over the U.S. to visit down under Australia and scenic New Zealand. Pictured above are Geoff and Tammy Luther from Chicago, Mary Ann and Joe Mundwiler from North Prairie, Cookie and Bob Brock from Merrimac, Dan and Roxanne Slane of New Berlin, Greg and Carol Apuli from Pewaukee, Peggy O'Neill and Jim Zechinati from Kentucky, Carol and Wally Zeck from Arizona and Gary and Gayle Zielke, MCC president of First Choice Travel and Cruise.

Comments from the group: "It was easy to get around all over since everyone speaks English, but with a wonderful Aussie and Kiwi accent. Everyone we met was so friendly and helpful. We did not get to the outback on this trip but visited the major cities in Australia and countryside of New Zealand. Even the flight was not as long as we thought, slept and watched movies all the way. Loved the Kangaroo's, Koala's, Tazmanian Devils and Kiwi's!!"
MELBOURNE

Gayle from First Choice Travel and Cruise said that Australia was a dream come true and she was so glad she could share it with a group of friends. Everyone had a ball visiting Australia, New Zealand and Tasmania!!!
This was a casual cruise and a visit to all the Harley Davidson stores in Australia and New Zealand was part of the program for a few of us.
Cookie Brock, Gary and Gayle Zielke, Carol and Wally Zeck
We met a few new furry friends while in Tazmania! I even took one home! (it was stuffed)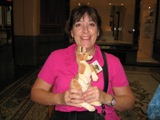 This is Douglas and Benjamin Turner in front of the Sydney Opera House and the Sydney Harbor Bridge. What a view!!!
"The only bad thing about our trip is that it had to end!"
Richard Berndsen and Lori Nelson visited Australia and New Zealand. This couple joined in all sorts of activities and sightseeing excursions while they were there.
The dinner out side in the dessert, is also from the outback it was the sunset dinner by Ayers Rock. We did the beach buggy on a reef by the greet barrier reef in Australia.
The tram ride on the way back down from Kuranda to Cairns in Australia was great.
Imagine ballooning over these great views! This is a once in a lifetime opportunity!
The Water Falls are the Barron Falls on the Kuranda Railroad going up to the city of Kuranda From Cairns and the second one is from a tour around Ayers in the outback of Australia.
ANNIVERSARY IN AUSTRALIA AND TAHITI!!!



Hi Gayle:
We had a fabulous vacation - it was everything we hoped for. Moorea was beautiful, especially Cook's Bay. The Bali Hai was nice enough, clean and no bugs, but the price and especially the scenery was well worth it. Our cruise was super too. Although we have so many incredible memories, I'd have to say my favorite experience was holding a koala bear. The flights went smoothly (although we hated LAX - what a dump) and all the transfers too. I appreciate you taking care of all that for us. Our location in Darling Harbour was very nice - easy to walk to all the Darling Harbour activities. I'm not sure if we will ever be able to top this trip - it was truly the dream trip of a lifetime!
AUSTRALIA AND NEW ZEALAND CRUISE
Sydney was very nice. Ridiculously expensive!!!! I have never seen so many high end designer stores in my life!!! We enjoyed our location and did the hop on hop off Captain Cook ferry for the 3 days we were there. We went to the Sydney Zoo, Manly island, and the BEST part- the Fish market!!! We at fresh sushi, and it was WAY cool!!!!! The sushi in Sydney was FANTASTIC!!!!

The best part of the trip for me was going to Bonorong wildlife sanctuary. Feeding the kangaroos! That was soooo cool! I felt like a little kid! The Geothermal pools in Tauranga was really neat also. We saw mud pools boiling and geyser going off. In Auckland we did the glow worm grotto which was really neat too. Great recommendation on that! The lunch at a private farm home was SPECTACULAR also! Great food and so pretty! The best lunch I have ever had on an excursion by Princess.

The food on the ship was fantastic! The shows were really good.
Great experience, checked it off my list.

Thanks for all your help!!! I did enjoy it ! LOL
Cheers!
Karen
Mary our Aussie Specialist in Australia
On Mary's recent trip Down Under she will tell you all about it!!
Mary Malsch has been selling Australia and New Zealand for well over 20 years! She knows the ins and outs of this vast country!
Gayles next trip to Australia ...was full of adventure and many animals!!
ASK MARY MALSCH OUR EXPERT AUSSIE SPECIALIST TO PLAN YOUR AUSTRALIA ADVENTURE TODAY. CALL 262-542-5955 OR EMAIL HER AT