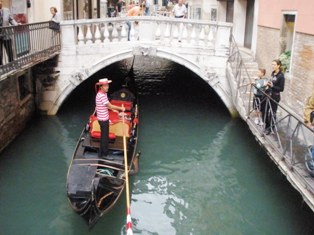 Buongiorno...
It was hard to pick just a few pictures as everything was beautiful on the trip.
What a fantastic time. Awesome sights, delicious food and wonderful traveling companions. The best trip ever.
Couldn't have shared it with a better group!
Betty O
Hi Ladies,
I also had a great time on the trip... I find myself looking at my pictures almost every day! I really need to put together some kind of memory book/album while it is all still fresh in my mind. I am hoping to see some of your pictures as well, since I am not a particularly good photographer! It was a pleasure to meet those of you that I didn't already know.
I have hopefully successfully attached the pictures that Judi requested. Sorry, but I had to include an extra- our gondolier in Venice. Being seated in the bow of the boat, I had the pleasure of watching him the entire trip...
Ciao!
Connie
This Gondolier was gorgeous, and sang like an angel
Karen, It was wonderful !!!
Globus was superb!
We were first in the Sistine Chapel, and got to see it and hear the explanations, clearly without standing cheek to jowel with hundreds of others. We were also first in the collesium. I couldn't be more pleased with Globus. It sounds like your trip was equally great. We need to have lunch and talk about them. I have been forwarding the pictures to Gayle as I get them and I relive the trip every time. I think it was one of my best ever vacations.
Everyone kept the gondolier in the picture. I tell you he was great. Judi
The link below is the video that we posted on You Tube of John and group sing on the last night of Italy. Enjoy!!!!
Judi says, "we kept singing when we left the restaurant, all the way down the street to the bus. I hope it was an industrial area and not residential".
Venice Gondola Ride
To All ~

Jill and I had a wonderful time in Italy with all of you. I trust
everyone arrived home safe and sound. Here is a brief YouTube video that
I shot on the gondola ride, and I'm sure it will bring back pleasant
memories. Just paste this URL in to your internet browser line and
relive Venice!

http://www.youtube.com/watch?v=J7yux19pf9Q

Kent Toomey
(The guy with the hat)

What a great vacation. Enjoyed everything about the trip. Great people to spend time with.

Joan
Sounds like all the women loved their trip to ITALY!! Ask us where the next Mother/Daughter/Sister and girlfriend trip for women will be journeying to. It is guaranteed to be spectacular!
or 262-542-5955 and ask for the information on the next girl trip!