The Riviera Maya is one of the most requested and beautiful settings you can imagine for your WEDDING! White sand beaches, tropical flowers, natural palapas and aqua blue waters are just some of the back drops for you to choose from. The hotels run from affordable to luxury and with so many choices why wouldn't YOU choose the Rivera Maya for your destination wedding!
RIVIERA MAYA WEDDING SUCCESS STORIES BY FIRST CHOICE TRAVEL AND CRUISE!
**All the properties below are tried and true favorites of our many, many destination weddings!
ROYALTON RIVIERA CANCUN
The Royalton was where Kathryn and Erik chose for their special day!
Hi Gayle!
I just wanted to let you know we made it home safe n sound after a dream wedding and week in paradise! We had a blast and the wedding planner at the resort was incredibly helpful.
Wedding was incredible, such a dream, and wedding planner onsite, Yectli was incredibly helpful, highly recommend her! She didn't push anything on us that we didnt want and helped us make group dinner reservations for other nights too!
Thanks for helping us coordinate our big group!
​
The resort was lovely!
​ ​
We had lots of space to spread out, yet it was easy to find everyone in our group. the resort was very nice, great service.
LOVED the spa, hairdo services, the swim up bar, the pool exercise classes/instructors and wedding planner.
​B
uffet was great, great restaurant choices as well.
Also- a highlight was our private catamaran which we booked - highly recommend for groups!!!! We loved it, our guests raved about this day so we were very glad we booked this for everyone; open bar, snorkeling, swim stop.
Overall, wonderful trip!! Thank you!
Kathryn and Erik Johansson
EXCELLENCE RIVIERA MAYA AND PLAYA MUJURES
The Excellence Riviera Maya and the Excellence Playa Mujures are favorites for our whole office. These are some of the most luxurious adult only properties our couples just love to visit and re-visit. We send lots of honeymooners, weddings and groups here. Something for everyone at these resorts, excellent food and top shelf beverages, the SPA is to die for and the beaches are wonderful white sandy beaches.
EL DORADO MAROMA
The El Dorado Maroma Beach is a wonderful small boutique property on one of the most beautiful beaches in the Riviera Maya. So if you are looking for a smaller property with personal service and great amenities for your wedding, this is a great choice for your wedding!
Our last wedding couple Dan and Tasha Greene said, "Everything was AMAZING!!! We cannot wait to go back! You DEFINITELY get what you pay for! They really know how to spoil you there! It took some getting used to, to tell you the truth. It was absolutely phenomenal though.
EL DORADO ROYALE
The El Dorado Royale is one of the most popular adult only resorts in the Riviera Maya. Our weddings were large and small at this swim up room and casita property. The food is excellent and the property is one of a kind. WEDDINGS CAN BE FREE!!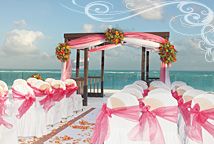 MORE SETTINGS: EL DORADO AND AZUL PROPERTIES
SANDOS PLAYACAR IN THE RIVIERA MAYA
Sandos Playacar rocks with this gorgeous but affordable wedding location! One of the most exciting locations for families, couples who like activity, fun and excitement but are on a bit of a budget.
With the FREE WEDDING PACKAGES (symbolic and legal weddings) celebrated here, makes the Sandos properties a very affordable and attractive choice!
Everyone loves this action packed resort!
SONIA AND MARK GREENWOOD WEDDING
SANDOS CARACOL IN THE RIVIERA MAYA
Sandos Caracol is the sister hotel to the Sandos Playacar and another winner for weddings on a budget. Both resorts are located in the Riviera Maya. The Caracol is another favorite for affordable wedding locations right on the beach! Another exciting location for families, couples who like activity, fun and excitement but are on more of a budget. Everyone wins at this resort!
CONTACT ONE OF OUR DESTINATION WEDDING & HONEYMOON SPECIALISTS FOR YOUR WEDDING! YOU ONLY GET ONE CHANCE AT HAPPINESS AND IT IS YOUR WEDDING SO PLEASE WORK WITH AN EXPERIENCED DESTINATION WEDDING SPECIALIST WHO LOVES WHAT THEY DO EVERY DAY!!!
First Choice Travel and Cruise
HONEYMOON & DESTINATION
Wedding Specialists
262-542-5955 / 800-896-4360