TANA'S TRIPS, TIPS AND MORE....
Tana's Travels to Iceland, Alaska, her own
DESTINATION WEDDING and Costa Rica:


Had the most amazing day so far of my trip.... well another amazing day! 2 hour drive out to the middle of NO where ( well Iceland I suppose ) we enjoyed the most beautiful snowmobile afternoon ever!! The views in these pictures don't even come close the beauty in person!! Another definite on your list when you visit Iceland!
Iceland was more breathtaking than I ever imagined it would be. I can honestly say it was one of my favorite trips I have ever been on! I loved being able to truly enjoy the destination. I had 5 days to get in as much as possible and I think I did a pretty good job. I got to experience Lava Tunnel Hiking, Horseback Riding on a Lava Field on Icelandic horses, a visit to Geothermal Baths, Northern Lights tour, Whale Watching by boat, Snowmobiling and Ice Cave adventure, a visit to Gullfoss Falls and a stop at the Blue Lagoon. Iceland is perfect for clients that are adventurous or enjoy being outdoors. Iceland is defiantly a destination I would visit again! ♥ Tana
DESTINATION WEDDINGS
Tana specializes in Destination Weddings and she has first hand knowledge in planning and being part of her own Destination Wedding.
Click here for more info on WEDDINGS and MY DESTINATION WEDDING!
I have so many tips and suggestions for you. Call me to plan YOUR WEDDING or HONEYMOON! 262-542-5955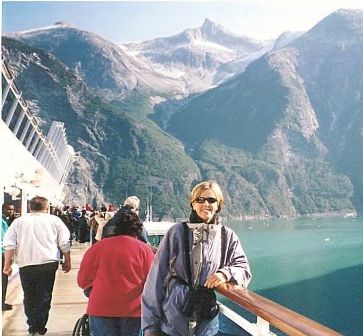 ALASKA. ..l loved it!!! OH MY GOODNESS…after my trip to ALASKA I am convinced that you have to experience it at least once in your lifetime. I had seen pictures and videos…that doesn't compare to what it is in real life. Beautiful beyond words. It was warm in the 60's and sunny everyday I was there, which I hear we are lucky because 1) it was rainy the week before and 2) unseasonably warm summer.
I sailed in the DIAMOND PRINCESS from Seattle to Juneau, Skagway, Tracy Arm, Ketchikan and Victoria. Great way to see some of Alaska on a 7 day cruise. The ship and service was of coarse Princess standard. I was in an obstructed ocean view room, which wasn't bad at all, (other then the fact that I would tell everyone to always sail with a balcony!) keep in mind the life boats hang below the window so that you can still see out of the whole window. You can't go to ALASKA in an inside room, it is just wrong. You can't enjoy any kind of a view (which you see all the time) or wild life.
Juneau – I choose to take the Whale Watching and Wild Life Quest. It was a 4-hour tour and well worth it. I was told from Susan Sucharski (one of our Alaska Specialists) not to take the excursion that did Mendenhall Glacier with the Whale Watching Tour. I saw a better view of the glacier than my room mate who took the other tour. That tour doesn't let you walk on it, just to "see" it. My Whale Watching Trip was an awesome, whale all over, porpoises, bald eagles and seals.
Skagway - I loved this cute little town, just nestled in between the mountains. Long walk from ship, but taxi's and bike taxi's are available just off the ship if you don't want to walk. I did a 5 mile hike and raft float. WONDERFUL excursion, but it is a hard work out, up rough terrain, keep that in mind. I enjoyed it, they took us about 10 miles out of town and we had great views. The raft trip isn't anything rough; it is just a slow float down the river, very enjoyable. I was sad to leave this quaint town.
Tracy Arm – I could just sit and enjoy the view there for ever. It was the best part of my trip. It is amazing that a ship (just one at a time) can fit through there. I am sure it gets better when it is cold, but I still enjoyed it. It was 57 and sunny, again I was lucky.
Ketchikan – It would have been nice to be in this port a little longer. We were only there from 7am until 12noon. I choose to do something a little different in this port….SNORKELING. Yep just like in the Caribbean, well a little more gear of coarse. We got a wet suit, booties, and gloves to use so that we would stay toasty warm. Amazing I did stay warm, your body heats up the water that comes in and if you move around enough you are fine. J I really had fun, how many people can say they snorkeling in Alaska? I DID!!! We saw tons of fish, sea cucumbers, sea urchins, star fish, star fish. Some people had seen Salmon but I didn't see any. It was very worth the time, it is a total of 3 hours with just 1 in the water. With time for a quick buzz through town for some shopping. FYI – Mountain Point Snorkeling Adventure was first exclusive to Princess last year, they won an award from Princess for the top excursion in Ketchikan for 2003, This year we have RCC and CEL using it. Through the grape fine I heard that NCL is wanting to use them, but the snorkeling has become so popular the owners (small little company) can't keep up. J They do a great job at making sure you do feel comfortable and they show you a lot you wouldn't see on your own.
Victoria, BC – I didn't do an excursion in this city, only there from 7:00pm until midnight. I would love to go back and spend a weekend there, it was a very small but active city right on the water. A lot going on, but I was there on a Friday. I just shopped a little and walked around. Please note, that PCL told us we could walk from the ship to downtown. NO WAY, I am glad we didn't take that advice. We took a $5.00 roundtrip bus shuttle which was way worth it. It would have been a long walk otherwise. I can now say I have been to Canada. J
My trip was great and I can't wait to go back. We had 8:30 dining and I didn't like it at all, I would highly recommend personal choice dining. Eat when and where you want. That way you can go and fun after dinner without it being 10:30 at night. Lots to take part in after you sail from port at night.
Packing was the worst part, I looked at the weather everyday online and it was no where close to what it said. Be prepared for everything. Take all varieties with you. You can wear things again and hey…laundry machines are available for $1.00 for washer and dryer. Not bad hey?
YOU HAVE TO HAVE A GOOD ($$$) PAIR OF BINOCULARS, I am so glad I took Steve's expensive ones instead of buying a cheap pair. So many people in our group didn't get any for the trip and they were sorry. I was able to see a lot with them. Waterfalls, Glaciers, Seals, Cruise West, (way in the distance) whales, eagles etc.
Let me know if you have any questions. J Hope this helps you decide what to do when you GO TO ALASKA!
I loved it!
Christana Kubricky
First Choice Travel and Cruise
262-542-5955

These comments came straight from Tana Kubricky's lips her first day back to work after her cruise to ALASKA. She is one of First Choice Travel and Cruise's last travel agents to finally visit ALASKA! Her enthusiasm here for Alaska is certainly contagious!

Tana's opinions on certain tours and ports of call may differ from some of our other ALASKA Specialists. That is okay, we all like different things. We know our clients are not all alike either and we remember that when we help them plan THIER VACATIONS! We have all actually been there and have a lot of ideas and suggestions for you. This is what makes our agents different.

Gayle Zielke, MCC
president
First Choice Travel and Cruise

COSTA RICA
The Adventure never stops in Costa Rica. I would love to tell you all about it.

Here are some pictures of my destination inspections throughout Costa Rica.
COSTA RICA BABY!!!
My Costa Rica trip was more then I was ever expecting! I was looking forward to the trip so very much, but really didn't know what to expect. I had never really anticipated the beauty of the country…or the distance between each different areas in Costa Rica. We flew into SAN JOSE for 2 nights in the city area, which are highly recommended. From there we moved to other areas of Costa Rica.
We spend 2 nights at the Melia Cariari, which is located in San Jose about 10 mins from the airport. It is smaller hotel but very nice little hotel, with good food and nice clean rooms as well as convenient to a lot in the downtown area. This hotel has 2 restaurants, 1 main and 1 specialty resturant, nice pool, small beauty shop, small casino and 2 shops.
My first day in Costa Rica was a Coffee Plantation/History Tour. Now let me be honest in that I was really not looking forward to this at all, come on how interesting can a coffee tour be? Well, I was surprisingly very wrong! I enjoyed it and would recommend it to everyone that stays in the San Jose area. You have to experience it yourself, but I can say that they made it very enjoyable. The tour also includes a wonderful lunch!
Then it was off to the Arenal area for a night by the Volcano. But first we had to get there…4 hour bus ride but keep in mind that the roads are NOT like ours. Although it wasn't really has bad as it sounds. Our tour guide was very entertaining and kept us looking for birds, monkeys, butterflies, slothtes and you have to remember to look out at the beautiful scenery. Let me tell you once we arrived and settled in our rooms at the El Tucano we forgot all about the ride. The Occidental El Tucano Spa: Very quaint hotel, clean rooms, but NO AIR!!! It only has 1 restaurant with a small bar (CHEAP DRINKS TOO!!!) it also has a very small gift shop. Time for a relaxing afternoon…nope, there is way too much to see! Back on the bus for a ride to the Hot Springs and closer look at the Volcano. The Tabican Hot Springs …what a different experience! It was really lush and tropical with a water falls and plenty of room to spread out and relax. The water is hot is some places but the further you go up the cooler is gets. I found a nice spot that cool water comes flowing out so I had the best of two worlds. There are also places to sit and look right up at the volcano. Of course you have to have clear day, which we were lucky. After we were finished at the springs we loaded up back on the bus (our home away from home) to the Volcano. Carlos always on the look out for wildlife, goes leaping off the bus, he has spotted a white hawk that is very rarely seen. He was so excited because he only see's it about once a year. From there we went on our way, stopped at Lake Arenal which is the lake was enlarged to 3 times it's original size to form a basin for the hydroelectric project that now produces 70% of Costa Rica's electricity. It provides windsurfing, fishing, boat tours, as well as a boat shortcut to the Montverde Cloud Forest. We did have dinner near the volcano at a new resort that is being built with rooms that face the Volcano. 2 rumbles from the Volcano while we were eating. WOW, and then we also got to see the hot lava flowing down the side. WAY WORTH the drive!!!
Back on the bus for another adventure to Montverde Cloude Forest area, this time 5 hours with the lovely 2 hour dirt road. By now I am used to it. If you tend to get car sick…TAKE SOMETHING. I was in the front and taking something and I still got bothered by it. We stayed at the Montverde Cloud Forest Lodge…not your normal resort, very rustic like a camp. The rooms are ok, NOTHING FANCY, No TV, no air or heat and no phones. The Lodge where all meals are served…meals are like home cooked, very good! Way too much but who can say no to home cooked. Lodge also has a small TV and couch, small bar, and porch with GREAT VIEWS. Lots of humming birds here. Just a very secluded lodge way up in the middle of the mountains. Some of us took a Canopy Walk which was great! Foggy and overcast the day we were there but it was neat. This is where the "zip line" is too over the forest…we didn't have a chance, but I talked to someone who did it…it was fun but more like a amusement then seeing anything, you go to fast to see. J
Back on the bus, 1 last long trip to the beach area. We arrive at the Grand Papagayo by Occidental where we will stay for 1 night, greeted with a welcome drink and check in a desk with personalized service. Beautiful resort with lots of foliage and great view of the ocean. It does have a few stairs to get you to the pool, buffet restaurant and then to the beach. (which wasn't the greatest.) This property which is an All Inclusive –Buffet/ Beach Grill and then 2 specialty resturants, Oriental and Itailian, we had an excellent dinner at the Oriental Restaurant. Internet is available 24 hours a day; SPA and small SMALL work out room. The rooms are very spacious with most facing the ocean, big bathrooms. Very clean over all. I like it!
This is defiantely a destination I have to qualify my clients for. It isn't for everyone, the whole trip that is. Some can only so the beach area or some clients may be ok for the whole adventure. I think to truly see the whole country and the diverse areas you have to see the VOLCANO, CLOUD FOREST and the Beach area. It is so pretty but yet all so different. There is so much wildlife to see and so much to take in. I will go back and take my hubby for sure. You may have noticed that I didn't note if hotels were handicapped accessible. A lot of them are not, but there are some that can accommodate, you just have to be careful which ones. Personally if my clients were traveling with a handicap, I know where I would send them that would work out well. I have many ideas for your COSTA RICA trip. Contact me at or 262-542-5955.
See I don't just sit in the office behind a desk!
I can horse around too!
Guess where I am? I could get lost here. I have never seen anything like this before, have you?


If you are thinking of a DESTINATION WEDDING, HONEYMOON or a little adventure, Tana is the one to contact. Call 262-542-5955 or email her: