Mother & Daughter spend A WEEK IN ITALY....
EXPLORE THE UNEXPECTED OF TUSCANY AND ROME
Italy Tuscany & Rome Adventure

Bon Journo from Gesica and Gayle!
We have to share our Italy experiences with you while in Italy with Tuscany and Rome being our home base for this 6 night adventure! Imagine Cooking Classes from our new friend in Tuscany, truffle hunting near our farm stay, we were treated to so many wonderful restaurants and sites and wineries! Gesica and I agree it was one of our most favorite BUCKET LIST trips to experience as a mother and daughter! If you think you can't get away for over a week, no worries, check out what you can do in 6 nights!!!

We spent an activity-packed week in the heart of the Bel Paese. On this trip the other side of Tuscany and Rome was revealed– aspects that go way beyond familiar tourist sites like Chianti, the Colosseum and Vatican City. And of course the trip was an ideal opportunity to "drink a ton of wine and eat ridiculously well at every turn," -- this is Italy after all--we had to partake of all! When in ROME!!!

Tuscany began with our lovely stay at the Casa Fabbrini where our gracias hosts Paula gave us a wonderful Italian cooking class each night with Giorgio!
Absolutely loved it! This would be great for a group, bunch of women, families or a couple! The grounds were absolutely breathtaking! Every room has their own bathroom and even sitting areas all over the casa. They served a full European breakfast and we loved our nightly Italian/Tuscan cooking class before dinner!

We got to go truffle hunting with a special truffle dog, went to different wineries, saw some mid-evil towns like Montepulciano and Orvieto. And ate our way through Italy!


November is considered low season, but Italians refer the second week of the month as "estate di San Martino" (what we call "Indian summer" in English) because the weather right around St. Martin's Day on November 11th is generally mild and sunny, making it a wonderful time to travel. That was definitely the case this year when the temperatures were in the mid-to-upper 60's and not a drop of rain fell on our intrepid agents as they toured Central Italy in search of great new adventures to recommend to their clients back home.
We flew from all corners of the US to meet up at Rome's Fiumicino airport where minivans were waiting to transfer us into the gorgeous Tuscan countryside. The destination was Podere Ceppetto on the border between Tuscany and Umbria, the location of Casa Fabbrini Toscana which was to be the our "home away from home" for the next three nights. And just like home, as soon as the group settled in, they were expected to roll up their sleeves and help to prepare the first night's feast in a cooking lesson with Giorgo in the farm's well-equipped country kitchen.
San Casciano dei Bagni, the charming town nearest to Casa Fabbrini, is one of the Borghi Più Belli d'Italia (Most Beautiful Villages of Italy) and has been renowned for the curative powers of its thermal waters since ancient Roman times. However, there was no time for a relaxing spa treatment since Day 2 was spent on the trail of Topa, a trained truffle dog, who led the group through the woods of Asciano in search of these precious tubers. The truffle hunt was followed by a luscious lunch in which truffles played a starring role, and then it was off to the pretty little hilltop village of Montalcino for a guided tasting of their famous vintage wines (Brunello is the most prized).
Gesica said, "We got to go truffle hunting with a dog, went to different wineries, saw some mid-evil towns like Montepulciano and Orvieto. And ate our way through Italy!"
Everyone loves the Topa the Truffle dog!
The next day was set aside for a full day enogastronomic excursion to a pair of enchanting Renaissance towns: Montepulciano, known the world over for its excellent red wine, and Pienza, famed for its pecorino cheese made from ewe's milk. Wednesday morning, Day 4 of the trip, saw the group bidding a fond farewell to their hosts, Giorgio and Paola, and boarding a small tour bus for the transfer to the Eternal City. Casa Fabbrini is conveniently located a half-hour southeast of Siena and 40 minutes north of Orvieto so this perfectly-preserved Umbrian hill town makes the ideal stopping point on the way to Rome. A guided tour of the town could only begin with Orvieto Underground, the fascinating labyrinth that the Etruscans dug into the soft tufa rock more than 2500 years ago. Afterwards came a wine tasting of the area's celebrated white wines at the Palazzone Winery. Dinner that night was at Da Constanza, where the ancient ruins of the Theater of Pompey are the atmospheric setting for delicious Roman cuisine.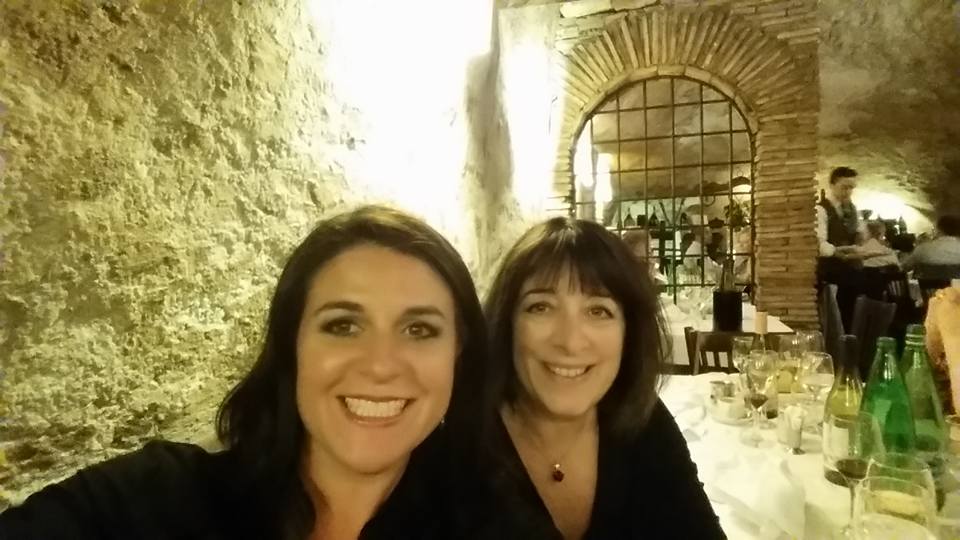 Dining in a cave restaurant! The best restaurant of the whole trip and that is hard to say because every night was a culinary experience and the wine was flowing! Bellisimo!
We stayed at Grand Hotel de la Minerve in Rome. This hotel is very centrally located and steps away from the Patheon!
The Grand Hotel Minerva had an amazing breakfast spread each morning with magnificent scenery on the rooftop! It was an amazing experience at this hotel and the location was perfect.
We walked to some of the most amazing restaurants, walked to many cathedrals and museums. Every restaurant that Select Italy set up for us was to die for! One of my favorite experiences was a wine pairing dinner at Roscioli!
Three nights at the palatial, 5-star Grand Hotel de la Minerve gave us a taste of what it's like to sleep in a Baroque palace built in 1620, where illustrious guests like the last Empress of Mexico have stayed. We loved this hotel for its prime location right behind the Pantheon, which puts it in walking distance from many of Rome's major monuments. That day's guided tour combined the sacred and the profane: the marvelous but off-the-beaten path churches of San Clemente, Santi Quattro Coronati and the Sancta Sanctorum in the morning and, in the afternoon, Diocletian Baths (so massive that the huge Basilica of Santa Maria degli Angeli could be constructed inside!) and Palazzo Massimo, with its sublime masterpieces of antique Roman sculpture. Lunch was at the recently-opened Locanda Rigatoniand dinner at an old favorite, Roscioli, where we also offer a popular wine tasting like the one the one the group did.


Day 6, the last full day in Rome, started off bright and early with a site inspection of the 135-room Grand Hotel de la Minerve. Two other very special properties, Casa Fabbrini Roma and Villa Spalletti Trivelli were recommended. The morning's guided tour included sights in the historic neighborhood that surrounds the hotel such as the church of Santa Maria sopra Minerva, the incredible Pantheon, churches like San Luigi dei Francesi that contain paintings by Caravaggio and the Baroque spectacle that is Piazza Navona. The afternoon's adventures were followed by a wonderful farewell dinner at Osteria dell'Ingegno.
We did the unknown tour of Rome (where the tourists don't go), so if you have seen most of the sites and want to visit the monuments, museums and churches that are not crowded let me know. We even have an Archaeologist and Historian who can take you on some very unique sites!
Grazie! CIO!
Gesica and Gayle both agreed that the entire Italy experience was really spectacular.
Follow our adventure on Facebook:
When you start planning your VACATION, contact the EXPERTS, not the Amateurs!
Gayle Zielke and Gesica Zelechowski
First Choice Travel and Cruise

262-542-5955