WISCONSIN BRIDAL SHOWS
Mark Your Calendars
For These Upcoming Local Wisconsin Bridal Shows
First Choice Travel and Cruise, Wisconsin's Premier Destination Wedding and Honeymoon Specialists
participate in all the local Bridal Shows and help couples and families from all over the U.S.!
Please stop by to "ENTER TO WIN" or sign up for our next Bridal Show.
Call 262-542-5955 or email:
to set up a personal Wedding or Honeymoon appointment.
It pays to know a Honeymoon and Destination Wedding Specialist!
Don't leave the most important day of your life to chance with an amateur!!
First Choice Travel & Cruise will be in attendance at the following events:
WISCONSIN BRIDAL SHOWS
Wonderful World of Weddings (Celebrating over 50 years)
Exposition Center at Wisconsin State Fair Park - West Allis
JANUARY 7th & 8TH, 2023
Saturday and Sunday 10am - 4:00 pm

http://www.epishows.com/wedding/

Stop in and see First Choice Travel and Cruise in booth #304
WE ARE GIVING AWAY THE GRAND PRIZE TRIP so come to visit us and
ENTER TO WIN!!
First Choice Travel and Cruise presents our WINNERS!
2022 Winner of the Wonderful World of Weddings
Our honeymoon in the Dominican Republic was beyond our wildest expectations. Tana worked tirelessly with us to ensure that all the details were covered so that we could maximize our time relaxing in paradise! We can't imagine planning our future vacations without the help of a travel agent! Thank you Tana!
Alexa and Terrance
2020 Winner of the Wonderful World of Weddings
Our 2020 winners stayed at the beautiful Chic in Punta Cana!!!
2019 Winner of the Wonderful World of Weddings
ROYALTON HONEYMOONERS and First Choice Travel and Cruise.....WINNERS!
Hi Tana, The trip was wonderful and everything was beyond beautiful.
Thank you so much for all of your help! This trip was one we will never forget.
Nicole and Matthew
2018 Winner of the Wonderful World of Weddings
ROYALTON HONEYMOONERS and First Choice Travel and Cruise.....WINNERS!
Here is a photo we took on the beach. We had such an amazing time!
So much so that we didn't remember to take the photo until the morning we checked out of the hotel.
Luckily for us the sun was rising over the ocean and we got a nice shot :)
2017 State Fair Bridal Show Contest Winners
The Finest was incredible! It surpassed all our expectations.
The staff was very nice and the restaurants and food were great too.
It was wonderful. Thanks so much for all your help!
2016 State Fair Bridal Show Contest Winners
"Our trip was absolutely amazing! We stayed at both the Finest Playa Mujeres and the Excellence Riviera Cancun. The staff was excellent, and were attentive to our every need. The resorts and beaches were beautiful, and we enjoyed relaxing by the pools, the amazing food, and spending time as husband & wife! Joe and I had to pinch ourselves every so often, as we were in awe of the amazing facilities and courteous staff. We enjoyed various excursions as well, exploring Isla Mujeres & visiting a few of the cenotes. What an amazing trip and a tremendous blessing to us!
We truly appreciate everything and thank you so much!!!"
2015 Contest Winners
We recently went to Cancun, Mexico. We had a wonderful time. Tana was so helpful and responsive whenever we had questions. Our room at the Excellence was absolutely gorgeous. We will be definitely be back to book future vacations with First Choice Travel and Cruise. (Tana is booking one now)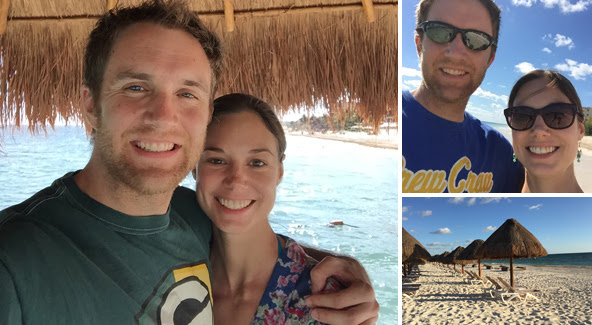 Katrina and Dan were the Grand Prize winners of a 5 day/4 night honeymoon at last year's show. Katrina came to the show looking for DJs, venues and caterers. She couldn't believe they had won as she is in grad school and this now allowed them to have a wonderful honeymoon. The Grand Prize getaway is courtesy of First Choice Travel & Cruise.
Here is what she had to say about the honeymoon.
"Dan and I had an incredible trip and have never felt so pampered!
The resort was gorgeous and the staff was friendly and accommodating….we loved the beach and the weather! We had the time of our lives! We want to say thank you for this awesome opportunity, we would not have been able to afford a trip like this without being so lucky to have won it. Neither of us will forget the time we spent in Riviera Maya! We truly appreciate everything."
Katrina
2013 Wonderful World Of Weddings - - Grand Prize Winners
Maggie and Matt Anderson Loved the Excellence!
They just got back from their honeymoon at Excellence Playa Mujeres

WHAT AN INCREDIBLE RESORT!!!!!!!
You guys spoiled us ROTTEN! We can't thank you enough for the most amazing vacation of our lives. :)

Food was amazing, pools were amazing, weather was amazing, and boy did we get treated like ROYALTY! :)What a tremendous blessing.THANK YOU AGAIN AND AGAIN AND AGAIN !!!!!

Maggie and Matt Anderson
The vacation was PERFECT!!! We couldn't have asked for better weather--between 80-85 degrees every day. From the moment we got to the resort, we were in complete paradise. The Excellence Playa Mujeres was so beautiful and the staff was extremely kind and attentive. The beach had pristine white sand and plenty of sunbeds, and we could sit there all day and look at the calm turquoise sea. All of the food at the resort was excellent, offering many culinary choices. One night we were even treated to a romantic private beach dinner which was just amazing. The resort was spotless, in fact every time we came back to our room, it had been cleaned and there were new surprises and treats waiting for us. We lounged and enjoyed the resort everyday, and on the last day we took a ferry to Isla Mujeres and explored the island. It was a great time. We only had one bad day, and that was Monday--the day we had to leave.
Thanks so much for EVERYTHING! It was just the greatest trip. I've attached some pictures, please use the one that you'd like!
CAll 262 542-5955
When it is time to start planning your VACATION, contact the EXPERTS, not the Amateurs!
Honeymoon and Destination Specialists: