Tracy and Ted are traveling to TAHITI on their HONEYMOON!
They are so excited to go and have signed up for the First Choice Travel and Cruise Bridal and Honeymoon Registry.
If you would like to give them something fun and different as an alternative to a traditional wedding gift; we have some great ideas for YOU! The Honeymoon Registry gifts are something the couple will always cherish and remember.... Their Honeymoon and some exciting excursions they did while on their once in a lifetime HONEYMOON in Moorea!
Here are a couple of suggestions on what you can purchase for the happy couple!!
We have gift certificates in every denomination.

Perfect for bridal showers or wedding gifts and any amount would be greatly appreciated.

These gift certificates can be purchased by credit card, cash or check. They can be applied towards any part of the Honeymoon or some exciting sightseeing Tours in Moorea.
Below are some tours that they would like to take during their stay. What a great gift it would be to surprise them with a tour as a wedding gift!!
MOOREA
Tiki Village Dinner and show ( includes round trip tsfrs ) $106.00 pp
Enjoy an evening at the Tiki Village - a cultural experience not
to be missed! You will be welcomed and invited in to visit the native
artisans of the Tiki Village and see them practicing their ancient arts
such as weaving, tattooing, and carving. Try your hand at shelling or
grating coconuts in the Coconut Show, then watch the opening of the
Tahitian ground oven.
The delicious buffet dinner features many Tahitian delicacies such as
roast pork, fish marinated in coconut milk, and tropical fruits. Sit
back and enjoy the spectacular and diverse dance performances of some of
the finest dancers in the islands, including a thrilling fire dance.
Transfers to and from your hotel are included.
Meals: Dinner
OR
ATV 3 hour Tour $204.00 per person (1 ATV per person) OR share ATV $204.00 ttl for 2 (QUAD)
Quad Vehicle, one passenger sits behind the other.
After an easy test drive on the ATV Quads, we will start our adventure by discovering Cooks
Bay. Then drive through the Paopao Valley by using the island ring road
passing through pineapple fields before arriving at Le Belvedere Lookout
Point for amazing views of Cooks and Opunohu Bays. You will continue to
the interior trails of Opunohu and stop at the agricultural college
where you discover various tropical plants, flowers and fruits, native
to French Polynesia, including Jam and Fruit Juice tasting. Then ascend
Magic Mountain, an optional hike that travels the last 300 feet (91
meters) to the summit for a stunning view of Moorea's North Shore.
Meals: No Meals are included
TIKI DINNER SHOW AT THE HILTON MOOREA
Dinner and show right at the hotel our bride and groom are staying at! Polynesian show and dinner is not to be missed!
$102 per person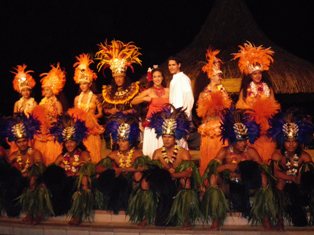 If you'd like to contribute to these exciting once-in-a-lifetime honeymoon experiences or part of the honeymoon for Ted and Tracy, please contact their travel professional, Gayle Zielke, MCC Honeymoon Specialist at First Choice Travel and Cruise.
or call the office at 262-542-5955