LYNDSAY & KARL
WOULD LIKE TO INVITE YOU AS THEY EXCHANGE VOWS
SUNDAY APRIL 7TH 2019 AT 5:00 PM
IN TROPICAL PUNTA CANA AT THE ROYALTON PUNTA CANA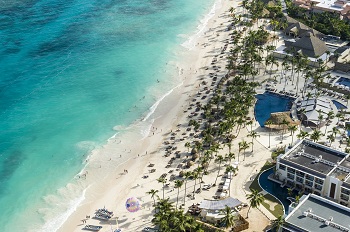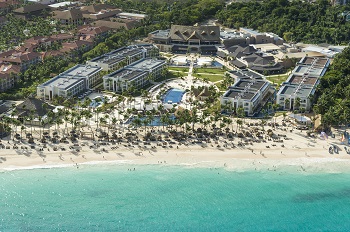 THE ROYALTON PUNTA CANA welcomes both couples and families into Bavaro's lush paradise on the stunning Dominican Republic coast. This elegantly appointed resort, with its unique design and fabulous amenities and the All-In Luxury® concept, is devoted to providing guests with a unique experience which combines the soul of the host community with a luxury product, exceptional service and incredible attention to detail. The resort promises to live up to the vacation of your dreams. Situated on a breathtaking beach, Royalton Punta Cana Resort and Casino is the destination of choice for even the most discerning traveller. In addition, you can enjoy exchange privileges at Memories Splash Punta Cana that is guaranteed to enhance your experience and enjoy hours of family fun at our Splash Park for kids of all ages.
Various Bars and Lounges
- Lobby Bar
- Score Bar & Lounge
- Martini Mix
- Diamond Club™ Lounge
- Diamond Club™ Beach Bar
- Dips Swim-up Bar
- XS Disco Bar
Various Restaurants
Gourmet Marche | International Cuisine
Discover the freshest local ingredients and enjoy a wide selection local and international flavors, also offering fresh fruit juices, a special kids buffet area and healthy options.
Jade | Asian Fusion Cuisine
Impressive design sets the mood for an authentic fusion experience. Discover the best of Asian cuisine and fresh sushi at this unique à la carte dining experience.
Hunter Steakhouse | Authentic Steakhouse
This unique restaurant offers guests a grand steakhouse experience. Watch chefs in the open kitchen as they perfectly prepare your steak.
Bella Cucina | Italian Cuisine
Enjoy a wide range of Italian cuisine at this delicious trattoria. Its authentic design and traditional menu make this restaurant the perfect place for families to enjoy well-known Italian comfort food.
Score Sports Bar and Lounge | Pub & Grill
In a casual atmosphere savour an ever-evolving menu of grilled specialties for a comfortable and familiar meal.
OPA! | Mediterranean Cuisine
Taste the culinary treasures of the Mediterranean at this stylish and modern restaurant with artfully prepared dishes.
Zen | Teppanyaki
Be amazed by the flavour and technique of masterfully prepared teppaenyaki as it happens right before your eyes.
Mexicana Cantina | Mexican Cuisine
This restaurant provides the authentic culinary experience of Mexico. Enjoy the fusion of Mesoamerican cooking that combines old-world
Spanish recipes with a mix of European cuisine
Caffe Lounge | Coffee Shop
Enjoy fresh oven baked breads, pastries, cakes, icecream, cappuccinos & espressos.
Scoops | Gelato Shop
Take a relaxing break with and savor a selection of homemade ice cream flavors.
Children's program†

Clubhouse Kids Club (ages 4-12)
Children age 4-12 enjoy innovative daily activities at our supervised kids clubs, featuring popular characters Max & Ruby™, games, cartoons, and a playground.

Hangout Teens Club (ages 13-17)
Teens age 13-17 can enjoy their own space in a lounge with video games, billiards, table tennis, and free Wi-Fi.

Fitness center on-site

Gambling†
Genesis Casino provides a variety of slot machines and table games. Regardless of your level of interest or experience, there is something for every guest. Stop by to try your luck at the Genesis Casino!

Motorized Water Sports†

Non-Motorized Water Sports
Snorkeling, kayaking, and introductory scuba diving lessons

Table tennis

Tennis court
Prices starting at:
7 nights $1,800.00 per person
5 nights $1,490.00 per person
4 nights- $1,340.00 per person
4 nights Diamond Club Luxury Room $1,440.00 per person
5 nights Diamond Club Luxury Room $1,610.00 per person
7 nights Diamond Club Luxury Room $1,975.00 per person
Pricing does include air from Chicago O'hare.
*********Prices do not include baggage or select seating**********
Other lengths of stay and departure airports are also available.
The above prices include hotel accommodations, round trip transfers, all meals and drinks on property, entertainment, and taxes. Prices are based on double occupancy and are prices as of today and are not guaranteed until deposited.
**We highly recommend travel insurance and it and must be added at time of booking.**
*****PASSPORTS ARE REQUIRED*****
Names and dates of birth must match exactly on your travel documents with your passport
The expiration date must exceed your return date by at least 6 months
Please resource the website below if you need to get a passport
http://travel.state.gov/passport/get/first/first_830.html
***Please keep in mind that prices can change at any time ***
Other lengths of stay and room categories available upon request.
We have been working with Lisa Conley, our Destination Wedding Travel Specialist, to arrange the best travel package for our wedding. We encourage everyone to make their arrangements through Lisa, you will receive a special discount!
Lisa can be reached at 262-542-5955 or email: