Josh and Shelley are getting MARRIED!
You are Invited to join Shelley and Josh for their Wedding in Paradise!
DATE: FRIDAY - February 21st 2020
TIME: 5:00 p.m.
WHERE: In the Beach Gazebo at the Majestic Elegance in Punta Cana
We have been working with Gayle Zielke our Destination Wedding Travel Specialist to arrange the best travel packages for our wedding. We encourage everyone to make their arrangements through Gayle.
You will need a PASSPORT! Legal names and date of birth must match passport and are required at the time of booking!

LAND - HOTEL ONLY PRICING IS IN! Approximate prices below includes round trip airport transfers.
7 nights $1,501 per person

Jr Suite with Jacuzzi
7 nights $1,563 per person

Majestic Jr Suite Swim Up room
Other room categories and length of stay is available! Just ask Gayle for information.
**Optional travel insurance to cover hotel only is $90.99 per person. When air is added in we will have to upgrade the insurance to cover the whole package.
Deposit of $100 per person is due now to hold the room for the Big Event!
**Optional Travel Insurance needs to be purchased with deposit if you wish to take the insurance. Insurance covers cancellation or changes or trip interruption and is good for any reason! First Choice Travel and Cruise highly recommends purchasing the Travel Insurance and it will be offered to everyone with their package.
Need a different date or departure city? No problem. Call for more details.
Please let us know you are interested in attending by contacting Destination Wedding and Honeymoon Specialist Gayle Zielke or Gesica Zelechowski at 262-542-5955 or email:
***When we have more information on all of our packages for the wedding we can contact you with more details.
Majestic Elegance in Punta Cana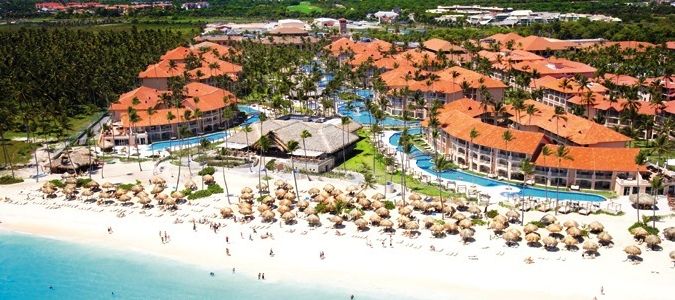 Located in a lush natural setting of beauty, the Majestic Elegance Punta Cana offers a perfect combination of comfort, nature, pristine beaches, exclusive services and personalized high-quality treatment. This spectacular deluxe hotel located on the paradisiacal Bavaro Beach and with all-inclusive service, offers a unique experience to travelers looking for a sophisticated holiday in the Caribbean. Majestic Elegance Punta Cana is specially designed for couples, families and groups who want to relax, enjoy a privileged environment, play sports, relax in the Spa, enjoy excellent gastronomy, enjoy spectacular Caribbean rhythm shows, play golf on one of the many courses in the area, go shopping as well. It also has an exclusive Elegance Club aimed at adult audiences, with accommodation and personalized services for its guests.
Children's pool
There are 2 children's pools on site.
Children's program, onsite

SPLASH KIDS CLUB
The Splash Kids Club and offers a wide variety of entertainment for kids. Our highly trained staff will take of the small ones needs, making this a special and unforgettable vacation. The Club is available from 9 am till 6 pm for kids from 4 to 14 years old. Located on beautiful grounds with its own pools including one with slides, sport games, Nintendo's, mini disco and TV programs are just some of the activities the young will enjoy. The Splash Club is located in the Majestic Colonial at the Caribbean Street.

Direct access to a beach
Diving†
Diving Equipment for the Beach, Scuba diving lessons in the pool, Deep sea diving and "PADI" classes
Fishing†
Fitness center on-site
Gambling†
Kayaking
Pool

There are 3 pool on site. 1 free form lagoon style swimming pool and 2 kids pools. 1st kids pool located near the swim up bar, 2nd kids pool located at the kids club including all slides. This Property has Swim up Bars.

Wine tasting†

Tasting area with selection of the best wines from around the world. Located inside the restaurant Il Bottaccio.

Golf†

Golf Course located within a Mile of Property.
Restaurants
9 Doors Japanese restaurant is located on the ground floor of the lobby and is divided into the sushi bar and Teppanyaki area. In the Sushi Bar you will find an excellent and elaborate selection of sushi and 8 Teppanyakis, with capacity for 10 people and six sittings per day, you can have a real experience of show cooking whilst enjoying Japanese cuisine.
Table Reservation are required for Teppanyaki. No reservation required for the Sushi Bar.
Cuisine: Japanese
Meals: Dinner
Attire: Resort Casual

The Asadito Steak House specializes in grilled meats and open fire grilling, accompanied by delicious and traditional side dishes along with exclusive wines from the spectacular wine cellar
Table Reservation Not required.
Cuisine: Steak houses
Meals: Dinner
Attire: Resort Casual

Flavours
Specializing in international cuisine, Flavours Restaurant offers a wide variety of dishes cooked live in our show cooking area, a full buffet and an exquisite selection of pizzas made to order.
Table Reservation Not required.
Cuisine: International
Meals: Breakfast, Dinner, Lunch
Attire: Resort Casual

Il Botaccio
In a typically Italian atmosphere, the restaurant Il Botaccio offers a dinner service with the best and most representative dishes of Italian cuisine. In addition, during the morning and midday, Il Botaccio opens its doors to Elegance Club customers to serve breakfast and for an a la carte lunch.
Table Reservation Required.
Cuisine: Italian
Meals: Dinner
Attire: Resort Formal

Limited Goumand
The ultimate dining experience at Majestic Resorts. In the Limited Goumand you can taste and enjoy dishes "nouvelle cuisine" designed and prepared by the house chef.
Table Reservation Required.
Cuisine: Other
Meals: Dinner
Attire: Resort Formal

Majestic's La Bodeguita
Majestic's La Bodeguita on the 'calle caribeña', specializes in quick takeaways and offers a selection of soft drinks and beer.
Snack Bar
Table Reservation Not required.
Type: Take out
Attire: Casual

See & Sea
Located in the beach's palapa, See & Sea Restaurant offers spectacular panoramic sea views. In addition, during the morning and midday they serve a full and varied international buffet with cold and hot dishes and show cooking. At night, it transforms into an elegant à la carte restaurant specializing in tasty seafood cooked to order.
Table Reservation Not required.
Cuisine: International, Seafood
Meals: Breakfast, Dinner, Lunch
Attire: Resort Casual

Various Bars and Lounges
Piano Bar - Reception
Lobby Bar - Downstairs lobby
Sports Bar - Caribbean street Colonial
Disco COCOS - Plaza Colon
Theatre Bar - Plaza Toros
Bar Plaza -Plaza Colon
Parrots Bar - Pool
Swim Up Bar - Pool
Beach Bar - Beach
Casino - Caribbean Street

Exclusive for Elegance Club Guests
Sunset Bar - Lounge
Sunrise Bar - Lounge
Pool Bar - Private pool
Swim up Bar - Private pool
Please let us know you are interested in attending by contacting Destination Wedding and Honeymoon Specialist Gayle Zielke or Gesica Zelechowski at 262-542-5955 or email: