Jim Larson and Megan Fielkow got married at the Sandos Playacar in the Rivera Maya with many friends and relatives attending the wedding!
The Jim Larson and Megan Fielkow wedding group stayed at the Sandos Playacar. Gayle says this whole group was so excited to be part of this wedding!! Everyone including the bride, groom, the family and friends were so fun to talk to and to work with! They couldn't wait to go.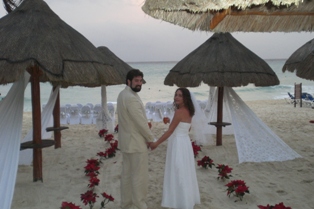 Hello Gayle!
Incredible! Couldn't have been better! It was fantastic. The Wedding was unbelieveable! Everyone at the hotel was so friendly and helpful with the wedding, it was just excellent! The food was great. Weather was too. When it wasn't as sunny everyone got together and hung out and met each other.
Here are some pics of the amazing evening at Sandos Playa Car. (see the slide show on top of this page)
Thank you again and again for the outstanding job you did for us!!!! That week changed many of our lives, and created some new friendships that will last for many years to come!


Jim Larson
HealthMarkets Inc.
Gayle,
Yes the wedding was a blast!! And while the weather was cloudy/rainy most of the time - it really turned out gorgeous for the big event! Erin
Gayle -
The wedding was AWESOME! We had the best time! So much fun!
The place was really nice and Megan was the most beautiful bride!
Stephanie
The Best picture & Megan's Favorite is #300 - Just our style. Megan loves the crazy face pictures. Molly Johns
You can see more pictures of Jim and Megan's wedding on our wedding page slide show!
Wedding pictures compliments of the BRIDE: Megan Fielkow, GROOM: Jim Larson and some great friends attending the wedding, Erin, Stephanie and Molly who all pitched in some pictures to share with us.
"Travel is not a luxury anymore...it is a necessity! I would love to recommend a vacation for you that will exceed your expectations!"

Gayle Zielke, MCC, President
First Choice Travel and Cruise
HONEYMOON & DESTINATION
Wedding Specialist
Tahiti Tiare and Hawaii Akamai Specialist
262-542-5955 / 800-896-4360
www.FirstChoiceTravelandCruise.com