JESSICA & KIRK
WOULD LIKE TO INVITE YOU AS THEY EXCHANGE VOWS
SATURDAY JANUARY 26THTH 2019 AT 5:00 PM
IN TROPICAL PUNTA CANA AT THE EXCELLENCE PUNTA CANA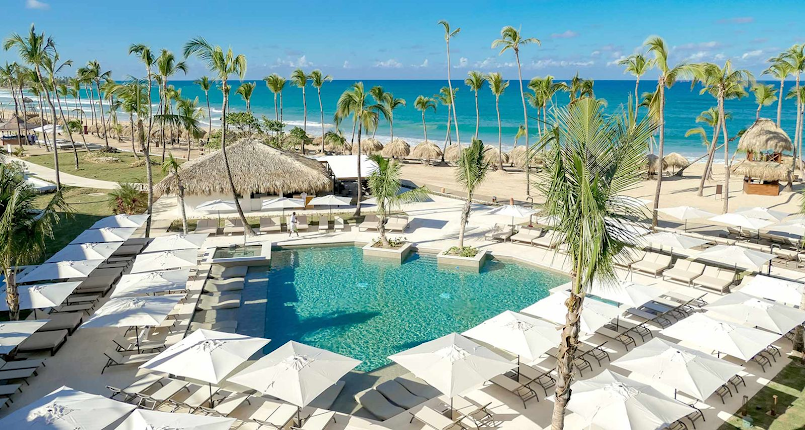 Excellence Punta Cana - All Inclusive
Fronting a mile-long stretch of pristine, powdery-sand beach, this exotic adults-only getaway provides the perfect setting for romance and indulgence. Amidst a jungle of coconut palms, fragrant gardens and the warm Caribbean Sea, couples, honeymooners, luxury travelers and
spa lovers alike are completely pampered with personalized service; a wide selection of gourmet ala carte restaurants; enjoyable daily activities including yoga classes and horseback riding, a pampering menu of treatments at the upscale, full-service spa and polished accommodations just a few steps from the water.
B​​ike rental
Direct access to a beach
Fitness center on-site
Hot tub
2 Outdoor Hot Tubs
Motorized Water Sports†
Deep sea fishing, scuba diving with instruction, etc.
Non-Motorized Water Sports†
Kayaks, snorkeling, sailing, windsurfing, introductory scuba lessons, etc.
Pool
There are 3 pools on site. Excellence Punta Cana provides the perfect playground with two giant pools, cascade pool including a swim-up bar and two separate jacuzzis. Most suites on the ground floor have direct access to the pool. This Property has Swim up Bars.
Spa†
Tennis court
There are 3 tennis courts onsite.
The ideal place to sample authentic Mexican food and Tex-Mex favorites like burritos and fajitas--as mild as you like or as spicy as you can handle. Our menu is filled with delicacies from the land and sea, grilled, sautéed or marinated. Your choice of romantic indoor seating or outdoors under the moonlight in our hacienda-style courtyard.
Cuisine: Mexican, TexMex
Meals: Dinner
Attire: Casual Elegance
Blue
Our popular swim-up bar. Float over for a cool refreshment without ever leaving the water.
Café Kafé
It's paradise for coffee lovers. Enjoy a cup your way…even flambéed…in the lobby bar
Chez Isabelle
Our signature French restaurant is as alluring as a night in Paris. Located near the casino in a colonial-style building with a romantic courtyard terrace. You'll feel transported from the beaches of Punta Cana to the Left Bank of Paris as you choose among dishes that live up to the great culinary reputation of France.
Cuisine: French
Meals: Dinner
Attire: Casual Elegance
Cielo
An exclusive bar for Excellence Club members offering privacy and pampering. Settle in with the beverage of your choice and selection of tasty hors d'oeuvres
Flavor Market
Dinner restaurant specializing in pairing gourmet tasting menus with a variety of fine wines.
Try something different for dinner. Small plates deliver big flavor in this cozy gourmet restaurant. Order from an extensive menu of tapas dishes paired with premium wines recommended by our sommelier.
Cuisine: Tapas
Meals: Dinner
Attire: Casual Elegance
Las Olas
Enjoy the surf, sun and a bite at Las Olas snack grill. Located on the beach with selection of fast food, salads, wood-oven pizzas and grilled favorites.
Cuisine: Eclectic
Meals: Lunch
Attire: Casual
Magna Club Restaurant
The Excellence Club offers this gourmet breakfast options with an elegant service oriented to fulfill your morning expectations. Start off the day in an international with a French influence cuisine.
At dinner time, unwind in an air-conditioned exclusive smart interior or an outdoor al-fresco seating area with relaxing garden views. Whatever suits your mood, come, enjoy and relax in this elegant atmosphere where fancy indining and succulent desserts are guaranteed.
Serving breakfast and dinner. Casual dress code for breakfast. Casual Elegance dress code for dinner.
Martini Bar
Located right in the main lobby, its central location makes it the ideal meeting spot. Listen to live music while sipping a cocktail from our extensive "tini" Menu.
Oregano
A popular trattoria-style restaurant serving simple but delicious fare including pizza--from traditional to unpredictable--calzones, pastas and a selection of sweet treats.
Cuisine: Italian
Meals: Dinner
Attire: Casual Elegance
Revive
Just steps away from Miilé Spa, savor a smoothie, prepared with fresh seasonal fruit. It's guilt-free!
Sol
Our popular pool bar. Enjoy a cool refreshment without ever leaving the water.
Spice
Step into the world of pan-Asian delights with exotic specialties from Japan, China, Vietnam and Thailand and choose the degree of spice that's right for you.
Cuisine: Asian
Meals: Dinner
Attire: Casual Elegance
Sports Bar
It's the place to watch the big game on the big screen. Enjoy full bar service along with a snack menu.
Stars
Relax with a drink at our comfortable theater bar while enjoying live evening entertainment.
The Grill
For alfresco dinner, the sizzle of prime steaks, chicken and shrimp searing on an open flame tips you off that you're in for an exceptional meal.
Please note: for dinner service the Excellence Punta Cana requires a casual elegance dress code for this restaurant.
Cuisine: Steak houses
Meals: Dinner
Attire: Casual
The Kitchen Table
Our impressive buffet is the best option to start off the day. This is the most versatile restaurant offering its international and Dominican buffet. Don't miss our gourmet omelet station, fresh eggs prepared a la minute in front of you or our station of fresh juices and natural shakes with a vast selection of fresh fruits or combined with local vegetables and fruits. The choice is yours.
Offering a wide variety of selected salad bar, fresh vegetables, dressings and cheeses, an international buffet and our "show cooking" stations like our Mongolian grill with items prepared to your liking.
Serving breakfast and lunch. Casual dress code.
The Lobster House
The Lobster House serves up tasty a la carte continental breakfast menu. For dinner, the restaurant turns into a wonderful destination for all things lobster. This is the place in Punta Cana for exquisite shellfish dishes prepared to your tastes.
Please note: for dinner service the Excellence Punta Cana requires a casual elegance dress code for this restaurant.
Cuisine: Seafood
Meals: Breakfast, Dinner, Lunch
Attire: Casual
XLounge
Chill out with a cold beverage right on the beach.
Package prices starting at:
7 nights- Junior Suite Gardenview $2,200.00 per person
5 nights- Junior Suite Gardenview $1,620.00 per person
4 nights- Junior Suite Gardenview $1,370.00 per person
Pricing does include air from Chicago O'hare.
*********Prices do not include baggage or select seating**********
Other lengths of stay and departure airports are also available.
The above prices include airfare from Chicago Ohare, hotel accommodations, round trip transfers, all meals and drinks on property, entertainment, and taxes. Prices are based on double occupancy and are prices as of today and are not guaranteed until deposited.
**We highly recommend travel insurance and it and must be added at time of booking.**
*****PASSPORTS ARE REQUIRED*****
Names and dates of birth must match exactly on your travel documents with your passport
The expiration date must exceed your return date by at least 6 months
Please resource the website below if you need to get a passport
http://travel.state.gov/passport/get/first/first_830.html
***Please keep in mind that prices can change at any time ***
Other lengths of stay and room categories available upon request.
We have been working with Lisa Conley, our Destination Wedding Travel Specialist, to arrange the best travel package for our wedding. We encourage everyone to make their arrangements through Lisa, you will receive a special discount!
Lisa Conley
First Choice Travel and Cruise
262-542-5955
" The world is a book and those who do not travel read only one page"
~St. Augustine