CARIBBEAN ...and JAMAICA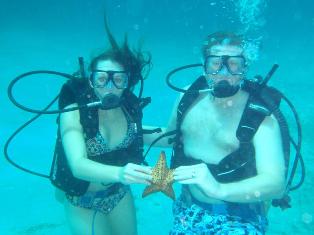 The Caribbean is HOT, HOT, HOT!
So many different islands to choose from, each with a different personality, culture and adventure waiting for you to explore.
JAMAICA, ANTIGUA, BAHAMAS, ST LUCIA, BARBADOS, GRENADA, ST THOMAS, ARUBA, ST MARTIN, PUNTA CANA AND..... THE REST OF THE CARIBBEAN!
***No Passports are necessary for US residents traveling to the US VIRGIN ISLANDS and PUERTO RICO!
Longing for an exotic beach vacation but no passport? No problem. You can visit these US Caribbean islands without a passport and the good news is that English is spoken widely among the locals. Just a short flight away to enjoy some world class shoppping, amazing unspoiled beaches, exciting pirate stories with caribbean history, island culture, a multitude of sightseeing options, experience some of the local cuisine and not to be missed is the wide variety of watersports that is offered on each island!
St Thomas, St John, St Croix and San Juan and Vieques, Puerto Rico



One of the most popular Caribbean destinations is JAMAICA!

If you have been to Jamaica or thinking of going you will be amazed at all the recent changes. So many beautiful resorts to visit, new sightseeing options that will rival the busiest adveture destinations and the only thing that hasn't changed are the magnificant views, world class snorkeling and diving and the friendly Jamaican PEOPLE are the reason we keep going back over and over again!
Some of our FIRST CHOICE TRAVEL AND CRUISE Jamaica Specialists recently returned from visiting our hotel friends and wedding coordinators in JAMAICA! It was a whirlwind tour but really worth it. Many new hotels, rebuilds, changes and updates all over the island. From Negril, Montego Bay, Runaway Bay, Trelawny to Ocho RIos we visited our favorites and would love to share some hot tips to JAMAICA with YOU!!!
Jamaica is one of the most popular requested Caribbean destinations. The island is all about the friendly people here. And the white powdery sand Beaches. There are so many different resorts for families, singles, couples and the island with the most ADULT ONLY resorts located all over the island. Activities are plentiful. Choose from a variety of sightseeing options from snorkeling, scuba, any type of boating imagineable, horse back riding, river rafting, hike the Blue Mountains, listen to a Reggae band, play 18 holes of world championship golf, check out the Jamaican bobsled and the list goes on and on. I won't even start with nightly entertainment... It is here if you want to participate.
So there is really something for everyone in Jamaica.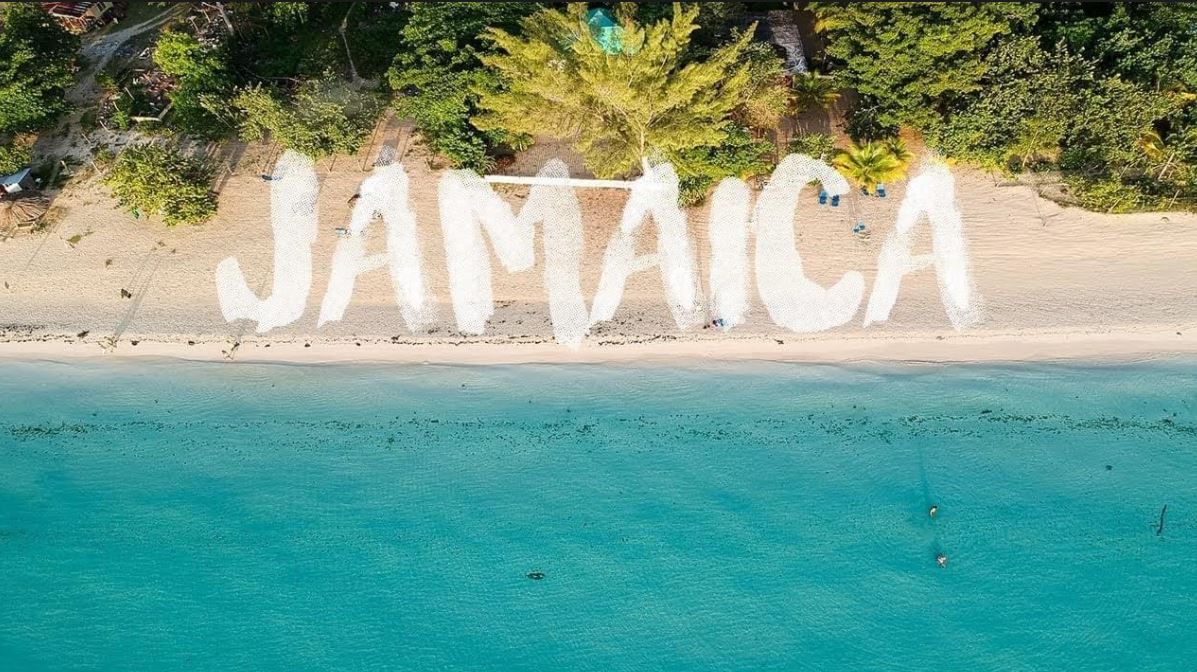 JAMAICA GUESTS SHOW AND TELL!
VIP CLUB MO BAY ARRIVAL LOUNGE for your trip to Jamaica!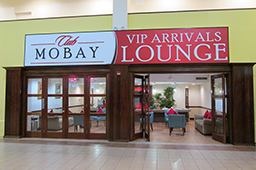 -Skip the wait in long immigration / security / customs line
-Complimentary snacks and drinks
-Complimentary hot and cold snacks including homemade soup and patties
-We have a family lounge and quiet one for adults
-We have shower facility and spa
-Culturally themed displays
-Located in the duty free shopping area
(Transportation to your destination NOT included in the service)
SANDALS IS VOTED #1 FOR JAMAICA, ANTIGUA, BAHAMAS, ST LUCIA, BARBADOS, GRENADA AND THE CARIBBEAN!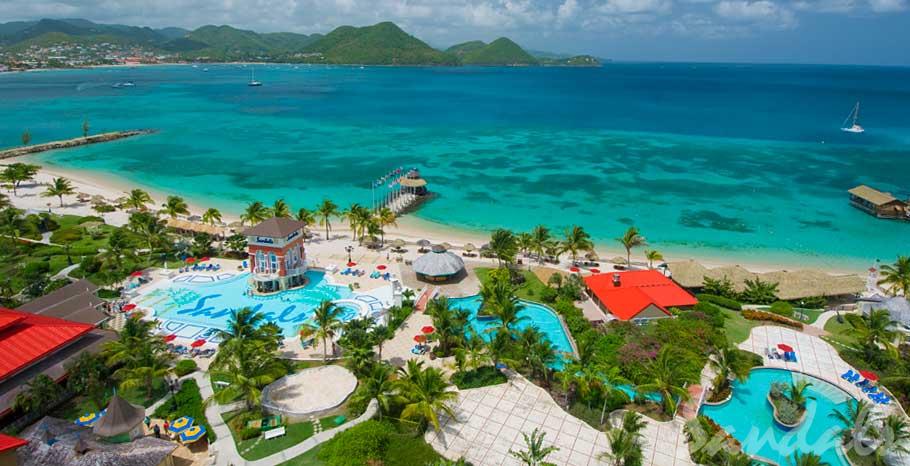 So many beautiful choices to choose from for your special get away. Why not trust an experienced travel planning agency to help you weed through the undesirables and find the perfect destination for your Honeymoon, Anniversary or Destination Wedding!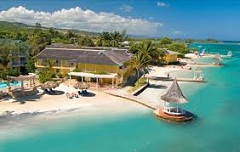 Imagine yourself at one of these adult only all inclusive luxury resorts. Or maybe you want to try a family friendly resort for your wedding and still enjoy the luxury with your friends and relatives. We have numerous choices for you to explore and find the perfect location ....just what you are looking for!
The Caribbean's Best Beaches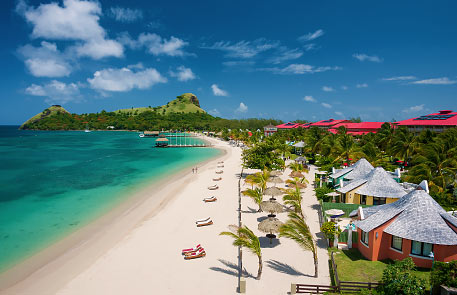 Sandals Caribbean Luxury Resorts
Every Sandals luxury resort destination sits directly on a stunning beach, on four of the most gorgeous islands in a region famous for its endless white sand expanses, exquisite azure waters and quixotic sunsets. From Jamaica's warm reggae pulse to the Bahamas' sophisticated beat and from St. Lucia's volcanic majesty to Antigua's exotic allure, Sandals provides the best all-inclusive resorts in the Caribbean, each with its own unique Luxury-Included® experience. If you make Sandals your next Vacation, Honeymoon or Destination Wedding destination you will not be sorry!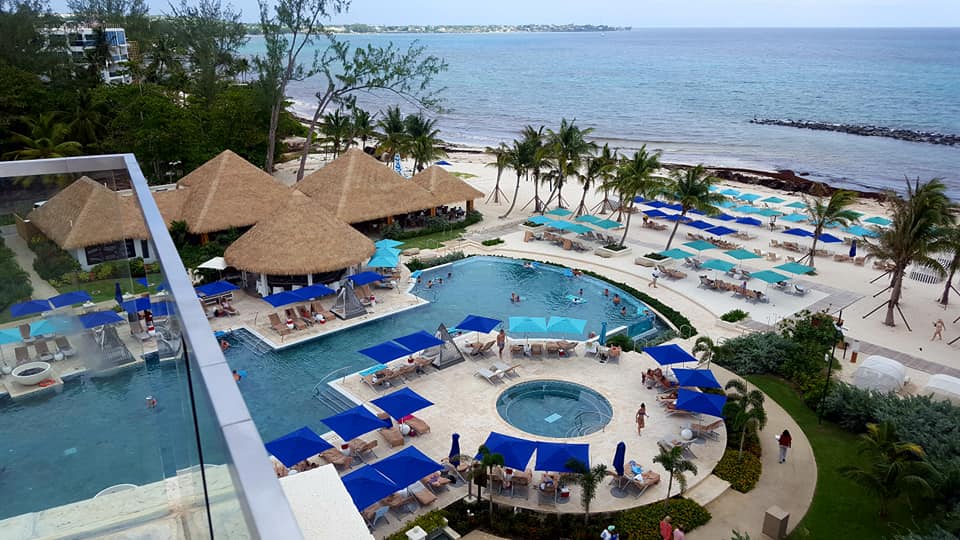 Choose from 3 Sandals properties in St Lucia, 6 Luxury Sandals properties in Jamaica, 2 in the Bahamas (Emerald Bay) Sandals Royal Bahamian and one world class resort in Antigua, Grenada and Barbados!
FAMILY RESORTS
Sister "Beaches" properties are located in Negril and Ocho Rios Jamaica, Turks and Caicos.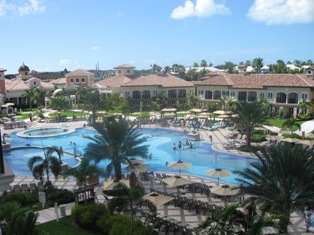 With all these choices please contact a Sandals specialist to make sure you choose the right one for you!

Why choose a Certified Sandals Specialist?
Travel Experts are growing more specialized and focused on reliable and desirable destinations such as Sandals and Beaches Resorts. A Certified Sandals Specialist specializes in Selling Sandals and Beaches Resorts. Our Travel Agents, and agency, not only receives recognition from Sandals as a "loyal" educated partner, but also from the travel industry as Sandals "experts."
As a Certified Sandals Specialist Travel Agent, we have undergone a required and extensive training education program. A "CSS", as commonly known in the travel industry, has committed to selling the Sandals and Beaches products and has acquired up to 12 hours of product knowledge through a special Ultra Sandals Training Workshop. We are updated every year.
The Certified Sandals Specialist Travel Agent is not only knowledgeable on all aspects of the Sandals and Beaches products, but has also been to some, if not all, of the Sandals and Beaches properties. Their insight plays an important role in assisting you make the right choice when selecting one of our Sandals or Beaches properties.
Certified Sandals Specialist Travel Agents are required to attend workshop updates every year in order to maintain their certification as Certified Sandals Specialists. Our First Choice Travel and Cruise CSS travel planners will tailor your Honeymoon, Destination Wedding or Romantic vacation getaway to your lifestyle and desires! We are constantly visiting the resorts to keep updated on the most current changes and hotel management for our VIP CLIENTS!
There are some beautiful resorts, amazing sightseeing options and world class beaches on Punta Cana, St Thomas, St Martin, Aruba, Curacao, Barbados, Grenada and some quieter exotic Caribbean Islands like Nevis, Anguilla and St Barts. Ask your Caribbean Travel Specialist at First Choice Travel and Cruise to go over all your Caribbean options.
Lets not forget the Bahamas as another great choice for your next vacation!
When you start planning your VACATION,
contact the EXPERTS, not the Amateurs!
262-542-5955