Destination Weddings & Group Celebration Trips By
First Choice Travel and Cruise
HONEYMOON & DESTINATION
Wedding & GroupSpecialists






Congratulations to all of our happy couples and families on their upcoming weddings and celebration trips!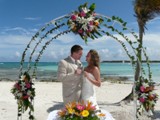 Imagine the excitement of walking down the aisle with the breathtaking, aqua blue water in the background. Your friends and family are all smiling, the sun is shining on the crystal waters.... and the flowers are exotic. There simply isn't a more magnificent setting you could ask for. Weddings are happy occasions for everyone involved and I know you are all excited to start having fun.


Please use a professional experienced Destination Wedding and Honeymoon planner to help you make the right decisions!
Why would YOU leave the most important day of your life to chance?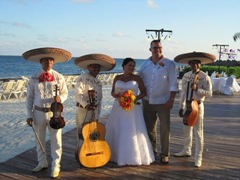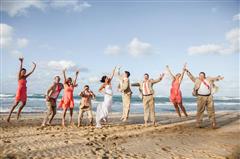 Please click on the name of the wedding you are attending to find out more about this special event!
You are invited to join the following DESTINATION WEDDING COUPLES and Celebration trips below:
For more information on our:
We can't wait to help you plan the most important trip of your life!!! Here are what some of our brides, grooms, parents and guests have to say:
Well, I think we found a place for our Destination Wedding! Now, can you just find out if our date is available? Also, are there any "hidden" costs with the resort... charging a certain amount for a certain amount of people? We're hoping to book this as soon as possible. Thanks so much for all your help with all of this! I don't know what we'd do without your expertise!

Have a good night!

Stefanie

Gayle Zielke

, thanks for creating a memorable day for

Michael Hartel

and I. Thanks for all of your hard work - a year in the making! This is the new cover of

"

blended family

" that you should use for your weddings!!
Comments from a Mother of the Bride Gayle,

You have been so helpful to Kristin.

I know she has really enjoyed working with you.

Now that it is getting close we are all getting very excited.

I'm meeting with Kristin this evening and we are going over our final checklist of what we need to take care of in the next month.

Thanks for everything, Pat

Comments from a Father of the Groom Thank you so much for all of your help.

This should be a wonderful exciting time for our entire family.

All the Best-

Justin
BRIDES GET EXCITED ABOUT THEIR WEDDINGS!
Hi Gayle, How are you? We are doing great....getting closer and closer to our wedding day. Now that we are all paid up for our trip, I just want to make sure there is nothing else that we need to on your end. I am so excited to finally get this all planned and set! Everything is falling into place nicely. I also wanted to thank you for all your help in getting this trip planned for us and our families. You were very helpful with everything, and we will definetly come back to you in the future when we plan future vacations. I am very appreciative for all you have done to set this up for us! I will definitely take some pictures and send them to you. After all this time working with you, I feel as though you are just as much a part of this wedding as everyone else.

I am very pleased with how you handled everything and basically took care of it all for me. This was my 1st experience using a travel agent, and what a great experience it was. Like I said, I will come back to you in the future and I will be sure to tell anyone I know looking for a travel agent to contact you guys. Thanks again for everything,

Tianna Lopez

I think I know the answers to your questions but will check with my fiancee just to make sure!

I am so glad to have an expert like you to help us!!!
You have been way more helpful than most people I have met so far in my life! lol I cannot believe everything that you have done for us!!! YOU ARE THE BEST!!!

"Gayle has been a HUGE help to get this wedding all set up for us, in two days through e-mail!!! We love you Gayle and first choice travel and cruise for the kindness and professionalism!!" I cannot wait to go to Jamaica and enjoy everything that you set up for our special day and I cannot wait you work with you again!!!!!" -Jamie

Hi Tana, The resort itself is beautiful and I would give it another try but after staying at the El Dorado Seaside Suites after the wedding, the service there was unbeatable.

However, our wedding at the Barceló Palace was amazing and Gabriela was incredible in giving us everything we needed. Thanks for all your help is getting this all taken care for us.

Amy and Pete
Thanks for keeping us posted.

I have my passport, Jim is working on his. I will remind all of our guests about the passports.

Hopefully they will call you soon.

Thanks for all your help.

I will be checking out the apostile web site.

ps.

Everyone I talk to says how nice and helpful you are, and I agree!

Thanks for all your help. Megan

SANDALS NEGRIL WEDDING

Hi Gayle-

We had a fabulous time in Jamaica! The wedding and all of the staff were wonderful!! All of our guest had a blast! They gave us the champagne reception for everyone also which was a nice little bonus!

Thank you for all of your help along the way. Everything worked out perfectly just like you said it would.

Thank you again,

Adele Kujawa

I want to thank you for taking care of our destination wedding planning and guest list.

You have been very accommodating, patient, and understanding and we truly appreciate your help with getting our guests booked. Thank you so much for handling everything so smoothly.

We leave Monday and can not wait!!!

We will be in touch with you after, to send you photos of the big day and of course, will be in touch with you next year to plan our next Winter Vacation, which we are already discussing on destination.

:)

Can never plan to early!! Have a wonderful holiday season and many, many thanks!!

We are more than pleased with the service we received!

Thanks again!! Regards,

Sheri Gille /

Rick Lambert
Aunts and other guests speak their mind on destination weddings
I cannot tell you how wonderful I think a destination wedding is - should I ever find Mr. Right -you'll be planning mine!

What a stress free way to get married.

Chris

Hi, Thank you for the update! Thanks again for all of your help!!

It is all starting to really come together.

I am super excited!! Yay!!!!

Thanks so much for being on top of it!!!

You do a fantastic job!!!!

Raeanne

Thank you for taking care of that! You make this so easy! Lindsay

Thank you so much,

Jenny

P.S. and all of our guests that have book through you said you were extremely nice...they all told me I found an awesome travel agent.

They are all very impressed!

Thanks so much for all you help with everything!
Those were just a few comments. Take a look at some more of our
by First Choice Travel and Cruise!
For Award Winning Destination Weddings & Honeymoons check out AWARDS / TESTIMONIALS!
Please call 262-542-5955 and ask for a Destination Wedding or Honeymoon Specialist.
Email: with all your questions.