ONE OF OUR FIRST CHOICE TRAVEL AND CRUISE DESTINATION WEDDING SPECIALISTS SHARES HER
FIRST HAND EXPERIENCES AND HOT TIPS FROM HER OWN DESTINATION WEDDING!!!

Say "I Do" to First Choice Travel and Cruise's Weddings and Honeymoons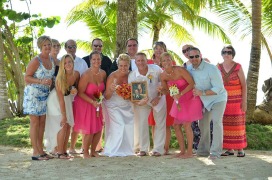 Imagine getting married on a romantic tropical island and the wedding is FREE! "Every week we work with couples planning their destination weddings and honeymoons," says Gayle Zielke, M.C.C., president of First Choice Travel and Cruise. Gayle has over 30 years of experience planning vacations, the rest of this motivated, knowledeable team has been there for decades, so you're in good hands!


The best news is that your family and friends can now join you on your special day, as we offer generous group discounts."

Tana Kubricky has been with First Choice Travel and Cruise since 1998 and speaks honestly about her own "Destination Wedding"!
She has plenty of first hand experience to offer brides, grooms and their guests.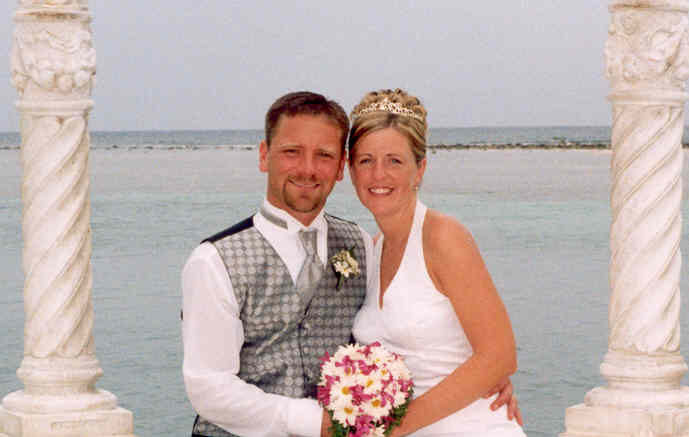 "Special day" is an understatement, says First Choice Honeymoon & Wedding Specialist Tana Kubricky, who got married at Sandals Royal Caribbean in Montego Bay, Jamaica. "Steve and I chose to get married in Jamaica because we wanted to enjoy being engaged without the complications of planning a large
wedding," she says. "He proposed in December, we booked the wedding and honeymoon in April, and were married in paradise in May. Seventeen of our closest family and friends came and it was the perfect day - we exchanged vows in the morning in a garden gaze
bo, spent the day at the beach and held the reception in the evening."
Tana adds, "The ceremony was simple yet elegant and completely hassle-free. My dress was also simple yet elegant, and I paired it with sequin flip-flops. Everything fell perfectly into place, especially once we met with the wedding planner at the resort on our first night there. We chose the flowers and went over all of the details in a few hours, as opposed to months of tedious planning. "I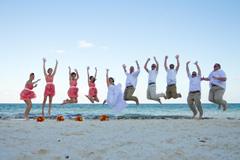 wanted an uncomplicated wedding so I let someone else do all the work! She laughs. "Based on my experience, I would highly recommend a resort destination wedding."
Not surprisingly, First Choice Travel and Cruise's Wedding and Honeymoon business has grown tremendously from word of mouth. The most popular exotic location weddings and honeymoons are Jamaica, Mexico, Costa Rica, Tahiti and the islands of St. John and St. Thomas although you can get married/honeymoon almost anywhere!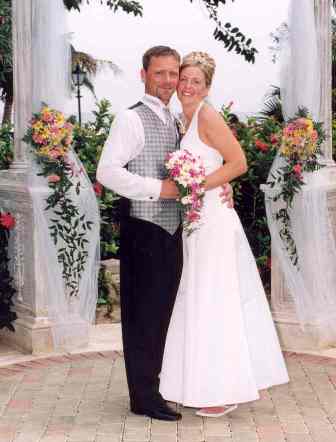 For Tana and Steve, the wedding package - free with a 5- or more night stay - included flowers for the bride & groom, some photos (you can pay for different packages), the cake and a small reception afterwards. Customizations can be made, however, with advance notice, and weddings can be planned for any day of the week. Some resorts and cruise lines charge a nominal administrative fee, which covers everything from the license to the flowers and cake. "The money we saved getting married in Jamaica we used to buy our first house," Tana says with a smile. "We wouldn't have done it any other way, and I would do it again in a heartbeat."
If you're newly engaged, the first step to following in Tana and Steve's footsteps is to make an appointment with one of First Choice's Destination Specialists. At the appointment, one of the Specialists - maybe even Tana herself! - will help you choose a destination and give you the time and personal attention you deserve. "Prospective brides and grooms want to know exactly what to expect before they leave home, and this appointment is meant to do just that," Gayle explains. "Our Specialists are all very experienced and knowledgeable about the destinations and resorts so we can recommend Wedding and Honeymoon destinations that will fit everyone's budget."
In addition, you will receive valuable information and have the opportunity to have all of your questions answered by someone who has actually been there. You may even be eligible for special early booking discounts and prices that only the experts know about. Destination weddings are very popular now, and the specialists at First Choice will assist you every step of the way to make your dream wedding and honeymoon come true.
You don't have to be a honeymooner, however, to make an appointment with one of First Choice's Destination Specialists! In this computer driven world it is hard to find a good travel agent who will take the time for an appointment, but at First Choice they encourage appointments and pride themselves on their experience and service.
Cruises are also a great way to celebrate honeymoons, weddings, anniversaries and family reunions or perfect for just a quick get-a-way with your favorite friends! Now is the time to book your Caribbean, Alaskan, Hawaii or exotic destination cruise. Every cruise is on sale right now at almost unheard of prices. It is a known fact that 96% of people who have cruised will sail again because of the great satisfaction they experienced.
To speak to Tana about your own destination wedding or honeymoon call 262-542-5955 or email her at