FIRST CHOICE TRAVEL AND CRUISE
HONEYMOON
& DESTINATION
Wedding Specialists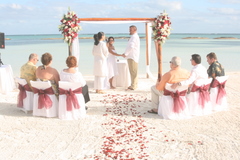 Destination Weddings are our Speciality!
Thinking of.....
Getting married on an exotic tropical island, in a castle in Europe, on a beautiful white sand beach, a decorated gazebo with the ocean as a background or maybe you are thinking of something more adventurous like getting married on an Alaskan Glacier! Why not rent out a whole resort on a private island in Fiji? This isn't just a DREAM... We can make it a reality! Just as no two people are alike... why should your WEDDING be like everyone else's? Think outside the box!! We have lots of ideas and options to discuss with you. Lets start planning the Unique WEDDING of YOUR DREAMS now!
"Our brides, grooms and guests are real people just like YOU! They are not movie stars but some of their weddings sure look like they came out of a fairy tale wedding book," says Gayle Zielke, president of First Choice Travel and Cruise. "I have been a Destination Wedding and Honeymoon Specialist for over 25 years even before we were on the internet or had a website. I never get tired of speaking to a new couple all excited about planning their Wedding or Honeymoon. It all seems like an exciting challenge for me to match up the right destination and resort with the special occasion!" "In fact I think I get to know the couples and their families so well many invite me to go along! I think that is a great compliment since I really work with most of my weddings and honeymooners over the phone and internet and they really trust me."
"Actually over the last 25 years I have waited on some of the same people year after year. I have also worked with their parents, grandparents, children and Honeymoon couples getting married. Believe it or not I have never met any of them. They just feel like friends after all these years and I don't think anyone cares or even thinks about it. My clients keep sending me more referals since they know I am personally going to take care of them and enjoy every minute of it!"
These are the same comments we receive for everyone on our team at First Choice Travel and Cruise. All of our DW and Honeymoon Specialists are experienced and specialize in Destination Weddings. We are all on the same page and really care about your once in a lifetime WEDDING! This is the most important week of your life, please let someone with decades of experience assist you.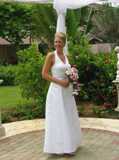 Tana asks, "So think about how you would like to remember your wedding"! Either ONE day so busy you can't remember the details...OR a celebration in a romantic destination to exchange vows with an intimate group of family and friends!!! Talk about STRESS FREE and FUN!!! Best of all after the wedding ceremony, you won't have to leave," says Tana. Well she should know since she planned and arranged her own Destination Wedding with all the bells and whistles. Select Tana's WEDDING tips from a real destination wedding bride for more information on why to take the plunge on a Destination Wedding!
First Choice Travel and Cruise has been working daily with couples to plan their Honeymoons, Weddings and romantic vacations. We all love it when we get a call or an email from a new couple about to plan their special occassion. It never gets old to any of us. "It is always a fun challenge to put all the pieces of the puzzle together, I love working with these happy couples and I know I can help them," says Gayle Zielke, Wedding and Honeymoon Specialist. In my book the BRIDE and GROOM are the BOSS and I like to remind our Destination Wedding Specialists of this. We want them happy first! So we listen to what the couple wants to do, customize it to fit their needs and make it easy, unique and memorable for them. We want your wedding to be exactly how you imagined it and really love it when our wedding couples come back and tell us we exceeded your expections! That makes it all worthwhile!
All of First Choice Travel's Destination Wedding specialists are experienced in a variety of different destinations and we share our information amongst each other and our clients. This destination knowledge really helps our couples choose the right location when planning their dream wedding. This is what we excell at and all of us love working with our wedding couples and guests. We end up making so many new friends from just one wedding because we get to know the bride and groom along with all their families and friends.
It isn't easy to coordinate your wedding and so many guests with different needs. Just worry about choosing some details about the wedding and leave the guests questions and concerns with us. With so many different requests from all over the country, why would you worry about everyone's payments or personal needs? Why would you trust anyone with the most important day of your life, unless they were a Destination Wedding Expert? We know what the problems could be before they even happen. I think we have heard and seen it all. It is just like being a mother, we have to be one step ahead of anything that could come up. Only a Destination Wedding Specialist has the experience with all the previous weddings and groups to advise YOU on YOUR perfect day!! We are very experienced and professional and we try to make it fun for everyone in the whole group. We listen to all our "brides and grooms" special requests and try to add in a bit of their personalities to make sure they enjoy themselves too!
A big "THANK YOU" for all the referals from our new friends, past clients and expecially the weddings we have assisted!
So what is your vision of YOUR WEDDING DAY? A beautifully decorated gazebo wedding? A romantic sunset beach wedding? A wedding in a chapel on a cruise ship? A regal wedding in Scotland? We can make that happen and have been working with hundreds of couples just like YOU!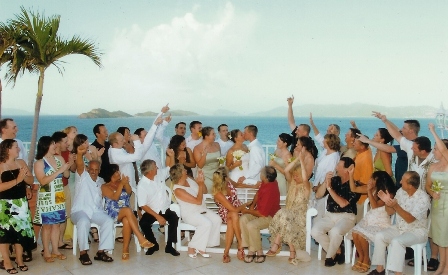 Now that we know what kind of wedding you are dreaming about. The next thing to do for our brides and grooms is to go on the HUNT for a perfect location for your destination wedding. Our Destination Wedding Specialists are prepared for almost any request and will be happy to help you make your dream Wedding and Honeymoon come true!

Our agents are wedding and honeymoon specialists and very well-known for our experience in planning hundreds of romantic weddings. We have worked with hundreds and hundreds of couples and their families for weddings in Cancun, Riviera Maya, Jamaica, Alaska, Scotland, St Kitts, St John, St Thomas, San Juan, Punta Cana, Nassau in the Bahamas, Las Vegas, Reno and other locations in the U.S. and more. We know the easiest places to get married and the more difficult, who needs more paperwork to get married and all about the translations.
No matter if it is just the two of you or a group of a hundred excited guests we will make sure your wedding is a success. First Choice Travel's experienced Wedding Specialists live and breathe weddings and honeymoons. We know what destinations work well for almost every situation. Our knowledge and experience is one of the best values you can find and we love working with couples and their families and friends for these special occasions. But don't take our word for it, please read what our wedding couples and their guests have to say about us.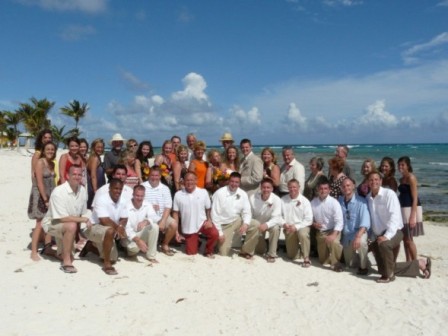 **Please note...Our Destination Wedding Specialists will be happy to give you advice or make some suggestions from our past experiences. But please do not confuse us with the type of WEDDING PLANNERS that charge $5000 to $6000 to plan your wedding. We do not plan your whole wedding and we do not charge a fee like this either. You get to plan the wedding and all the details. We will assist you in finding the perfect Destination and Resort and we can also help you get in contact with the resort's wedding coordinator. If you are not getting married at the resort we can help you find a wedding coordinator from the destination. But don't worry....YOU will always be in charge of YOUR own wedding plans!!
Wedding requirements for getting married in Mexico, Jamaica, Punta Cana, Fiji, Tahiti, Australia and other destinations.
Top 10 Reasons to Book YOUR Destination Wedding with a First Choice Travel and Cruise Destination Wedding/Honeymoon Specialist
1. This is YOUR WEDDING! A once-in-a-lifetime event, why leave the most important day of your life....to chance?
2. Our Destination Wedding experts are experienced in helping hundreds of brides and grooms choose just the right destination and resort for their big celebration. Our specialists work around "your" personal preferences and budgets. We already know what works great and what might not be the best idea to try. Our experts can offer you some really good suggestions and time savers for your wedding.
3. First Choice Travel and Cruise is centrally located with experts who have assisted couples with weddings/honeymoons for over 20 years. Our specialists have actually been to these resorts and have the first hand knowledge of the best locations for destination weddings for just the two of you... on up to two hundred guests!
4. The Bride and Groom are the BOSS! We make their dreams come true while coordinating and organizing all their in and out of state guests who attend the wedding. Our specialists help eliminate the stress of all the trip details for you.
5. No matter what the question, our experienced destination wedding planners will find the answers. We leave nothing to guess.
6. "Your Destination Wedding" will have a special place on our website just for YOUR wedding and guests! So your friends and family who are local and out of town will be able to access your wedding information 24/7.
7. We have our own Bridal Registry so your friends, family and guests can help make the honeymoon even more special. From Spa Credits to excursions, they can choose to help pay for the one thing you will have the rest of your lives... HONEYMOON MEMORIES!
8. Choose a specialist who knows the ins and outs of Weddings/Honeymoons in the destination of your choice. We can save you time and money$$$
9. You reap the benefits of the special relationships we have with our many hotel managers, tour operators and wedding coordinators. We are in constant communications with these important contacts just for you. Our specialists have personally visited most of the hotels to make one on one connections with the people we need to know. Everyone loves upgrades and VIP treatment!
10. Again, YOUR WEDDING is a once in a lifetime event...why would you trust your special event to an internet stranger or someone who doesn't know what they are doing...when you have experts right in your back yard??
There is no substitute for experience and knowledge. Choose a specialist! We are excited to meet you and help plan the wedding of your dreams! Contact us today at 262-542-5955, 1-800-896-4360
Comments from a Mother of the Bride
You have been so helpful to Kristin. I know she has really enjoyed working with you. Now that it is getting close we are all getting very excited. I'm meeting with Kristin this evening and we are going over our final checklist of what we need to take care of in the next month.
Thanks for everything, Pat

Comments from a Father of the Groom

Thank you so much for all of your help. This should be a wonderful exciting time for our entire family.

All the Best!

Justin

Comments from a guest going to the wedding!

You are a HONEY, THANKS SOOOO MUCH.

ANNE
BRIDES GET EXCITED ABOUT THEIR WEDDINGS!
How are you? We are doing great....getting closer and closer to our wedding day. Now that we are all paid up for our trip, I just want to make sure there is nothing else that we need to on your end. I am so excited to finally get this all planned and set! Everything is falling into place nicely. I also wanted to thank you for all your help in getting this trip planned for us and our families. You were very helpful with everything, and we will definetly come back to you in the future when we plan future vacations. I am very appreciative for all you have done to set this up for us!
I will definitely take some pictures and send them to you. After all this time working with you, I feel as though you are just as much a part of this wedding as everyone else. I am very pleased with how you handled everything and basically took care of it all for me. This was my 1st experience using a travel agent, and what a great experience it was. Like I said, I will come back to you in the future and I will be sure to tell anyone I know looking for a travel agent to contact you guys.
Thanks again for everything,
I think I know the answers to your questions but will check with my fiancee just to make sure! I am so glad to have an expert like you to help us!!!
Hi Tana,
The resort itself is beautiful and I would give it another try but after staying at the El Dorado Seaside Suites after the wedding, the service there was unbeatable. However, our wedding at the Barceló Palace was amazing and Gabriela was incredible in giving us everything we needed. Thanks for all your help is getting this all taken care for us.
Amy and Pete
Hi Gayle, Thanks for keeping us posted. I have my passport, Jim is working on his. I will remind all of our guests about the passports. Hopefully they will call you soon. Thanks for all your help. I will be checking out the apostile web site.
ps. Everyone I talk to says how nice and helpful you are, and I agree! Thanks for all your help.
Megan
Pat,
I want to thank you for taking care of our destination wedding planning and guest list. You have been very accommodating, patient, and understanding and we truly appreciate your help with getting our guests booked.
Thank you so much for handling everything so smoothly. We leave Monday and can not wait!!! We will be in touch with you after, to send you photos of the big day and of course, will be in touch with you next year to plan our next Winter Vacation, which we are already discussing on destination. :) Can never plan to early!!

Have a wonderful holiday season and many many thanks!! We are more then pleased with the service we received! Thanks again!!

Regards,

Sheri Gille
Rick Lambert
Aunts and other guests speak their mind on destination weddings
Pat -
I can not tell you how wonderful I think a destination wedding is - should I ever find Mr. Right -
you'll be planning mine! What a stress free way to get married.
Chris
Hi Gayle,

Thank you for the update!

Thanks again for all of your help!! It is all starting to really come together. I am super excited!!

Yay!!!! Thanks so much for being on top of it!!! You do a fantastic job!!!!

Raeanne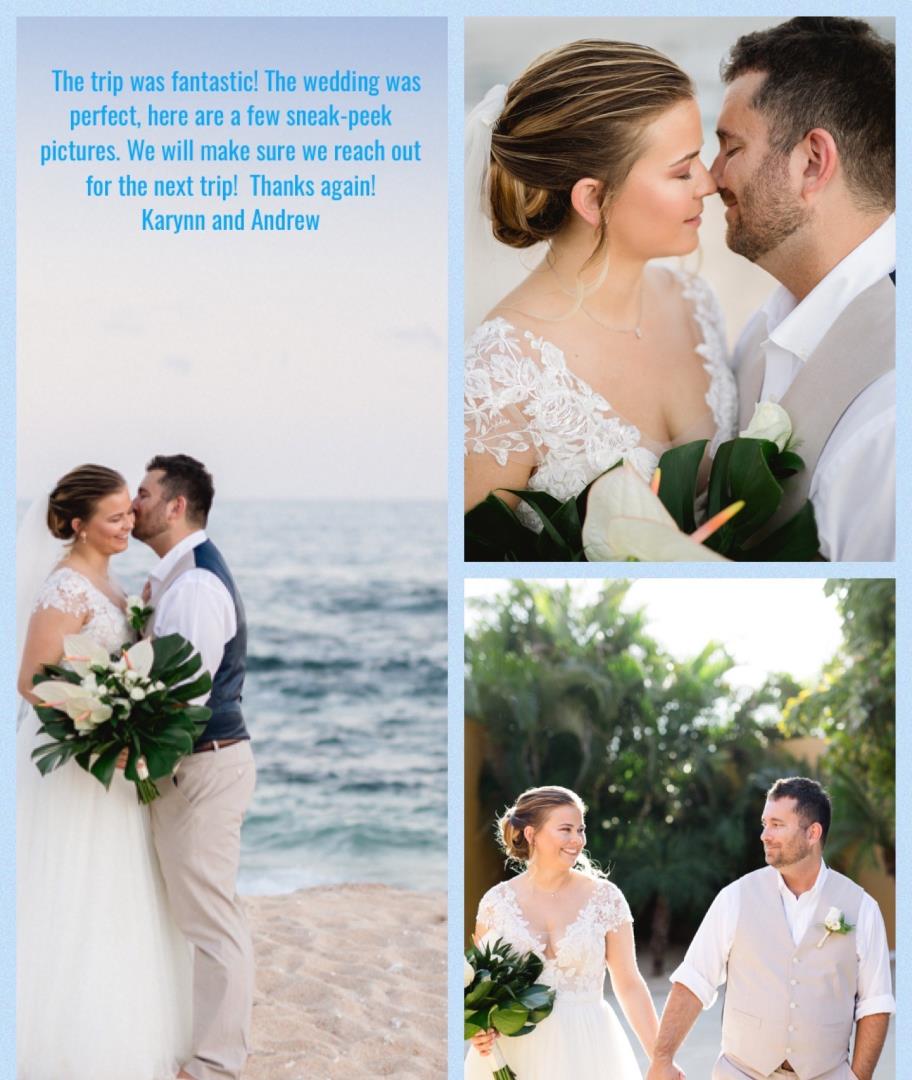 Another great reason to use a local experienced Destination Wedding Specialist?
Gayle Zielke, president and Honeymoon & Destination Wedding Specialist explains, "When I asked a couple who came to me for their destination wedding why they came to our agency, they told me that everyone else they spoke to did not know what they were doing and they didn't seem as interested in helping as we were." "Our Specialists work with couples every day, we know the resorts, the destinations and the inside secrets of excellent weddings. We have actually seen the hotel grounds and know the scenery well enough to suggest ideas for the wedding location be it a gazebo, fern grotto or on the powder white sand beach."
This is the most important event of your life....Please use an experienced professional who will know how to help you plan your destination wedding. We love those referals and couples who need help organizing their wedding and their guests. Our experience speaks for itself and every one of our Destination Wedding Specialists really love what we do!!! First Choice Travel and Cruise has been in the same area for over 20 years and we plan on being around for another 20 or so! You need us for questions, suggestions and tips on what to do and what to stay away from....and we are there for you. Give us a call 262-542-5955 / 800-896-4360 or email:
WEDDINGS BY FIRST CHOICE TRAVEL AND CRUISE
All of First Choice Travel's EXPERIENCED Destination Wedding specialistsare ready to help you plan the most important day of your life!
See for yourself how beautiful, romantic and stress free YOUR WEDDING could be!! Find out what our brides, grooms and guests have to say about..FIRST CHOICE TRAVEL'S DESTINATION WEDDING SPECIALISTS AND THEIR OWN WEDDINGS!
DESTINATION WEDDING BY FIRST CHOICE TRAVEL AND CRUISE?
BY A BRIDE WHO KNOWS!