Cassandra Mireles & Deyssler Downs
cordially invite you
To attend their tropical wedding in THE RIVIERA MAYA!!!
Wedding will be held at the Ocean Riviera Paradise
on July 14th, 2018 at Sunset.
You are welcome to join us anytime during the week!
THE OCEAN RIVIERA PARADISE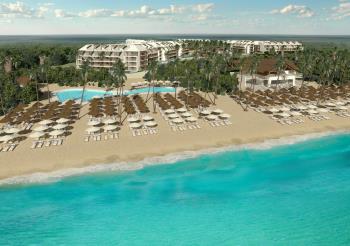 The Ocean Riviera Paradise is a new five-star resort located on the seafront in the Playa del Carmen area of the Riviera Maya. The resort is noteworthy for its size and the extensive selection of services on offer. It boasts spectacular swimming pools, exclusive Junior Suites and Suites, a wide range of cuisine, a Despacio Spa Centre, Privilege, Exclusive Rooms and Services.
AIR AND HOTEL PACKAGES FROM CHICAGO:
$1,350.00 SEVEN NIGHTS PP DOUBLE
$1165.00 FIVE NIGHTS PP DOUBLE
$1,075.00 PP DOUBLE
PER PERSON Package price includes airfare from Chicago, transfers, All Inclusive hotel accommodations, all meals, drinks, on property entertainment, and taxes. *Prices are based on double occupancy. Insurance is additional at $129.99 per person and must be added at time of booking. Other room categories available upon request.
We have been working with Lisa Conley, our Destination Wedding Travel Specialist, to arrange the best travel package for our wedding. We encourage everyone to make their arrangements through Lisa, you will receive a special discount!
Lisa can be reached at 262-542-5955 or email:
Lisa
This vacation package requires a passport. http://travel.state.gov/passport/get/first/first_830.html