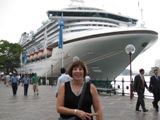 If you find the lure of an exciting journey at sea hard to resist, it is time you treated yourself to the splendors of a cruise vacation. Let your imagination run wild with these tantalizing trips to a variety of destinations. Once you sail away, relax on deck and marvel at the scenic coastlines, the exotic cultures, and the sheer open pleasure of the ocean itself, as your cruise liner takes you from one beautiful port to another. The sea is calling out to you for your next vacation: it's time to get cruising!
I bet you didn't know you could visit all these destinations by ship! See below to show how wrong you are!! Don't miss the boat..Call a First Choice Travel and Cruise Specialist today. 262-542-5955 or email us at:
COMMENTS, REVIEWS AND PICTURES FROM OUR GUESTS: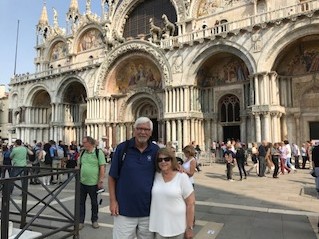 Wayne and Joan at St. Marks Square on their Azamara Cruise. They told Mary they had a wonderful time and Azamara was so good if they go on another cruise they are going to look at Azamara first!
Great cruise! New Friends! Great memories! Thanks for your help! Marilyn
Gesica Zelechowski says: "I love CRUISES! It's like a sample platter, The places You like the most, You end going back for seconds!!!!"
To Gayle and First Choice Travel and Cruise,
I have just returned from my first cruise on Royal Caribbean on the "Adventure of the Seas"!
Everything was perfect. Our Junior suite was much larger than I thought and very comfortable.
I so appreciate your service and would definately recommend you and First Choice Travel and Cruise to my friends.
You are great. My heartfelt thanks.
Darlene Mills

CARNIVAL CRUISE 50th Anniversary Celebration - with the whole family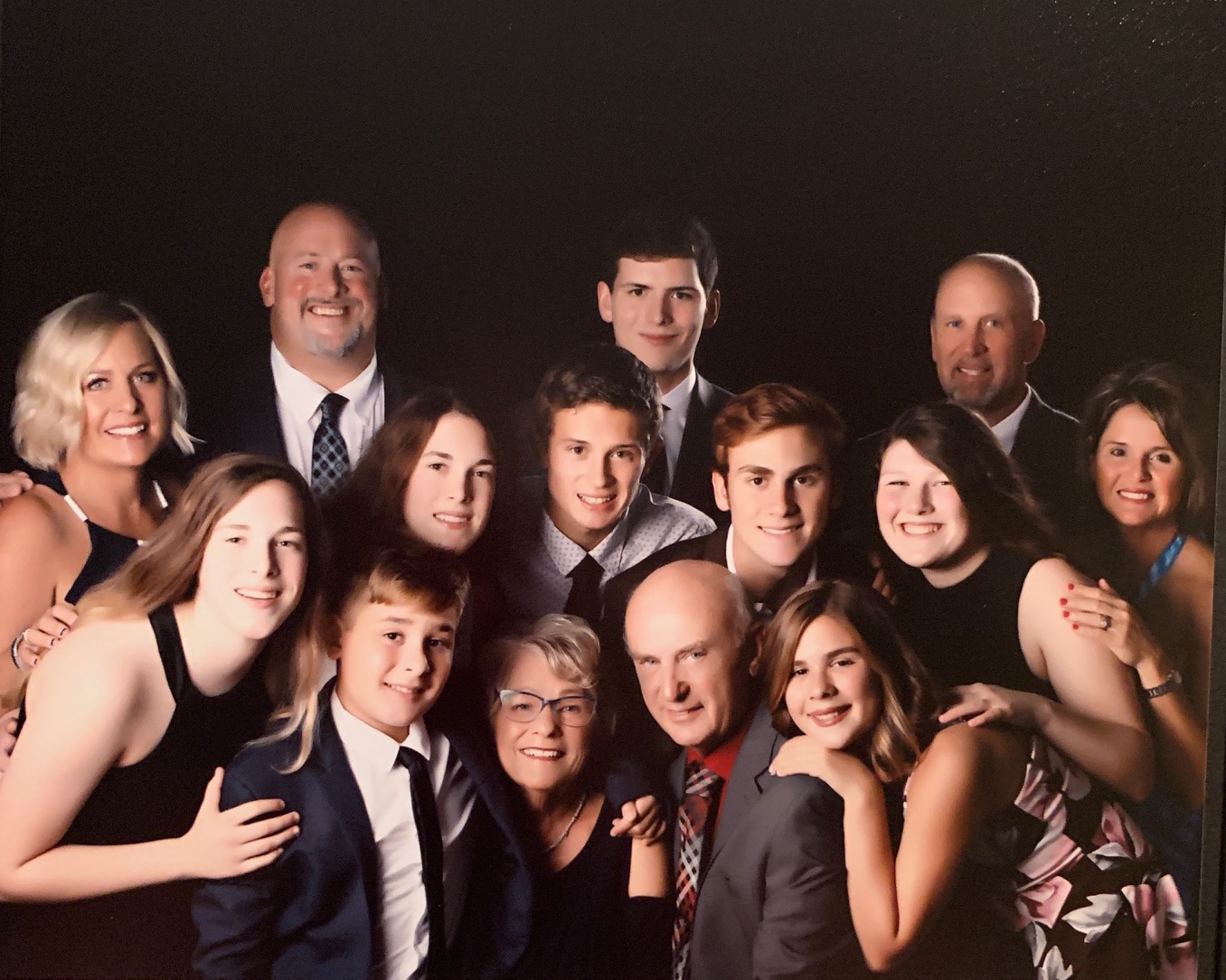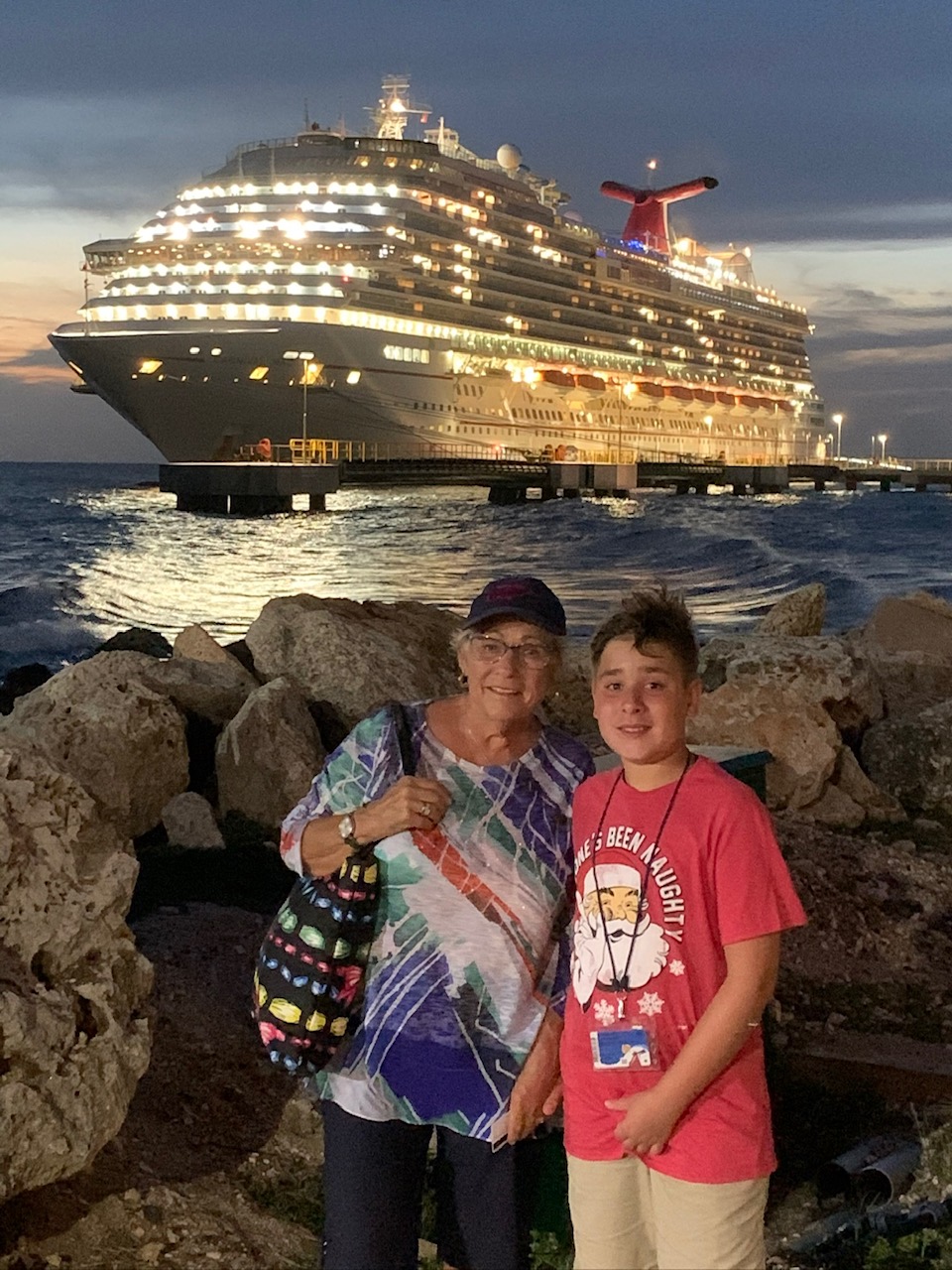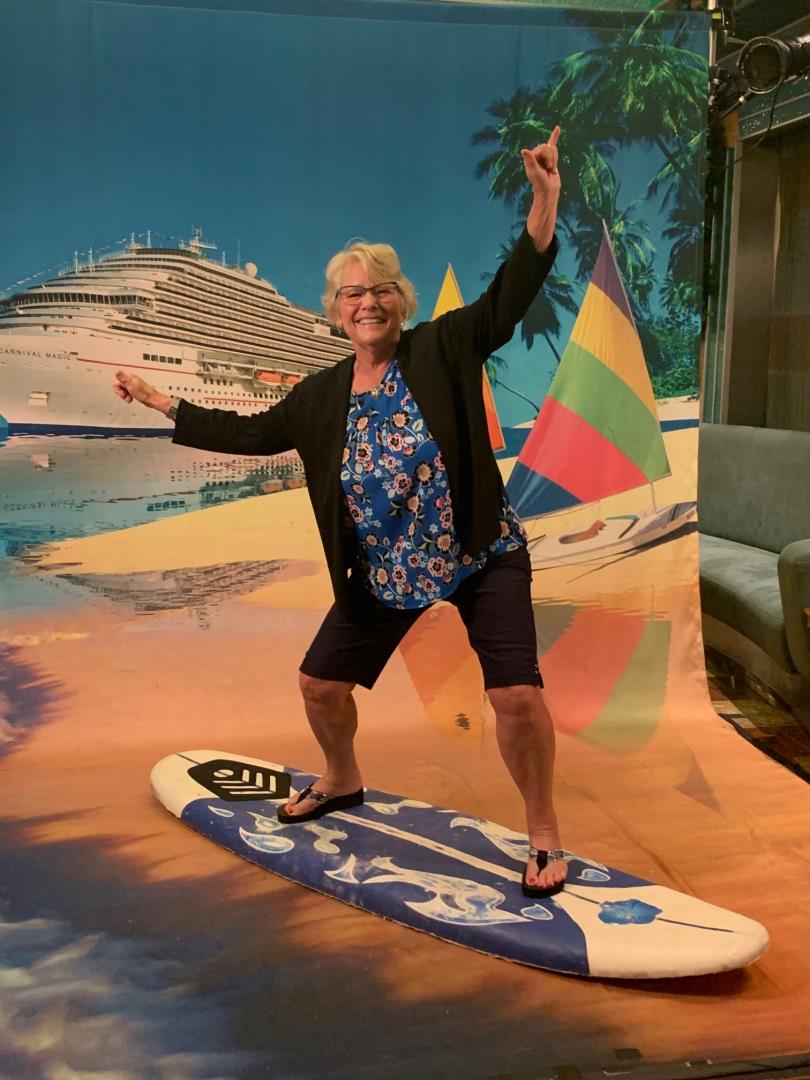 The cruise was delightful. The ship a little old looking, but I guess it was built in 2011.
We went on two excursions and they were both on boats snorkeling and island hopping, it was great.
Food was great, service also great. We thought the shows were better on this ship than others we've been on. A younger vibe, more fun! Singing piano bar, kareoke, spa lessons, etc.
We didn't like that everyone steals the chairs in the am with their towels and then never goes and sits in them, so that was kind of crazy...
We did the family pictures, and loved all of them. I would definately recommend a family portrait sitting if you go on a cruise, it took all of 45 minutes for the 14 of us, and they did an amazing job! Something we will treasure for years to come.
Thanks for all the help coordinating our group once again!
Hello Gayle,
The cruise was awesome, we did two snorkeling excursions. Our favorite stop was
Aruba and Caurcel. The ship had great entertainment, we took in a show every night
And enjoyed the piano bar. I would recommend the cruise, we now have a lot of good memories. Donna
A Fun Class Reunion Cruise on the Sky Princess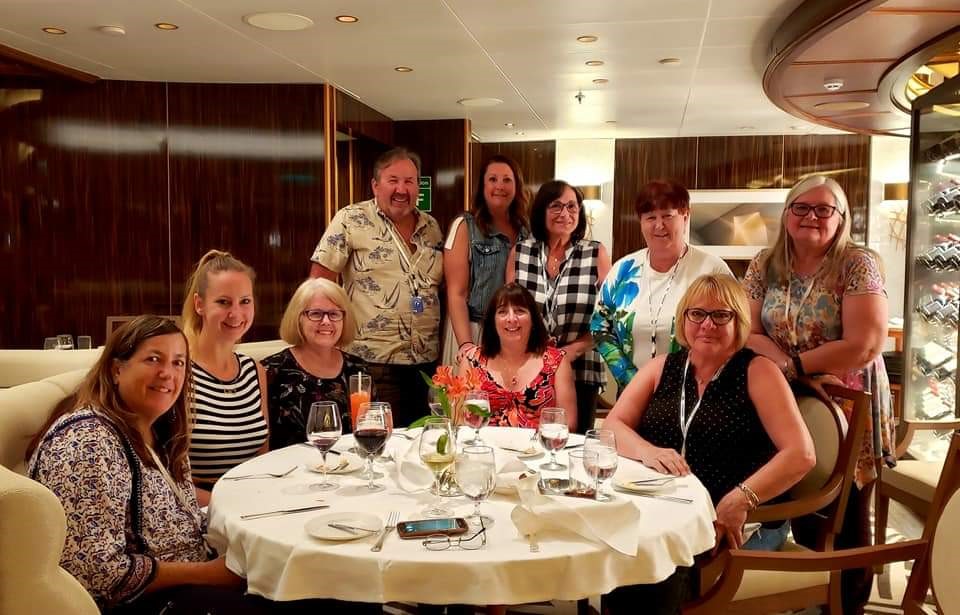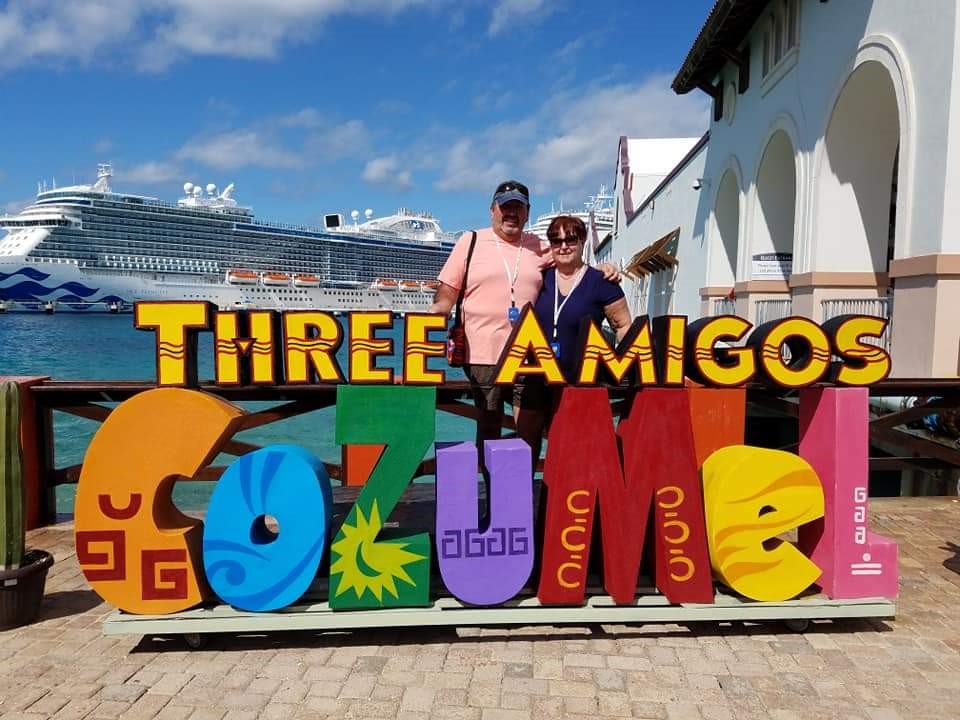 Family Cruisers on NCL
We had an awesome time. Kids were totally surprised by the cruise. They want to make it a yearly event around this time of year. Of course the food was plentiful and awesome. But any time I don't have to cook and food is ready for us any time we want, it is awesome.
Thank you for helping us surprise the kids with a wonderful family vacation. I am happy to say we will be cruising again with them some time in the future.
We really enjoyed sailing with Royal Caribbean. We received A-1 service. It was wonderful to be able to relax and rest when we wanted to and also enjoy everything the ship had to offer and excursions on our schedule. We returned home very satisfied and rested. We are looking forward to sailing with Royal Caribbean again and again.

Celebrity Cruise's Fan!
Hi Lisa,
We had a wonderful cruise. The service and food were both excellent. We did not try any of the specialty restaurants because the dinners in the main dining room were so good. We also enjoyed the fact that, even though we had Select Dining and ate at different times each night, they still kept us in the same area, with the same wait staff each night. We also had good breakfasts in the MDR, the buffet, and at the Aqua Spa Cafe. We both liked the pizza in the buffet as well.
As for our ports, we walked around on our own in Key West, as we had 10 hours and everything was within a few miles.
In Costa Maya, we booked our own day at an all inclusive called Maya Chan. They provided transportation, drinks, and wonderful food for $59/each. They also provide kayaks, snorkel gear, paddle boards, and flotation chairs. Every group gets a private palapa or pergola, chairs, day bed, etc. and limit the visitors.
In Cozumel we did the Jose Cuervo experience at Discover Mexico through the ship. That was also a lot of fun.
In Grand Cayman we also did a ship tour that visited the turtle farm, the rum cake store, Hell, and a 2 + hour trip out to Stingray City. Again it was a small group and we got a lot of time with the stingrays.
All of the excursions were great. Weather was cold in Fort Lauderdale but 80 and sunny at each of our ports.
Thanks for your help. We are happy we chose Celebrity. Very relaxing.
Judy and John
Special Cruises!
THE STARCLIPPER CRUISE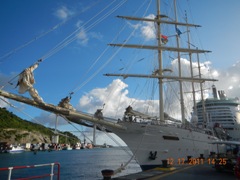 Hi Gayle,
Was the best trip! Met many new friends from Germany, Austria, Denmark, England and had lots of fun. Thanks for arranging for us.
Sincerely,
Mary and Owen
Royal Caribbean Mediteranean Cruise for this Anniversary trip!
Gayle,
We had a great time! Would definitely cruise with RC again!
The Rome in a Day excursion was a great way to see the best of Rome! We would definitely recommend for those who have a great interest in seeing all that this city is known for!
Thanks so much Gayle to you and your fabulous team for helping us plan a trip of a lifetime!
Jenna and Brett
HURTIGRUTEN NORWEGIAN COASTAL CRUISE
Gayle and Mary,
What a great trip - everything worked out fine.
We arrived in London and went to the Downton Abbey for our tour. No pictures were allowed. They film the show in a studio about an hour and a half away.
Our hotel was just around the corner from Selfridges, a fantastic store which was revolutionary with sales that shook up the rather stodgy London crowd.
Got the train to see Harry Potter's Platform for the Hogwart's Express and Kathy got her picture taken as if she was entering the brick wall.
Edinburough was quite a surprise as their Festival was held that week. Aside from the melee, it was fun!
In Bergen, Norway the weather was great. We thoroughly enjoyed ourselves especially the food. They had tents at the wharf with seafood including salmon, lobster, king crabs, local fish and Spanish favorites. Anyone taking the Hurtigruten should certainly go a day early to take a couple of tours, enjoy the eats and sites.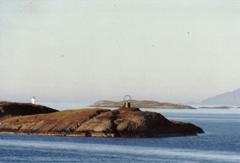 Our Hurtigruten ship (pronounced Sheep) was a surprise in that it was much larger than expected. We had a beautiful suite with a large bay window that proved to be the best seat for watching port activities and the beautiful scenery. The food was outstanding and the service tops.
Most significant to us were:
Trondheim - the Ringve Museum of Musical History
Crossing the Arctic Circle
North Cape at Honningsvag
A great trip - very relaxing - would absolutely recommend it. The four hotels we also very good and conveniently located.
K&K
1ST TIME CRUISERS...Royal Caribbean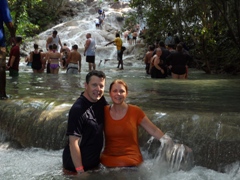 Oh. My. Gosh.....did we get lucky or what? We outran Rafael and got home before Sandy. It's like it was meant to be....

It was a fabulous trip! The only bad part is that it's over already :(
Typical Chas style...we were on the go at every port. Ziplining, climbing Dunns River Falls, snorkeling, swimming with stingrays and dolphins, more snorkeling. So much to do, so little time! The ship was beautiful and thank you so much for insisting on the balcony room. Sunrises each morning and star gazing with a nightcap each night. The shows were really good, the food and service was great. So nice to have everything done for us.
Even the hotel at Port Canaveral was a treat, and having our rides arranged in advance took away even that little stress.
Thanks so, so much, Gayle. So nice to have a cruise-expert helping us out.

Thanks!!! Cruises rock! :)
connie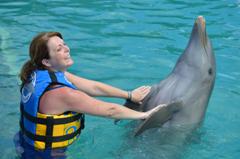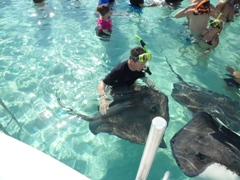 Sister Cruisers
Our cruise was awesome!!!! Or cabin was tops. We had plenty of room for everything. On Honduras we took a tour of the island and danced with some of the Mayan people. Loved it! Our excursion on Belize was canceled due to not enough signed up for the rafting. We shopped instead.
On Costa Maya we toured the Mayan ruins and loved every minute of it. The site was beautiful. We had to walk through about 2 blocks thru a beautiful forest. No mosquitoes in sight. In Cozumel we went snorkeling and that was a new experience for me. I loved it. The water was clear and there were lots of fish on the reef. We saw a barracuda, a jellyfish, a stingray, a moray eel, and numerous other beautiful fish. Our ship was smaller than the last time but our suite was awesome. We had a double balcony and Sue fell asleep outside one night.
We had gold cards and got lots of special attention. That's for your help Gayle. We had an awesome time. We drank every night and laughed until our bellies hurt more than a few times. Can't wait for the next one! Next time we will take our hubbies with us! At the end of the day we loved everything about the ship and our time on it!!!!!!!! Oh- it only rained lightly one morning but it didn't ruin any of our plans.
Kathy

A Group of friends were celebrating their 40th anniversaries on Royal Caribbean Serenade of the Seas
Gayle,
We had a very good time. We learned something on every island but our favorite excursion was the one in Barbados Tiami and swimming with the turtles. It was a beautiful day and the snorkeling was great and the beach we stopped at was so nice. The whole experience was great. The ship was clean and everyone was so friendly and helpful. Although the casino was very tight. We don't have our pictures yet, but the whole group got along so well and all tried new things. We decided what we did on the ship stayed on the ship. We had a couple nights of lots of fun.
Unfortunately Dominica was a little depressing with so many poor and the problems they've had in the past with hurricanes and mud slides. They are working really hard to get it together. St. Kitts is also pretty poor and it really makes you feel how fortunate we are here, the way we live. Education seems really important to them and I give them a lot of credit for that.
We do miss the beautiful water, can't believe how clear it is.
Serenade of the Seas is definitely a nice ship.
Karen
1st Time Cruisers Rave over their Disney Magic Cruise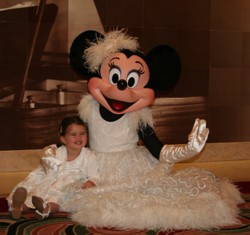 Hi Sara!
We had so much fun on the cruise - the kids talk about it constantly.
Natalie misses the beach and Joshua misses Mickey. The weather was fabulous and best of all we missed the snowstorm of the decade. I've included a small sample of pictures - I took over 300! I can't believe the detail to service on the cruise. The kids didn't do the Oceaneer's Club very much as they loved the pool and just walking around looking at everything. I loved our servers and they were very good to the kids.
We talked to so many people both on our cruise and other cruises at the ports and everyone claims no one does it like Disney. I don't have anything to compare to since this was our first cruise but I have to say I was very impressed. I am glad we did the room with the verandah as that was well worth the extra money. It also made the room feel so much larger. The kids couldn't wait to get back to the room after the show to see what character the towels would be on the bed! The food was fabulous and I think we all gained 5 lbs. and the entertainment was incredible. Thank you for the autograph books as we carried them with us constantly to get the autographs of the characters. We got to see everyone and some of them several times. Wait times weren't that bad - usually about 15-20 minutes except for the Princesses - that was over an hour. I just can't say enough about the cruise - it was unforgettable.
Thank you so much for walking us through our very first cruise and we are so glad we did the Disney one.
Carrie
DISNEY CRUISE
We loved it! We didn't have any delays on our flights.
Nicole Griesbach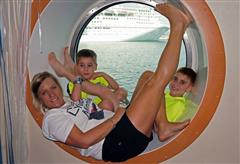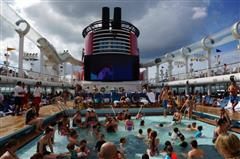 The Basso, Hartel and Griesbach family Disney Cruise was a success!
10 Day Southern Caribbean on the Royal Princess
We loved our Princess Cruise and are ready to go back again!
HEY CRUISING ISN'T JUST SITTING ON A SHIP!!! ITS A CELEBRATION!
Dave and Gay Gilliland celebrated a special anniversary on a AVALON RIVER CRUISE!
Gayle,
We had a great time. Really enjoyed it. Glad we went a day ahead as you suggested. This river cruise was definately a lot more intimate than our other cruises. A great fun, upscale crowd. My luggage was delayed and the whole ship knew who I was.
Our picture window was wonderful. When we woke up the next morning we saw all these beautiful swans swimming right outside our cabin!
Royal Caribbean Holiday Cruise
We really enjoyed sailing with Royal Caribbean. We received A-1 service. It was wonderful to be able to relax and rest when we wanted to and also enjoy everything the ship had to offer and excursions on our schedule. We returned home very satisfied and rested. We are looking forward to sailing with Royal Caribbean again and again.
CELEBRATE LIFE CRUISIN WITH THE GIRLS!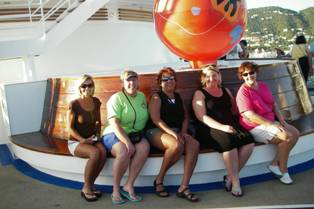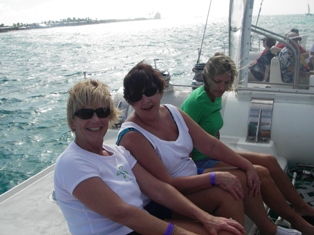 The girls from HR HAIR DESIGN sure know how to have fun! They cruised with a group of women on RCCL's the Adventure of the Seas! They loved it so much they will be going again next year!
Colleen, Lori, Nadyne, Tammi & Sandy last day of cruise watching the sunset as we leave port. Pat, Sandy and Colleen on the catamaran.